I. "Politics has always been a part of our lives, especially with my generation," says Tenzing Jigme, guitarist of JJI Exile Brothers, a Tibetan rock band. "The struggle for Tibetan independence is what brings all Tibetans together, and that is the driving force behind us. Freedom is in our blood."
Jigme with his brothers, Tenzin Jamyang, a traditional thangka painter, and Tenzin Ingsel, constitute the band. Formed as far back as 1998, they have been giving voice to the first generation of Tibetans like themselves, who have been born and brought up in exile in India, ever since. Based in Mcleodganj, Himachal Pradesh, their music is infused with a blend of blues-rock as well as traditional Tibetan instruments like the Tibetan guitar, Tibetan flute and the yungching (a stringed bow instrument) and, unsurprisingly, their music has caught on famously amongst the Tibetan youth.
This generation has also witnessed the shift in political governance that occurred in March 2011, when the Dalai Lama relinquished his formal political authority, sending ripples through the Tibetan community all over the world. Harvard Law School graduate Mr. Lobsang Sangay, a legal scholar and political activist, was elected to the position of Sikyong (formerly the Kalon Tripa) in a tangible move to gain representative governance.
The number of refugees coming in from Tibet has recently started slowing down, though, and several NGOs in the city are pulling shutters, with a lot of Tibetan youngsters opting to move out of India. JJI Exile Brothers staunchly remain amongst those persisting in taking the Tibetan struggle forward, with their music.
II. "Our mother, Nyima Phanthok, has played a huge role in the conception and management of the band. She encouraged us to step up from our small jam sessions to a bigger performance at the Tibetan Institute of Performing Arts (TIPA), We've been pursuing music together professionally ever since."
Currently running JJI Exile Brothers café in Mcleodganj, Nyima came to the city as a part of the group accompanying the 14th Dalai Lama, Tenzin Gyatso, in fleeing China in 1959. In acceptance of the Indian Government's offer, the Tibetan community sought refuge in Mcleodganj and set up a Tibetan Government in Exile (now Central Tibetan Administration) the following year. Mcleodganj has since blossomed into a booming tourist destination, but the invasion of Tibet and the attempted cultural genocide of the Tibetans by the Chinese Red Army is an irrevocable part of Tibetan history.
JJI Exile Brothers' self-titled debut album, released in 2002, features songs centring on the longing and angst of Tibetans dreaming of their return to their country.
III. "We have grown up listening to Bollywood and Western music as much as traditional Tibetan music. I personally really enjoy listening to Lou Reed, Bob Dylan and Tom Waits and my brothers and I all love Pink Floyd and The Doors," Tenzing admits. 
Jigme speaks with great candour about the time he ran away from his school and hopped on a train, making a beeline for Palace Grounds in Bangalore, for Roger Waters' landmark first performance in India. While the brothers each have their own musical preferences, Jigme confesses that ironically enough, it is when old Bollywood numbers play that they all break out into a reflexive singalong. Tibetan artists like Vajra and folk singer Techung are also cited as influences.
"I find the Indian independent music scene very exciting," Jigme continues. "I was a big fan of Rock Machine (now Indus Creed) growing up, and we performed with Parikrama in New Delhi in support of a Free Tibet a few years ago. My dream artist to collaborate with would be Indian Ocean."
Since their debut, the band has recorded close to 70 songs and will be releasing their next album entitled 'Dokhi' soon. Jigme explained that Dokhi is a Tibetan nomad dog, known for being extremely spirited and loyal to its owner.
IV. "One of our new songs is called 'Our Lama'. In Tibet, musicians are punished severely for writing rebellious pieces against the Chinese and we often use symbolism amongst ourselves. Our song, similarly, indicates the sun to be the Dalai Lama, the moon to be the Panchen Lama, and the star to be the Kraponla, three of the highest religious titles in Tibetan Buddhism. We hope that they will all be able to meet again soon."
The Panchen Lama is the second highest-ranking title after the Dalai Lama. Gedhun Choekyi Nyima disappeared at the age of six, in 1995, and is still believed to be in Chinese custody. His 25th birthday was commemorated recently with mixed feelings, said Jigme, mentioning lightly that many a bottle of whiskey was cracked open that day.
"The Panchen Lama, I feel, should not be remembered just once in 25 years, but celebrated every single day just as our movement is an every day part of our lives," Jigme said. "I have immense respect for Mr. Lobsang Sangay and I hope that under his leadership we will be able to return to Tibet."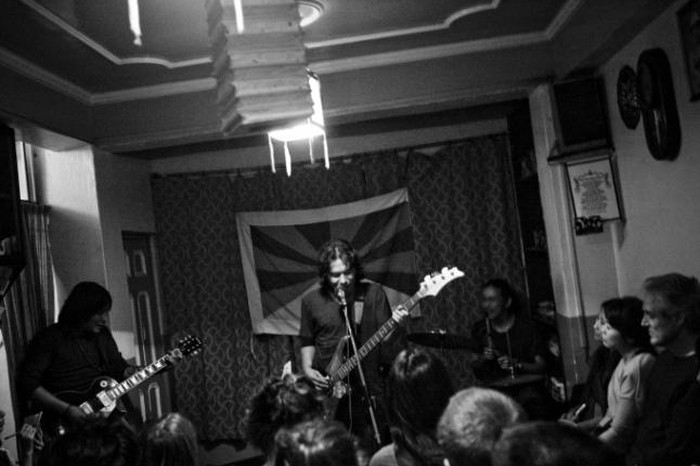 Words: Aditi Dharmadhikari