If you're an active social media user and don't live under a proverbial rock, you can't deny the phenomenon that is Instagram. It's the ideal place to look for visual inspiration hence it comes as no surprise to anyone that it quickly became a photographer's paradise. Somehow, even in the midst of all the #postworkoutselfies, we were able to find a few people from the country who use the tool as an effective platform to showcase their photography, which is more often than not, executed with the help of a smartphone and just a couple of post-processing apps. Mostly because Valencia and Early Bird just don't cut it anymore.
These men and women have found their own unique ways to bring personality into their accounts, guaranteed to make you want to explore their work more deeply.
Hashim Badani shows movement and fluidity in still images, which is no mean feat when you're working within the limitations of a phone camera. He makes even the mundane look charming using a distinctive colour palette that makes his Instagram account so alluring. He's also prone to muted colours and filters that don't manipulate the pictures entirely, so his eye for a good frame is fairly unmatched.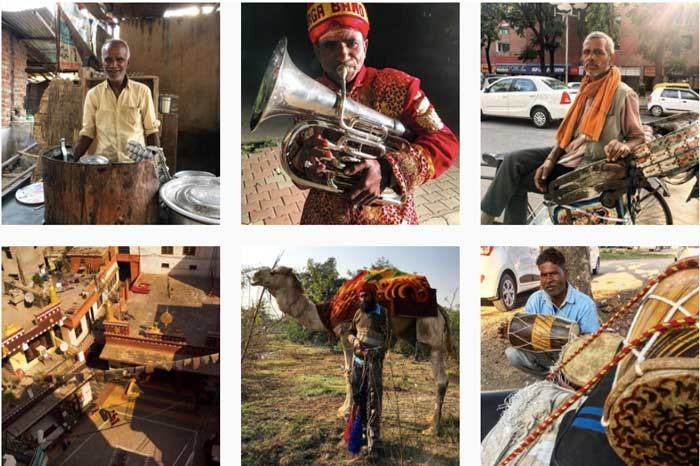 If you enjoy a photographer's penchant to make a rusty old ceiling fan look beautiful on camera, look no further than Samar Virdi's Instagram feed. His dedication to symmetry and balance is what we love about his work, displaying a keen eye for detail and a very fresh perspective on the otherwise familiar.
III. Nameeta Prakash - @namabird
Nameeta's Instagram feed is a landscape photographer's dream, at it's curated best. Her images are a great example of excessive post-production working in favour of a photograph, too. What she manages to do is take wide-angle shots and fit them into the Instagram format of 35 mm, without making a picture look incomplete. Her feed, though primarily filled with landscapes, is also punctuated with striking black and white portraits that provide the contrast you'll invariably start searching for.
Prateek's Instagram feed is incredibly eclectic. His pictures range from stunning landscapes to photographing things that would likely go unnoticed by a majority of us. His appropriate use of filters, and knowing when to make a picture monochromatic or sepia, is probably the most commendable aspect of his account, while his consistent dabbling in stop-motion and time-lapse videos within 15 seconds or less make this one of the most dynamic accounts on this list.
Quite possibly the most exquisite Instagram feed we've laid eyes on in a while, Rishabh takes pictures of anything that grabs his attention. His post-production is absolutely spot on, in that he manages to make his colours look more vivid than just a regular Joe might be able to accomplish. He takes part in a lot of Instagram Weekend Hashtag Projects, which is perhaps the reason why he has managed to build and retain a decently large fan-base. Additionally, he is the first person to successfully organize and execute several Instagram meet-ups in Delhi.
If his Instagram handle wasn't indicative enough, Jay Thakkar is based in Mumbai. He photographs Mumbai through grainy and cracked filters, which is quite apt, if you ask us. His photographs are honest in a way you don't get to see too often as he doesn't shy away from taking pictures of things that aren't beautiful in the conventional sense and he's not hell bent in finding beauty in everything either. Some of his pictures are hauntingly authentic and we guarantee that his work will stay with you for a long time to come.
VII. Avisha Chaudhary - @avu3
There's a reason Avisha was a suggested user by Instagram for over two weeks. Her Instagram feed is packed with stunning photographs, candid as well as perfectly-timed portraits, and her work looks refreshingly uncontrived. She also supports her wonderful pictures with well thought out captions that add that much-required personal touch which so many Instagrammers lack. She has started her own project, wherein she features the best photographs with the hashtag 'Voyage Diaries' every Sunday.
VIII. Asif Khan - @as1fk
Asif Khan's work is predominantly monochromatic, which is definitely something we're drawn to. There's always a little bit of mystery and imagination attached to a black and white photograph, and it's a characteristic he seems to have tapped into. His pictures of hectic 'urbanscapes' pull you in and the madness is almost palpable. In spite of the blurriness of a lot of his pictures, the intention behind it is clear as day; something we came to identify and appreciate more and more as we scrolled through.
IX. Akshay Mahajan - @lecercle
Akshay Mahajan's photographs are evocative, consistently making viewers want to question what happened right before, and after, the picture was taken. His work also has a surreal quality to them we couldn't get enough of, something of an unusual trait for a photojournalist but one that lends a lot. Some time last month, he put up a painting in a street corner in Bhopal and arbitrarily asked people walking down to pose in front of the backdrop so that he could document them.
Anuj Lall's instablog is edgy, contemporary and provocative. His compositions and understanding of space and styling are flawless, while his ability to set contrast between subject and background is unparalleled on this list. Even his selfies are imaginative and unusual. To be able to make a simple glass bottle on a wrinkled white bedspread look as good, as it does, is worthy of a special mention here.
XI. Satyarth Shaurya Singh - @lightsonfilms
A New Delhi-based filmmaker, every post on this account is 'original and experimental,' as described by the photographer himself. He tends to weave a deeper narrative into all his photos, which often suggest that he's trying to tell a story through every frame he meticulously captures, filters and then shares with his followers. He's also one of #vscocam's most notorious users which, as far as we're concerned, has too few people using it well.