[Editor's Note--Over the past few weeks,

No Country For Women

has been using our little space in the world wide web to investigate India's current narrative around sexual violence towards women. In the 1st piece, co-founder, Shreena Thakore, elaborated on the

'myth of the impoverished rapist'

and emphasized the need to challenge the way we think and talk about the issue. We followed that up with a curation of powerful, crowd-sourced, real-life stories from women across the country;

'Break the Silence'

showcased the roots of gender-based violence in India. This article marks the end of this pertinent series, and Thakore is back to open up our minds to a far more subtle problem amidst this rampant gender inequality—a woman's right to being present in a public space. This is the issue we've decided to join hands with NCFW regarding, and together, we would like to involve all of our followers and readers in a digital photo campaign to spread awareness, called 'Gendered Spaces.' Please scroll down to the end to read our note/understand more about the same.]
Last week, I was the only single female passenger on a bus from Chennai to Trichy. All other passengers were either men, or (quite visibly) the wives of men. I proceeded toward my preferred seat (second-last row, left window) but was stopped by a shy, young bus conductor. In broken English he informed me: 
"But ma'am… you are ladies ma'am. This seat for gents ma'am. You please be seated front of the bus. Alone ladies ma'am, how you can sit here?"
The entire bus watched as I relocated – 80 eyes glued to my back; 40 minds loudly whispering,
"why is she here?"
I. "Why is she here?" – the question silently demanded of every woman in a public space.
When you navigate the city and look around you, do you notice the difference in behaviours of men and women? Do you notice, for example, that there are clusters of men aimlessly loitering - standing without purpose near tea-stalls and small shops? Do you notice that all women you encounter seem to require a purpose to be outside? Do you notice that they are always walking from point A to point B, that it is imperative for them to have a destination? Do you notice that women do not have the implicit right to loiter, to simply exist in public space?
II. "Why is she here?" - a question only barely concealing the heavy implication - "she does not belong here."
Public spaces, by definition, are intended to be areas open and accessible to all individuals. However, public spaces appear to be inhabited almost exclusively by men. Gender roles attribute to men the authority to occupy and manage public space; women, on the other hand, are confined to the domestic sphere. They are asked to restrict themselves to the household for that is their assigned domain. The role of a woman in public becomes that of a trespasser – her presence is unusual, unwarranted, unaccounted for.
Urban infrastructure is both influenced by, and influences, the sentiment that a woman does not belong outdoors. The city is predominantly planned by men for men.
Statistics
show that of the 10,381 public toilet seats provided by the civic corporation (BMC), 63% are reserved for men. At the Andheri train station in Mumbai, only 4 of 38 public toilets are for women. Many airports in India have gender-segregated queues for men and women; in each of these airports the gender-distribution is unequal.
The Bangalore and Delhi Airports, for instance, have 1 female queue for every 4 male queues. Urban planning decisions like these are part of a vicious cycle: they build upon the assumption that women do not spend much time outdoors and construct systems that causally contribute to the same.
III. Know Your Parameters - Time. Company. Appearance. 
Since absolute confinement to the household is logistically impossible, the presence of the woman in the public domain is negotiated. She must abide by parameters of time ("
how late is it?
"), company ("
who is she out with?
") and appearance ("
what is she wearing?
"). These parameters indicate the cultural boundaries restricting female access to areas considered traditionally male. They reinforce that a woman's presence in public space must only be in transit from one shelter to another. They dictate that she have a clear purpose to be outside – something that is not only apparent to her, but also to those around her. They command that her actions and mannerisms symbolically answer the question,
"why is she here?"
A woman who does not appear to abide by the aforementioned parameters is punished. A recent submission for a campaign by No Country For Women, where individuals are encouraged to anonymously submit real-life incidents of gender-based discrimination, went thus:
"Once I was on a bike with my husband at around 9 pm when two guys (drunk) on another bike passed some vulgar comments on me and eventually my husband broke into a fight with them. When we went to a nearby police station to report the incident, the officer in charge (who was herself a lady) dismissed me by saying, "look at your clothes (I was wearing jeans and a short kurti), you are not even wearing a mangalsutra or sindoor. What's the fault of the boys? They thought you are unmarried and roaming late at night with a boy."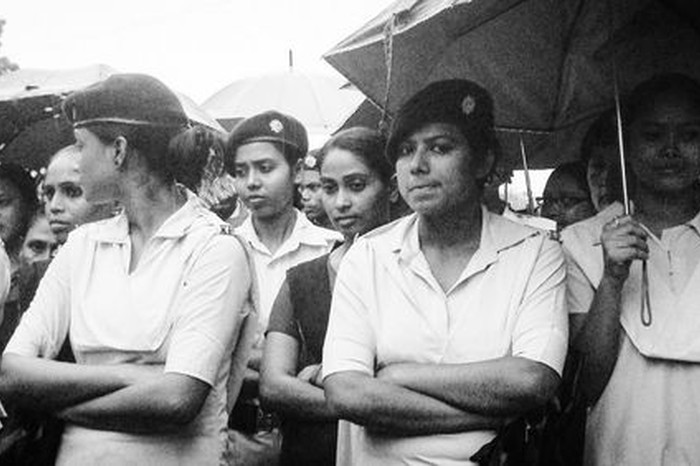 The implication of the police officer seems to be that a woman's violation of gender-based restrictions warrants inappropriate treatment – that it is her fault for being mistreated, because she refused to adhere to cultural norms. The passing of vulgar comments is not taken as inexcusable misconduct on the part of the offenders, but rather righteous retribution toward a miscreant. Of the four individuals involved with the incident – the woman, her husband and the two men – only the woman's activities are considered inappropriate. The conditions imposed upon her presence are not equally demanded of the men, therefore the accusations made against her cannot be made of the men. What is even more horrifying is that it is not enough for the woman to abide by the restrictions; it must be explicitly apparent that she is doing so. The woman in the story is abiding by all cultural restrictions – she is appropriately dressed and out with her husband. What the officer is reprimanding her for is perceived disobedience, which is taken to be as much of a wrongdoing as actual nonconformity. Another story submission spoke of a professor berating a young woman for walking with a young man on a college campus. It was only after the tirade that the woman meekly explained that he was her brother. In both cases, it is not an actual violation of norms that is the problem, but a lack of demonstrated compliance.
IV. Rape As Retribution?  
To violate the gendered negotiation of space is to break a social law; it follows then that the mistreatment of women as a response to this be taken as rightful social justice. Rape is often implemented as social retribution to punish a woman for defying the regulations placed upon her. In the 2012 Delhi Rape case, the rapists defended their act, saying:
"She was out too late. She was out with a boy. We were teaching her a lesson."
Of the 8 individuals involved in the incident (Nirbhaya, her friend and the 6 rapists), it is only the woman that is
"out too late"
; it is only her right to presence that is contested. The act of violence against her is justified as the appropriate social response to her inappropriate social behaviour. Essentially, she was
"punished"
for invoking a claim to public space - a claim that is understood to be reserved for men.
The rhetoric surrounding the Shakti Mills case was similar:
"Yeh jo uske saath hua, bahut bura hua, par vahaan jaane ki zaroorat hi kya thi? Ladkiyon ko lagta hai ki voh kahin bhi jaa sakti hain?"
(
"What happened to her is sad, but why was she there in the first place? Do women think they can just go anywhere?"
) Again, of the 7 individuals involved in the incident (the victim, her male friend, and the 5 rapists), it is only the victim's right to exist in a public space (in this case an abandoned mill) that is questioned. It is only upon her gender that restrictions are placed, therefore it is only possible for her to defy those restrictions. It is demanded that she have a purpose to simply be outdoors; a stipulation not equally placed upon the men. It is also demanded that this purpose be explicitly apparent to those around her: the victim in this case was there on a photojournalism assignment for a newspaper (which ostensibly answers the question
"why is she here?"
), however this was not enough; like the No Country For Women campaign stories, it is not an actual violation that is being questioned but a lack of demonstrated compliance.
The second part of the reaction is a rhetorical question invoking socially established clauses of the gendered negotiation of space. It is meant to solicit the following response:
"No, of course women can't just go anywhere. What an absurd idea! Haven't we already established set regulations for their behaviour?"
By pointing out the victim's deviation of social norms, the act of rape gets spoken about as natural consequence; as not only justifiable, but warranted; as social justice to social sin.
V. We All Need Space 
The gendered negotiation of space is reflective of the deeply imbalanced power relations between the genders. Sexual harassment becomes a tool to maintain these power relations. It becomes a means through which conformity to oppressive social rules can be enforced. The rhetoric associated with sexual harassment, when stripped to its bare mechanism, begins to sound thus: "
Obey or be punished
" – "
Don't go out too late or you will be raped
.", "
You were out with a boy? Of course you were harassed.
" etc. If these power relations remain unquestioned, our approach to tackling gender-based violence becomes one of compliance rather than resistance. Instead of asking, "
why shouldn't a woman be out at night?
" we say,
"if you want to avoid rape, don't go out too late"
.
This in turn leads to measures such as the Gurgaon 2012 ban on women working after 8 pm (which does nothing to prevent rapes that happen before 8 pm; limits the freedom and mobility of women; and increases long-term economic dependency by disqualifying them from taking certain jobs). Sexual harassment is only one manifestation of these power relations – the lack of public toilets for women, fewer queues at airports and gender-based curfews all contribute toward making the outdoors inhospitable toward women.
By challenging a woman's right to presence in public space, we challenge her right to existence in society. The discourse must shift away from "Why is she here?" towards, "Why can't she be here?"
Words: Shreena Thakore
[Author's Note: For those readers who are interested in a 'what next?' I would highly recommend reading "Why Loiter" by Shilpa Phadke and the Right To Pee campaign that happened a couple years ago. Shilpa talks about loitering as a feminist right/act of resistance which is a logical response to such a question being raised. I also think the Right To Pee campaign is something more people should know about because it's one of those things that nobody wants to talk about but is at the crux of a million systemic injustices. Moreover, how class comes into play in such issues is also symbolic of deeper complexities since upper/middle class women can still go to malls etc/have plentiful makeshift "shelters" in the city that they can take refuge in so they have more rights to claim the city than lower class women - stay tuned for the next piece in this series for more information on that.] [NCFW & Homegrown would like to involve all of our followers and readers in a campaign to spread awareness called 'Gendered Spaces.' This is a call to action for the beginning of a digital photo campaign that explores the intersection of Gender and Space. When was the last time you saw a woman peeing in public, or walking into a liquor store without cold stares, or a man ironing clothes in your home perhaps? The prompt is broad, take the idea and run with it. Then mail us your photos along with your thought behind it, and your contact details to [email protected] with the subject 'GENDERED SPACES SUBMISSION.' At the end of 3 weeks, we'll be publishing the best photos/ submissions on Homegrown.]