Luminous eyes, walks that sear the ramps they blaze down on and personalities that sparkle - as the year draws to a close, we combed the nooks and crannies of the past few years to zero in the on the crop of the fashion circuit's freshest faces that have been making waves in both our country, as well as internationally. Here are the stunners you should keep your eyes peeled for--covering both extremes of the gender spectrum of course. 
1. Natasha Ramachandran
 Newly-minted New Yorker Natasha Ramachandran has a sparkle about her that suggests a lingering sense of adventure, an attitude that she carried effortlessly with walking for Zimmermann and Misha Nonoo at New York Fashion Week, in her international runway debut earlier this year. After being crowned May Queen in Secunderabad, Hyderabad, back in 2007, Natasha took to the ramp at the Lakme Fashion Week in Mumbai, after which she was quickly snapped up by Next Model Management, and taken to the States since for her first visit that side of the world. Citing Thom Yorke, The Black Keys and oversized clothes as her weaknesses, Natasha has been described as '
elegantly boyish
', although that might be a little bit of an oversimplification for the National Institute of Fashion Technology graduate, who hopes to dabble in the marketing aspect of a fashion house in the future. For now though, she is intent on cracking the international market based out of one of the fashion capitals of the world that is currently settling down in, a feat that few Indian models, like Lakshmi Menon, Padma Lakshmi and Ujjwala Raut, have succeeded in.
"It's not an easy or comfortable industry,"
she
tell
s
 Vogue
.
"The best and most experienced models from around the world are competing here. It requires a lot of focus, will power and determination, but I plan to give it my 100 per cent."
 2. Bhumika Arora
Selfies are what put this drop-dead gorgeous presence on the map, when she discovered that some of those she'd posted had landed up in the fashion column of a monthly magazine, after which she was quickly approached by Delhi-based fashion photographer, who insisted that he'd do her portfolio for free. Manish Arora and Prabal Gurung are Indian designers that she adores, while Burberry and Chanel are labelled obsessions. She 
confesses
 that being part of the prestigious Paris Fashion Week was '
like my dream come true
', in addition to the walking for Viktor&Rolf, Dries Van Noten and Maxime Simoëns, which she says are the highlights of her life. When it comes to her job - she just cant get enough of meeting creative minds, and 
'traveling the world to create beauty alongside amazingly talented people'
.
3. Keisha Lall
Four years seem like a mind-bogglingly short amount of time when you look at the track record that Keisha Lall has wracked up in her career. Born in London, we were drawn to her innate sense of style which, when blended with her hybrid Guyanese-Rajasthani roots add an unexpected touch to her overall exuberance. The unusual features is also what has had her flitting from New York to London to lend her sassy charm to L'Oreal, Carrera, Crest, Venus Gillette, Salvatore Ferragamo jewellery, Marks & Spencer, Amrapali, Le Mill and Cacoon, also having been featured in major editorials like Marie Claire Australia, Vice Magazine, Harpers Bazaar, Grazia, Elle and Vogue and on fashion blogger and photographer
Garance Doré
's site several times. Whew.
Keisha kicked off her career as a fresh Film and Media studies graduate, by making a mini-advert for a Rimmel competition featuring her favourite product, leading to her starring in their next television commercial and a photo shoot with Rankin, post-which she was scouted by TESS, her 'mother agency' and things have only been on an upswing since. She
describes her recent experience
in India shooting for an Anita Dongre campaign as '
friendly and welcoming'
with
'a genuine sense of taking care of 'the model''
.
"I take it upon myself to research a client, or company, or brand or photographer before I meet them for a casting or job,"
she
tells Couture Rani
.
"With Anita Dongre, I saw the diversity of her collections and that she was a huge fashion house. It was my first time wearing Indian bridal and was such a lovely experience to wear her garments!"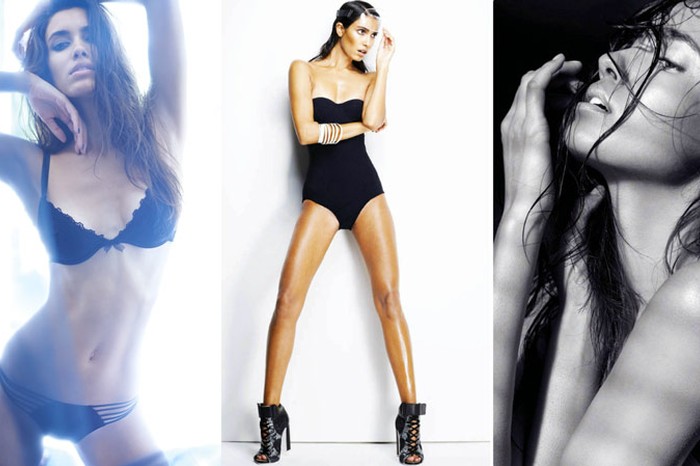 4. Smita Lasrado 
Smita Lasrado got her break at a Paris Fashion Week for a Vivienne Westwood show that swooped her from New York to London, Paris to Milan on assignments beyond just walking ramps to include commercials and fashion editorials all over the world, with a 2007 Sior show in Zurich opening up doors to a variety of work as well. The Mumbai-based model has also graced an anniversary issue of Marie Claire India in 2009, her first cover, and walked at Lake Fashion Week and Wills Lifestyle India Fashion Week, closer home. She attributes her success, today, to unrelenting family support and a thorough search for an agency that would '
cast her for her personality and body type
', and boasts of a client list that includes Chanel, Dior, Saint Laurent, Givenchy, Chloé, Sonia Rykiel, Longchamp, Carolina Herrera, Saks Fifth Avenue, Neiman Marcus, Selfridges and Air Canada, among others.
5. Rasika Navare
There's an arresting quality to Rasika Navare that, combined with her dewy skin and sultry eyes, has landed her on the covers of the likes of Elle India, Vogue, Harper's Bazaar Magazine India, We Are Collision Magazine, OOB and GQ. Signed to Established Models in London, 
we weren't able to dig up as much information as we'd have liked about her but we haven't been able to forget her face which entitles her to a position on this list, one way or the other.
6. Archana Akhil Kumar
Bangalore-born Archana Akhil Kumar tested the waters with
a jewellery shoot
in Kerala in 2008, and got her first break when she made it to the top 10 of Elite Look of the Year 2011, and has been making waves since. Having scorched walkways from Lakme Fashion Week to Wills Lifestyle India Fashion Week, and walked for top-notch designers like Suneet Varma, Anand Kabra, Bibi Russell and Wendell Rodricks, to name a handful, she has also having graced the covers of Marie Claire, Grazia and Elle magazines; hers is a name that has been doing the rounds as the next big thing for a while now.
With gorgeous skin and pools of chocolate for eyes, the Mumbai-based model with the confidence and air of an Egyptian queen has also  won a three-year contract with Elite Paris. Signed up as the face of Nirav Modi earlier this year, and as Tarun Tahiliani's Face of the Year 2013, the commerce graduate from Bangalore University
tells Deccan Chronicle
,
"Although I'm mostly shooting in India, I do get a lot of calls for shoots in New York, Paris, the Middle East and Shanghai. I will explore newer pastures soon, but right now I want to do a Masters in either communication or fashion."
7. Ketholeno 'Leno' Kense
Something of a Homegrown favourite, there are some names that storm into the fashion circuit, and Kethleno Kense (who warily
warns everyone
who can't pronounce her name to stick to the simple 'Leno) created a buzz by getting herself a spot on the Kingfisher Swimsuit Calendar of 2014, after having won the fifth edition of Kingfisher Supermodels Hunt 2014. Fashion photographer Atul Kasbekar, who shot her, apparently predicted her rise to success as a
'top model one day'
and the attention that ensued post the calendar certainly seems to indicate the same.
Having travelled to Boracay and Cebu in Philippines for the Kingfisher calendar, the 24-year-old from Nagaland went on to interact with several fashion veterans - a big breakthrough for her, personally and professionally. Raised in Dimapur, Leno is today based in Delhi, and looks back at the Calendar as an 'amazing memory', a step that she took after much encouragement from friends back home. She learnt from scratch, having had no prior experience in fashion.
"I had no idea about photo shoots. Now I am learning to be comfortable and I hope I get even more comfortable. I am still learning,"
she
tells Telegraph India
, elaborating on some of the challenges along the way.
"I still struggle to be confident. I am still new to this industry. So at times, I get insecure and nervous. I am doing so many things for the first time.... I was nervous about what I was going to do. Having crossed that period, I now feel that everything has happened for a reason."
After landing a couple of fashion editorials, an ad campaign for Hemant and Nandita and appearing in a catalogue for Atsu Sekhose, she walked the ramp at Wills Lifestyle India Fashion Week for leading designers from the country, ensuring today that the Indian fashion industry's eyes are now trained on her.
8. Rikee Chatterjee
Barely four years into modelling, Rikee Chatterjee has already scorched ramps for heavyweights like Tarun Tahiliani, Sabyasachi Mukherjee and Wendell Rodricks, also featuring in this year's Kingfisher calendar.
"Working hard and then going for long breaks, instead of partying and socialising"
sums up the 5'11" Bong beauty's work ethic, who has zigzagged her way across the country's map over the course of her life, having modelled in first Bangalore before gaining her footing in Mumbai.
"I modelled in Bangalore for a bit because it is difficult as a freelancer when you don't want to join an agency, to first settle down in Bombay and then look for contacts or work with the right people,"
she
tells Telegraph India
.
"Bangalore has a good fashion scene… good choreographers. Things fell into place by god's grace. People loved me on the ramp. That gave me the confidence to move to Bombay."
Rikee pinpoints the Delhi Fashion Week (Wills Lifestyle India Fashion Week) as my first break, and with the unfaltering support of her family, oodles of positive feedback and a walk '
like an international model
', there has been no turning back since.
9. Adhiraj Chakrabarti
"Fashion for me is power to express, it is a statement, it is class, it is style, it is luxury, and it is simplicity,"
Adhiraj
says
. "I would say fashion as the dynamic powers of human being brought out in charismatic style."
Adhiraj is one of those models you just know you're going to remember; with his first foray having him win the Title of Grasim Best Smile 2007, he made his modelling debut with Lakme Fashion Week. Today, he has scorched ramps for every major designer in the country and also for international brands like Christian dior, Givenchy and Lacoste. He's also done commercials for brands like Garnier, Bausch +Lomb, Coca Cola, Westside, Pantaloon, Big Bazaar and many more.
Naming
Milan and London as fashion capitals of the world he has a strong affinity for, he
cites
Karl Lagerfeld for Chanel, John Galliano for Christian Dior, Tom Ford and Manish Arora, Lecoanet Hemant, Narendra Kumar and Ahmed as his favourite designers.
10. Manu Bora
 Manu Bora's style is all about simplicity, also a key for chic. Combining modelling and his career as a surgeon is no mean feat (way to shatter stereotypes, Manu) and dressing in sober and comfortable way helps Manu work at the hospital sometime the same day as a modelling assignment.
"It's a hard task from the operation theatre to the runway more so because it's a switch of worlds,"
he
tells Style Kandy
. "It requires tremendous focus and patience in both the careers. It's quite hectic, but I try to choose selective modelling work only, and for this my agency, Anima Creatives is doing great job to help me select my assignments wisely!"
Having taken Greece, Milan and Paris by storm, the humble hunk's repertoire includes Corneliani, Paul Smith, Gucci and Calvin Klein and the covers of GQ, Vogue and Wallpaper magazines. He names Sabyasachi Mukherjee, Rohit Bal, Varun Bahl, Shantanu and Nikhil, Hemant and Lecoanet as his top Indian designers, along with Versace Hermes, Gucci, Louis Vuitton, Prada, Givenchy and Zara as his international favourites. He
also hopes
to open his own clinic one day,
"I really want to open an NGO in the future, so I can get more funds to really operate on them well. I cannot change my country, but if I can change a few lives, then my life is good… You (alone) cannot change the whole country, but if everyone takes some initiative, you can."
11. Radhika Nair
 Originally from Kerala, brown-eyed Radhika Nair is another name that has been taking the international fashion by storm with her crossover including
walking
the Mercedes Benz Berlin Fashion Week S/S 2014 (EP Anoui, Perret Schaad, Ewa Herzog), with a portfolio that includes shoots with Grazia, Elle India, Harper's Bazaar and television commercials with Fuel, Lakme, Nishka Lulla, Bungalow 8 and Blender's Pride. Also a book collector and a classically trained singer, she confesses that if not a model, she would probably have been a copywriter. Radhika kicked off her career way back in her college years when she went to meet Prasad Bidappa ad since then, she has relocated to Bombay and been swept up by Anima Creative Management as a full-time model and the rest, as they say, is history.
12. Dayana Erappa
 Dayana Erappa is a bundle of charm and energy, who has walked at Wills Lifestyle India Fashion Week, Fashion Week in Colombo, Splash fashion Show In Dubai, and also been a Femina Miss India 2011 contestant. The 5'10'' stunner
cites
being an IPS officer an alternative profession, and claims that comfort is key when it comes to her personal style, regardless of whether it's a dress, jumpsuit or a jacket she's flaunting. Gisele Bundchen, internationally, and Lakshmi Menon closer home are names she looks up to immensely in the fashion circuit.
13. Pooja Mor
 This 22-year-old winner of Miss Ahmedabad 2012 hasn't had the easiest of journeys in terms of her parents' support, but with a little help from her product designer brother, she has today gone on to be featured on the August 2014 cover of Adorn, a luxury jewellery magazine and walked the ramp at Lakme Fashion Week modelling Varun Bahl and Sanjay Garg creations. Editorials with fashion publications, ad campaigns and major shows with fashion weeks have been showering down upon her since.
"If it hadn't been for his timely support, I would have never become a model,"
says
the dusky diva with a distinct girl-next-door vibe.
Having quit engineering to choose the more glamorous profession of modelling, she emphasises the hard work that is required to survive in an industry like this, and elaborates that the creative process needs a lot more than theoretical knowledge.
14. Pallavi Das
 Named 'Best Model of the Year' at the Vogue Beauty Awards 2013, Pallavi Das has been making a steady ascent with gorgeous fashion editorials to a portfolio that has been rapidly growing by the year. The Anima Creative Management agency model has walked for Lakme Fashion Week and has also been featured in magazines like Cosmopolitan, Grazia, Femina and Vogue, and shows no sign of letting up in blazing forward with her career.
15.  Tony Luke
 Tall and armed with a great posture on the ramp, Tony Luke is one of those dynamites who has wracked up a portfolio to make you swoon - and we haven't even gotten to his chocolate-coloured skin or finely sculpted chest yet, not to mention that he has growing numbers of male models who hold him in very high regard. With an exclusive contract with Krizia Uomo, Italy, the hugely talented model
has walked
for Versace Sports and Y-3 in Shanghai, Beijing Fashion Week 2006 and Milan Fashion Week 2007. He's also  worked with Major Model Management (Italy), Friends Management (Germany), Baystar Model Management (China) and Bareface (Dubai). Prestigious names like Lifestyle, Shoppers Stop, Indigo Nation, Oxemberg, GQ India, Bacardi, Fuel Vodka and the cover and campaign of Collective testify to the career of this Kerala-based model, who also happens to have a Masters in International Business Administration is Director of Morfeous Entertainment in Cologne, Germany.
--------xxx--------
There are several models of Indian descent, too, that have been making their mark in international markets indicative of an emerging trend - much to our delight - as a part of which a wider range of skin tones and looks are now infiltrating the global fashion circuit. Check them out:
 1. Kelly Gale
 Born in Sweden, Kelly Gale of Australian-Indian descent was
first scouted
at the age of 13 in a cafe, and kicked off her career as an international model in Paris, walking the catwalk for Chanel's pre-fall show in 2012. With Teen Vogue, Chanel and an extravagant faux-wedding shoot for Vogue India with her equally charming mum, under her belt she went on to live out her lifelong dream of being a Victoria's Secret Angel in 2013. She has also recently starred in the 2014 H&M swimwear shoot, in Barbados.
2. Neelam Gill
Earlier this year, Burberry unveiled Neelam Gill (formerly Neelam Johal) as the first Indian model to front its beauty campaign as well as its fashion adverts. Joining the ranks of Cara Delevingne, Jourdan Dunn and Edie Campbell , the Brit stunner of Indian origin made her catwalk debut last September for the British luxury label's spring/summer 14 fashion show, one of the most popular events of London Fashion Week, with her premier campaign for Burberry being unveiled in February.
"I'm really happy that I'm working for a company that embraces diversity,"
she
tells the Independent
.
"Especially because Burberry's a British brand and they realise that being British doesn't just mean being white."
Neelam, who had never been on a runway before being cast by Burberry, previously intended to study psychology after successfully finishing her A-levels, with her drastic change in career plans landing her on the cover of various prestigious fashion editorials of magazines like Vogue Italia.
3. Tarun Nijjer
 For Burberry Prorsum's autumn/winter 2014 show, the British luxury label persisted in catering to their evolving consumer demographic by hiring Tarun Nijjer to take to the runway, both opening and closing the show.
"I never expected to work with someone as huge as Burberry so suddenly, but I've absolutely loved every single minute of it,"
Nijjer says
. "I actually didn't realise I was going to have such a big role in the show until someone mentioned it in passing to me the day before, and it didn't sink in until I was about to step out onto the catwalk. I loved it!"
Discovered by modeling agency D1 Models at 2012's Reading Festival, Tarun also sported the iconic trench coat in the Burberry's Autumn/Winter campaign alongside the likes of Cara Delevingne and Malaika Firth, lensed by fashion photographer Mario Testino.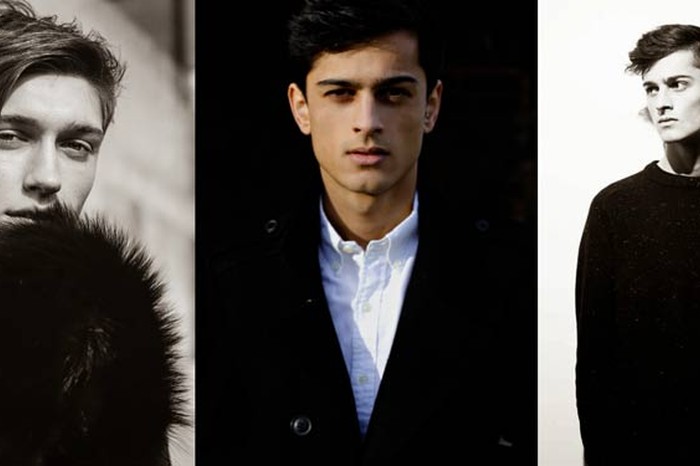 Words: Aditi Dharmadhikari