Being able to rent out homestays for the perfect getaway has given us the chance to reinvent the holiday experience, which - in an era of instant gratification - suits us just fine. Properties stocked to the hilt with all sorts of amenities you didn't even know you needed, this is the mother of all our homestay compilations though. One that focusses on the most exquisite estates in our nation's sprawling geography. After showcasing Indian destinations that make you wish it was monsoon all year round, we bring to you a more specific experiences to choose from, all homestays that are ridiculously luxurious and - besides the evidently hefty price tag - altogether irresistible for all their offerings.
Perhaps you've been waiting for a holiday to save up for, or maybe you've been thinking of exorbitant ideas for a big occasion--maybe bachelorettes, honeymoons and more? Either way, just take your pick. Or perhaps you, like us on a particularly lazy Tuesday, doubt you'll ever be able to afford it but there's no reason why you won't want to see these anyway.
Delhi
Where: New Delhi
Located in a quiet, posh locality in the capital, this one is better-equipped than the average household in the country, with free Wifi, a coffee machine and a proper laundry along with wine openers, goblets, flutes and whiskey glasses. Complete with a front porch to welcome you and spacious lawns behind the property, you're going to be getting all the luxurious space you need here, so get ready for some serious downtime.
Price: Well, hello there, a cool Rs. 15,250 per night

Maharashtra
II. Le Farm - a Modern Homely Farm
Where: Kamshet
Le Farm is the farm to be at, if you've got the green. A standalone property built on 15 acres of private land, the majestic estate is located at Village Bhajgaon on the backwaters of Vadivale and has 6 bedrooms, which open up to a postcard like view of the lake and the surrounding mountains. There's also a gorgeous sit-out area to while away the evenings and for the particularly enthusiastic, a farm tour can be arranged, along with a tractor ride, to explore the area.
Price: If you've got an Ambani on speed dial, why not? Rs. 45, 000 per night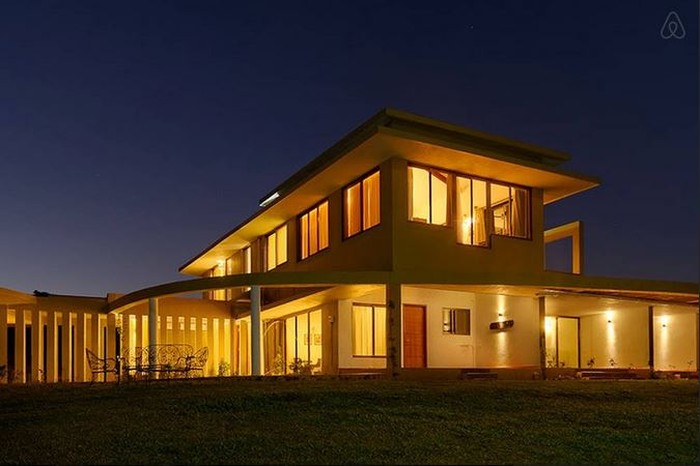 Kerala
III. Luxury Full House
Where: Puthenvelikara, Kerala
Located in an island at Chennamangalam, Madilina house is that tastefully made up holiday home that everyone should aspire to. Complete with 5 bedrooms and a waterside swimming pool out back, the whole property can be rented out all to yourselves upon request.
Price: If you can afford this, please make fraandship with us?
Rs 56,852 per night
IV. All Houseboat Single Bedroom Luxury

Where: Alappuzha, Kerala
This one decides to take things straight into the waters of God's Own Country with a houseboat cruise through the backwaters of Alleppey. Pick between the leisure tour package or family tour package for pure indulgence complete with fully furnished bedrooms with a bathroom attached and modern kitchen, as you cruise on Vembanad Lake to experience Kerala in a whole different way. Doesn't it look unreal?
Price: Yes, yes, YES! Rs. 13,500 per night

Jammu & Kashmir
Where: Leh, Jammu & Kashmir
The breathtaking beauty of Jammu & Kashmir comes to life with the view from this luxurious five bedroom villa overlooking the Stok Palace and the mighty Khardungla pass. Nestled in lush greenery, this is arguably one of the most peaceful, beautiful homestays on the list.
Price: You can't put a price on a night sky like that anyway. Rs. 45,000 per night

Goa

VI. Luxury Beach Side Orchard Villa
Where: Siolem, Goa
Ashwem is a stone's throw from this indulgent getaway, and this is a property that has all the makings of one of the most relaxing vacations one might experience in the country. With an outside dining area, a sun-dappled courtyard lined with palm trees and an eco-friendly lap pool, this is that secret property that you don't want to share with just anyone you know. Whoops, sorry. We just did.
Price: Maybe if you'd like a one-night stand to turn into a marriage proposal at Rs. 88, 931 per night
VII. Quinta Portuguesa
Where: Assanora, Goa
This sprawling estate boasts of a whopping 9 bedrooms, with a front porch, patio area at the back and an inviting swimming pool lined with sun beds on one side. Less than an hour from the beach strip, this property is exquisitely done up with polished, dark wood, classy brass artefacts and reeks of a tranquil old-world charm you're unlikely to forget.
Price: We've featured this before and we'd feature it again if it came down to it at Rs. 50,000 per night

VII. Heritage Portuguese Villa
Where: Siolem, Goa
Century-old doors and rustic lime and mortar walls from the Portuguese colonial era usher you into this majestic property that is possibly the epitome of modern indulgence. Minimalism mingles with a natural material and water design in this villa located in a cashew and mango orchard. Think high ceilings, clean lines and serious respite from the pandemonium of the Candolim/Baga crowd.
Price: Get a group of friends together and go! Rs. 31, 761 per night

Uttarakhand
VIII. Bothwell Bank House
Where: Mussoorie, Uttarakhand
Having retained its original 19th century architecture, the interiors of this cosy villa take you away to a different time with their historical charm. With a breathtaking view of the Himalayan range, this is the ultimate place to be a part of the mountain experience in the most luxurious way possible.
Price: For that view? Anything. Rs. 36,000 per night

Where: Almora, Uttarakhand
A remote village in the Kumaon Hills houses this property is built for those looking for some serious pampering. With a gym, pool table and an outdoors seating area with a gorgeous view, it seems unlikely you're going to want to get out of this tastefully done up homestay once you've stepped in. There are several Kumaod destinations including Naukuchiyatal, Mukteshwar and Sitla in the vicinity though, and local taxis can be arranged for comfortable day trips at very reasonable rates - ask, and you shall receive.
Price: Higher the altitude, higher the prices? Rs. 41,400 per night.
Rajasthan

X. Devraj Villa
Where: Udaipur, Rajasthan
Scenic views of the Aravalli hills and surrounding forest area grace this property with 6 rooms, all of which are located on the first floor. A lush garden sprawls from the building itself and the come morning, you might spot wildlife on the property, such as spotted deers, peacocks and several birds.
Price: Actually, pretty affordable compared to most of this list. Rs. 30, 000 per night

Pondicherry
XI. Heritage House
Where: Puducherry
The garden that welcomes you into this homestay is likely going to end up becoming your favourite place in it too, with a roof-protected area where meals can be enjoyed outdoors. Well-equipped with all the amenities you could possibly need, the property houses four bedrooms out of which the master bedroom boasts of a large terrace perfect for sundown sessions.
Price: Yep, we're in, and you should be too. Rs. 10, 646 per night

XII. Idyllic Villa
Where: Near Auroville, Pondicherry
This traditional Kerala-style villa is the rustic dream and is naturally cool throughout the year. An eco-friendly indulgence set in a ground of 1.5 acres, the 4500 sq feet villa welcomes you at the end of a long private driveway using rammed earth. Four bedrooms with private bathrooms, a family room, a large kitchen, an open terrace, and organic fruit straight from the land - all with the large central courtyard as a focal point allowing just the perfect amount of natural light and ventilation. What more could you ask for?
Price: Light, airy, spacious. Rs. 10, 000 per night

Himachal Pradesh
XIII. Bharhka Countryside Cottage Resorts
Where: Manali, Himachal Pradesh
At an altitude of 2000 sq metres, this cosy cottage is nestled in the culturally vibrant Manali. All wooden flooring, staircases and plenty of areas to sit out, make sure you stock up that mini bar and make the most of this mountainside architectural treat.
Price: Anything this special is worth the price. Rs. 15, 000 per night

Karnataka
XIV. School Thota Vintage HomeStay
Where: Kodagu, Coorg
Established in 1878, School Thota brings with it an unmistakeable colonial style replete with gracious modern hospitality. Set in a coffee plantation in the picturesque locale of Kodagu, Coorg, this bungalow looks like the perfect site to gain solace from the daily grind.
Price: We'll take it if you won't at Rs. 16,500 per night