Design matters. Whether functionally or aesthetically, we're of the school of thought that it's one of the pillars societal evolution stands on, even if most people tend to be dissonant about its contribution to the world.
In a place like Mumbai, design may not seem to dictate anyone's lives considering how pillar-to-post one has to be to survive and the chaos only serves as a shield to all the varied colours, landmarks, iconic motifs and lives that speckles its streets. But even in the midst of all this diversity, everything seems to create their own webs around the most iconic of them all—-the classic 'kaali-peelis.' The black-and-yellow taxis, these seemingly old-school fiats represent its pulse and are such an integral part of its culture. So why not make them as beautiful as what they stand for? Graphic designer Sanket Avlani's initiative Taxi Fabric aims to do just that.
He tells us, "
Taxis in India, particularly in Mumbai, are not only the most convenient form of transport but have also become an iconic piece of culture. Design, as a profession or even simply something studied at school, is unfortunately not widely recognized in India. We put two and two together and started connecting designers with taxi drivers - turning seat covers into canvasses for young Indian designers to show off their design talent and storytelling skills."
The crowdfunding campaign immediately caught our eye, standing out as a creative masterpiece (and we're not the only ones, Kickstarter even featured them as a Staff Pick) as it gathers different designers from the city to revamp drab, boring taxi interiors with colourful, lively new fabric designed exclusively for them. As people with no defined theme, designers are given the freedom to explore what Mumbai means to them, and incorporate these iconic elements into their particularly exciting canvas. This project is about creative exploration, as Sanket says. 
"With each designer, there was no brief. It was about creating something that people in Mumbai would engage with and react to, stories of Mumbai that will resonate with everyone. This is a constant process of learning, and we are getting better with every taxi. The idea is to do something to get emotional reactions out of people. Designers even go ahead and speak to the drivers before creating their designs, and great stories come out from there, which benefit everyone - the driver, the designers and the daily cab customers."
From Gaurav Ogale's pop-art style pigeons and typical
cutting-chai
glasses, to Pranita Kocharekar's caricatures of Mumbai's busy people and the business of their lives, Taxi Fabric captures the essence of the city. Inspiration can come in many forms, and from places you'd least expect. As the mind behind this project explains to us, designing 101 dictates that you communicate with your target audience, and inspiration will come.
"I think we all learned that a conversation with the taxi driver can go a long way. One thing they say nobody thinks of is asking the drivers, even when they are selling things to them. This is such a basic principle for any designer to follow - communicate with the target audience. That is something that definitely got us going. Even in terms of things like upholstery that is functionally correct, aesthetically and visually speaking, the idea of having colour and designs is discarded by regular vendors. The way we have played around with this makes these things more durable. A lot of our designs were happy accidents, and ended up being a big learning."
Other than giving talented designers a unique canvas to explore their imagination, Taxi Fabric gives Mumbai's taxi drivers a beautiful 'office'. Tara Singh, one of the taxi drivers whose cab was given a facelift can vouch for that, "
I moved here 40 years ago from Amritsar and since then I've been driving taxis. Never imagined one of India's finest talents would be working on my taxi. All my friends, taxi drivers, want one as well."
As a kickstarter campaign, Sanket and his team hope to raise 8000 pounds by August 11th. In 11 days, they've already managed to raise 3,500 pounds from 32 backers and we're all keeping our fingers crossed for them to reach their goal. You can watch the video below to understand their campaign better and you can also understand more about the rewards and amounts you can nominate towards their goal by visiting their
campaign page
. It's real. You can actually do your bit to beautify this city in the one way you never imagined, both for yourself, and for your fellow citizens.
6 and counting! Taxi Fabric launches its next Taxi Transformation and we've got its first look on Homegrown, exclusively for our readers.  
With 5 gorgeous fabric makeovers complete, this campaign moves into its 6th endeavour. For the very talented graphic designer, Shweta Malhotra, saying no to Taxi Fabric was just not an option. "
I had been following Sanket' s blog for a while, reading his posts, his photographs. I always found it very interesting, especially his initiative to get new, interesting designers. I had been following his work for a year, then one day he messaged me, and I said 'yes, of course',
" she tells us.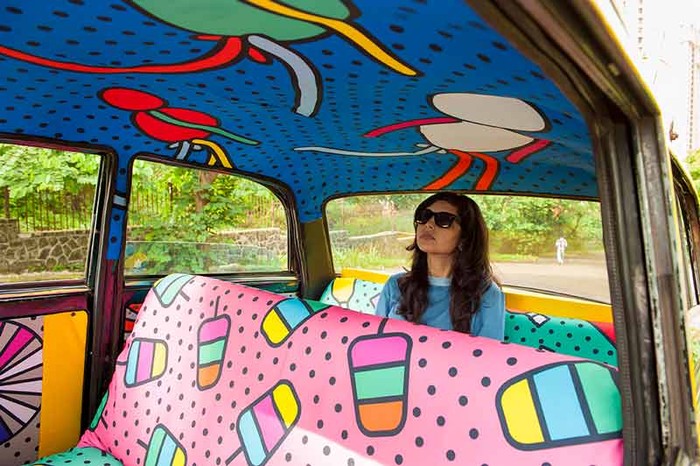 Defining what this 'City of Dreams' means to you can be next to impossible, with so many different memories, places and symbols to choose from. Shweta's theme for her taxi's design picks out a characteristic Mumbai icon, that will make every resident of this city smile reminiscently. She explains, "
My theme is actually Chowpatty. Born and brought up in Bombay - I used to go there as a child and I have many fond memories there. So, I decided to do 'Colours of Chowpatty '. Bombay is such a crazy, chaotic, colourful city - I wanted to bring it out through the lively beaches, Chowpatty and even Juhu beach. I actually haven't visited Chowpatty in a while, so I don't know if it is as colourful as I remember it as a kid. This theme is more about nostalgia for me.
"
Chowpatty and Juhu beach resonate as a fond memory with every true Mumbaikar, and seeing that memory plastered across the walls of a taxi, well that can just make your day. The taxi driver Md. Azgar Ali whose cab is adorned by Shweta's polychromatic designs gets a consistently interesting reaction from his customers.
"I don't think it attracts more customers, but the customers that do sit enjoy it a lot. Especially when children enter my taxi, they get very excited with the colours and designs. Some even ask me how my taxi has colourful, new seats and why my seats are better than other taxis."
Further, he tells us, "
One child once asked me what the designs on the seat were, and I explained that it was something like Gola, Sherbat or Ice Cream. He gave me a big smile when I said that."
But, working on taxi interior fabric is an unusual canvas to say the least. It can be challenging for many reasons as well, Shweta explains. "
The biggest challenge was dealing with the people doing it. The guys working with the fabric - they are regular, local guys. So, getting the finishing that any designer or perfectionist would want was difficult. They were not trained to do this with perfection, they aren't formal upholstery guys, they are the guys who fit regular fabric for taxis daily.  But, I think with each taxi they do, it's getting better."
Before Shweta's fabric makeover, Md. Azgar Ali's cab resembled most other Padminis in Mumbai - drab and lifeless. He tells us,
"There was never any particular design, whatever was cheap and easily available. I liked colourful ones. There are several shops around Bombay to get such fabric, in Sion, Lalbaug, and narrow lanes at Mumbai Central."
Taxi Fabric's brilliant 6th round of taxi driver and designer collaboration has left both parties with a lovely experience, and something to be excited about. For Shweta, having an open canvas, and relating to so many different people was the most exciting part.
"The different kinds of people who would see it daily, and interact with it was exciting. And there was no brief as such, so it was a completely blank canvas."
While it gave her a unique canvas, it left Azgar Ali with bragging rights! All other taxi drivers gaze with envy at his fancy exclusively designed fabric.
"They are always curious, they ask me where I got the fabric, and how I got it done,"
he signs off, laughing gleefully and proudly.
Words: Rhea Almeida