One of the first things most writers are told by their editors and peers is to never underestimate the power of brevity. Otherwise known as, 'if you can say something in one sentence, don't use three.'
Twitter's come to stand as the real world example of its effectiveness when it comes to communication. A huge number of people confess that the social network is their go-to for news and current events. After all, if they can get a gist of what's happening in two lines, why would they read an entire article? Which brings us to another point: reading is often touted as being too time consuming or as something that requires too much patience—something that is in dismally short supply in today's digital word of instant gratification.
But, for us, any effort that brings people back to thinking and reading is worth talking about. And that's exactly why we love Terribly Tiny Tales. Founded by Anuj Gosalia and Chintan Ruparel, Terribly Tiny Tales is modern-day storytelling at its best and most concise: limited to 140 characters, just like a tweet. "Reducing attention spans, and an urge to find a space for stories and original voices to flourish at a time when cat memes and selfies were ruling timelines were what prompted us to start Terribly Tiny Tales," Ruparel explains to us.
Initially, Terribly Tiny Tales started out as a team of 18 writers who wrote on a cyclical basis, choosing a single word from a list of single words that readers would submit; these would then become the inspiring theme for the story. But a year ago, TTT threw open its doors to anyone and everyone who wanted to write. The result? People around the world began submitting their own stories, to the extent that TTT now reaches more than 2.5 million people every week. "There is so much love, and an eagerness to participate and get featured that it overwhelms at times," Ruparel admits.
If you're reading this and find yourself scoffing and thinking 'what's so special about that?' you've probably never read some of their stories. Sure, they have casual, entertaining stories that momentarily amuse before flitting out of your brain, but they also have some particularly poignant ones that stay with you long after. And perhaps most importantly of all, it occupies one of those unique creative spaces where very real issues can co-exist with simpler topics like love, friendship, and other moments in life we tend to dwell on, peacefully and powerfully. It's these issues, however, many of which hit incredibly close to home for Indians, such as racism, female foeticide, dowry, and casteism that give us goosebumps every time. As such, this article is all about paying homage to the sheer creativity and empathy that some of these evoke.
Here are some Terribly Tiny Tales that really got us to stop, think, and view India's problems through a wider lens. Scroll on to read them.
I. #Underline
II. #Fall
III. #Virgin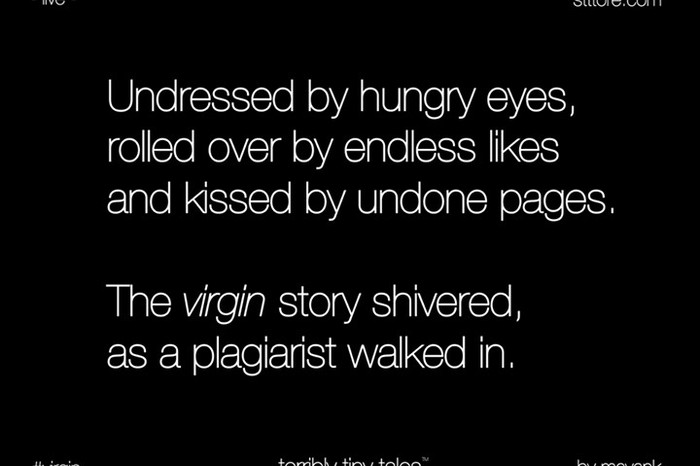 IV. #Prayer
V. #Bleed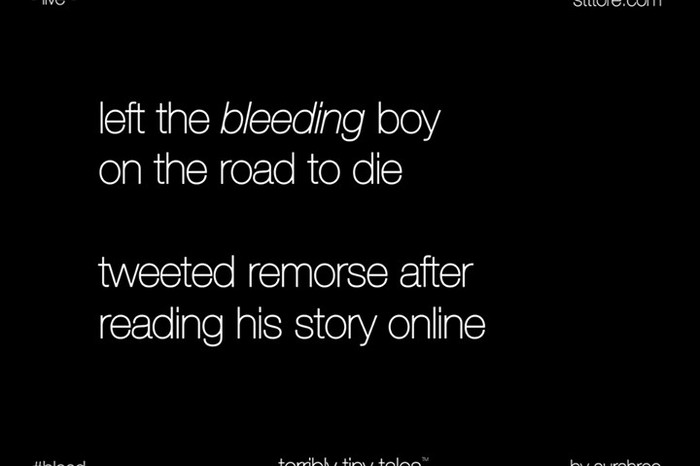 VI. #Cover
VII. #Across
VIII. #Baby
IX. #Belt
X. #Cry
XI. #Five
XII. #Human
XIII. #Joke
XV. #Urdu
XVI. #Weep
XVII. #Well
XVIII. #Below
Check out Terribly Tiny Tales' website and click here if you're interested in submitting a story