Some might say surfing in India officially became a real thing when Mantra Surf Club sprang up in Mulki, Karnataka way back in 2004. Mantra led to others taking the leap of faith nationally and shortly after the turn of the next decade, a smattering of surf clubs started emerging in various spots across India; unsurprising when you consider just how much coastline we have to play with.
The Indian Surf Federation, for their part, have been doing their best to promote the sport. So far, they have already organised two camps that help surfers attain an internationally accredited teaching license; the first of which took place in Mahabalipuram back in 2014, and they have since given out licenses to approximately 35 people. Inching our way into 2016, it's been 12 years since and the smattering has grown both in volume and passion.
India now has 13 surf schools, all doing tremendous work in their own right and all worth visiting. With the help of the ISF and the international community, this number will only keep growing but first, they need more and more people visiting and enjoying the ones that already exist. Scroll on to know these schools better and maybe incorporate them into your upcoming vacations.
Soul & Surf aims to strike a perfect balance between the mind and the body. Set against the backdrop of a beautiful, tourist free beach, they offer sunset rooftop yoga and a superb outdoor cliff-top cinema a couple of nights a week. Surf lessons are up for grabs seven days a week too, considering it's at the very heart of what they do, and you can book your lessons upon arrival.
Cost: A 3-day-long beginners surf lesson will set you back Rs. 6,000. This includes the board and other equipment for the duration of the lesson. You can book your surf lessons.
You should go here if: You want to try some of the best goddamn local Kerala food you've ever had once you're done catching all those waves.
II. Kovalam Surf Club, Kovalam
The Kovalam Surf Club is part of a larger NGO called SISP. SISP has been active in the area since the mid nineties striving to improve the living conditions of the under-privileged. Kovalam Surf Club was started to give the children under SISP an added incentive to go to school and keep them off the streets giving rise to the main rule for participation in these surf classes: "No school - No surfing!"
Cost: A 1.5 hour long individual introduction costs just Rs. 1000.
You should go here if: You also like to skate. SISP has their own skate park set up too.
III. Mantra Surf Ashram, Mulki
Mantra was India's first surf club, started way back in 2004 by Jack Hebner and Rick Perry. They were members of North Florida's first surf club, Oceanside. After pioneering the East Coast surf movement in the United States, they hope to do the same in India. It is important to note that they are the world's first Surfing Swamis and the Surf Club is also an Ashram. They begin their day at 4 AM with the Maha Mantra which is followed by Surfing and Prasadam.
Cost: The Silver Surfer package for a year costs Rs. 30,000. The price includes the cost of the room and equipment among other perks.
You should go here if: You want to give peace of mind a shot.
IV. Shaka Surf Club, Kodi Bengre
Shaka was started by Tushar and Ishita as a result of their visit to the above mention Mantra Surf Club. In 2007, they opened the club in a fishing village called Kodi Bengre. It is a thin strip of land surrounded by the Suvarna river on one side and the Arabian Sea on the other.
Cost: A single surf session at Shaka starts at Rs. 1500.
You should go here if: You want the best of both worlds, a calm beach in the morning and college bars in Manipal at night.
Surfwala is a well-known surf club on Arambol Beach in Goa. Arambol is one of Goa's most beautiful, non-commercial beaches, lined with shacks that serve great food. They offer the best in class surf equipment with experienced teachers.
Cost: A basic surf lesson starts at Rs. 2500 for 1.5 hours.
You should go here if: You want to revisit what Goa used to be like a few years ago.
VI. Vaayu Ocean Adventures, Goa
Vaayu aims to inspire a lifestyle driven by adventure and fun while having a positive impact on their natural surroundings and the community. Vaayu is one of those places that has something for everyone from the art gallery to creative gourmet food and kite-surfing to a yogashala. They also have interesting accommodation options.
Cost: A beginners surf lesson will cost you Rs. 2500 for 1.5 hours.
You should go here if: You want a soul enriching experience full of food, adventure and art. Not to mention meet some of the nicest people in Goa.
Juan and Samai Reboul are from a small village off the coast of Spain. They were introduced to the world of surfing when they moved to Auroville, India in '95 and it wasn't long after that Juan and Samai realised that they wanted to make their passion into their profession, at which point they started giving classes to children and teenagers of Auroville and Pondicherry.
Cost: A private surf lesson starts at Rs. 1500.
You should go here if: You want to experience living in an experimental township that aims to realise human unity.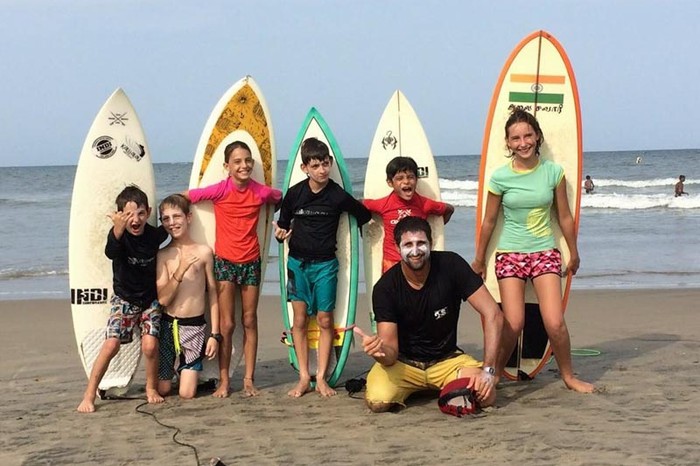 VIII. Ocean Delight Surf School, Kovalam
This surf school only came about last year in September. The school is located very close to the beach in Appu's home. Appu is a local surfer and one of the founders. They hope this initiative helps the village kids learn at a young age. The founders also formed 'Beach Ocean Life', a project that helps keep Kovalam's beach clean.
Cost: A private surf lesson for 1.5 hours costs Rs. 1,300.
You should go here if: You enjoy home-stays and shared experiences.
IX. Mumu Surf School, Mahabalipuram
Mumu was raised in a fishing family in Mammallapuram. His childhood love for the ocean soon led to his passion for surfing and Mumu Surf School soon became the first surf shop around Chennai. Mumu also started a weekly programme called the Ocean Alliance Project to develop awareness of waste disposal. It is a beautiful surf location with Mahabalipuram's historic temples in the background and absolutely worth a visit or two.
Cost: A private surf lesson for 1.5 hours is a steal at Mumu for only Rs. 1300.
You should go here if: You are interested in discovering the numerous century old temples 'Mahabs' has to offer.
Surfing Yogis are the people behind India's first global surf fest, The Indian Surf Festival. They also take regular expeditions to unexplored islands and coastal villages to discover new surf locations. They also encourage wind surfing and yoga.
Cost: 'Walk On Water' is a one day course for beginners to judge your prowess in the water. The yogis only teach people who they think have what it takes. A 'Walk On Water' course will set you back Rs. 1750 with equipment for the entire day and lunch.
You should go here if: You want to buy legal weed from one of the few government shops in Puri.
Covelong is India's first surfing village and Covelong Point has had a huge hand in making that a reality. The surf school started with just a few old boards and Murthy's undying thirst to nurture the growing surf culture. Covelong Point hosts an annual surfing and music festival (Read more about Covelong Point Surfing and Music Festival here).
Cost: An introductory surf lesson for 2 hours costs Rs. 1500.
You should go here if: You want to mix surfing with other water sports like Scuba Diving, Windsurfing and Kayaking.
XII. Bay Of Life Surf School, Kovalam
Bay Of Life aims to bring about a positive change in the surf scene, not only by creating skilled surfers but also by imparting the adequate knowledge to make the ocean a safer place. They hold numerous safety awards and also boast of a few Stand-up Paddle boarding records. Bay Of Life is run by a mix of surfers, instructors, conservationists, biologists and lifeguards with immense knowledge of the sea.
Cost: A 'Discover Surf' tryout class starts at Rs. 1500 for 90 minutes.
You should go here if: You want to learn more about the secrets of the ocean.
XIII. Cocopelli Surf School, Gokarna
Taking advantage of Gokarna's relative anonymity, Cocopelli Surf School has set up near the crystal clear waters of this quiet Karnataka town. For those who haven't quite made up their minds, there's a 2-hour taster course available and if that strikes your fancy you can go in for the 3 or 6 day courses. They provide all the equipment you may need and there's accommodation provided right on the beach so everything's taken care of.
Cost: The longer courses start at Rs. 1,800 per head (we recommend going with a small group for the best deal).
You should go there if: You aren't keen on learning in a super tourist-y location and you'd prefer a more relaxed, personal approach to surfing.