What started as an artistic tool used to revisit memories, both positive and negative, and to cope with the pressure of assimilation for a first generation Canadian of desi origin soon snowballed into an online phenomenon. Artist Maria Qamar, or Hatecopy as she is sometimes known by her Instagram handle, grew up with a deep love for visual art and her Instagram account has fast become a favourite of many young women from the South Asian diaspora, followers of her Lichtenstein-style pop art with a twist. Channelling the popular comic book style for her satirical take of 'desi problems,' she tackles relatable characters and situations that children of people who've migrated abroad and the all-too-familiar 'desi aunties' are all too familiar with. As such, Qamar's world of melodramatic characters in her series Burnt the Rotis depicts the humorous and at times unkind realities of bi-cultural youth. We caught up with the insightful young artist to learn more about her inspiration and motivation for this series.
"It's not tough to find examples of sass and drama in our culture, we've basically perfected it," says Qamar, talking about the creative process and conceptualising of her art pieces. "I love casually flipping through Indian soap operas and finding inspiration. Each piece starts with an idea or a memory of a dramatic moment in my life, or one that I recall from a drama. It then evolves into either a painting, an installation, or sometimes an exhibit."

Many young girls experience the situations Qamar portrays in her sketches almost on a daily basis; such as one sketch where a girl throws on a kurta over her 'promiscuous' clothes for when she leaves the house or her "I wanted Ryan not Rajeev" piece. Her legion of desi fans is a stark difference though, she says, from those she grew up with: "I didn't have a ton of desi friends growing up, so initially I was unaware of how common these themes and issues were amongst us; I was simply drawing form personal experiences and inspirations." But things are different now; Qamar says she's motivated by the feedback she gets on her posts to use her art to bond with other women of colour who experience similar and equally dramatic situations in their day-to-day lives. Some of the topics she picks up are definitely more taboo, in Indian culture particularly, such as the piece for marriage equality, which would be forbidden subjects of discussion in a traditional society where such conversations are shut down even before they're allowed to begin.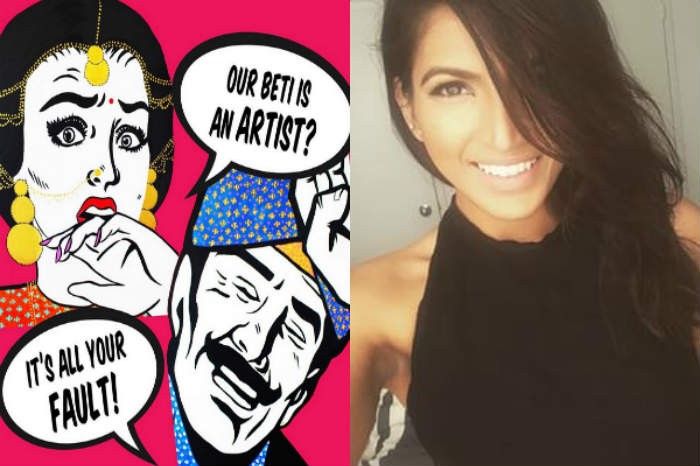 The creation of art can be very private and cathartic, a mode of self expression, and yet a public process at the same time. People's personal experiences consciously and/or subconsciously find their way into their respective work, at times even playing key roles in moulding their aesthetic sensibilities. For Qamar, it was a conscious decision to use personal experiences as foundations of her art, and "it has definitely offended a few folks at home" she says. "But I think it's silly to hide from the world just because I didn't turn out to be the kind of person they really, really wanted to believe I was. Art is a reflection of life and experiences around me, and it's not always fun though, most of the time it is."
Qamar's series involves all aspects of her culture, the bindi-wearing, gossiping and intruding 'desi aunties' as well as western art forms, and her eye-catching artwork is as hilarious and witty as it is provocative in its commentary. But is there really a platform for women artists of colour on a global scale? Qamar gives us her take on the current situation. "Currently, women of colour are the most under-represented group in galleries across the globe. Lack of education can lead to art dealers and buyers overlooking the importance of including our voices in the mix; they don't buy what they don't understand. Platforms like Instagram help artists get noticed, but it's up to these traditional institutions to acknowledge us monetarily so we can continue to thrive in the online space."
Maria Qamar is among a growing number of women artists of colour who are carving out a space for themselves in the art world, and it really is about time they get the recognition they deserve. Her zany take on 'desi problems' has garnered her a following of over 39,000 followers on Instagram, and the number is only increasing. We've posted below some of our favourites from Qamar's growing body of work, all images are posted with permission of the artist. You can visit the Hatecopy website and follow her on Instagram to stay updated with her work.
Feature image courtesy of Brian B. Bettencourt/Toronto Star.