Chances are, if you frequent the city-village of Bandra, or regularly trudge your way through Sainik farms in Delhi, the population around you can be deceptive. It looks like India, it feels like India, hell it even smells like India, but the people represent a far broader range of race, colour and ethnicity. A sliver of a mini-globe right here in our bustling cities as foreigners from Norway to Australia buy their
subzi
from the local vegetable market, take their kids to school, and apply some reasonably impressive
jugaad
skills to their own lives and businesses here.
But considering just how much scare-them-away-forever-information exists on the internet, not to mention the holy guidebooks, you have to wonder how people from such vastly different cultures have not just adapted, but learned to love, even thrive in the chaos that is India? In 2014, HSBC conducted a survey of 9000 expatriates across the world put India, surprisingly, in the top 10 places to be an expat. Apparently, the difficulties of finding a good cheese and wine diminish in the face of cheap travel, lower living costs, and the ability to forge intimate friendships, quickly.
So we put out a call to our readers, located as many of this foreign breed aka expatriates as we could find on short notice, and set out to mini-interview a few of them in an effort to decode their stories of travel, love and passion that led them all the way here. From a whimsical move from London to Mumbai in the late 1990s upon a chance meeting with the Bachchan family to start an experiential event agency, to a Berlin-to-Bangalore move only to start a premium, female-friendly sexual wellness brand all of these expatriates have not only built a life here in India, but also found their entrepreneurial calling.
Scroll on to hear it from the horses' mouths.
I. Cate Victoria | 33 | Ambitious. Passionate. Dreamer.
Moved to India to start her eponymous brand that deals with photography, interiors and cashmere fabric
Thirty-three-year-old Cate Victoria's roots are English, but she was born in Malaysia and spent time living in Kuala Lumpur. "Moving and travelling are in my blood," she says, and her story stands as proof of it too. When she moved back to the UK, she refused to settle down in one spot alone rather choosing to live everywhere from Scotland to the south coast.
The India story:
"Travelling has been in my blood forever. I actually came to India for the first time when I was backpacking—when I graduated as a photographer in 2007. India was always the dream, as I grew up looking at my father's images of Kerala from his business trips to South India. I arrived in Goa first and travelled extensively around the country, only to find myself constantly returning to Goa for love, where I stayed and ran a restaurant and gallery on the beach in Anjuna with my partner."
"From the gallery, I continued to sell my photographs as fine art photography in the markets and other galleries of Goa, not to mention the art fair I used to organise every year in Anjuna. It wasn't until 2013 when I managed to print my first images onto fabric in Delhi. This was the start of a new direction as they then got made into bags, wall hangings, and interiors in Jaipur. There has now been a big interest in them in Bombay, Delhi and Goa. It was the beginning of my Brand Cate Victoria, which I wanted to incorporate my art photography, interiors and the cashmere. Along side fabric printing, I started to make and design cashmere and pashmina products from Nepal by complete chance. I now travel between Nepal and India creating and making new products. I'm very involved in raising money now for Nepal through the business since the earthquake, as I was in Nepal during the quake. My business took a turn and I have spent a lot of time in Kathmandu working closely with my team and trying to help an NGO called
Trek to Teach
. I will be donating a percentage of my earnings to this charity over the next year. I am passionate about creating an ethical and sustainable business concentrating on my producers' working environments and sourcing ethical and organic fabrics and cashmere."
Why India?
As Cate admits, it all happened very organically. "It's grown from a small market business in Goa to selling in Bombay, Delhi and worldwide over the past nine years. For the cashmere, I chose Delhi as I felt there was niche in stylish knitwear for the cold winter. India has so much potential for creative startups and the interest people have in small brands is a lot more supportive and positive," she says.
What she loves about living here:
"I love the way of life in India, and the close bonds you make with people. I have been so lucky to live in Goa, a place where there is a big mix of cultures. I feel I get the best of both worlds. Travelling in India gives me so much inspiration, and so many opportunities open up. You just have to be open to it and have faith," she muses.
"I also feel so much excitement for a country going through so much positive change and growth. I feel the buzz in Bombay and the drive in Delhi—and when I combine this energy together I get so much out of it for my business."
The challenges:
"I miss my family and friends in the UK but there are very few things I've had to adjust to here. It's adjusting to the UK that proves more difficult now."
Follow Cate Victoria: Website, Facebook and Instagram
II. Julie Rousselet | 35 | Creative. Energetic. Headstrong
Moved to India to explore online opportunities in the luxury market
Thirty-five-year-old half-German and half-French Julie Rousselet was born and raised in Paris, attended the American International School, and has a Master's degree in Political Science from Sciences Po. After her studies, she worked as a journalist and production assistant for French-German TV Channel Arte, as a communication consultant for the UNEP (United Nations Environment Programme) and as an editorial consultant for French magazine
We Demain.
In 2010, she switched up careers, became a creative entrepreneur and started her own cashmere brand, Flouzen, a line of luxury travel essentials and accessories. And finally, in 2013, she co-founded MyEnvyBox.
The India story:
"I came to India because I met my boyfriend who is Indian and lives in Delhi. It's been four years now that I am living in between Paris and New Delhi. My friends say I speak English with a German accent and German with a French accent," she says. "I was looking at a project in the emerging internet industry, and thought India would be the perfect market to launch a start up based on the American business model Birchbox, but adapted to the Indian market. MyEnvyBox is the result: an online subscription box for luxury cosmetics and designer jewellery.
Why India?
"India is an emerging market with an ever increasing aspirational consumer base," she explains. "While extremely challenging, it offers superb opportunities in a growing online industry."
What she loves about living here:
"The extraordinary energy, which makes it very exciting and challenging to be an entrepreneur in India in 2016."
The challenges:
"To come to terms with the fact that in India, there are many ways and rules to get to the same point."
Follow MyEnvyBox: Website, Facebook, YouTube, Instagram and Twitter
III. Laura Quinn | 34 | Make. It. Happen.
Moved to India to start her company Do One Thing that helps companies with CSR, amongst other things
Thirty-four-year-old Laura Quinn grew up in the north of England and has always been an adventurer at heart. When she turned 18, she left home and headed to China to teach English in a small city about 100 km from Shanghai. After that, she returned to Europe for a short stint in Barcelona and then went back to Manchester to study social anthropology and linguistics. Saddled with student debt, she followed her friends to London and set out on a career in advertising that enabled her to travel all over the world for research, meetings and shoots—from Brazil to South Africa to the US.
The India story:
"Having lived in London for six years after graduation, I was a bit restless and, despite frequent travel, was eager to relocate and challenge myself in new ways," she shares. "The prospect of working in the development sector had always excited me so I started to look at all kinds of jobs in all kinds of locations around the world. It was then that my employer at the time (Wieden + Kennedy) stepped in and asked if I would help out at their Delhi office for three months. It wasn't exactly what I had envisaged but I'd never been to India and figured what could go wrong in a few months. That was six and half years ago, it turned out to be an amazing turning point in my life and I never looked back."
"I moved here with my advertising job at W+K and had a fantastic experience researching the impact of mobile technology for low-income consumers across five emerging markets. I did some volunteer work creating communications for a CSR programme run by an international bank and set about reading everything I could find on responsible business, social enterprise, and CSR. It was obvious to me that I'd found my passion—and my next professional challenge—so I took the leap and decided to turn that passion into a business. Do One Thing is now over four years old. We're a consultancy in Delhi that helps great companies find their purpose – through brand positioning, CSR, employee engagement, and communications - enabling them to drive financial value and social impact at the same time."
Why India?
"I'm still not sure that I chose India, I think it chose me. After two years of working here I was pretty much in love with the country, and was enthralled by the huge opportunity for business and development. It was really the only market for me to start Do One Thing, I never thought of doing it anywhere else," she says.
What she loves about living here:
"So many things. But probably more than anything, I love the duality of it. India feels like it's pushing in every direction at once. It's thrilling but it's terrifying. It's beautiful but it's crazy. It's at the forefront of technology, but 400 million people live below the poverty line. It feels exciting and full of opportunity, but then something will come along that derails even the simplest of plans. I love to be challenged and India has certainly challenged me. But it's also given me an incredible opportunity to live a really fulfilling life surrounded by some of the best people I could imagine."
The challenges:
"It took time to get used to not understanding things and to let go of my expectations. It's always strange to be in a completely foreign culture and to struggle with the language, customs, conventions and rules. It means that everything is a bit more difficult and confusing, and in India, there's often an added level of unpredictability. I've had to get used to letting go of control and believing that things will work out. It was scary at first, but now it's a liberating feeling—and that foreign place I arrived in six and half years ago has started to feel a lot like home."
Follow Do One Thing: Website, Facebook and Twitter
IV. Marissa Bronfman | 29 | Passionate. Adventurous. Hungry.
Moved to India to set up her digital media agency Moxie Media, and Bowl Bar, a vegan restaurant.
Twenty-nine-year-old Canadian Marissa Bronfman graduated from McGill in Montreal and worked in New York City for NBC Universal and The Huffington Post. She has freelanced for many Indian publications including
Vogue
India and
Condé Nast Traveller.
The story:
After Bronfman left
The Huffington Post
, she continued to freelance for them, and a story she was chasing brought her to India. "I knew right away that I wanted to live here so my dog and I moved to Bombay," she says. "I set up my own digital media agency, Moxie Media. Our first clients included Banyan, Good Earth and The St Regis Hotel (then Palladium Hotel). I started my second business, Bowl Bar, about six months ago because I wanted healthy vegan options in Bombay. I was getting sick a lot living here and knew that I couldn't control my surroundings, but I could control what I put in my body. I started sourcing superfoods like maca, acai, hemp protein and more from my trips back home to Toronto and NYC. I shared images of my smoothie bowls, vegetable juices and other home-cooked recipes on social media and was blown away with the responses I got from people in Bombay and other cities like Delhi and Bangalore. I realised there was a huge appetite for healthy, beautiful food and information people could rely on. Bowl Bar was born, as some people say, from Instagram."
Why India?
"I never in a million years thought I'd move to India. The universe conspired and here I am."
What she loves about living here:
"That every single day is different. It is so rich in sights, sounds and smiles."
The challenges:
"Adjusting to the lack of public, green space and great public transportation. I miss walking everywhere, sitting in the park, having umpteen places to go with my dog, and hopping on the subway and going anywhere I want," she laments.
Follow Bowl Bar: Website, Facebook, Twitter and Instagram
V. Mark Hannant | 50 | Creative. Adventurous. Listener
Moved to India to start a creative agency, magenta, that focuses on branding and communications
Fifty-year-old Londoner Mark Hannant studied at Nottingham University and has lived in Australia and Greece before moving back to London. He began his career as a business journalist and moved into the world of corporate communications 20 years ago. He has worked for a UK-based agency called Trident Communications and managed accounts for clients including Shell, Accenture, BP, and The Metropolitan Police. In 2008, he left it all behind him, and in early 2009, he moved to India.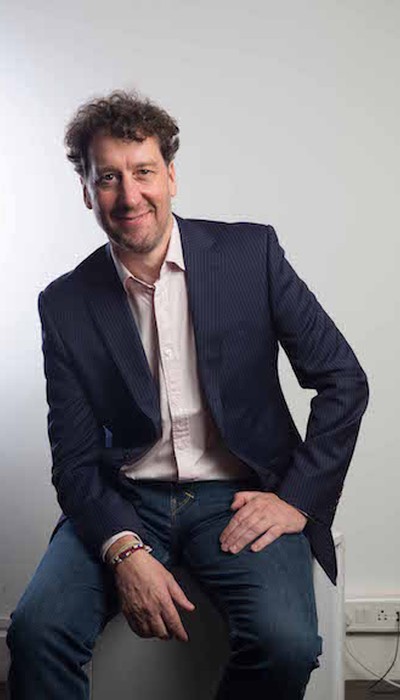 The story:
"There were two parts to the decision. Professionally, my wife and I could see interesting business opportunities—particularly relating to Indian businesses that were creating international footprints. Personally, I'm married to a Gujarati, we have two children and we wanted them to understand that side of their heritage. We believed they should know their cousins and learn Indian languages and experience life here. And overarching all that was a desire for an adventure," he says.
"Munni, my wife and I are co-founders and owners of magenta, a fresh thinking creative agency. We saw a gap in the market and felt there was an opportunity to bring the experience we'd gained working with big multinational clients and international agencies to India and to provide a set of services to Indian companies that wanted to improve their communications. We employ writers, designers, planners, technicians and project managers and work on a wide range of branding and communications projects. Some clients are big, blue-chip organisations while others are small, entrepreneurial start-ups. We try to maintain a balanced portfolio," he says.
Why India?
"We felt that Indian companies would be receptive to the value proposition we envisaged. We liked India, and Mumbai in particular because of its entrepreneurial buzz. We felt it would be a good experience for us, and our children. It has been on many levels."
What he loves about living here:
"There is much to love about India. We've met some brilliant people who've made us feel very welcome. Professionally and personally, we've developed extensive and broad networks—there's always an interesting invitation and fun party happening. We've built a great team of young, talented people. We've found interesting clients with whom we've done transformative projects. India is a place of opportunity and in many ways more optimistic and dynamic than much of the developed world. We like big cities and Mumbai certainly ticks that box," he says.
The challenges:
"There is much that's different about living in India. Some things, such as the climate, social mores, and the high cost of wine are what one adjusts to. There are other things, which I think you never (and should never) adjust to: a pronounced and recurrent lack of civility that characterises day-to-day life in Mumbai. It manifests in bad manners and lack of concern for one's fellow citizens, a belief that rules are there for other people to abide by; driving through red lights or the wrong way down one-way streets; letting your dog foul the pavement; throwing litter from your car window; not waiting your turn in the doctor's and queue-jumping in general; speaking rudely to staff providing service. I call out people for doing those things daily. It's a bit like Sisyphus rolling his boulder up a hill for eternity but I refuse to stand by and let such behaviour go unchallenged," he says.
Follow magenta: Website, Facebook, Twitter and Instagram
VI. Martin da Costa | 46 | Idiosyncratic. Curious. Casually hedonistic.
Moved to India to helm 70 EMG, an event and experiential agency
Forty-six-year-old Martin da Costa is half-British and half-Portuguese. He grew up in Lisbon and went on to study at the London School of Economics.
The story:
"I arrived in India in August 1995 after having met the Bachchan Family (Amitabh, Ajitabh and his wife Ramola) at a party in Hampstead, London. I was 25 at the time. That evening, they offered me the role of CEO in a new sports marketing agency they were launching in Mumbai and New Delhi. Four days later I was looking down from what used to be the old Nataraj Hotel at Marine Drive and what remains of the bay in Bombay."
"70 EMG was launched in 1997 as an event and experiential agency advising the few FMCG clients—Pepsi, Coca Cola, ITC, Channel V—that were beginning to take the idea of consumer-focused, on-ground experiences seriously. Within the first year of launch we were designing and executing music concerts, product launches and events across India," he says.
Why India?
"It was a rather startling chain of circumstance that lead me to India in the first place, almost as if rather than I making any concerted choices in the geography of my future at the time, India actually reached out and chose me herself. Of course, once I arrived—the first night in fact—India and Mumbai wrapped their green and steamy tendrils about me and took away any further choice I had in the matter," he shares.
"I loved the country from the moment I sensed it, high over the old Mumbai international airport. That was a Wednesday evening. By the time Friday evening had rolled around, I was neck-deep, and surrounded by new friends in the warm waters off Vagator Beach, Goa. I wasn't going to leave India after that introduction."
"And then, of course, there was India as a market. It was almost entirely virginal from my own rather specialised point of view, as if anything was possible, and that whatever you thought of, you'd be one of the first to try it. We managed Hindi Pop artists and invented new ways of doing events. All the time aware of the slow, inexorable growth of the urban middle and upper-middle classes that were fuelling not just 70 EMG's business, but also other avenues that I explored: Olive Bar & Kitchen for example, where my wife and I were part of the original investor and owner team."
What he loves about living here:
"I love the fact that I can be in a meeting in Defence Colony Delhi, or Parel, Mumbai and realise that there's an hour or two before my next one, which will give me just enough time to drop in on a friend and use his or her shower, have a cup of coffee, play with their dogs, cats or kids, and then leave. All without calling first, without worrying whether I'll be welcome or not, or indeed whether that particular friend is even at home. I love the warmth, the hospitality and the casual informality of friendships in India—the realness of them. You can only really understand it when you've spent a few years living and working in the social-chill that is London or Paris."
The challenges:
"The class system that keeps such an enormous percentage of Indians mired in poverty, ignorance, under-nourishment; the lack of coherent governance that leads to India's desperate income inequalities being perpetuated generation after generation. And the breathtaking greed and venality of the politicians and bureaucracy. It still has the capacity to shock and outrage me even after 21 years."
Follow 70 EMG: Website, Facebook, Twitter and YouTube
 VII. Maurits Favier | 29 | Adventurous. Risk-taking. Kind
Moved to India to start RAFF, which makes handmade leather bags
Twenty-nine-year-old Maurits Favier is the co-founder of RAFF, as well as a research analyst working at Tractus Asia, an American-run management consulting firm specialising in supporting business in Asia. Originally from the Netherlands, he grew up in the southern neighbourhoods of Amsterdam. He has lived in India as well as Thailand and Indonesia, and has a degree in business administration from the Amsterdam University of Applied Sciences.
The story:
"Having been relocated to India merely four years ago on behalf of my employer, an American-run management consulting firm, it came quickly apparent what immense opportunity the country held for business," he says. "With shared views on the immense potential India holds as a market and manufacturing hub, Rashi and I joined forces and founded Raff in 2014. Today, Raff sells several bags per week across Europe and India, with an exciting, constant growth pattern apparent across both of our focus regions. Our success is based on various factors among which is hard work, a competitive manufacturing climate, fantastic suppliers and a growing home-market, but above all, it is based on our diverse multilateral team of dedicated, talented professionals. Having worked for several years in management consulting advising multinational companies on their manufacturing strategies across Thailand, Vietnam, the Netherlands, Indonesia, Myanmar and off course India, has given me a robust understanding of global supply chain and trade management. This, combined with Rashi's years of experience in leather bag design and marketing, has allowed us to build Raff to the successful enterprise that it is today," he says.
Why India?
"India was the chosen market due to its growth potential, its access to cheap labour and raw materials, as well as the fact that it's strategically located between Europe and East Asia."
What he loves about living here:
"What I love most about India is the challenge of living here. Nothing in India is easy and every day is a challenge, ensuring that it's never boring to live here. Getting the simplest of things done, from setting up an internet connection to having home repairs done is tough, making it infinitely rewarding when you finally get stuff done. What's more, the food is amazing, cost of living is low, and the climate is generally nicer than that of the Netherlands."
The challenges:
"The most difficult adjustment to India has been the temperature. Pondicherry, where I live, can be quite hot—not easy for someone from Europe. What's more, getting simple things done is challenging, and while I enjoy the general challenge, it can be tiring as well. Doing business in India is no exception, and dealing with the ridiculous bureaucracy is the biggest hassle of all. Other general tasks such as setting up meetings, having clients commit, having suppliers commit, and retrieving reliable statistics is never easy," he shares.
Follow RAFF: Website, Facebook and Instagram
 VIII. Michaela Strobel (Mika) | 28 | Positive. Spiritual. Structured
Moved to India to start a boutique art studio called Harkat Studios that specialises in digital video content
Twenty-eight-year-old Michaela Strobel has lived, studied and worked in four different countries and attributes this restlessness and hunger to learn more as to what drives her. She holds a Bachelor's in media management from Germany, and she studied intercultural management in Paris before pursuing a Master's in global media studies in Stockholm. She's been a foreign news journalist, a TV content developer and even an academic researcher. From all her globe-hopping, India has been the longest stint so far.
The story:
"I'm from Germany, but have been living all over the world, so it's a little difficult to pinpoint exactly where I belong. I've been living in India for two years now. I started as a researcher for NGOs in rural India where I looked at how filmmaking could be used as a tool for empowerment in rural India. But that wasn't my first visit. When I came to India in 2012, I spent six months travelling the hippie way, crisscrossing the country from one commune to another. But that seems like a lifetime ago, and I would've never imagined I would start a business here," she says.
"Harkat Studios is a boutique arts studio. We specialise in digital video content. It all began around two years ago when we started developing our own concepts, primarily in the fashion and art space. We love to experiment and believe that through our art we can make the world a more beautiful place. It's about valuing your craft, which is why I think we have become one of the leading agencies for behind-the-scenes content for Bollywood films. We want to share with the world what goes into creating this magic on screen. Some of our stuff, like the making of the plane for Ram Madhvani's
Neerja
has even gone viral."
Why India?
"I didn't choose India, India chose me! One thing led to another and everything began to feel right. We often say that we almost tumbled into business. But now looking back at it, it all makes sense. India is much younger compared to Germany, where the majority of society is somewhere around 50-plus. There is not much openness or spontaneity over there. Here in India, people are incredibly open to try new things and new ideas, as well as experiment with new media or even storytelling. The number of videos we have made in the last two years would have taken me five years to make in Germany. It's very fast-paced and exciting here in India. It's not just discussions with grey men in grey suits and I love it," she admits.
What she loves about living here:
"People are thinking in solutions. The first word I ever learned in Hindi was
jugaad
. That's what India is for me. And I love it—even though it took my German soul a short while to get used to this approach."
The challenges:
"The class difference. In Germany we do have hierarchies, but they are earned, mostly by age. An electrician is respected for his work as much as a marketing manager. Here that's completely different. I still struggle every day with it. I realised if I treat everyone as an equal, work doesn't get done. It seems that instead of being more respected, people start taking you for a ride. So on one hand, I have started to talk very differently to different people, but on the other, this goes against all my values and upbringing. I guess it's a slow process to change these things," she ponders.
Follow Harkat Studios: Website, Facebook and Vimeo
IX. Ute Wiemer | 25 | Straightforward. Creative. Visionary.
Moved to India to start Lovetreats, a premium, female-friendly sexual wellness brand
Twenty-five-year-old Ute Wiemer from Berlin, Germany, studied philosophy and economics and worked for UNESCO and a bunch of different NGOs and startups including Bonaverde, a Berlin-based coffee startup before coming to India in 2014. She worked at Fairtrade India for six months before starting up Lovetreats, a premium intimate lifestyle brand.
The story:
When she first moved to Bangalore, she was surprised by how open many of the women she met were about their sexuality, unlike the stereotypical images of Indian women that she had had in mind. They were confident about their relationships; many were into online dating and some friends even told her that whenever one of them travelled abroad, she would bring back sex toys and other goodies for her friends. Slowly the idea of a female-friendly sexual wellness brand evolved, but only became a reality when she met her eventual co-founder and partner, Bala, who had the same idea and had already started working on a business plan. They teamed up and launched Lovetreats in October 2015. "We see intimate products such as love toys, foreplay accessories, lubes and erotic massage products as part of a modern lifestyle and take the sleaze factor out of the sexual wellness category," she says. "Our aim is to open up the sexual wellness market in India to a whole new audience, so to all those who have so far felt uncomfortable shopping for these kinds of goodies—we are sex positive and inclusive."
Why India?
"We felt that a classy destination for sexual wellness products was really missing here. We interviewed about 100 people before starting the business and the vast majority told us they were curious about trying out products such as love toys, but didn't know where to buy them or had concerns about the legality (which at Lovetreats we ensure by curating only discreet looking toys which are approved by customs). Many people are even ashamed to buy condoms at their local pharmacy, so by making them available online, we can ensure privacy and discreet delivery. The sexual wellness market in India is a blue ocean market, and even though it's niche, it is fast growing. The initial response is very encouraging, and we get orders from all over India."
What she loves about living here:
"Interestingly, it's something I found very overwhelming and stressful when I first came here: The chaos. Something is always going on—there is life and noise, people everywhere. It feels like things are moving faster and slower at the same time. Now, whenever I go back to my parent's house in the suburbs of Berlin, it feels like someone must have died or something. It's just so quiet and empty," she muses.
The challenges:

"Being away from my family is the most difficult adjustment for me."

Follow Lovetreats: Website, Facebook, Twitter and Pinterest
 X. Vera Fritsch | 35 | Adventurous. Creative. Passionate
Moved to India to start Monsoon and Beyond, her brand of home textiles and accessories
Thirty-five-year-old Vera Fritsch was born and brought up in a picturesque town in the South of Austria
.
"It was a wonderful place to grow up in yet from a very young age, I felt the urge to travel and discover other countries and cultures," she says. She studied economics, which took her to France, the UK, Italy and Sweden—journeys that more or less satisfied her desire for adventure. "But it was only when I accepted a job at a diplomatic mission in New Delhi that I entered the ultimate adventure of my lifetime. That was in 2007, and ever since, India has been my home."
The story:
"I always had a passion for design and interiors throughout my life but only India triggered the urge to translate my passion for design into a profession. Fascinated by my everyday adventures in India, I wanted to bring the country's beauty, culture and magic to everyone's home around the world." This guiding philosophy was also the main reason why she started Monsoon and Beyond. Without compromising on her rather contemporary, European design understanding, she began collaborating with artisans across India and applied ancient Indian handicraft techniques to her work. The result was a perfect synergy between design and craftsmanship, and Monsoon and Beyond, with its range of home textiles and accessories, was officially born in February 2013.
Why India?
"There would be no Monsoon and Beyond if it weren't for India," she states adamantly. "Everyday life in India is my main inspiration. Each piece that I create tells a story about the mood and beauty of India.The indigo houses of Jodhpur, the faded wall of a medieval tomb in Old Delhi, the sunset over Marine Drive in Mumbai—all these images and related emotions come to life in my creations."
"Another reason why India was the right place for Monsoon and Beyond is because of the high quality fabrics and the incredible skillset of its artisans and craftsmen. My designs feature several ancient handicraft techniques such as Aari embroidery and hand block printing. We truly celebrate India's rich handicraft techniques and incorporate these ancient forms of art and craft into our eclectic, avant-garde designs. That is how we achieve our signature style."
What she loves about living here:
"To me, there are a million things to love about India. However the one thing I want to point out is the fact that living in India makes me feel strangely alive and challenged on a daily basis. You cannot take anything for granted and you have to work for the comforts in your everyday life. It makes me feel more humble and grateful about life," she shares.
The challenges:
"I think the most difficult adjustment was to adapt to the slow pace in doing business. Being an Austrian, I was always used to working towards strict deadlines; to be on time for meetings; to work as efficiently as possible. But in India, everything runs much slower and you just have to accept it. Just to give you an example: it took me almost two months to open a bank account for my business. Luckily, my job at the trade commission already prepared me quite a bit for that," she muses.