"What are you?" might just be the most commonplace question every Indian child learns to respond to, dodge, or deflect, depending on how they feel about the person who's doing the asking. Ethnicity, race, and personal identity continue to forge an inexplicable link the world over—often highlighting our differences rather than bringing us together. The latter two, however, are aspects of the human experience we consider far too little in a country like India, which remains insulated by a particularly contextual bubble we have created around us. And despite further global interaction than ever before, it's still a bubble that's best understood from within.
Perhaps it's the fact that cultural diversification from state to state is so immense—it often feels and looks like individuals might as well be from different races and ethnicities, despite belonging to one nationality. It would certainly explain why mixed-community marriages are still considered a huge break away from the majority mindset, or why minority groups still feel so targeted. Or perhaps it's the fact that our instant labelling of people's ancestry is usually based on tracing their last name over their appearance? It's a method through which our parents, if not us, can easily gauge what caste, class, religion, and part of the country somebody is likely to be from. But what happens when we take an axe to these comforting boxes we put people in and split the wooden cage wide open?
Splinters, splinters, everywhere.
In 2013, National Geographic ran a wonderful and insightful feature on visualising race, identity, and change through the transforming face of America. Having never forgotten it, in a similar vein, we set out to uncover young (partially Indian) Indians whose ancestries serve as reminders of the blurring race/ethnicity lines we've been seeing over the years, more stratified and diverse than ever.
In the first two volumes, we covered their stories in an effort to understand how the multiple cultural influences played into how they see themselves. Many embrace their 'DNA disco,' revelling in their ability to move between cultures, enjoying the more convenient parts of their lineage too. Like a wider exposure to different cuisines, of course. Others admit to facing constant challenges in how they identify themselves, largely depending on where they are. Still, almost all of them appear to reject the notion of easy labels, and are opting, instead, for a far more fluid sense of identity.
If the current trends of globalisation are anything to go by, we can only hope these cultural cocktails become more commonplace. Because these 7 individuals prove that with more diversity, comes a greater acceptance of different kinds of people. Something we can all agree our country needs more of—let alone the world.
Scroll on to know them better.
[For those who missed the previous editions of this series, do read Vol. I and Vol. II.]
I. Devi Gianetti | Gujarati-American
Where the unconventional union began
To escape the boredom of visiting relatives in West Virginia, USA, after graduating from Design School, Devi's mother got in touch with musician friends who invited her over to Boston and Maine while their band was on tour. "The lead guitarist and composer of that band happened to be my father," says Devi.
"It was really like love at first sight, something which I suppose was fathomable in the days before the internet and Tinder. Before they knew it, they had moved in together," Devi shares. After spending time together in Boston, the pair moved to Lome in Togo, Africa, where her father worked on his thesis on West African Drum Music and her mother worked as an Art and English teacher. After their adventures in Africa, they relocated to King's Circle, in Mumbai. "Even though my parents are not together anymore, my Dad never left Mumbai. It's been over 20 years now," she shares.
"Being from a mixed race background has made me pretty versatile - I can adapt to almost the whole range of the spectrum; I can do dandiya and love dhokla as well as the 4th of July and meat lasagna. Basically, I get a lot of multicultural references."
The melting pot of cultural influences
"It feels great to be a unique cultural concoction that starts with my genetics and even extends on to my name - Devi Giannetti, even though it's hella difficult getting people to say my last name in India and my first name abroad, I really love that I'm the only one in the world with it. Sure, there can be challenges that come with being mixed but they just add up to having more adventures and stories to tell - a lot that include me shocking unsuspecting folks throughout the country with my fluent Hindi, Gujarati and Marathi," she jokes. "Since I've lived in India for almost my whole life, I've subconsciously felt really Indian, a Mumbaikar to be precise. Having said that, while I was growing up, there were times when I definitely felt very different from my peers and was treated differently as well. I was lovingly, on most occasions, called 'firang' even though I never really felt like one. Which is funny, because when I lived in Amsterdam for a year and a half for an internship, my friends always laughed about how Indian I sounded and looked."
Devi's parents married at a time when globalisation had just begun. She tells us that for her grandparents, maternal and paternal, were a little surprised and intrigued by the differences their child's spouse came with, but they were always very supportive of their union. Devi's parents separated when she was very young and as a result she grew spending more time with her mother and maternal grandmother, both playing key roles in her upbringing. "My Dad continued to live in India and was actively involved in my upbringing as well, just not as much as my mother and grandmother since I didn't live with him," she shares.
"I've also inherited a lot of love for food from both my parents, thanks to whom I've developed a worldly palate for the food I eat, and I'm always game to try new kinds. At home we have our regular Gujarati Satvik style going for lunch everyday but we try to mix up our cuisines for dinner. But comfort food will always be the sweet Gujarati Toor Dal."
"I've grown up fairly well-acquainted to my Gujarati and Maharashtrian roots, and I'd say that I've followed Indian traditions more closely than my American ones. My American family, who are based in New York at the moment and who I visit often, definitely contribute a lot to this world view. But I credit most of it to the exposure that both my parents have given me. What they've given me goes beyond the genetics and culture indigenous to the countries they are from. Those things aren't as relevant as we may think they are - my parents have given me the tools to view the world with an open mind, to never to judge and to always be hungry to learn. This has truly made me a citizen of the world...Along with embracing the differences both sides of my roots bring, it's really cool that there are so many similarities as well. Both my families have almost identical core principles of working hard, staying honest and humble, and being a good human being which takes precedence over anything else. This has resulted in a pretty iron tight value system for me. This just goes to show how love and the meeting of minds don't have cultural barriers at all."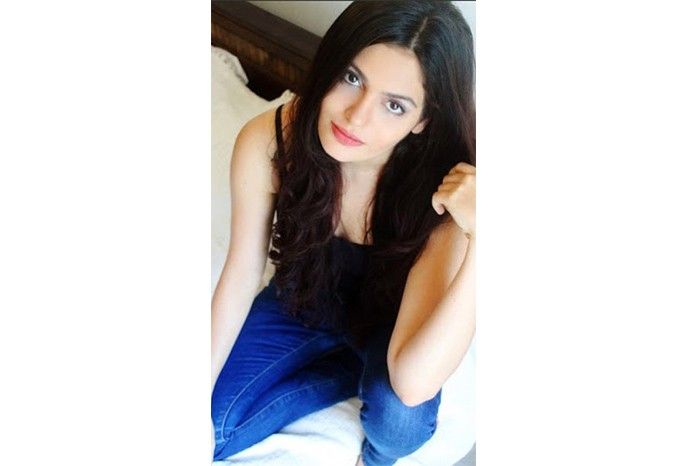 II. Krishna Morzaria | Gujarati-German
Where the unconventional union began
"It was definitely fate," says Krishna. Her German mother's job in the garment industry had her travelling and spending six months in Hong Kong, India and the Philippines. Her father, who's from Gujarat, was born in Africa but fled Uganda with his family in 1970 before Idi Amin's take over of the region. "They happened to meet in Bangalore, and they fell in love--It was just being in the right place at the right time."
"Being from a mixed race background has given me the ability to adapt to different situations. I'm deeply influenced by both Indian and European design sensibilities, which is partly why I created PureSpaces. I wanted to explore and show how there can be a happy medium between two cultures and perspectives."
The melting pot of cultural influences
At the end of her trip Krishna's mother decided not to return to Germany. "I'm sure there were reluctant relatives on both sides as with any family or any union. If my mother found it hard to adapt to Indian culture, she didn't show it. In fact, her business is thriving and she has even helped me start my own interior design business."
Krishna considers herself a Bangalorean, "I was born and brought up here," she says. Funnily enough, Krishna having a German passport is considered an Overseas Citizen of India (OCI) and her mother, who was born in Germany, is considered a Person of Indian Origin (PIO) as per the Indian bureau of immigration.
"Bangalore is a cosmopolitan city with such a unique blend of cultures, and I fit in quite well here. Of course, there is that occasional squabble with a shopkeeper when I'm charged the 'tourist' rate."
With the exception of schnitzel and sausages, Krishna says she's more or less a vegetarian. "Every year we go to Germany to visit family and we bring back a suitcase filled with groceries so we can cook authentic German food at home. My German relatives love India so we always have someone coming to visit, keeping our stock of German food always full."
III. Mira Thimmayya | Swedish-Kannadiga
Where the unconventional union began
The year was 1977. Mira's maternal grandfather, who worked for ASEA at the time, moved to India for a couple of years and his daughter Brittinger, Mira's mother, came along to help her parents settle in. She was supposed to stay for a year's time, but ended up staying for 11 more after meeting Mira's father on the rooftop of the apartment building where they both lived. "My father, being traditional, asked my maternal grandfather if he could dance with his daughter. My grandfather said that he should ask her himself," Mira shares with us. Her paternal grandfather's great grandfather, Kodandera Subbayya Thimayya is one of India's most illustrious Army Generals; "My cousin Raghu Karnad has written a book about our family called Farthest Field."
Mira was born in Hyderabad in 1985 where her parents moved to Bombay for work. Three years later, her father got a job offer with Åkerlund & Rausing, and their family moved to Sweden.
"I feel so fortunate being from a mixed race background. I feel like a better person for it, like I have been given this wonderful gift and I just want to use it to give back somehow."
The melting pot of cultural influences
"Living in Sweden, I always knew I was different, but I always felt good about it. Like having two different cultures, different worlds was a treasure. People always ask me where I'm from, it seems I have a look that people can't place, so they get curious. Most of the time they think I'm Latina or Spanish. When I'm in India, people treat me like a tourist for the most part–and sadly, I don't know Hindi (or any other Indian language) well enough to convince anyone. But people in India often react to my last name, Thimmayya. When travelling with my dad we were once stopped in an airport by a guard who wanted to shake my father's hand because he was a 'Thimmayya.' I remember being so surprised and stunned by this. In Sweden, no one knows that my last name has any meaning. I'm always amazed that Indian people can tell where you come from just by knowing your last name. In Sweden, no one knows a 'Fransson' from a 'Svensson,' or any other last name. When I get married I want to keep my name because it is such a big part of me, of my heritage."
"I have always been drawn to food, scents, colours that are oriental or Indian. Even in fashion and interior decoration, Swedish and Nordic style is very simple and colourless. I have always been drawn to colours and sparkle and tend to wear things that people tell me look so good on me but they could never wear themselves. I think they are just scared of standing out...I actually love mixing Swedish and Indian styles, simple with sparkle. In fact I loved it so much I actually had my own store in Sweden for a while, selling Indian jewellery and interior decoration. I travelled to India to purchase products. It was a wonderful experience and I learned so much. It really made me feel so much closer to the Indian side of me and my family. Although, I did learn that as a business owner my way of running a business is maybe more 'Swedish' than 'Indian,' if that makes any sense. My company was part owned by an Indian investor and I learned a lot from him, I also learned a lot about myself," she admits.
As far as food habits go, Mira says her family has "never been very traditional," even though she sometimes wishes they had been. "I wish we had celebrated the Indian holidays more--Diwali for example is such a wonderful time. In that way I guess we are more Swedish, maybe just because we live here. Food-wise I always loved Indian food and my dad used to cook a lot. A favourite that I can't seem to get in Sweden are idlis and dosas. I could eat that every single day."
I'm engaged and planning to get married next year and to me it is important to have both of my cultures in my wedding. It is a bit of a challenge but it means a lot to me. I actually think that my wedding will be a good representation of my life as a multicultural woman--just a wonderful cocktail!"
IV. Priyanka Mehta | German-Punjabi-Bengali
Where the unconventional union began
In post World War II England, Priyanka's Bengali maternal grandfather fell in love with her German grandmother. Her grandmother was studying to be a nurse at the Maidenhead Hospital while her grandfather was studying civil engineering. Her grandfather was the only son amongst seven sisters and having moved to Germany after getting married, he moved back home to Kolkata upon his mother's request. "They obliged and lived in the house that eventually became my house. My grandmother would often tell me stories of how she suddenly had to adjust to a large family, and you know we Bengalis love our pet names, still, she managed to learn them all and to this day she speaks much better Bengali than I ever will," shares Priyanka. "She wears her saree like a pro, and she taught me to embrace different cultures from the very beginning."
The paternal Punjabi side of Priyanka's family moved to Kolkata when her father was in his last few years of school. He saw her mother in a bus, getting off at Max Mueller Bhavan. He enrolled into German classes at the institution and eventually built up enough courage to ask her for her phone number. "Thus, began a ten-year-long relationship between the classic leather jacket adorned biker and a class topper, future zoology professor kind of girl. They got married in 1991 and I was born in 1993, incidentally born on my mother's birthday," says Priyanka.
"Being from a mixed race background helps me see that there is no black and white in a person's character; they are a sum of all that has influenced them. I don't like to actively judge someone based on their beliefs and think it's wrong of other people to do other wise. I have never been pressured to do anything that I did not believe in, I could choose the God I wanted or no God at all. I have this 'live and let live' policy."
The melting pot of cultural influences
"In terms of identity, coming from a mixed background and having grown up in India, my heart will always belong to this country, and I know that I'm an Indian, even though people may have trouble accepting that based on how I look. For instance, being mistaken for being Spanish when in France, or being told to pay the foreigners fee when visiting heritage sites in India. I always have the pleasure of informing them otherwise or pulling out my driver's license when the situation calls for it."
Ultimately, it was thanks to her grandmother who had to brave a completely new world of cultures and languages, from having to adjust to a large Indian family to the general experience of India that she hadn't quite prepared for, that Priyanka feels she can embrace all the various cultures and quirks that contribute to who she is today. Celebrating the best of both worlds, her mother brought her up pretty much the way she was too. "We watch old English movies, groove to music playing through the house, fall in love time and time again with German-style apple pancakes and waffles," she says. "I've grown up playing all sorts of German board games and have had German fairy tales narrated to me when it was bed time. At times, it's hard to identify where I truly belong. I have never set foot in my father's hometown and don't know much about it except what I've heard from my grandparents."
"I only realised that my upbringing was very different when I moved away to Bangalore for college and later work. I got a chance to interact with people from all around the country, breaking a bit out of my little bubble that was home. I do know that my upbringing was not the same, but the values that have been imbibed in me are. And that's the beauty of living in a culturally diverse country like India. There's so much in terms of ethnicity, culture, language and religion thriving everywhere, so I've never felt 'un' Indian in any way."
V. Rashila & Carlos Lobo | Swiss-Italian-Goan
Where the unconventional union began
Rashila and Carlos' parents met in Goa while their mother, Marina, was backpacking through Asia, in 1989. Marina's parents, Amanzio and Sonja, met and married in Switzerland where Amanzio's parents had emigrated from Italy in the early 1900's. Sonja Alice Blum was a child of a mixed race marriage herself between her Austrian Father and Swiss mother
During her travels through Asia, Marina met several tourists that encouraged her to travel to Goa. "Being an introvert, she wasn't really into the typical crowded tourist spots and party scene; she said she would never visit Goa. Little did she know then that 25 years on she would still be there," shares Rashila.
As Marina was travelling to Kerala she made a stop at Calangute Beach, which at the time was a very famous beach of Goa. On a low budget, she took up cheap accommodations that happened to be opposite Rashila and Carlos' father's guesthouse. "Long story short, they ended up getting married in Switzerland in 1991 and started a life together in Goa. The end result was us three--Rashila, Carlos and Varuna."
"Being from a mixed race background means you are born into the best of both worlds. It gives you the opportunity to view the world through two different perspectives, allowing you to choose what you associate with and sort of making your own blend of the two. You never quite fit into either culture, but this isn't a setback, it's an advantage! It makes you versatile and truly a citizen of the world. It is a fortunate and fascinating experience."
The melting pot of cultural influences
"As a kid I never really thought I was all that different from the others, but not everyone agreed. I was once bullied and called an 'English pig,' The kid doing the bullying didn't even realize there's nothing English about me. To him, I was just different, I was white. Whereas in Switzerland, we were asked by other kids if we lived in a hut by the ocean--Do we have refrigerators? Does it snow in Goa? And whether we got to Switzerland by ship?" says Rashila. People could never figure out if she was a local or not. On several occasions people thought she was a tourist and would try and blatantly rip her off or speak about her and make comments expecting that she would not be able to understand the language. "Used to speaking my mind, in instances like this I would keep quiet, listen to what they were saying and then throw in a reply in far from perfect Konkani or Hindi just to establish that I do know what's going on. Although at home we were mostly on the same page, there were instances when my mother would say or agree to one thing and my father would insist on the complete opposite. This truly brought out the differences in culture and upbringing and as a result, us kids ended up choosing bits and pieces of what we associate more with in either culture."
"Since I was born and brought up in Goa, I pretty much grew into that part of me through school and society in general. However, the mother is the homemaker in any family, and my mother ensured we picked up bits and pieces of being Swiss too. We grew up eating a lot of potato & pasta and basically continental food at home. Most of our Goan and Indian food was eaten at friend's places or in restaurants. She also made it a point to speak to us in Swiss German when we were little. She was doubly insistent on cleanliness and being on time. I noticed a difference in the way we were brought up and our lifestyle and values when I hit my teens, we were more open about everything at home than most of my friends were with their family and as such, I was allowed to do a lot more than my friends were and didn't have to go sneaking about," she shares.
"As kids, we were brought up more by our mother, and so naturally we have inclined to a more western culture. But at the same time being born and raised up in Goa definitely leaves an imprint of the local ways," Carlos admits as well. "In terms of identity, I don't think it's much of a challenge. People perceive you differently but that's mainly due to a difference in skin tone and language, and it's nothing you can't exactly deal with. There are times you clearly see a cultural gap in terms of lifestyles or thought processes, but this just helps broaden your perspective and enables you to be more accepting of mixed ethnicity." Their maternal grandparents were supportive of the marriage albeit upset that their daughter had decided to live so far away. On the other hand, their paternal grandparents proved tougher to please, but in the end, they too accepted the union. "Both our parents faced racism of some sort in the other's country. Living in Switzerland would have proved easier with respect to less interference from society and more privacy, but our father would have had a hard time finding a job there. Living in Goa, on the other hand, was hard for our mother as it is such a small state and the community is very tight knit, and hence, word gets around pretty quick thereby ensuring no privacy whatsoever. There is also a certain way things function and what's expected to be followed which she sometimes found hard to do," he shares.
For Carlos, the local culture is without doubt a big part of his life; "I personally feel it's impossible to live in a country and not pick up its traditions. Most of the local influence on me in terms of food, traditions and lifestyle was through schooling, friends and society in general. My values on the other hand are majorly drawn from my mother. None the less both cultures have integrated well enough that neither one is inseparable."
VI. Sapphire Samaria | Irish-French-Punjabi-Mangalorean
Where the unconventional union began
"My great grandparents, the Ducasse's were of mixed ancestry, and they came to India during the Second World War. My great grandfather was a soldier in the British army, while my great grandmother was a nurse who had been posted to serve the injured soldiers and citizens during the war," Sapphire shares with us. Having fallen in love, they decided to settle in India after the war and had six daughters. "My grandmother, Emily Antonette Ducasse was the fourth daughter, who fell in love with a sardar and after their wedding, they travelled to Amritsar, in Punjab, where my mother, Simrith Ahluwalia, was born," she says.
Sapphire's mother fell in love with a Mangalorean Roman-Catholic man whom she met at a discotheque in Mumbai. "It was love at first sight they said," she muses. There were a lot of challenges initially when it came to her father's family accepting her mother, a woman from a different religion and background. "My mother even learnt Konkani to fit in. Both their families gave in finally, and they had a Hindu, Catholic and court marriage."
"Being from a mixed blood background, I don't feel any different! Coming from such a multicultural background does have it perks since I learnt so much about so many things at an early age, the exposure and freedom I experienced as a child was incredible and ever since my grandmother, every sister in the Ducasse family grew to find themselves in mixed race marriages so I proudly have all religions and culture's of people in my family. It's an incredible journey, and the diversity is almost over-whelming."
The melting pot of cultural influences
Sapphire lived in Saudi Arabia for most of her life where she says people were open-minded when it came to accepting her mixed cultural background. "After shifting to India I faced a lot of racism and criticism from people, even being called a 'firang' multiple times. Taxi and rickshaw drivers try to dupe me assuming I don't know the local language, and because of my slight accent. But I proudly speak English, Konkani, Kannada and Hindi fluently--jokes on them!"
"My ethnicity hasn't really affected my choice in food, I'm a big foodie and will eat absolutely anything. I grew up eating my mom's aloo parathas, chai, butter chicken and daal, but bacon, eggs and toast were also a huge part of my diet as well. I've been more exposed to my Indian culture from a young age and it is so breathtakingly beautiful. My drinking capacity though, that's Irish!"
VII. Siobhan Gardiner | British-Indian
Where the unconventional union began
"My mother came to the United Kingdom to study in the 80s, having being born and brought up in Bangalore. As a Hindu vegan, it might seem surprising that she met and fell in love with my father–an English beef farmer," Siobhan shares with us.
"Being from a mixed race background I have had the wonderful luck of learning from a very young age about the importance of diversity, cultural exchange, tolerance and understanding."
The melting pot of cultural influences
Siobhan tells us that while she is proud of her Indian heritage, as well as her English heritage, she doesn't necessarily identify as either. "Legally I identify as British, but when asked where I am from, I simply state I am of mixed race," she says. "My parents had a western wedding ceremony. Whilst my mother's parents had an arranged marriage, their attitudes towards marriage for their children was very modern for the time, and they certainly welcomed my father into the family as a son."
When she was little there were times when the kids on the playground would tease her saying she must be adopted because she looked nothing like her parents--her father is tall and blonde--but they teasing never made her upset. "I knew and understood my heritage, and was proud of it." Growing up with the traditional values of two very different cultures heavily influenced her as a person, "I myself identify as a humanist, however, I take part in religious festivals and celebrations with my family as it brings us closer together, regardless if it's on the indian side of the family, or the English. My mother's values taught me the immeasurable value of education and learning, which is combined with my father's amazing strength and curiosity for the natural world," she muses.
VIII. Talisa Romagnoli | Indian-Italian
Where the unconventional union began
With a Sanskrit first name followed by a typically Italian surname, Talisa's Indian mother did her masters in India which is where she met her father. "Eventually, my sister was born and then so was I. My mother, sister and I moved back to India when I was very young and have lived with my grandmother ever since," Talisa tells us.
"Being from a mixed race background, I have had the privilege of being grounded by different roots, cultures and processes, and it has taught me to appreciate so much more."
The melting pot of cultural influences
"Growing up I always had light hair, eyes and skin, and so did my sister which called for a lot of teasing since the school we went to was abundant with 'pure' Indians. I have never truly felt like I fit in, neither in India nor Italy, I have never felt like I could call one my home--I wasn't sure where home was. Every year I would visit Italy, and was encouraged to speak Italian as well as Kannada and Hindi. My mother always pushed me to learn new languages, including French.
My grandmother celebrates all Indian festivals and instilled those values in me from a very young age. I would celebrate Diwali every year as well as Holi, and worship Lord Ganesha, but I would also celebrate Christmas and Easter. Whether I was eating chakli's or panettone it never seemed to matter to me, despite my perpetual crisis of identity."
IX. Tanitha Pereira |Anglo Indian-Italian
Where the unconventional union began
Tanitha's mother was born in Sicily, and grew up in a small town called Rapallo, located on the Riviera Coast, in northern Italy. While on holiday in India back in 1991, she decided to come back a year later and work in the country. Her father on the other hand is an Anglo-Indian born in Chirala, Andhra Pradesh. After completing college he set up an export company of home textiles, her mother worked in a similar field, and they met because of work and in time decided to get married.
"The change was rather drastic and took my Nonna (grandmother), who was back in Italy, a while to come to terms with the separation with my mother simply because she never imagined having one of her children living on the other side of the world. Anyhow, she made sure to spend a lot of time with us here in India and started loving the country as much as my mom did," says Tanitha. "My dad comes from a family with four girls, him being the only son. Except for one of my aunts who married an Indian, all the other siblings had intercultural marriages. So, when my mother came into the family everyone adjusted quite easily to her and to the idea of having one more culture to deal with, everybody was very happy for my parents. They got married in September 1994 and a year later I was born. My relatives are spread all around the world,there fore I have Japanese, Australian and Italian cousins!"
"Being from a mixed race background is very interesting, it's all about finding the right balance."
The melting pot of cultural influences
"Growing up with parents who come from different cultures can be challenging simply because their views and ideas can be so different. My parents have always had great respect and understanding for eachothers roots and culture and we've grown up to be the same. I was born in India, I've lived here for 20 years and I love it, but it's always nice to visit Italy. My mother made sure that I visited Italy every year and I consider myself very lucky because it allowed me to embrace another culture as my own, Italy is like my second home. However, I am as South Indian as it gets. I love my sambar sadam and filter coffee. At home we make it a point to eat Indian for lunch and Italian for dinner. My grandma was a great cook, a typical Italian Nonna who'd make sure we were always well fed, and my mum definitely followed in her footsteps.
Growing up I felt the culturally different because of the way I dressed--I was always more westernised and was allowed to wear whatever I wanted--my parents always gave me the liberty to speak my mind, make my own decisions, and that in many ways made me learn what was right and what's wrong. I feel the cultural difference the most when I'm around with my friends and their family. Sometimes I take a minute and realise how different my family actually is!"