"Pleasure is a very personal thing," says MysteryVibe, "That's why we created Crescendo. A toy that bends and holds any shape you want and vibrates the way you desire. The beautiful, minimal ergonomic design hides six features that make Crescendo truly unique and a class apart from others."
Sex and sexuality, especially that of a woman in India is a topic that very few people in society want to openly address. So when a student from West Bengal became a founding member of a UK-based company specialising in sex toys it did raise many eyebrows. Soumyadip Rakshit is CEO and Co-Founder of MysteryVibe whose latest product Crescendo is being hailed as the best female sex toy in the world. "It seemed like many women don't like vibrators in the shape of a penis, they find it offputting," said Rakshit speaking to 101India. "So we tried to change that."
A flexible and bendable vibrator that can be moulded as you wish yet not lose its rigidity and structure, Crescendo's vibrations can be customised as per the user's preference and even be controlled with a downloadable mobile app. Wireless with an inductive charging port, waterproof and with six powerful yet silent motors, Crescendo surely seems to be the future of female sex toys. "At MysterVibe, we know that one size does not fit all. When it comes to pleasure, we believe in individuality and in empowering people to design and take control of their own experiences," states the company.
After years of meticulous research and designing, MysteryVibe made sure that their customers would never be left unsatisfied. Its 500mAH high-capacity battery has been designed so as to last for a non-stop duration of two hours, and that too at its fullest intensity. Steering away from the industry standard vibrators, with the help of the MysteryApp users can completely personalise their experiences by browsing and creating their own vibration patterns and save it for the future. People can make a variety of combinations and experimentations and wirelessly transfer it to their Crescendo. "I just think we should have more fun and not be ashamed. All these methods provide some kind of control over your own sexual pleasure, without being told by society that this is right or wrong," says Rakshit to 101India. "Imagine being able to develop a technology where the room you enter understands your mood, maybe even your state of arousal, and changes the lighting and temperatures based on that. Our aim is to delight customers in subtle ways, with things that seem to just be there. It is complex but you don't see the complexity."
MysteryVibe has gotten internationally praised for Crescendo, which has enjoyed an incredible reception so far; it's the first crowdfunded sex toy. "The campaign started as as a small social experiment to challenge the status quo where talking about sexuality is considered a taboo. Our message was simple--let's take back control of our own pleasures. What quickly became apparent was that people had been yearning for someone to start a movement like this," stated MysteryVibe.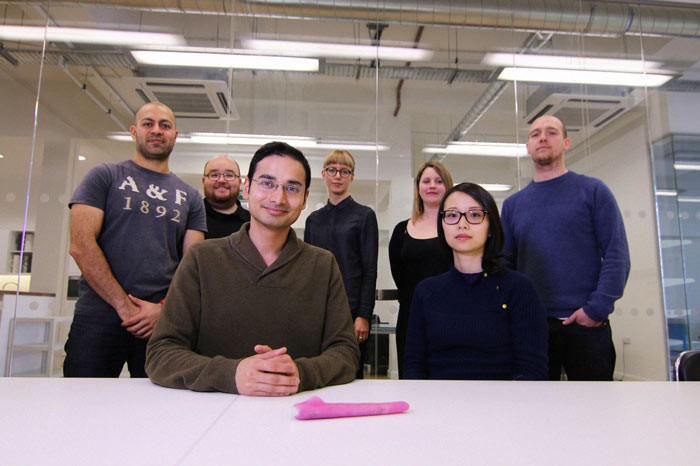 Crescendo is available for purchase on the MysteryVibe website and will soon make its way into the Indian market as the company ties-up with investors and manufactures.
If you liked this article, we suggest you read:
We Spoke To Indian Women About Their Relationship With Sex Toys
Telangana's Love For Male Thongs Is Just One Of India's Sexy Secrets