Chinese food is as much a part of Indian street food, as your neighbourhood friendly vada pao is. Over the years, India adopted this cuisine, converting it into Indo-Chinese or 'Chindian'. If you prefer the authentic stuff, you can easily find the real deal, at one of the many Chinese restaurants catering to that audience. But have you ever considered Indo-Japanese food? We know what you're thinking—chefs are already more than willing to replace tofu with paneer, but we're onto something else here...think along the lines of butter chicken in your sushi.
Now, now, before you roll your eyes sushi aficionados, give us a chance to explain. Or rather, let the Tokuchis, co-owners of Yugo's Maki Sushi, explain. "If you grew up in Japan, and travelled to different areas, you will see that nearly every area, has a different filling. Everyone actually just picks ingredients that they feel will work best with their rolls. It just seems right to do the same here," says Yugo Tokuchi. Instead of working with regular sushi, Yugo and his wife Martha, decided to create something people could eat on the go, and thus decided upon 'Maki Sushi'. In layman terms, it's effectively a sushi wrap that you can hold and eat, much like a burrito. As of now, they have four items on their Maki Sushi menu, all priced at INR 350 — Yakiniku Paneer Sushi (Japanese style BBQ paneer), Wasabi Surimi Sushi (Wasabi Mayo Crabsticks), Chicken Maki-Walla Sushi (Butter Chicken flavoured with Japanese herbs), and Tandoori Maguro Sushi (Tandoori Tuna with Mayo.)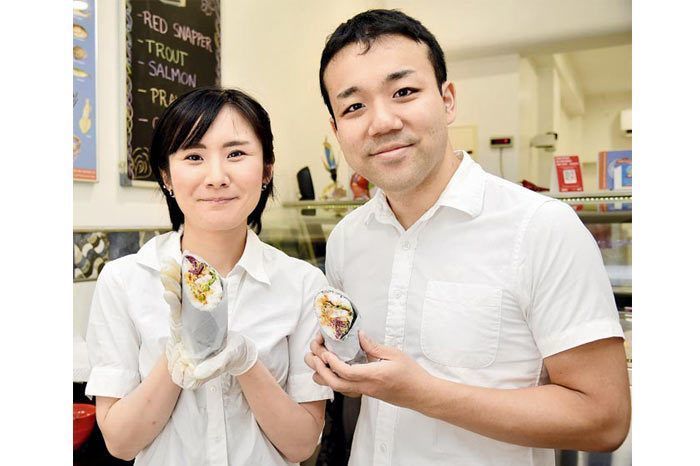 "Our most popular is the Wasabi Surimi Sushi and the Chicken Maki-Walla. Even Japanese expats love the Chicken Maki-Walla!" Yugo exclaims, delighted with his innovation. The butter chicken used in the Chicken Maki-Walla is a recipe he has fine tuned himself, after several trials. "All our ingredients are sourced from India itself, now. We've found distributors here, who we can get fresh ingredients from," he continues. In fact, sometimes their pop-up store even incorporates a new item or two. Look out for their Norwegian Salmon Rolls, this weekend!
(P.S. Vegans, they're even putting in a tofu option soon.)
You can find the duo at their pop-up store, at Off The Hook in Bandra, every Friday (12pm - 8pm), Saturday (12pm - 8pm), and Sunday (12pm - 2pm). During the week, the Tokuchis supply quite a few Japanese companies as well as individuals, with bentos (lunch boxes). If you'd prefer a wholesome lunch box in the week, over their (just as filling) maki sushi, you can place an online order on their website, the day before.
Representational Feature Image Credit — YouTube
If you like this article we suggest you read: