Some of the fondest memories a majority of us have are from our childhood, and the women behind it all. Previously, a hand-me-down wasn't something we'd all look forward to, but now, our mother's closets are raided, especially for their gorgeous collection of saris, that they've amassed over the years. However, some of these gorgeous pieces are prone to wear and tear, leaving you with no option but to discard them, or simply let them gather dust. Or...maybe not.
Arushi Aggarwal, the founder of The Initiative combined her love for aesthetics with originality and value, when she started this business venture. Functional, original handcrafted products are designed and put together by rural women from villages, who make their livelihood from the same. Their most popular item, that kick-started the whole venture, would be their 'godhadis', a traditional Indian quilt.
"The Initiative started in 2013 quite unintentionally. I was working with a group of women in my free time, and the plan was to step out of the whole scenario once I helped set them up with something different. Once we started with the godhadis, using old saris, I told them to take it forward but they were very hesitant. They asked me to stay, so they could do what they know, while I handled marketing and logistics," says Arushi, when asked about how the idea first came around. She continues, "This was something I might have done 10 years down the line, since I was supposed to head back to Denmark. I approached this with the mindset that I'd give it a shot for a year, and if it didn't work out, I'd move on."
Considering this is their fourth year in the business, we can safely assume The Initiative truly took off, once they got a steady foot in. In the beginning, Arushi reached out to friends and family, to spread the word about her business, or order a piece if they were interested. "I had to prove to the women that there were people who wanted to buy what they had to offer! They laughed at me when I first sat them down, and laid out the plan for the business," explains Arushi.
As the business grew, their workforce surprisingly decreased, mostly because Arushi noticed they weren't really making an impact. Now, with their tightly-knit group, she has managed to expand her business to Pune, and frequently partners with NGOs. These NGOs provide work for women who have been rescued from women trafficking, or women who require help financially. "We come in as the last link to that loop, really. We have our own group based in Thane and in Pune. However, we do commit to a certain amount of work per month, to give to these NGOs."
Their products aren't available on a massive scale, although they have recently opened up their very own online store in January. The product line has also extended to Laptop Sleeves, Organiser Books, Utility Rolls and Yoga Mat Bags. Amazon and Flipkart aren't viable prospects, simply because all their products are one of a kind. Dealing with that market would mean massive production, which they don't do.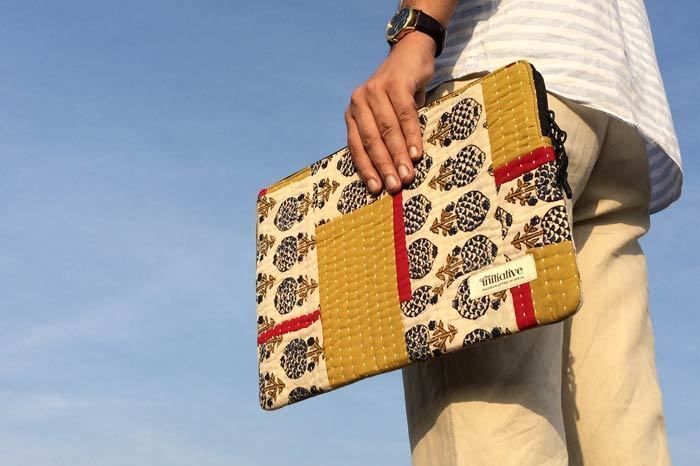 "As of now, we're trying to figure out how to optimize our usage of the internet. We want to scale this venture, without losing our authenticity of the craft," says Arushi, in regards to the future of The Initiative. She is looking at 'offline' stores, in Bombay, Delhi, Chandigarh, of her own, as well as stores they could possibly begin selling their product line in, that echo the same sentiment.
As Arushi pushes towards a larger scale, she is pleased the rest , "When I first started The Initiative, I approached the whole situation with my preconceived notions. But with craft, we take so much for granted as consumers! People don't truly appreciate the amount of work that goes into the backend. Fair trade should be the standard." Considering the amount of awareness, and blogs preaching the same, perhaps the day won't be far off, when it is.
Grab your own godhadi here, on The Initiative's website. You can also follow The Initiative on Instagram, Facebook and Twitter for updates on their products.