People who end up changing the world, for better or for worse, rarely follow the rules. We believe you're familiar with our fascination for those who lead double lives professionally, which we explored through the lives of different individuals across India. These are the guys burning the candle at both ends and doing a fine job at it. Then, there are those who choose to go off the deep end and vouch completely and irrevocably for their dreams (and no, they don't get much sleep either). For these dreamers, we have another kind of respect, albeit an equally special one.
It takes immense courage—and a healthy dose of madness—to put an end to what is potentially a financially stable life to pursue your real calling. So we scoured the space for individuals who have, at different points in their lives, taken a step back and re-evaluated what their dreams meant to them before deciding to throw their entire weight behind them. We understand that it isn't a viable prospect for several people when you consider the financial risks at play here, besides other factors weighing in that range from providing for one's family to dealing with student loans. While following one's passion comes at a high price for a lot of people, it is good to know that people are learning to give their kids the opportunity to do more than the cookie-cutter Doctor-Lawyer-Engineer bracket of jobs.
With no further ado, here are 8 individuals who have truly followed their hearts, and won us over while at it.
[Note to readers—this list has been crowdsourced and was open to people who were willing to talk to us. It is presented in no order of preference, and has simply been chronicled in alphabetical order.]
I. Ameya Deshpande | Impulsive. Ambitious. Unpretentious.
33-year-old Ameya is one of the three co-founders of Authenticook, an opportunity for locals and travellers alike to experience a place one meal at a time, through the locals. Prior to this, he was an Investment Banker for seven years, spanning across fund raising and M&A deals. Few could have predicted the tectonic shift that awaited his career.
The Inspiration
"My father inspires me. He has always supported me, no matter how crazy the ambition. He is someone who takes bold decisions and has always taken the positives from these decisions irrespective of the outcomes and learnt from the negatives. He lives by the motto: Make mistakes. Learn from them. Move on."
The Shift
"I owe a lot to my investment banking experience — whether it is the habit of documenting everything or being process oriented. There came a time, pretty early in my career that I felt like I should be doing much more than just advising and making presentations. I wanted to execute and drive the operations of a business rather than sit on the outside. That's when I decided to quit it all and start my own venture. I'd speak to my banking colleagues non-stop about starting a restaurant which would host cooks from various villages across India. But then while I was travelling in Ladakh, all these places in Leh Market would only serve pizzas, burgers and pastas. We thought to ourselves then, about how amazing it would be to sit with a Ladakhi family and have a meal with them. We would have learnt so much more about the region, the people and the culture! That's what Authenticook is about. Today, people across communities and regions come along and celebrate festivals like Ramzan, Navroz, Ganpati, Onam at the homes of our hosts."
On Sacrifices And Support
"While there was a minor change in our lifestyle, investment banking gave me the kind of financial security that one can only dream of. So thankfully, the only unnerving thing was when there were no more monthly credits in my bank account. There were several ups and downs in this entire journey but I had a tremendous support system at home. Right from my family to my friends, to Aneesh my co-founder. Priyanka, my wife and co-founder, too has stood by me and my impulsiveness (considering I quit my well-paying investment banking job over a day of reflection)."
Tips Or Advice For Those Planning On Taking The Leap
"Having a plan in place is very important. Know what your financial position is (any responsibilities etc. to be factored in) and only then take a decision to start your own venture (especially one in which you need to develop a market which doesn't quite exist, it can be a very long road in this case). One needs to be patient and keep at it."
On Highs And Lows
"One of the moments where we felt confident about this being the best decision ever made was when we won the Booking.com Booster grant. Till then there were very few who believed in us. The grant came as a validation for our idea from one of the largest travel companies in the world. The beginning for Authenticook was slow, trying to get people out of their comfort zones; to start inviting strangers home and to go to strangers home for a meal. But over time we have seen people open up and get more comfortable as they see others also doing this. On a lighter note, when I felt this was the worst decision ever made was when I was asked to present a corporate ID for a 15% discount at a restaurant, I obviously didn't have any!"

II. Ankit Sharma | Compassionate. Spontaneous. Intuitive.
When this 29-year-old engineer left India to work onsite in America for over five years, no one expected him to drop it all to come back home for his passion — theatre and improv. Today, he is an Applied Improviser, who has founded two Improv groups: Say Whaaat and Kaamedy Inc.
The Inspiration
"My heroes change every few years. Currently, I draw inspiration from Vir Das, because he too came back to india to pursue his passion for comedy. Of late, I've started understanding and really respecting his contribution to the comedy scene in India. Internationally, I'm a huge fan of Amy Poehler. Again, not only is she supremely talented and funny, but also an extremely enterprising individual."
The Shift
"I used to work in the Analytics or data sciences industry. In simpler words, I got paid for helping corporations make decisions that they were going to make anyway. Just kidding. While you're in it, you tend to resent things like formality, routine, and endless brainstorms. However, I feel all these things end up giving you a sense of professionalism. Most importantly, I learnt how to professionally manage people. As I mentioned, I perform Improv comedy. It's an art form in which you create stuff on the spot based on what the audience wants. In order to be able to do that one of most important principles of Improvisation is to say 'YES AND'. This means that not only should we be open to accept whatever life throws at us, but also be willing to own up to it and treat it as a gift. I feel like this has changed me as a person, in the present moment. I've become more open and begun to appreciate the little joys in life."
On Sacrifices And Support
"Dhiraj Rajaram, the CEO from my previous job, used to say that the bigger your safety net, the higher you can leap. With that in mind, I had several safety nets. First, with more than five years of experience in analytics, I knew I'd be able to go back to this job if I failed. Second, while abroad, I ended up saving a lot of money, which I'm now using to sustain myself in Mumbai. Third, in case I failed in Mumbai, I answered my GMAT the year before I quit, so I could do my MBA. Lastly, I had a supportive family and friends who would do some jugaad to help me get back on my feet if all else failed. I've had to sacrifice family time since I moved back to India though — both my sisters live in America. I miss visiting them over the weekend, making Sunday brunch for my nephews and nieces, etc."
Tips Or Advice For Those Planning On Taking The Leap
"The one thing that I've noticed in most people who've made it is that, speed trumps perfection. That's the one thing I'm still working on — to really put yourself out there. Keep creating opportunities to display your talent and keep taking shots one after another. I've only read about this before, but as someone experiencing it now, it's really all about self-belief. That can only come from working on your craft."
On Highs And Lows
"When I first came back to India, my parents refused to believe that I had quit my job. When they finally realised that I had actually quit, they had 'the talk' with me. It was a tough day, because my mother who is a very strong woman broke down crying that day as she was worried about me. That was the toughest moment for me, but I had to persist. I've had several great moments though — every time I sell a full house, get a standing ovation, or receive a check."
III. Anuj Char | Dramatic. Funny. Talkative.
An engineer by profession who fell in love with the stage back in school, 28-year-old Anuj Char decided that putting a smile on people's faces was what he truly wanted to pursue. He started professionally emceeing in 2009, took a leap of faith, and 1000 shows later — he has no regrets either.
The Inspiration
"Shah Rukh Khan. He's succeeded in creating a niche for himself and made himself a brand! The struggles he has faced and the challenges he has overcome have made him my inspiration."
The Shift
"When you go from a 10-6 job that entails sitting at your desk, attending meetings, taking calls and creating reports to being on stage under the lights with all the energy of a live event — it's bound to change you as a person. I'm constantly brimming with energy and I've become more outgoing! The more shows I host, the crazier I get about it! Most importantly, my job makes me a storyteller and that's what I love about it."
On Sacrifices And Support
"Sacrificing my job security was the toughest. There was no fixed salary coming in and I had to literally wait for my next show so I had money for the month. The fact that I'm doing what I want to do now though was more than enough of an incentive to jump away from the safety net. My family was my support system. They just wanted me to go ahead and be the showman that they knew I was. Plus, there was no burden on me to earn or be the breadwinner."
Tips Or Advice For Those Planning On Taking The Leap
"Most people think that financial security is the only thing that brings happiness. Yet, in the long run you don't want to become lifeless and have no zeal for life. Falling in love with your job is of utmost importance! Just have faith in your ability and in the beginning, be willing to work without expecting anything in return. Ensure that you have some security in place and that your loved ones are taken care of."
One Thing You'd Change About The Journey
"I was doing a large amount of shows for a beginner. The first few years went by so fast! I got carried away and instead of improving my craft, I just got comfortable in my space. A few months later, I came to my senses. Since then, I've always made it a point to keep evolving as an artist and to keep improving."
IV. Karlyle Gomes | Upbeat. Creative. Sentimental.
34-year-old Karlyle is a designer by heart, entrepreneur by passion, and dreamer by default. Currently, he is the co-founder of Under One Roof, a digital studio. Their current focus is on an app called PetMates.
The Inspiration
"I'm always inspired by people who take that leap of faith, those who stick to their guns and shine through, who work hard and smart and succeed because of their perseverance. It doesn't matter where you came from, the only thing that stops you from 'being' is yourself. My parents inspire me with their humility and support. My best friend is, today, a successful businessman. We spent our craziest years together and are still close buddies. He keeps hard at his work and is focussed and it shows."
The Shift
"There was a point in my life when I felt the need for some financial stability which is why I found myself in a corporate job. It was secure, not too demanding, and even gave me some free time to do a bit of work on the side. But I wasn't built for a cubicle. Under One Roof was a college dream venture waiting to happen — so I quit. It boiled down to the fact that I loved being in control. Understanding new businesses, being part of the ideation, the journey, the execution. I come in with the same enthusiasm as the client and they see this. You have an opinion and it matters."
On Sacrifices And Support
"I had to move back home to do this. It was the most practical thing to do at the time. Fortunately, I had saved enough to literally carry me through a few years on my own. I didn't feel like I had to sacrifice a lot because I was doing something I loved. I enjoy every challenge and I have the best business partner to forge through it with."
Tips Or Advice For Those Planning On Taking The Leap
"Plan it well. It's always good to know what you're in for and what it's going to cost you. Follow the plan — more or less. Following a passion is great but to make it work, having this plan is key."
One Thing You'd Change About The Journey
"I would have gotten us an advisor. We both come from creative backgrounds so the nitty-gritties of business were not always clear to us. Someone with experience in your industry who you can trust and be honest to would've helped us avoid a few mistakes and cut down on the risks."
V. Mehak Sagar | Creative. Easy-going. Driven.
With 5 years in the financial services industry, 30-year-old Mehak decided to quit it all to co-found WedMeGood, a startup that helps brides through their wedding journey, with her husband. Today, it is one of the most successful start-up stories in the country. She is also the blogger behind peachesandblush.com.
The Inspiration
"I read a lot so I'm always inspired by a new book that I'm reading. The last one was Creativity Inc by Ed Catmull, the president of Disney Pixar. So I would say, he was the last person who inspired me."
The Shift
"When I was in the risk analytics division of American Express, it was a lot of number crunching. I actually liked it, it taught me a lot. Of course, the intensive amount of numbers got monotonous over time as I'm a naturally creative person who needed an outlet for said creativity. I started blogging on the side, and at one point, began documenting my wedding journey. My blog really took off at that time (these were the days before Instagram) and I faced a constant barrage of questions from brides! From personal experience, I knew the nightmares one had to deal with to find a decent vendor. Thus, WedMeGood was born as a solution to every bride's problems. I didn't know when I quit that I would be passionate about digital marketing or the wedding space — but I did know I cared about solving people's problems. My personality has definitely changed — from being a person who used to like having the next few years of my life planned out, to being a person who doesn't know what tomorrow will bring!"
On Sacrifices And Support
"While other newly married couples were enjoying their honeymoon period, we were slogging it out working on this project together. For the first two years, there were no holidays, no weekends, just continuous pressure. My husband and I quit at the same time! We were going to base the company in Hyderabad as that's where his family is, but we needed to be close to the action. Luckily for us, we had a few angel investors who helped us out in our first three months. That, plus our savings helped us tide over rent. In the end, it was all worth it. "
On Highs And Lows
"Since we were both not from tech backgrounds, for the first two months our site would crash every other day. Everytime we built traffic, we'd lose it all. It was so frustrating! I remember screaming at our service provider because in that moment, we felt so lost. However, once when I was sitting in a store in Chandni Chowk, this bride whipped out her phone to show the salesman an example. It was a photo on our app! The salesman smiled and then said a lot of brides have showed him the same app. In that moment, I felt like we were truly making a difference in people's lives."
One Thing You'd Change About The Journey
"I wish we had found ourselves a co-founder with a tech background. It would've saved us six months of work, easily."
VI. Rupali Mody | Enthusiastic. Funny. Passionate.
From a job in the petroleum trading industry, to becoming a certified Scuba Diving instructor, Rupali Mody shifted from one end of the spectrum to the other. As India's only TDI certified woman technical diver, it appears she made the right decision!
The Inspiration
"The ocean inspires me. It makes me want to push the boundaries of human limits."
The Shift
"When I was a petroleum trader, each day was very different because of the market fluctuations and unique operational issues. I quite enjoyed it. I started diving in 2013, which is when I did my Open Water course that got me truly addicted to diving. I took some time off work and went to Indonesia to do advanced courses. When I got back, it took me till 2015 to realise that I didn't want to be in an office, in front of a computer crunching numbers. So I quit! None of the rules that you live by apply underwater. Each day teaches me something new and it has changed my outlook on life. Earlier, my goals revolved around getting a nice house, a car, maybe designer clothes and shoes. Today my goals are to travel to remote places, gain experience and uncover places no other human has been to before."
On Sacrifices And Support
"Giving up my safety net of an assured income and consumerism was probably my biggest sacrifice. My support system is belief. I believe I can earn just enough to sustain myself. I believe I can make a difference. I believe it is possible to pursue your passions if you can take a few risks and give up a few comforts."
Tips Or Advice For Those Planning On Taking The Leap
"Following your passion isn't something you can do in a day. It requires planning and some forethought. I decided I wanted to quit my job in 2013 but I held out for two years and saved enough money that I put into a small fund. Even if you have a family or responsibilities, with planning, discipline and foresight, you can do it."
On Highs And Lows
"Till date, I've never felt like I've doubted this decision. I knew I made the right choice when I went back to visit some of my colleagues and realised that I could never sit behind a desk again. The freedom of travelling, experiencing new things and meeting new people changes you in ways you never thought possible."
One Thing You'd Change About The Journey
"I wish I had started diving as a kid. I would have quit my job earlier."
VII. Suneethi Raj | Contemporary. Classy. Committed.
After 10 years in Corporate IT, Suneethi Raj decided to settle back in her hometown to pursue her passion that lay in the field of lifestyle. Today, she owns her own designer label, 'Suneethi Raj' which focuses on contemporary Indian wear for women, and is the co-founder of LocalXO, a lifestyle company in Chennai that curates unique experiences for those who want the best of what Chennai has to offer.
The Inspiration
"I am inspired by people who have the ability to combine their key skills and personality traits in a practical, calculated and graceful manner, making them work for you be it in a professional or personal sense. My closest childhood friends have mastered the fields they are passionate about through hard work and commitment and I am fortunate to be in company of these high achievers who inspire me every day."
The Shift
"I worked my way up the ladder in top IT consulting firms in US, Germany and India for 10 years. My key strengths were Business Development, identifying gaps in the market, building and sustaining relationships, and improving the customer experience. However, I felt like I wasn't using my full potential in this industry as my interests always lay in the space of lifestyle. LocalXO, my primary business focuses on unearthing the best talent a city has to offer. We work with brands to curate experiences that make it accessible to a difficult Chennai market. After being in a corporate role, where processes and plans are clearly laid out, my mindset has completely changed to suit the startup environment where you have to define the business model and targets from scratch. Everyday is a dynamic experience as I watch my ventures evolve and stabilize."
On Sacrifices And Support
"I am single with no children and live with my parents in Chennai. I am fortunate enough to have the basics of rent and food covered, so I could take the risk of quitting a stable corporate job. Prior to this change in lifestyle, I had lived abroad and was earning a competitive salary in US dollars. I was used to a life of luxury, which today has me eating through my savings and cutting back on these luxuries. That has been the most challenging part of this journey. But I keep hearing patience is the key, when you pursue your passion."
Tips Or Advice For Those Planning On Taking The Leap
"Be practical. Give yourself a clear timeline and short term goals so you know if your passion is working for you before you go all in. Look up competitors in your space and try to connect with as many people as possible who have succeeded and failed in your space so you can identify how to set yourself apart from the rest."
One Thing You'd Change About The Journey
"Nothing. Although I'm averse to risk, I truly feel the wealth of the knowledge and life skills I have gained in the last few months."
VIII. Varun Rajput | Persistent. Perceptive. Civil.
32-year-old Varun Rajput began pursuing his passion for music while he was in college itself — but alas, the real world caught up to him and he resorted to earning his bread and butter through a couple of management firms. Over the years, he drifted in between his passion for music and a stable job, until finally in 2012 he formed Antariksh, an Indian rock band. Although he co-founded an IT company in 2014, it was in mid 2015 that he decided to throw himself into music full-time again, for good.
The Inspiration
"The joy of seeing an idea come to life is something I find really inspiring and motivating. For example, seeing a simple idea/melody/lyric turning into to a full blown, well produced song, followed by the processes and strategies involved in its marketing and distribution is something that truly excites me."
The Shift
"Quite honestly, I enjoyed my work in the corporate world. It involved solving their business problems and we worked on some interesting projects. However, the lifestyle got to me. I function much better and achieve more in short spans of time as compared to a consistent routine. As much as I tried to fight it, I knew the corporate routine was not very healthy for me in the long run. Finally, I decided to pursue my college dream of forming a band, going out there and playing live. It was a wild dream that I kept chasing and fortunately, over time the dots connected. A crucial thing I learned is that it's just the fear that creates this bubble - the sooner you break it, the better."
On Sacrifices And Support
"I was living with my family and fortunately, my parents have been extremely supportive of my pursuits. That definitely helps. Second, I knew I could fall back into the corporate world if need be. Lastly, I've had a bunch of amazing friends who've always been there for me whenever I've needed emotional support or a brainstorming session. The music industry, unlike corporate, largely doesn't run on meritocracy. So to find your place as a product, a band, or any business for that matter - you need to learn and tweak your approach based on how the industry works, which means finding that delicate balance to be able to do what you want as well as being commercially relevant. "
Tips Or Advice For Those Planning On Taking The Leap
"I feel like nature has put all the great things in this world beyond a huge mountain of fear and it's totally up to you when you gather courage to move that mountain. First things first, everyone doesn't need to take a leap of faith. All conventional jobs are not horrible or dissatisfying. I feel it's great to challenge conventional wisdom but at the same time it's also very important to know why it exists in the first place. In my humble opinion, starting up, taking the plunge or doing unconventional things are over glorified these days - so the most simple advice I can give to anyone is before trying to make the leap - think hard, analyse and be very sure of why you want to make something your primary job."
On Highs And Lows
"When I finally quit work the second time around to work and grow Antariksh, there was this moment where it suddenly dawned upon me that I was leading a 'team', which meant my success at some level also depended upon the performance of the other band members. Unfortunately, most of the other members (despite being great friends) didn't have a similar vision and ambition as they had a bunch of other priorities including day jobs, families etc. That was indeed one of the lowest moments since I had invested myself into it with all my heart and energy, but I couldn't see the same from everyone else. Yet, I instantly realised that I had time during the day (which I didn't earlier), which meant I was meeting a lot more relevant people, developing relationships, collaborating with people from the same industry and suddenly closing more business. That's when it occurred to me that I should have done this sooner. As they say, you can't learn to swim without jumping into the pool."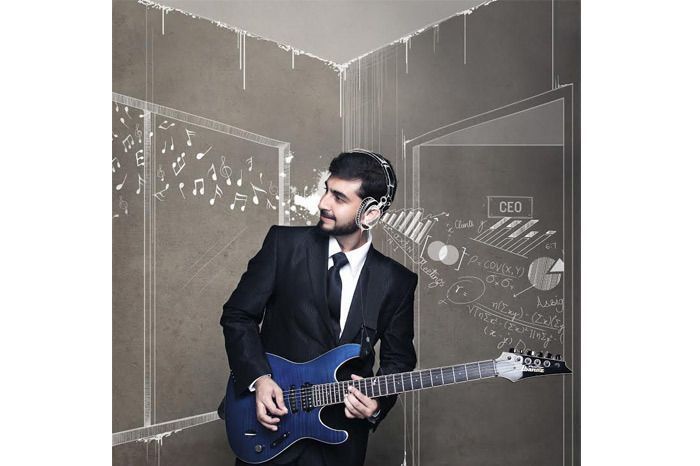 If you liked this article, we suggest you read:
10 Women Who Travelled Solo Across India Share Their Inspiring Stories
Should You Take A Gap Year? 6 Young Indians Share Their Experiences
The Stories Of 13 Inspired Young Indians Who Chose Their Dreams Over Stability [Vol. VIII]