A few months ago, the TOI put out a report stating that the state government has revealed that with the middlemen out, the turnover of 94 farmer markets across Maharashtra has touched Rs 5 crore per week with sales in the region of approximately 800-1,000 tonnes. In a country where our farmers are burning in the agony of agrarian crisis and as we, the 'privileged' are striving towards a healthier lifestyle by taking an organic approach, organising these farmers' markets in cities have become a win-win situation to all of us. By eliminating middle men, and encouraging organic farming, these markets ensure a good quality of life for not just us but also to farmers by delivering them a fair share price for their produce. The city of Mumbai sees many farmers' markets the year-round that go a step beyond than just selling fresh produce of fruits and vegetables. They also inspire sustainable lifestyle through many of their activities. Here is our pick of the best farmers' markets around the city.
I. The Farmers' Market, Bandra
When: 10 a.m. to 3 p.m. (Every Sunday, year-round)
Where: D'Monte Park, Bandra West
If you desire an energetic start to your week, then look no further. Perhaps, the most popular farmers' store in the city, The Farmers' Market, Bandra sells fresh, organically certified fruits and vegetables procured directly from organic farmers across Maharashtra. Initiated by Kavita Mukhi, who apparently pioneered the organic awareness three decades ago, the farmers' market promotes rural, healthy and energetic living by organising delicious organic brunches, live rural folk music, foot and shoulder massages and workshops for kids. Sip on their refreshing organic lemonade as you make your way through the fresh produce and indulge in all things organic. The market also provides important organic wellness tips and facilitates interaction amongst the organic community.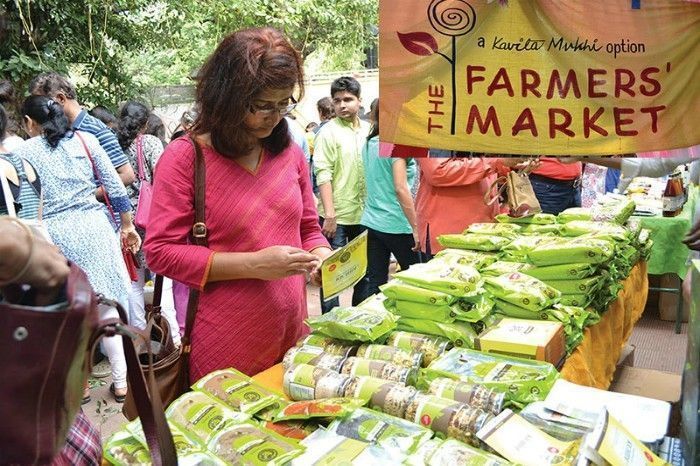 II. Farmers' Market, Vashi and Nariman Point
When: Every Sunday, 9am–3pm (Nariman Point) or 3pm–7pm (Vashi)
Where: Vidhan Bhavan, Mantralya, Nariman Point & Sector 4, Sacred Heart School, Vashi
This farmers' market lets one enjoy a variety of unique, fresh and indigenous local produce of the region. Set up by the Maharashtra State Agriculture Produce Marketing Board, the model of the market is based on the participation of farmer cooperatives and tribal farmers who come from around Thane, Palghar and Junnar. The main aim is to facilitate fair trade, cut out middlemen and let people buy it directly from farmers. With over 40 stalls, the tribal farmers sell fresh produce that also includes exotic, unknown vegetables like Mogri, Moringa leaves and fresh kidney beans. Not all produce sold here is necessarily organic, but it is fresh since it is locally produced and has travelled less. Also on offer are plant saplings that one can take home to create their own little garden. Their electronic weighing machine ensures right quantity of the product, but do not forget to carry your own cloth bag.
III. Versova's Organic Farmers' Market
When: 10 a.m. to 2 p.m. (Year-round, Every Sunday)
Where: Harkat Studios, Bungalow 75, Aram Nagar
The Versova's Organic Farmers Market is all about food. This is one organic farmers market that goes beyond just organic fresh fruits and vegetables and offers its visitors, seasonal farm produce, vegan and gluten-free sweets & savories, organic meat, metabolism-boosting drinks and even herbal tea and organic oil. An initiative by Susan Diaz and Michaela Strobel of Harkat Studios, this market nuzzled in the lush green sanctuary of Aram Nagar promises fresh farmer to produce and organic goodies from farmers in and around Pune, Nasik, Mumbai. While the studio's courtyard hosts the outdoor market for fruits and veggies, the indoor market hall is for other products. The market also features a small organic café, My Puree Path, as well as a gluten-free dessert parlor, Dream Desserts (serving delicious quiches and cakes).
IV. The Juhu Organic Farmers' Market
When: 10:30 a.m. to 1 p.m. (Year-round, Every Sunday
Where: Pushpa Narsee Park, (Outdoors) Jamnabai Narsee School (Indoors), Juhu
Now here's a farmers' market that not only ensures that Mumbaikars get organically grown fresh produce from farmers all over India but also acts as a platform to promote individuals working towards the environment and animals. In association with The Inner Wheel Club of Bombay West and Sharan (Sanctuary of Health & Reconnection to Animals and Nature), this initiative was born out of the aim to ensure that the farmers get a fair price for their products so that they can continue to grow organic produce. Here, one can buy fresh apples from Uttarakhand,chestnuts from Nainital, avocados from Kodaikanalalong with other fruits & vegetables from the fertile regions of Ahmed Nagar, Pune, Satara, Palghar, Vasai and Naik. The Juhu Organic Farmers' Market, held in the lush Pushpa Narsee Park does not sell any dairy products or any form of fats and encourages the concept of 'Clean Eating.' It does so not just by selling organic fruits and veggies but by also offering dry organic goodies such as pulses, whole wheat pastas and noodles, organic soaps, biodegradable Ganpatis, gluten free treats, home-baked bread, Pani-puri and even oil free samosas.
V. The Mumbai Market by Karen Anand
When: The next Mumbai edition is set for December 2017 (Winter Edition)
Where: Location to be announced (venue keeps changing for every edition)
The Mumbai Market by Karen Anand is more of a fun food fair than a market. Featuring open-air food markets, restaurants, wineries, bakeries, confectionery, patisserie, beer, wine gourmet food, fruits, vegetables, meat, cheese and even natural beauty products, this one of a kind Farmer's market is hosted in editions across the country and is conceptualized on the farmer's markets abroad. Karen Anand is one of India's leading food professional and her markets explore curated culinary experiences of fresh Indian produce from across the country and offer its visitors a unique gourmet shopping experience. Previous Mumbai editions have also included many bands playing their music live, contests in association with The Food Bloggers Association of India (FBAI) and collaboration with Zomato.
VI. Malad Organic Farmers' Market
When: 10 a.m. to 2 p.m. (Every Saturday)
Where: HyperCity, next to InOrbit Mall, Malad (West)
'Something Fresh Every Day': This is the promise witch which HyperCITY is hosting Malad's Farmer's Market in association with the NGO SHARAN to eliminate intermediaries and support small scale farmers to give them a fair price of their produce. A wide variety of fresh, exotic seasonal fruits and vegetables, dairy free substitutes that are carbide free with zero pesticides, these products are procured directly from that farms across India. The market encourages holistic health and a sustainable lifestyle. Their highlights are the vegan special products and fresh avocados. Malad Organic Farmers Market also hosts activities like, Pottery Classes, Terrace Gardening Workspace, Live-Demos and Live Performances. The most unique thing about this market is that it lets you interact with farmers so as to be able to learn more about the farming techniques and their produce, all while you sip on the rich and the eclectic fresh berries, pulpy hibiscus juice.
If you enjoyed reading this article, we suggest you read:
Mumbai's First 100% Organic Farmers' Store Just Opened – Visit Now
Farm To Fashion: A Young Bengaluru Designer's Initiative To Solve India's Farmer Crisis
Fadvanis Launches Mumbai's First Farmer-To-Consumer Market; To Be A Weekly Affair