[On 16th-19th January, 2019, Homegrown is throwing a first-of-its-kind music festival in Mumbai designed to celebrate the city's vast and diverse music culture. Dive deep into a wide variety of dynamic workshops, exhibitions, curated tours, panels, pop-ups, performances and parties that promise to be inclusive of all kinds of tastes and people.
There's something for everyone, click here to find what's perfect for you.]
"It takes a revolution, to create a solution"
-Bob Marley
As I sit in my office writing this article, there are caste riots happening in my city just a few kilometres away. Dalits have taken to the streets to protest against the violence that took place in Pune on January 2nd, on the 200th anniversary of Bhima-Koregaon Battle. But while opinions on the matter are aplenty, our country's insidious caste problem refuses to be ignored. Whether it's an elite Delhi Jazz Club being held accountable for their casteism or Dalits from Gujarat refusing to dispose of carcasses after the Una atrocity, the writing on the walls (and in the sewers) is clear–people no longer want to adhere to an oppressive brahmanical system that doesn't afford so many with dignity. So here we are. Unable to claim, as so many do, that the caste system doesn't exist any longer, and looking the revolution dead in the eye. Even as roadblocks are created and stones pelted in the name of caste protests here, an even louder (literally) revolution is raging 1200 km away to protest caste atrocities through music. Willuwandi, an all Dalit band from Kerala is fighting against caste based violence through their powerful black metal music.
Heavily kohled eyes, faces painted in white, and bodies adorned in black, Willuwandi's band members make a statement from the get go; but make no mistake, their music is surpasses their appearance. Formed in 2009, the band was born out of the need to fight the present day political atrocities and discrimination against dalits and 'backward' classes, non-violently. The band comprises of Sethu, who is the frontman of this band (leads and vocals), Balu on rhythm guitars, Subi on drums and Swathi on the bass. The band performs black metal and post black metal music. "The self composed English songs are not connected to any religion. Our main aim is to tell people to be themselves. They are the god of their own self," Sethu tells Homegrown.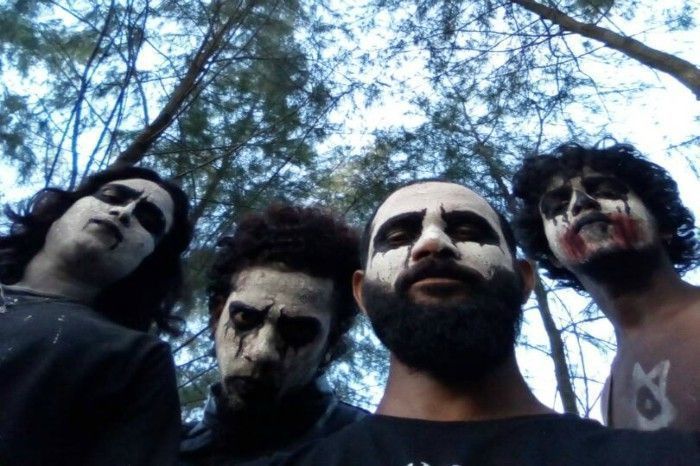 Willuwandi's most popular songs and videos have been about historical and contemporary events in the political and sociological sphere that have raised pertinent questions on the safety and inclusivity of Dalits in various spheres such as education, services and the society. Their song, "From Shadows to Light," is a remembrance of Rohith Vermula, the author of the book, 'Caste is Not a Rumour' and a student activist of the Ambedkar Students' Association whose suicide led to a controversy and raised many questions. Another song, "Najeeb," talks about the missing student from JNU, Najeeb Ahmed who went missing after a brawl with members of the Akhil Bharatiya Vidyarthi Parishad (ABVP) at Mahi-Mandavi Hostel in Delhi on October 2016. Their most loved song, "Black God," pays homage to Ambedkar. "This band is a messenger of Baba Saheb Ambedkar. We wish to create a great Bahujan revolution by the political strategies raised by him," Sethu says.
The name of the band, "Willuwandi" itself has a very interesting connotation to it. According to an article that appeared in the Round Table India and from what Sethu informs us, Willuwandi is a revolutionary bullock cart led by Mahatha Ayyankali, a Dalit King in 1893. This event was conducted to celebrate the freedom gained by the Dalits for walking in the public space during the renaissance period in Kerala. Narrating an incident of a great event in the Dalit history, that better explains this name, Sethu says, " Ayyankali, born in the Pulaya caste, had been subjected to social injustice in his childhood itself when his freedom to travel was denied. Only the well-dressed elites traveled in the bullock cart or Willuwandi.The downtrodden people were forced to keep away from the public places. The conscientious Ayyankali decided to dissent their arrogance. He bought a bullock cart (known as Willuwandi), and made an adventurous journey through the public road wearing a dhoti, baniyan, turban with a wrapped angavasthram around his shoulder. This rankled the elite upper class. They obstructed his journey. Then Ayyankali pulled out his dagger and challenged the Savarnas. No one dared to oppose him. Without any fear, he resumed his journey in his own cart. His enthusiastic followers began to travel with him. The solo revolt of Ayyankali was a courageous footstep taken in history against casteism and denial of freedom of mobility. It was a tremendous ride in that time to celebrate the freedom of walking and education."
The band Willuwandi primarily sees itself as a vehicle for social activism. " We are interested in spreading ideas through music because it is something that has the power to transcend across borders and barriers," Sethu says. Drawing inspiration from the American Rock Band, "Rage Against The Time Machine," Willuwandi aims to bring about a revolution through their music. Their band draws a huge audience who head bang through the performance and feel motivated to bring about a change in the political and social scenario through their actions."At first we were nervous, because the genre of music we play isn't very popular in the country. But we were surprised at how well received it was especially amongst the youngsters who stand against fascism." The band's biggest dream now is to perform at Deekshabhoomi, the heart of Nagpur, where Babasaheb Ambedkar united lakhs of people, wearing the iconic black coat. Willuwandi aims to achieve something similar through their music. As Sethu puts it best, "This country is ours too. We have to regain it. Willuwandi is an awakening to invoke such realization amongst thousands of youngsters."
Check out Willuwandi's musical performances here.
You can visit their Facebook page here.
If you enjoyed reading this article, we suggest you read:
Pune's Easy Wanderlings Are The New Band To Know
Mumbai Vinyl Lovers - Here Are 4 Record Stores You Could Spend All Day At
10 Activist Musicians From India Giving Voice To Important Social Issues