If leather has been the choice of your sartorial accessorising so far, we know that the road to finding a similar, cruelty-free aesthetic is a long and winding one. Leather seamlessly complements all colour palettes, looks equally at home with bohemian beachwear or inside a corporate cubicle and, like good wine, time only makes it lovelier. However, the truth behind leather's eternal charm is a dark one –over the years, its production and use have been "slowly killing the people and the places that make it."
The good news is that some independent brands are gradually assimilating leather as part of the slow fashion movement by embracing environment-friendly and cruelty-free alternatives for goods that violate humanitarian values. Sounds utopian? In the country itself, muskin (leather made from mushrooms) is currently being produced in small quantities and leading this revolution as more and more independent Indian vegan leather brands make their presence felt. In pursuit of products that are consciously made without compromising on style, we found a rare gem – Godbolé Gear. The ethos of this all-leather exclusive men's accessories brand rests on three strong pillars that are durability, ethics and elegance. We spoke to Gaurav Godbole the man behind it to understand just how he manages to consistently stay true to this remarkable combination.
Each of the brand's products, including their belts, phone sleeves and wallets, are handcrafted by Godbole in his studio. A DIY enthusiast, 34-year-old Godbole discovered he had a particular affinity towards leather and creating accessories with material sourced from it. Before opening Godbolé Gear, he perfected his craft for over a year and a half, working for almost 5000 hours. "There are no shortcuts, no compromises in creating sustainable, durable goods. I have innovated certain product construction techniques in a way that every stress point and seam is over-engineered to make sure it does not fail," says Godbole whose products come with a three-year warranty.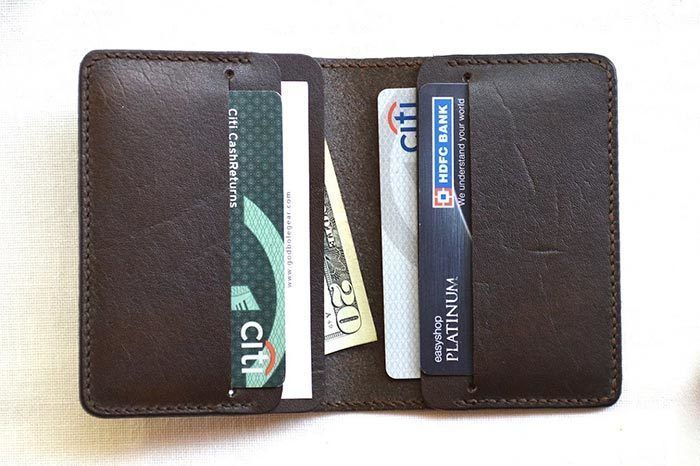 These handcrafted goods are made of leather which is cruelty-free and eco-friendly at every stage of its production and use. The leather itself is vegetable tanned that uses plant extracts as opposed to other synthetically or chemically tanned leather that harms its makers and the earth with life-threatening toxins. They attempt to minimise cruelty by using cowhide that is a byproduct of meat. It is also sourced from one of the oldest tanneries in the USA that have been audited for adherence to eco-friendly processes by the international apex body for leather certification – Leather Working Group.
Godbolé Gear believes in complete transparency regarding the nature and source of their raw materials and if you visit their website they clearly state that they use 'full-grain leather' the highest quality of leather available in the market as opposed to vegan leather. "We consciously do not use pleather as it is the main contributor to landfills due to the short (1-2 years) shelf life of its products. Our business philosophy is to make leather goods that last a lifetime," explains Godbole.
As for the design, Godbolé Gear is a haven for consumers who crave minimalism with a rustic edge and an impeccable finish. The products come in the rich hues of earthy browns, classic coal black and the occasional pop blue. The lush, nude belt with an extremely unique look and feel is one of our favourites from the collection.
In the sea of mass-produced, low-quality consumer goods that are available today, few brands can boast of the commitment to perfection and sustainability that Godbolé Gear represents. When we asked Godbole about his inspiration behind such high-quality standards, he named the legendary brand 'Patagonia' that is globally acclaimed for its ethics and commitment to being a socially conscious enterprise. "To me, that's what makes it so meaningful and worthwhile," confesses Godbole who quit his high paying job and plush lifestyle in New York to pursue his passion for making leather products in India.
It is fashion startups like this one, and makers like Godbole, whose principles reinstate our belief in the promising future of sustainable fashion in India, as their successful business models inspire other brands to make the switch to sustainability.
Their products are priced at the following range:
Phone covers: INR 1800 onwards
Belts: INR 3400 onwards
Wallets: INR 3500 onwards
Over the next 3 months, they will be introducing around 10 additional leather products including wallets, belts and slim card cases.
They ship across India and internationally as well. You can follow them on Instagram here. To buy their products click here.

If you enjoyed reading this article we suggest you read:
Freedom Fabric: 8 Contemporary Indian Labels That Hero Khadi Beautifully
17 Conscientious Indian Fashion Houses With Strong Identities We're Loving