In 2017, Gucci broke the internet with its Instagram meme-campaign #TFWGucci (That Feeling When Gucci) to promote its watch collection, 'Les Marché Des Merveilles'. Gucci's collaboration with meme-makers like @beigecardigan and @youvegotnomale resulted in the social media website being flooded with memes emerging from an unprecedented territory — the land of haute couture in all its coveted glory. It was pioneering and relatable and we weren't complaining.
Despite the memes' popularity, the hype eventually fizzled out, going down in history as some of the most iconic memes to have graced mankind. But that wasn't the end of it. Almost a year later, an independent Indian artist is bringing back high fashion memes. This time they're better, louder, and definitely here to stay.
Bangalore-based Srishti Guptaroy, like all the other twenty-somethings around her, spends most of her time on Instagram. It was all the motivation she needed to set up her own art account where she began posting some of her own fashion illustrations. One such evening of idly scrolling turned out to be extremely fortuitous, "I was going through the screenshot album on my phone one day and realised that it was full of runway images and memes. That's when it struck me that memes are always associated with lowbrow imagery and fashion is never intended to be funny, so it would be interesting to juxtapose the two!" So she did just that.
Her Instagram account @srillustrator is the converging point of art, high-end fashion, and meme-culture. With women adorned in some of the most vibrant floral prints, proudly owning their resting bitch faces—Srishti's memes are quirky, flamboyant, and most definitely an accurate reflection of the millennial reality we see all around us. "I didn't deliberately choose a style which is bold and colourful, the style chose me. However, I have always been a fan of colours. There is something so happy and positive about the interplay of bright colours and patterns," she tells us.
Unlike her predecessor (Gucci, of course) Srishti did not have any ulterior motive with the content she put up on her social media account. She indulged in it for sheer joy, "I just wanted someone to stumble upon my artwork, probably after a terrible day at work, and smile. I wanted to focus on everyday millennial issues and combine it with my signature fashion illustration style." However, what she has unintentionally done is shed light on the inaccessibility of high fashion by combining two incredibly powerful tools – that of art and humour.
High fashion is often associated with a certain level of sophistication that is lacking from the meme-culture, which is relatively more simplistic, lowbrow and recognises humour as an important aspect of online discourse. As Srishti very accurately puts it, "It takes us a long time to stop taking ourselves seriously."
The popularity of social media and its incessant need for dialogue can often overwhelm one. However, platforms like Instagram have given budding artists like Srishti a chance to be creative outside of their professional lives, "For me, social media gives me a chance to show my work to people. I am sure there are many phenomenal artists who are not on social media as they have other avenues to display their art, but for someone like me, it's the only way to get noticed by interesting people and grow."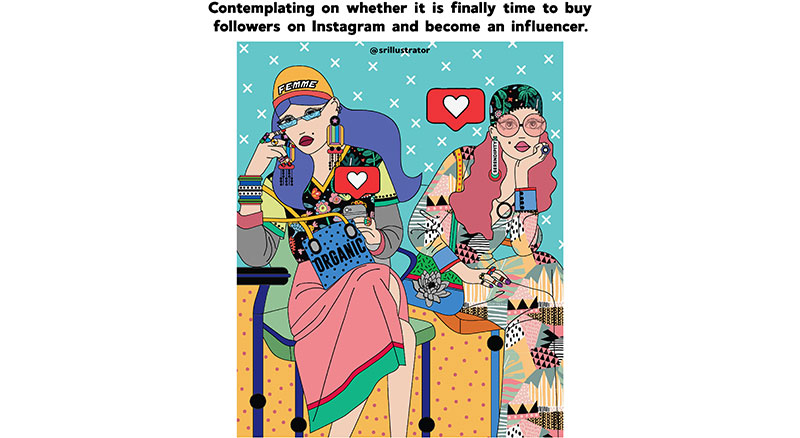 But this success comes at a cost,one Srishti doesn't actually mind. Working on personal projects, on social media or not, requires immense discipline. "I am nowhere close to reaching that point of discipline, yet. Working in a super demanding creative job can take a lot of time and energy. I also keep asking around for the correct hashtags to use because a lot of good work can end up disappearing from other people's feed if not posted at the right time. After all, social media following has become the new currency ", she tells Homegrown.
From fashion illustrations to fashion memes, Srishti's art has evolved tremendously over the past few months. But the one thing that has remained constant is the floral motif she employs in almost all her works. Strangely enough, she doesn't have single piece of floral clothing in her wardrobe. Artists, as always, continue to surprise this world.
If you enjoyed this article, we suggest you read:
Step Into The Surreal World Of Artist Shweta Sharma
The Indian Art Director Who Co-Created The Iconic Narcos Title Sequence
Bangalore Police Are Upping Their Meme Game With Hilarious Results