My affair with mustard first stirred up in didar rannaghor, my grandmother's kitchen. The steam emanating from her concoction of loochi (flatbread), chaaner dal (pulses), and maacher pathuri (fish steamed with mustard in a banana leaf) would tickle my nose on its jaunt through her house, like a yellow saree-clad Bollywood heroine in a lush meadow— free-spirited, searching for true love.
And true love it found forever since my grandmother died two years ago, every restaurant-made loochi and dal has tasted too greasy and the pathuri accompanying it has settled too pungent, as if the meal was clawing for my attention, fully aware that my heart belongs to another.
Bengali cuisine has made its home in a corner of my soul because it makes me feel closer to my grandmother, not for its flavours. So, although I complain about the oversaturation of store-bought Bangali khabaar, Bengali food, I am relieved that my grandmother's memory has no worthy competitor. This relief would soon be disturbed as I sat in Mustard restaurant at Atria Mall, patiently waiting for a tasting of its famous Bengali-French menu.
In a blue and white cotton saree behind the open kitchen bench, Chef Pritha Sen was meticulously studying dishes before they were allowed to be served. When I saw that her forehead was eclipsed under a large red bindi, she suddenly looked familiar, like an aunt I would meet at yearly pujo.
Then, I noticed that she wore a gold bangle on her wrist, like my dida.
And I wondered if she smelled like a wardrobe stuffed with mothballs, also like my dida.
Pritha, with large spectacles dangling from a pearl-white lanyard around her neck, apparated beside my table soon after I ordered my drink to ask me how I planned on featuring the restaurant. This was a viva examination I was unprepared for— I nervously spat out words like "urban youth," "digital publication," and "identity" and she smiled.
"You know… I'm glad you said that because I want my food to showcase the true Bengali identity, when there was a blurring of the west and east," she said as if we were old friends in the midst of adda, a chat, over cha, tea. Pritha, a food historian who plans the Bengali cuisine at Mustard, spoke of bringing back interest to regional flavours. She told me that Bengali food found a wonderfully complementary partner in French cuisine, the second half of Mustard's culinary effort spearheaded by Chef Gregory Bazire, a Frenchman from Normandy.
Gregory, affectionately called "Greg," presents French cuisine with a focus on seafood. I did not get the chance to meet him, but his creamy, sea-salted mussels starter spoke volumes as it crumbled between my cheeks. As if the entreé hadn't done him enough favours, a plate of tender duck breast slices doused in a sweet, butter-mushroom jus, followed suit, establishing his culinary prowess.
Together, Pritha and Greg, have crafted a menu that exudes rustic-chic: dishes with wholesome but nuanced flavours, packed with subtle punches of mustard at their core. Even the restaurant's mixologist, Evgenya Prazdnik, finds innovative ways to incorporate French and Bengali ingredients into her drinks. For example, "Anaras," is a mustard-tinged blend of tequila, orange liqueur and lime served up with a dried star-shaped slice of pineapple floating in it that reminded me of an flower beret I might discover among a stack of old love letters hiding in dusty army barracks.
Evgenya's drinks and Greg's traditional French creations mixed seamlessly with Pritha's Khosha Mangsho (mutton curry), chaaner dal, and Koraisutir kochuri (stuffed flatbread). But, what won the menu my affection and loyalty was Pritha's maacher pathuri.
"I haven't had shorshe (mustard) like this since I was in my grandmother's house," I confessed to Pritha, who put her hand on her heart and nodded her head in a silent thanks. As I continued to gorge on her flaky, subtle pathuri, she stood there and looked away into the distant congested street. I imagined that she was thinking of her own grandmother's shorshe, while I devoured hers.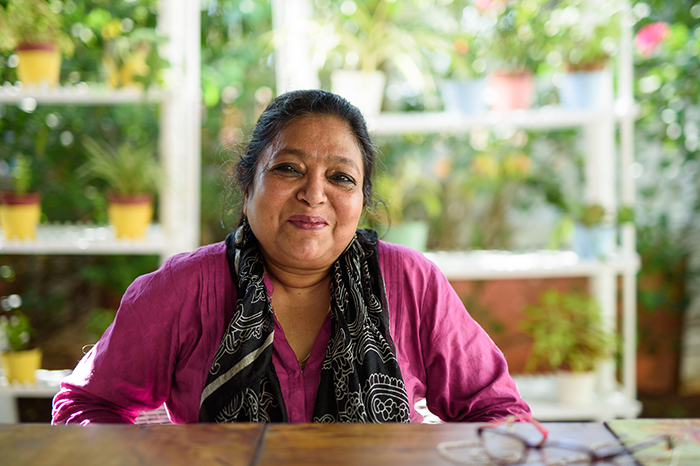 Although Pritha, Greg, and Evgenya are integral to the culinary fervour of Mustard, they are not its only claimants: Punam Singh and Shilpa Sharma, the two founders of Mustard who were previously colleagues at Fabindia, make up meaty morsels of the entire initiative.
Over crispy mustard-tuna tartines and the Mezze platter, Shilpa and Punam sat across from me on the couch and told me about the birth of Mustard. "My work comes out of my love for a product," Shilpa said as she detailed how she wanted to capture the lazy, languid Goan charm with the first franchise of Mustard operating in Sangolda. So, catering Bengali cuisine was a natural decision, she said.
Why, then, add French to the mix, I asked. "Bengali and French are so high in culture and art. It would be a pity not to bring that together to the table. Mustard is about the overall experience of culture," Punam said proudly.
Shilpa narrated how she met Pritha during a solo trip to Nagaland and how Pritha met Greg at a Christmas party in Goa. Soon, conversations between the three of them and Punam reached a point where they decided to work together. "It was serendipity and how! Mustard was something waiting to happen," Shilpa said wide-eyed.
Both, Shilpa and Punam told me that they want the experience at Mustard to transcend traditional dining. They want Mustard to feel like the extension of one's living room— homely and comfortable— and it is. The salmon-coloured French windows, scattered pots of succulents, and yellow, floral patterned fabric stretched across furniture cushions are toe-curlingly cosy.
Shilpa and Punam also described their plans to host performances by different communities from thespians and jazz musicians to stand-up comedians and young entrepreneurs. "We'd like Mustard to be associated with multiple experiences of which food is just one. We're floating ideas of wine nights, cocktail workshops, food pop-ups, and Thanksgiving and Durga Puja meals," they said enthusiastically.
Mustard is pegged to be Bombay's new culinary and cultural hotspot. Shilpa and Punam are determined to make Mustard welcoming and friendly, especially by filtering out the elitism and pretentiousness that often accompanies fine-dining.
For outsiders, Mustard may only be a restaurant with mouth-watering food and engaging live entertainment that offers a much-needed break from a very fast-paced city. But for Shilpa, Greg, Evgenya, Punam, and Pritha, Mustard is a cultural phenomenon and bringing pride to Indian regional food and interest in global cuisine, one bowl of bapa mishti doi and créme brûlée at a time.
Feature Image by : Mustard
If you enjoyed reading this, we suggest reading:
Inside The World Of Dharavi's Idli-Makers
Local Flavours And Authenticity – The Platform Changing How India Eats