Even in the yesteryears, coffee and tea houses weren't simply a place to get your daily caffeine fix, but were also spaces to socialise and churn political and artistic thoughts by the intellectuals who frequented them. From housing secret meetings of freedom-fighters in the colonial era, to fixing of marriage alliances, it seems as though these joints are witness to the growth of the nation through the decades.
Although those years have gone by, these iconic houses still retain the essence of what they represented in those eras. Photographer Freedman in his famous photo-series captured Indian Coffee House institutions and remarks to Quartz, "These are spaces that contain within them much of the artistic, political, and cultural heritage of the post-1947 settlement."
So if you'd like a change from your regular cafe, scroll through Homegrown's curated list of historical coffee houses and tea-rooms that will fill you with nostalgia over your much-loved (maybe much-needed) cup o' joe.
I. Indian Coffee House, Pan-India
With over 400 outlets across the country, the list had to start with the iconic brand launched in 1957 which is now thronged by college students and young professionals for its delicious spread at affordable prices. The various branches of ICH have housed a range of politicians and intellectuals within its walls. In fact, the one in Pondicherry is the place where author Yann Martel started his bestselling novel, Life of Pi (2001). In 2014, the structure was redone in a Franco-Tamilian style, to reflect the culture of the union territory.
II. Brahmin's Coffee Bar, Bengaluru
Started in the 1960s by Narasimha Rao, this establishment is famed for its delicious coffee and south-Indian treats. The menu has remained the same for over four decades, with Idli, Vade, Kara Bath, sweet Kesari Bath along with their crowning glory — the chutney. The preparation of the legendary chutney is overlooked by the founder's wife, 83-year old K.N. Saraswathi every day. With the city's rise in sleek cafes and roasteries, Brahmin's retains the old-world charm of Bengaluru and takes you back on a nostalgic trip. Though it doesn't offer the comfort of a typical cafe (no sitting space!), it still boasts a stellar 4.9 rating on Zomato.
III. United Coffee House, Delhi
Conceptualised by late Lala Hans Raj Kalra in 1942, United Coffee House emerged at a time when the Quit India movement was brewing. The space brought the various cultural diversities of Delhi under one roof, which fulfilled the vision of the founder. The tall ceilings and art-deco interiors are definitely a sight for sore eyes. Though the cafe was frequented by intellectuals, artists and affluent entrepreneurs, it is also said to have been a match-making spot for families, with the popular saying "Marriages were not made in heaven, but at United Coffee House, over cups of tea made with the United Blend," attesting to this fact.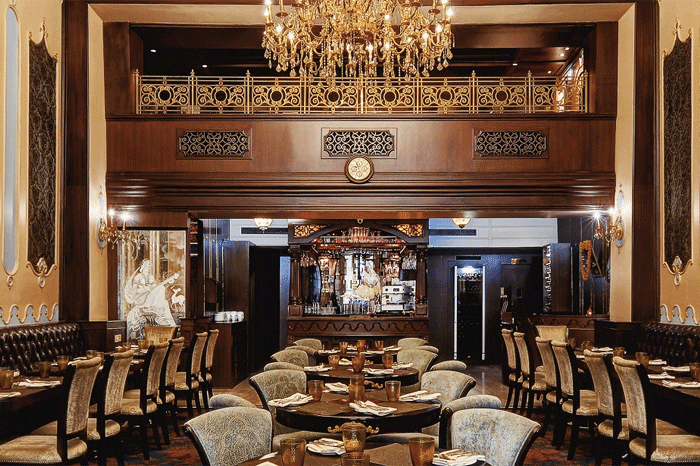 IV. Mavallli Tiffin Room, Bangalore
Found in the 1920s, the Mavalli Tiffin Room (MTR) on Lalbagh road has been known to dish out delicious south-Indian delicacies. It grew to the household name it is today by lucratively tapping on the food issues created by the Emergency of 1975, and coming out with a range of packaged products from Masalas to Idli mixes. Despite the stronghold of MTR as a brand, the Tiffin room itself is no less popular. It has crowds at its shop for its fluffy Rava Idlis, crisp Dosas and heady, aromatic coffees whose beans are freshly roasted and ground on a daily basis.
V. Favourite's Cabin, Kolkata
This century-old tea cabin was started by brothers Nutan Chandra Barua and Gaur Chandra Barua in 1918. Frequented by writers and poets like Kazi Nazrul Islam as well as freedom fighters like S.C Bose, the inner chambers of the shop were used to hold secret Swadeshi meetings. "They would signal to the freedom fighters to escape through the back door as soon they got wind of a police raid," reveals Nutan's 72-year-old son Mridul to Telegraph India. The cabin sells piping hot tea, biscuits, cakes and a range of different toasts.
VI. Flury's Tea Room, Kolkata
This pastry and tea-room was founded in 1927 by Swiss couple Mr and Mrs Flury. It was visited by Britishers as well as affluent Indians, but has now become an everyday bakehouse. They have evolved with time and adopted modern sensibilities, such as by creating a line of vegan and gluten-free products for the millennial consumer. Its popular products are their heritage items like rum balls, Baba cake, and strawberry cube pastries along with their range of teas. Flury's decided to break off from its Kolkata stronghold and now has branches in New Delhi and Mumbai, too.
VII. Glenary's Bakehouse, Darjeeling
The bakehouse and cafe in Darjeeling was founded in 1935 by Vado, an Italian individual, but was later taken over by the working manager who was an Indian native. Though recently renovated in 2015, the place still retains its old-world warmth and coziness. Glenary's is a hotspot for locals and tourists alike for its comfortable ambience and the wafting smell of freshly-baked bread and pastries in the air. It's well known for its cinnamon buns, apple and meat pies, as well as its Darjeeling tea. It is a sight to see during Christmas, with festive decorations and a range of delicious baked-goods, specially crafted for the holidays.
If you liked this article, we suggest you also read:
A Journey Through India's Most Iconic Coffee Houses
Sample Our 3 Favourite Cold Brew Coffees Available In India
Fudge Cakes & Apple Pies – A Delicious Guide To Mussoorie's Best Bakeries