An inimitable success story, an extravagant childhood, a seminal approach towards Indian modern art, and a bold body of work that paved the way for Indian women artists for generations to come. Amrita Sher-Gil's life story — unfortunately brief but nevertheless compelling — is one that enthralls and inspires.
Born to a Sikh aristocrat father and a Hungarian opera singer, Sher-Gil painted close to 150 pieces of art in her brief 10-year-long career. Three Girls (1935), Self Portrait as a Tahitian (1934), Woman On Charpai (1940) are some of Sher-Gil's prominent works of art that have been widely acclaimed. Women seemed to be at the forefront of Sher-Gil's preferred choice of subjects. She used her signature style — which was an interesting coming together of french and Indian sensibilities — to paint self portraits, capture women in natural settings, and recreate candid moments.
One of the first pieces of art created using this style of painting characteristic to Sher-Gil was The Little Girl In Blue (1934). Interestingly, this portrait recently resurfaced after eight long decades and is said to be offered for sale at Sotheby's The Boundless: India auction. The auction will take place at Taj Mahal Palace Hotel on November 29, 2018, and is the prestigious fine art firm's first auction ever in Mumbai.
Amrita Sher-Gil's creations are rare sightings in general, but what makes this portrait of a young girl staring into the distance special is the fact that it was included in Sher-Gil's first ever exhibition in Lahore in 1937. The 'little girl in blue' — the subject featured in the portrait is Sher-Gil's distant cousin Lalit Kaur Mann. Mann, fondly referred to as Babette, is now 92 and lives in Delhi. In a conversation with Homegrown, Babette took us through the chain of events that led to the conception of this iconic piece of art. She spoke about her relationship with Amrita and how she's coping with this sudden wave of attention headed her way.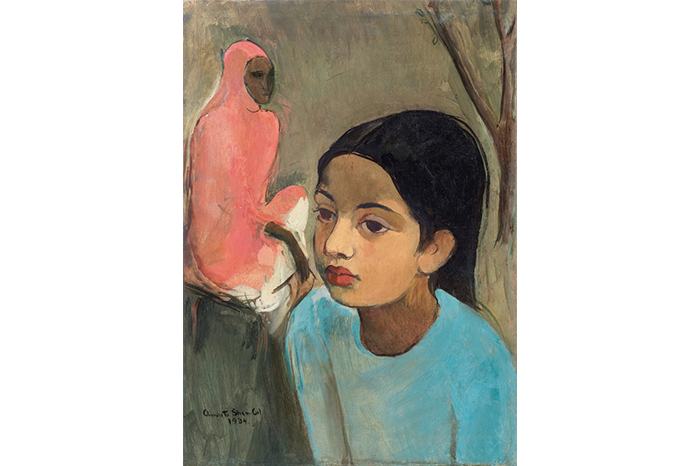 "It was a beautiful morning," recalls Babette, "It was mummy's idea and I was made to sit in the garden and pose." Contrary to expectations of what one might feel like to model for an iconic painter like Sher-Gil, Babette "absolutely hated it." "I was so young and so full of life that to sit still was a big bother," says Babette. But being the obedient eight-year-old that she was, Babette endured the inconvenience and dutifully posed for four days in a row. However, the result wasn't met with much appreciation. "Mummy didn't like it at all. She asked Amrita to take the portrait with her and paint over it if she wanted," says Babette. "If you wanted it to look exactly like her you should've hired a photographer to click a picture of her instead," was Amrita's response to Lady Buta's (Babette's mother) dissatisfaction.
Babette remembers being extremely fascinated by Sher-Gil, much like all her other friends and young cousins. "Amrita had just come back from Paris and the difference between young girls of those days and Amrita was vast," says Babette. Girls in those days were still in purda (veiled). To put things into perspective, Babette talks about being made to sit in the side garden where not even the male members of the family came. "All of us younger girls looked up to Amrita because she was so modern compared to everyone around us. We were very fond of Amrita because she presented a completely different picture of world," she adds.
Sher-Gil once wrote "As soon as I put my foot on Indian soil my painting underwent a change not only in subject and spirit but in technical expression, becoming more Indian," while referring to how India transformed her body of work. Babette confirms this — "She was a great mixture of both her parents and really enjoyed life there (Paris) as well as here (India). After she had finished her course in painting, she decided to come back to India because she felt that India was really what inspired her – the colour, the vivaciousness, the weather, the people she associated with, everything was very conducive to her painting."
When asked about what Babette thinks of the hordes of attention headed her way, Babette's response is as nonchalant as can be. "Oh don't be stupid. So much hype about nothing. It was so long ago that it really doesn't matter anymore," she signs off.
Read more about the auction here.
If you liked this article, we suggest you read:
The Lesser-Known Mughal Miniatures Of Dutch Master Artist Rembrandt
An Indian Illustrator's Wild Exploration Of Femininity And Identity