December means different things to different people. For some it's time for Christmas break at their grandparents, for others it means it's time for the customary annual vacations to Goa. For music enthusiasts across the country, December means festival season. Magnetic Fields is just one of the many music festivals held during this period.
The annual Magnetic Fields Festival is special not just because of its stellar line-up, but also because this three-day boutique music and art festival set in the pristine village of Alsisar in Rajasthan at the Alsisar Mahal. This year the festival will be held from 14-16th December, 2018. The festival has changed the way young India views Rajasthan. The music festival acts as a platform giving the attendees an opportunity to explore the lesser-known charms that make Rajasthan.
However, would it really make sense to travel to this princely state and not explore all its charms? We took it upon us to make sure that you don't waste all the holidays you've accumulated throughout the year. Homegrown has put together a three-day itinerary (From December 11 to 13, 2018) leading up to the music festival, that will help you get a glimpse into the wonder that is Rajasthan.
Make The Capital City Of Jaipur Your Base
Jaipur being the capital city is the easiest to get to and is well connected to all parts of the state. It is also a perfect mix of traditional and modern complete with opulent palaces and boutique restaurants.
Where To Stay
Jaipur being a tourist destination has multiple accommodation options that fit all budgets. Those willing to spend a little extra to experience Jaipur's regal hospitality can opt to stay in heritage properties like Barwara Kothi (Cost: INR 6,000 for one night) or Alsisar Haveli (Cost: INR 6,000 for one night). Arya Niwas (Cost: INR 1,500 for one night) and Magpie's Villa (Cost: INR 2,500 for single/double occupancy room) help you enjoy the city's regal old world charm at a cheaper cost. For all those travelling on a student budget, we recommend staying in a hostel (Cost: starting at INR 300), which apart from being easy on your pocket also helps you get acquainted with people from varied walks of life. Hoztel Jaipur, Bunkstop Jaipur and Zostel Jaipur are popular among the various hostel accommodations available in Jaipur.
Day 1
Get acquainted with the tourists' haven that is Jaipur.
How To Get Around
Jaipur's public transportation system mainly comprises cycle rickshaws, auto rickshaws, and cab services. While cycle rickshaws are obviously the cheaper alternative, it is preferable to travel around by Uber as it costs the same as auto rickshaws and is much more reliable and comfortable.
Morning
I. Start Your Day With An Early Morning Run At Central Park
It is imperative that you start your day early to make sure you don't miss out on all that the pink city has to offer. We recommend all fitness enthusiasts to start their day with an early morning run at Jaipur's famous Central Park that has a 5 km long jogging track, and if you're lucky then you might catch a glimpse of polo players in action at the Rambagh polo ground that is located on the same property.
II. Breakfast At Tapri Central
Post your morning run, you can grab breakfast at Tapri Central that opens as early as 7:30 am. Extremely popular among locals, this eatery has quite an unconventional menu with an interesting mix of cuisines. We recommend trying their Khakhra Pizza, that is an interesting reinvention of the good ol' thin crust pizza.
III. Exploring The Walled City
Make the most of waking up early and hit all the tourist spots before they are flooded by hoarded of other tourists. With countless forts and even more heritage property, it might get a tad bit difficult to pick a few places to visit. Hawa Mahal, City Palace, Amber Fort and Jal Mahal are some of the sightseeing spots we recommend to those travelling to the city for the first time. A guided tour is the ideal way to navigate around these heritage sites, not only do you cover all that you need to see but also gain insight into the rivetting history and the age old tales that have passed down from generation to generation for centuries now.
Afternoon
IV. A Hearty Afternoon Meal At Shri Khandelwal Pavitra Bhojnalaya
To recover from all the sightseeing, you can visit a nearby restaurant serving up delicious North Indian cuisine (we promise this won't burn a hole in your pocket). While the ambience here isn't top notch, the food certainly is. Known for its delectable flavours and prompt service, this eatery is a cherished part of Jaipur's culture and heritage. Try their simple dishes like Dal Fry and Ghatta Masala and decide for yourself.
Also, Khandelwal Bhojnalaya is located on the way to Jal Mahal and Amer Fort. So, it would be ideal to visit these tourist spots some time in the evening, right in time for Amer's famous sound and light show..
Cost: INR 350 for two.
V. Shop At Amer Road For Jaipur's Famous Textiles And Other Local Handicraft
The city of Jaipur has always held an interesting reputation for being home to some of the most gorgeous, authentic textiles. So we'd recommend heading towards Amer Road before the sun gets too hot. Amer road is famous for its wide variety of block printing textiles that range from basic, solid colours to vibrant floral patterns. Look out for 'Riddhi Siddhi Textiles' and 'Saurashtra Impex' on Amer road as they're both good for basic block print textiles. You can also buy fabrics by the metre along with other home decor accessories like quilts, cushion covers, and dari carpets. Also, if you're looking for quirky lights, there's a light shop right outside Hawa Mahal! And if you're interested in exploring Jaipur's traditional crafts like blue pottery, then Amer Road is once again your go-to place.
Night
VI. Delicious Mutton Dishes At Spice Court
Located at Civil Lines, this place is one of the must-visits of Jaipur. Known specifically for its mutton dishes, Spice Court's food is guaranteed to leave you in the ultimate food coma of your life. The food portions here are huge. Try their Laal Maas, which is a spicy mutton preparation cooked in dry chilli. The Kheema bhati here (a non-vegetarian alternative to dal bhati) is another one of their specialities. If you're visiting on a weekend, it's advisable to make a reservation first as this place is always crowded and the waiting list might just kill your appetite. And for the adventurers, we'd say, go for their Jungli maas – supposedly the spiciest dish on their menu.
Cost: INR 1000 for two people.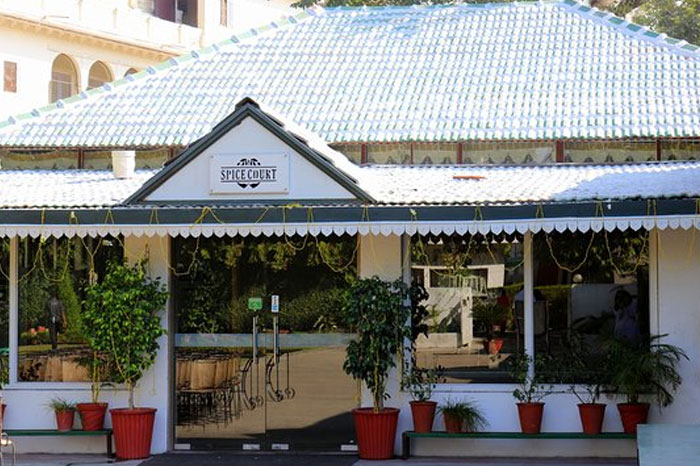 VII. Panditji Kulfi For Authentic Indian Flavours
There's nothing better than a good old kulfi to end a hearty meal in joy. While kulfi pretty much everywhere tastes the same, there's something about the ambience of Panditji Kulfi that makes you want to come back and relive the kulfi outings from your childhood. Another thing that makes this place stand out is their home delivery, their neatly packed boxes of wholesome Indian flavours available right at your doorstep.
Cost: INR. 100 for two.
Day 2
Gear up for a scenic road trip to Pushkar.
Morning
I. Travel To The Temple Town Of Pushkar
Good news for all the early risers, we recommend waking up around 6 am to make sure you reach Pushkar in time to enjoy your day trip to the fullest. For all those who like to sleep-in, we promise it will be worth giving up those few extra hours of sleep. Pushkar is roughly 3 hours from jaipur and one can hop on a bus, rent a cab and even take a train to Ajmer (the station nearest to Pushkar).
By Bus
We recommend Shiv Sankar Travels as they have regular buses from Jaipur to Pushkar.
Duration: 3 hours
Fare: Approximately INR 400 for one person.
By Car
You can rent a car, hire a cab or even take an intercity Uber from Jaipur to Pushkar. The advantage of travelling by car is that you can stop over at the famous Ajmer Dargah for a pit-stop.
Duration: Approximately two and a half hours (depends on whether you decide to stop at the Dargah).
Fare: Varies depending on the car service you choose.
By Train
Take a train from Jaipur to Ajmer, which is 35 minutes away from Pushkar. Once in Ajmer you can stop by at Ajmer Sharif Dargah and then head on to Pushkar by bus or cab.
Duration: Approximately 4 hours
Fare: Varies based on type of seat.
How To Get Around The City
Pushkar is a quaint temple town built around the Pushkar Lake. It is best known for the Pushkar Camel Fair, which is usually held in the last two weeks of November.
The best way to uncover the little treasures hidden withing the network of narrow lanes that make up Pushkar is on foot. However, the other alternatives are camel cart rides or hiring bikes and scooters that help you manoeuvre through the cramped spaces and help save time too.
Scooter or bike hires cost approximately INR 350 per day plus a security deposit of about INR 1,000.
II. Authentic Israeli Breakfast at The Third Eye
Run by a local couple, this restaurant gives you the oppurtunity to try rare Israeli delicacies. They have exciting and unconventional breakfast options and we recommend you try their Shakshuka, that comes with Tahini and Hummus dips along with chips and salad on the side.
Cost: INR 500 for two.
Afternoon
III. Hit The Streets For Some Good Ol' Retail Therapy
Along with some quintessential Rajasthani jootis and patchwork jholas, the streets of Pushkar are great if you're on the lookout for rustic baubles and jewellery made from twisting silver wires that is characteristic to Pushkar. If you're a stationery lover, you will be pleased by their selection of leather bound notebooks. Be sure to drop the tiny stores that sell pieces of clothing in quirky psychedelic prints.
Unleash the explorer within and venture into the tiny stores nestled in the city's nooks and crannies to get your hands on some rare finds that won't burn a hole in your pocket. Also, be sure to haggle considering it is a popular tourist destination and more often than not the prices stated are negotiable.
IV. Grab A Bite At One Of The City's Many Quirky Cafe's Or Traditional Eateries
The streets of Pushkar are lined with multiple quaint eateries that serve varied cuisines ranging from authentic Rajasthani fare to delicious Tibetan options. Head to Shyam Bhojanalaya for an authentic Rajasthani that is reasonably priced at INR 250 if you're in the mood for some dal bati churma. You can also choose from the numerous cafes that cater to the international travellers visiting the holy city.
Evening
V. Watch Sunset By The Lake
Evenings at Pushkar are best spent watching the sky change from blue to crimson, while the sun sinks into the lake that reflects the iridescent sky. As the evening turns into night, the air filled with the music of evening aarti being conducted at the multiple temples that line the ghats of the lake.
VI. Head Back To Jaipur In Time For Dinner At Niros
It is recommended to head back to Jaipur right after sunset, which will ensure that you make it in time to grab a bite at Jaipur's iconic restaurant Niros. Niros was established in 1949 and has been a local's favourite and popular among tourists from the get go. We recommend their famous chicken tikka butter masala with their unparalleled butter naan. They also offer a plethora of vegetarian options that will not disappoint. For dessert, make sure you try their famous baked Alaska.
Cost: INR 1,700 for two.
Day 3
A relaxing day to help you rejuvinate for the exciting weekend ahead.
Morning
I. Brunch At Anokhi Cafe
From Sephardic Orange Cake, Vegan Chocolate Pudding topped with toasted coconut and almonds to decadent cheesecakes and tarts, Anokhi Cafe is known for its extensive dessert menu along with other quick bites you can always grab at any time of the day. We recommend the tomato hummus sandwich and their healthy hand-tossed pizzas. You can also head to the store attached to the cafe for some block printed goodies. However, keep in mind that the merchandise sold at Anokhi is a tad bit expensive.
Cost: INR 750 for two.
Afternoon
III. Jhalana Safari For The Nature Lovers
Located on the outskirts of the city, Jhalana safari is a mini safari that has recently opened up in Jaipur. From leopards to striped Hyenas, Desert Fox and Golden Jackal, this place is a must-visit for not just those interested in spotting the mighty leopard but also bird-watchers and wildlife enthusiasts who don't wish to embark upon a full-fledged wildlife trip. There are currently 30 leopards living in Jhalana. Unlike other safaris in the country, this one is located at almost an hour's distance from the city with both morning and afternoon safari batches.
IV. Tea At Cafe Palladio
Pastel interiors, pistachio marble flooring, a spacious patio, and an unparalleled fine dining experience – such is the splendour of Cafe Palladio located in Narain Singh Circle. The outdoor seating here is best enjoyed during the winters. Inspired by the cuisine of Sicily, Cafe Palladio serves a variety of cold soups, salads, and freshly baked Italian sandwiches. However, it's their desserts that steal the show. Turkish Baklava (thin layers of honey and pistachio pastry), Palladio peaches, Ricotta Cassatelle (sweet ricotta and chocolate puff pastry) – it's all up for grabs.
Cost: INR 2000 for two.
Evening
V. Rent A Taxi To Alsisar Right In Time For Magnetic Fields
We recommend you leave around early evening for Alsisar to ensure you avoid traffic. Alsisar is approximately four-hour-long drive away from Jaipur. You should reach Alsisar in time to grab dinner and turn in early to make sure you make the most of the eventful weekend that will follow.
If you liked this article, we suggest you read:
A 24-Hour-Guide To The Many Charms Of Thane
48 Hours In Fort Kochi With 4800 Rupees
4 Days In Varkala — A Local's Guide To The Unexplored Surfer's Paradise Down South