Food is an inherent part of any culture. If one wishes to experience the spirit of a place in the real sense, getting their hands on some authentic local cuisine is necessary. But how does one decide if the food they eat at an unfamiliar place is really genuine or not? Those making plans to Goa or newcomers to the city, don't fret, we have got you covered making sure you are able to afford your rent after the hypothetical rendezvous.
We have mapped out 10 spots in the city you can go to in order to get a tastes of the local cuisine and culture without burning a hole in your pocket.
I. Candolim Night Market
This market in Candolim comes to life when the sun goes down and is popular amongst food lovers looking for an authentic experience of Goan street food. One can drop by Michael Lobo's Center, an age old tradition, to get one of the best prawn chops, egg chops, chicken lollipop in the region or head to Monico's Beach Shack to sit back and devour some Goan fish curry. The market can be visited from 7 pm to 10 pm on any day of the week. Located near the market is King Kane, food stall famous amongst the locals and travellers alike for its chicken xacuti, buff chilli fry and pork sorpotel served to the customers at very affordable prices.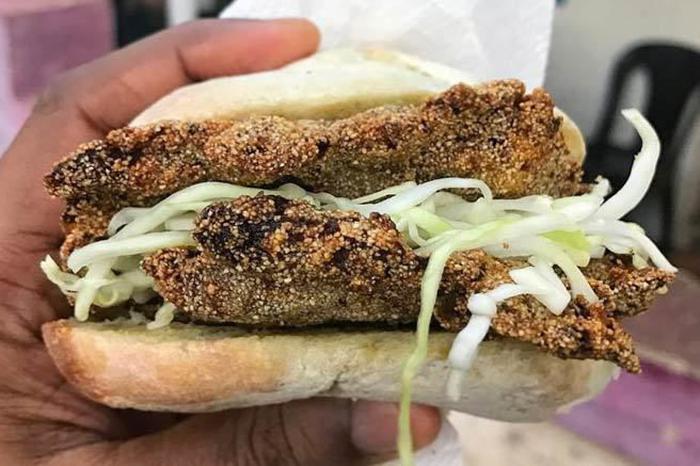 II. Miramar Beach
The beach is lined with colourful food stalls selling popular favourites like chaat, pav bhaji, shev puri, ragda tikki, Shawarma et. al. The decades old pani puri stall is said to be one of the main attractions of the beach. It is the perfect place to go to grab a bite of some street food while enjoying the sun setting on the sea. There are several food joints located in and around the beach too. One of these named D'silva Fast Food is known for its choris pav, and crispy beef and chicken cutlets. It also offers the Goan Rava fried fish with the local taste and flavour. The beach starts to get packed with hungry souls in the evening till the late hours of the night and is one of the most visited places in the city.
III. Anjuna Flea Market
Known mostly to be the place to head to for shopping, The market is always bustling with tourists. It also houses numerous food stalls that sell some of the most delicious street food in the area. One can grab a beer with a seafood platter from one of its shacks or take a break from shopping while biting into snacks like the Indian corn in the cob covered in salt and lime from the food stalls. The market opens on Wednesdays from 9 am to 6 pm for six months from October to April every year.
IV. Santa Cruz
The area is known for blue food carts that are lined up by the boundary of the Santa Cruz Church. One can munch on the delicacies offered by the food stalls and enjoy them against the backdrop of the sunset. The place is always packed with Goans and tourists in the evening which means that one might have to stand a few minutes in a queue for the food but it is totally worth the weight. One must try the cutlet pav from Umao's and make sure to visit Costa's for their infamous beef tongue roast and fish and chips.
V. Panaji Market
The Panaji City Market is something that is a must visit for those travelling to Goa. Open from early hours of the day until late at night, the place is a hub for street food in the city. It offers a wide range of seafood like squid, mussels, oysters, kingfish, pomfret, crabs, tiger prawns et.al. The dried fish and tandoori dishes sold in the market are highly recommended. One can also buy Goan spices, local fish, vegetables, wines and sweets here.
VI. Calangute Market Square
This market square situated in Calangute town gives relief to rumbling stomachs of visitors and locals each Saturday from 6:30 am to 12 pm. It is lined with numerous food stalls, restaurants and shacks that sell scrumptious seafood snacks and various other cuisines that one can enjoy while sipping on chilled beer and other beverages to cope with the Goan heat. The market is also the place to go for people looking to buy some fresh seafood and meat.
VII. Mapusa
This area is the Mecca for food lovers in the city and travelers alike. Its Friday Market, which functions from 8:00 am to 6:30 pm is lined up with food stalls that serve the local cuisine. The Chorizo (pork sausages) offered here should not be missed! For those looking to get their hands on some good old Goan fish curry, head on to Kamlabai for this iconic dish with salted dried prawn as accompaniments.
The Alanka Theatre street is famous for its Chinese food, a popular favourite all over the country in general. It also offers Tandoori and Goan food here for those not a fan of the oriental cuisine. Do head over to sip on some juices and milkshakes. The street is bustling with crowds of people till 2 am and is the place to go for those looking to grab a bite after hours. Those craving some of the local snacks, should make their way to the corner between the Mapusa flower and bread markets for some piping hot mirchi pakoras and beetroot samosas.
VIII. Sundha Bhel Center, Vasco Da Gama
This food stall in Vasco Da Gama is situated next to Swaraj Complex. It is a household name across the city and is famous for selling the best Bhel Puri in town along with spicy curries and grills. All the food items that it has to offer are light on the pocket. Another one of its specialities is Butter Pav Bhaji, a dish recommended by many. Despite being a small food stall, Sundha Bhel Center is known for its hygiene amongst its customers. Make sure to drop by the next time you are in the area!
IX. Ravi's Stall, Church Square
This stall located opposite to the Panjim Immaculate Church, is one of the most packed and popular food joint in the city. It serves to its customers plate after plate of fluffy omelettes filled will coriander and onions resting amongst the traditional spicy chicken xacuti (gravy) and is accompanied by freshly baked Goan pao. Ravi's food stall is opens from 7pm up until 2am everyday making it famous amongst the night owls of the city.
X. Haji Ali Shawarma, St.Inez
Despite being a fully functioning restaurant, this spot near Caculo Mall in St. Inez, has made a reputation in the city for its mouthwatering shawarmas. It is usually packed by youngsters given its affordable price of INR 70 per shawarma . It offers two kinds of shawarmas: the regular marinated chicken and the another one with a spicier marinade to suit the Indian palate. One can also drop by to check out the other tandoori and street food items on its menu.
Feature image credit: Thomas Zacharias' Instagram
If you like reading this article, we suggest you read:
Eating Your Way Through 10 Of India's Best Food Markets
Eating Our Way Through South Mumbai's 4 Best Khau Gallis
Around India Through 15 Of Its Oldest, Most Delicious Restaurants