The travel industry is sometimes criticised by green activists for being wasteful. And more often than not, they're right, the industry can put quite a bit of strain on the environment –– from excessive consumption of fuel to generation of tons of waste. However, it doesn't always have to be that way. You can choose to vacation in a way that is sustainable and helps give back to the environment instead of being exploitative. Both hotels and consumers are increasingly becoming more aware of the concept of eco tourism. One such initiative is this Airbnb –– Little Flower Farms.
Tucked away in Vagamon, Kerala, this farm-stay is primarily a family run biodiversity restoration and conservation initiative. The farmhouse is located on a hillside and is spread over eight acres of land, and is divided into three levels. The middle level houses the common dining area, the camping grounds are located on the upper level, while the farmhouse is on the lower level. Little Flower Farms is a nature lover's delight, the property is covered with native species as well as hand-picked exotic varieties of plants including pine groves, bamboos, ferns, clusters of Zingibers, Aralias, Bromeliads on rock faces, Aroids and Heliconias, and the occasional wild orchid.
Additionally, this resort is eco-friendly as well. "In trying to be as sustainable as we can, we grow our own vegetables, fruits and spices organically, harvest rainwater for use during the summer months and try our best to reduce the waste we create. We want our Farm landscape to be an economically and ecologically sustainable venture that serves as a role model for the community," reads their website. "It is absolutely necessary. Climate Change is a reality, the decisions we take now as a race matters to a very large extent for our survival. The alarming weather patterns we experience this close to nature is an indication of how we need to reconsider our choices when it comes to knowledge. We have to educate ourselves on how much impact the decision we make is actually affecting our larger well being. Be it your carbon footprint or waste or psychological well being. Our vision with a place like Little Flower Farms is for it to be an educational space where travellers who visit us will leave with the hope to be a bit more woke and take that mindset back to their daily lives where they make a positive impact. Our reforestation stands a testimony to a couple who used their life in urban cities to come together to have a lasting ecological impact in a barren landscape with no job projects to sustain a small community and bring life to a place, by just letting it be wild," said owner Rekha Thomas, who runs the far-stay with her husband.
Considering this property's eco-friendly approach and scenic location, there is no reason why it shouldn't top your list of weekend getaways. Don't believe us? Look at the photographs of the property below and see for yourself.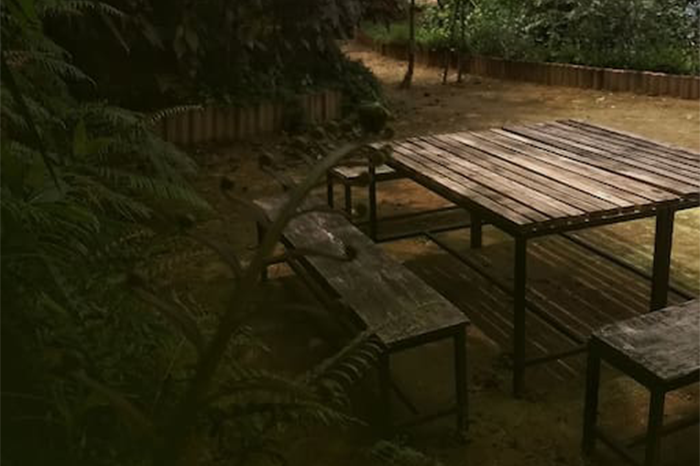 Click here for more information about Little Flower Farms.
f you liked this article we suggest you read:
Apple Orchards & Stunning Views – The Perfect Himalayan Bungalow For A Writer's Retreat
A River-Island In Karnataka Can Now Be Your Own Private Getaway
Parsi Food & Hillside Treks At A 160-Year-Old Victorian Bungalow Outside Mumbai