The quarantine had been difficult for one and all. There had been days when we were ecstatic at being able to stay home, and there were days when we felt empty and sometimes angry with ourselves. Emotions that we had been avoiding all along suddenly raised their ugly heads in this time of isolation. There is no more running away from ourselves. Times like these have eventually led us to confront a sense of void which we had refused to address at moments of ease. Perhaps it is from such feelings of helplessness that art emerges, and takes a shape. Perhaps the quarantine has unintentionally brought us closer to ourselves and made us more self-reliant. Maybe the only way to get through this is to find a means to express ourselves. That might be the only way to blow off some steam and stay sane.
A group of artists have done the same, and picked up on their emotions this quarantine season to create some unique art works that might resonate with one and all.
I. Akhil Monu Mathew
Akhil Monu Mathew is an illustrator and creative director from Bangalore. He has a degree in graphic designing, and has always been interested in the visual arts. But it wasn't until his early-twenties, that he moved to Bangalore, and began to pursue advertising. In over 10 years of experience in advertising, he has worked in both online and offline campaigns, branding, UI/UX projects for products as wells as for services.
During the quarantine, Akhil has depicted the humanitarian crisis of migrant workers going back to their villages through his artwork. In drawing an analogy between the situations of the rich and the poor in the country during the lockdown, the artist reveals the everyday reality lived by its citizens.
You can check out his art here.
II. Viraj Jaulkar
Viraj Jaulkar is a trained artist with a bachelor's degree and master's degree in fine art from Nagpur university. He largely creates superheroes, relating their life situations to the lives of common men.
"Since childhood I used to read comic books and draw all the superhero characters from them, and I think now all those superheroes are getting reflected in my work with an indie or desi twist." He has made a series which draws an analogy between the lives of superheroes and those of common men during the quarantine.
This superhero series serves as a comic relief, re-imagining superheroes as helpless beings resembling ourselves during this pandemic. It explores how superheroes were to spend their time at home like normal people in the midst of this pandemic.
You can check out his art here.
III. Tabitha D'Souza
Tabitha D'Souza is an illustrator and graphic designer from Mumbai. She is always trying to find ways to incorporate a sense of humour and wordplay and leaves little easter eggs about herself in all her work. Other than graphic design, she is a fan of films, dogs, soup, and is a passionate supporter of all breakfast cereals.
She has given expression to one of her moods during quarantine through her recent art works, which depict a dreamy rendition of the emotion of love and that of missing our loved ones during quarantine.
"I wanted to create something dreamy and magical. All my illustrations are filled with colors that stand out. I was speaking to a friend and she told me how she misses being with the people she loved," she says.
You can check out her art here.
IV. Maanya Dhar
Maanya Dhar is an illustrator and visual artist based out of Gurgaon. Quarantine due to the COVID-19 pandemic has all of us trying to figure out ways of staying home without shutting ourselves from the world. The artist has tried to fill the gap in human proximity created due to social distancing through her art works, which depict what she says, "some of the imaginary friends" that she spotted during the lockdown.
Her Imaginary Friends series was inspired by the quarantine which demanded that people spend most of their time in the isolation of their homes. And how else to deal with it than to create imaginary friends ! And that is what her art work is based on.
"After the Prime Minister's speech on urging everyone to be 'aatmanirbhar' (self-reliant/ self-sufficient), I created the Hands On Approach series which basically promotes self reliance in a more intimate way which we've all been practising during quarantine. No better time for self-love than when one's shut away from the world!", says Maanya
The Eyes On You AR filter that she created on Instagram is a means to let everyone know that thanks to quarantine, all our eyes are on ourselves as we try to improve ourselves during these times. And also because there's no one else around us to interact with.
You can check out her art here.
V. Jayesh Sachdev
Jayesh Sachdev is an artist from Pune, and the founder and creative director of Quirk Box, a popular culture art-based fashion and design label. He is also the Creative Director of Quirk Box Design, a contemporary graphic design and branding agency. A practising artist, he exhibits his work at locations across the globe. The multi-award winner is also a TEDx speaker and often lectures at design schools.
In his quarantine-inspired artwork, 'All dressed up and nowhere to go', he has addressed how vanity is undergoing a shift at a time when human safety and well-being has become the major concern in every step we take.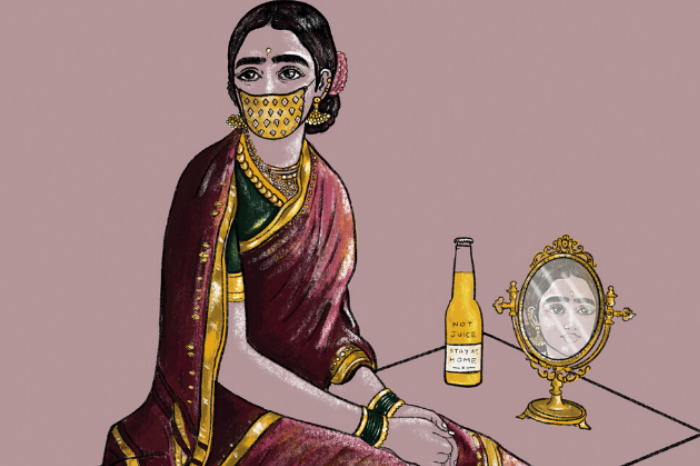 You can check out his art here.
VI. Neethi
Neethi is an illustrator, muralist and surface pattern designer based out of Bangalore, India, who loves drawing all things dreamy, inspired by nature and life. Bright-coloured, pattern-infused still life are a recurring theme in her paintings and "Paint By Numbers" murals.
During the quarantine she made some art to keep herself motivated. Her quarantine art revolves around the themes of nostalgia, a blurring of the outside and the inside worlds, and self-care during quarantine/self-isolation.
You can check out her art here.
VII. Shirish Ghatge
Shirish Ghatge is an independent illustrator based in Mumbai. After completing his graduation in Applied Arts from Rachna Sansad College in Mumbai, he went on to pursue his Masters in Animation and Film Design from National Institute of Design, Ahmedabad. He has worked with reputed design studio Bombay Duck Design, Mumbai and currently works with design studio Quick Brown Fox, Delhi.
Although he has been fortunate to stay mostly at home during the coronavirus pandemic, the lockdown has left a deep psychological imprint on him.
He says, "Be it the humanitarian crisis of reverse migration, healthcare crisis, ever-shrinking emotional spaces or the obligatory work-from-home caged situation, this constant shift in the course of nature and crisis has put me, like many others, in a perennial state of anxiety."
He has used his art as a medium to express these thoughts and give them a face. His drawings are the result of his own restlessness and internal conflicts.
You can check out his art here.
VIII. Abhinav Kafare
Abhinav Kafare is a graphic designer, illustrator, fine artist and photographer from Mumbai. As part of his brilliant lockdown project, he has explored the nuances of nude photography through the depiction of the male and female body in an objective manner, without any overt undertone of sexuality. The inspiration behind his project was to capture intimacy in times of the COVID-19 pandemic, through the depiction of a close interpersonal relationship, where the partners have a good time, finding joy in their apparently mundane lives. They chat, make chai and have it together with a plate full of biscuits.
In an interview with Homegrown, Kafare said, "Nude photography gives you space where you can capture a person without any inhibitions. It's like you are capturing a free soul. Many of the material standards that we see a person through, such as clothes and shoes are no more there. You get to see the inner side of their personality. I feel that nude photography gives me the chance to capture the human body in its rawest form. The body is, after all, a place where our mind resides"
You can check out his art here.
IX. Sukanya Paul
Sukanya Paul is an artist and animator, who graduated from the National Institute of Design (NID) with a degree in Animation. Born and brought up in Kolkata, Sukanya now finds herself alone in Mumbai due to the pan-India lockdown. Quarantining for prolonged periods of time away from family has brought back to her memories of her mother's 'macher jhol' or the quintessential Bengali fish curry. She went on to illustrate the 'macher jhol' through one of her art works, which she says, 'is an experiment to co-relate the similarity between painting an art-piece to that of cooking a dish.'
You can check out her art here.
X. Gorkey Patwal
Gorkey Patwal is a freelance Fashion Photographer based in Delhi. He was on the lookout for newer methods of photography when he came across the FaceTime photo shoot trend. His recent project featuring Mandana Karimi, Saba Sultan Aazad and Fatima Sana Sheikh is a work of art using the same trend to pave the way to an innovative post-pandemic technique of Fashion Photography whilst in quarantine.
In an interview with Homegrown he says, 'For me, photography is not just about the camera, it's more about people and how they are in reality. So when this pandemic broke out, it became impossible for me to explore this aspect. On a quest to find a new way to explore my passion, I stumbled upon the idea of shooting portraits through FaceTime.'
If you enjoyed reading this article, we suggest you also read:
How To Manage Your Mental Health & Cope With Isolation During Quarantine - A Therapist's Advice
Indians Talk About Sex Toys This Quarantine
Creativity Of Indian Artists Comes Alive During The Lockdown