Summers at one's grandparents' house were a thing of sheer joy –– an abundance of food with the allowance to stay up past your bedtime were enough to keep your younger self more than satisfied. The grandparent-grandchildren bond, even now, remains a special one. They don't run after us to finish a meal any more, but the laughter, love and care are constant.
We came across Nihal Ranjit, whose videos with his grandfather sum up this relationship aptly –– his series 'Keeping Up With Grandpapi' explores his grandfather, Padmadas, gorging on sweet food that he must not even eye. Being a diabetic, one is essentially supposed to stray away from sweets, among other things –– but not Padmadas. Nihal hilariously captures on camera his grandfather's adventures, with special features from his mother trying to stop the antics.
"We have all been telling him to cut down his sugar. The craziest thing was when he looked us right in the eye and genuinely tried telling us that his doctor has allowed him to have six bananas a day, when none of us were in the doctor's cabin," Nihal lets us in on the past.
Inspired by the TV show Keeping Up With The Kardashians, Nihal noticed the situation being quite similar to the reality TV show (especially when his mother gets involved), and thus began Keeping Up With Grandpapi. Nihal's humorous commentary and his grandfather's lack of expressions make for the perfect combination to tickle our bones. The latter's innocence while he dives into yet another bite of sugar-pumped snack is one to make you crack up.
He says, "When I made this, I didn't think this is something that happens in people's houses. I then started getting a lot of messages from people about how it reminds them of their grandparents. They tell me they have lost their grandfather or grandmother, and that the video makes them feel better –– it still shocks me."
A large part of why the videos are so appealing is the way they are made –– fast-paced and hilariously edited. When asked about how he manages to incorporate humour through technique, Nihal expresses that he would not release it if he did not think it was anything imperfect. Taking his own time, he plays around with it till it reaches the point of impeccable quality. Like all good things, however, Keeping Up With Grandpapi, too, must come to an end –– the next episode, Episode 4, will be the last in the series.
Nihal tell us that his grandfather is the kind that would go above and beyond for his grandchildren –– in fact, he admits he was a cranky boy, who once threw a fit to eat something specific, and his grandfather walked three kilometers to catch an auto and go buy him a snack. Nihal cheekily says that he is the favourite grandchild, and that his fond memories from childhood are irreplaceable.
"I had a vision for this to be a 3-part series which has now become a 4-part one. I want it to remain special," he says.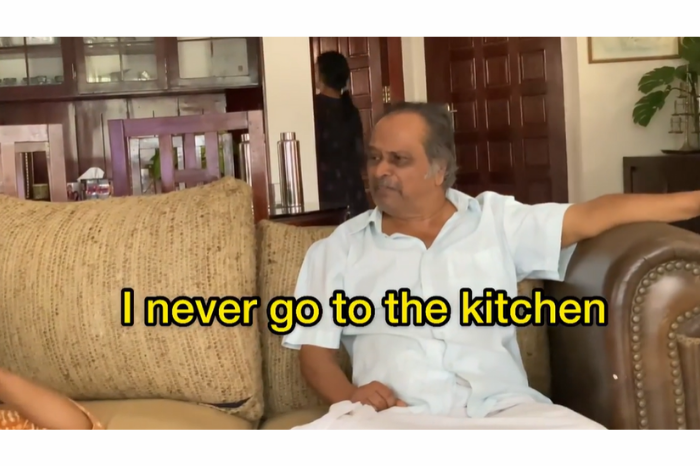 You will be able to spot this bond in the series, and also recognise the innocence and love that lies there. We became fans of Padmadas through the course of these three videos, and can not wait for the fourth and final one.
'Keeping Up With Grandpapi' is one of those things that you must watch when you are feeling low –– we assure you, it will put more than just a wide smile on your face. It is witty, adorable and definitely worth your time.
Find the first episode here.
Find the second episode here.
Find the third episode here.
If you enjoyed reading this, we suggest you also read:
"Where Are You From?": Growing Up As An Army Kid
Back To Bombelli's: Freddy Birdy Takes Us To Bombay Restaurants Of His Childhood