Indian folklore narrates stories of magic realism involving fantastical creatures, mythical beasts and more. These stories are often thousands of years old and are passed down generationally through music, theatrical performances or oral storytelling. Kerala-based visual artist, Vimal Chandran has devised a rare lens to view Indian folklore through his NFT series 'Folk Sci-Fi'.
Vimal's artwork is heavily influenced by popular folk characters from the fables of Kerala. He reimagines these characters by fusing his inquisitions for the world of science fiction in this unique series of short animations. Each of the seven pieces in the series showcases an overarching folk character and the entire series is viewed from the perspective of a child which is a recurring pattern throughout.
Vimal's work appears to be a deep-dive into the genre of 'Indo-futurism' that involves delving into the India's rich ancient history to try and reimagine alternate futures through historical/mythical characters. He evokes nostalgia for pieces of a childhood that most children growing up in Southern-India, especially Kerala could relate to. In his piece, 'The Visit', Vimal captures the story of 'Pootham' the infamous poltergeist who went from home to home seeking a little boy. The character that was mainly adapted by local theatre artists and was brought alive in this piece as parts of a large UFO descending upon a scenic river where he finally meets the boy.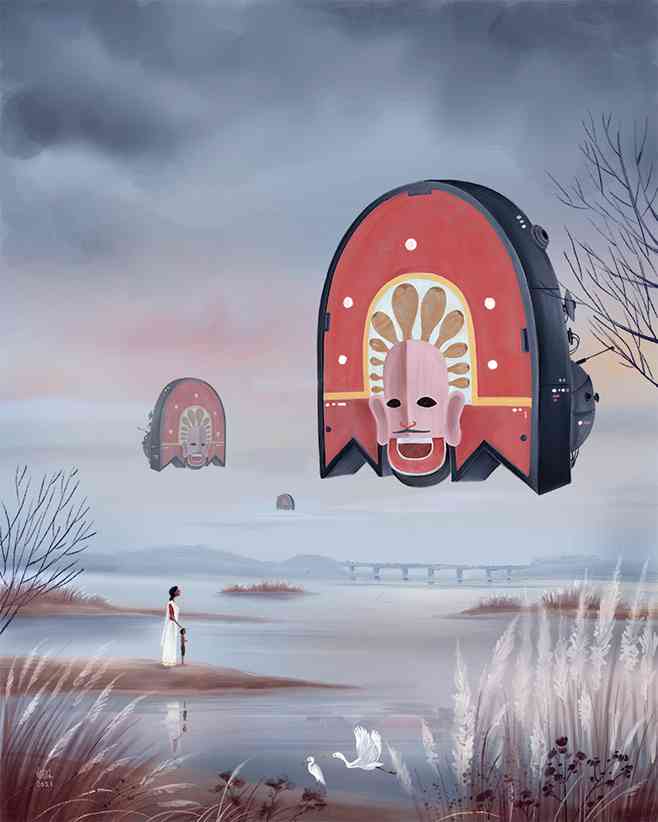 Six of the seven artworks were sold-out within hours of going live on the WazirX NFT market space. The multi-disciplinary artist has gone on to work with brands such as Disney, Lambhorghini, Uber and more.
You can find more of Vimal's artwork here.
Cover image credit: Vimal Chandran's website
If you enjoyed reading this, we also suggest:
8 Indian Artists Encapsulating India's COVID-19 Crisis Through Their Work
Was India Really Visited By Aliens 10000 Years Ago?
Indian Artist Expresses Longing For Human Touch Through Mixed Media Series Called 'Fragment Of Time'
How Art Brought This Ghost Village In The Hills Back To Life With Stories