"Everyone thought it was very strange at first, and people tend to resist what they don't understand"
– Zahid Shah, founder of Kashmir Freerunning and Parkour Federation.
Parkour is an activity that involves reinterpreting the world around you–looking at it in terms of angles and surfaces with the help of which you can propel yourself forward, using only your body and your immediate surroundings. Rooted in the same discipline from which military obstacle course training stems, it's ironic then that this is the feat of intense physical endurance that seems to have taken Kashmir's youth by storm. Guaranteed to leave spectators slack-jawed with its impressive combination of running, climbing, gymnastics, vaulting, swinging and mid-air somersaults, the activity has found a striking number of practitioners – also known as traceurs - amongst the youth in Srinagar, the summer capital city of India-administered Kashmir, over the past few years.
The first local traceur, Zahid Shah, 22, began trying his hand at parkour about two years ago. With a background in martial arts, his torrid affair with free-running began after watching an episode about the athletic discipline on National Geographic and he found himself revelling in the lack of rules he associated with it. A couple of YouTube videos later, he started practising it himself at a local playground, much to the amusement and fascination of onlookers in the city.
"Everyone thought it was very strange at first, and people tend to resist what they don't understand," he said, speaking to Homegrown. "Luckily, my family has always been very supportive of what I want and slowly, the curiosity grew and a couple of others expressed their interest in training under me."
Kashmir Free Running and Parkour Federation (KFPF) was founded by Shah, and has twelve members today – training together to navigate their way through different kinds of terrain.
"Be it Kashmir or Bombay, there is a lot of stress in our lives today and people need to find the means to handle it – ek zariya chahiye sab ko. Instead of getting involved with drugs and violence, this is how we find our catharsis," explains Shah. "I want to help those in the next generation get into parkour, too."
Shah oversees the training of the KFPF members himself – first on water, at Dal Lake, to avoid injuries, and then on land, when he deems them ready. He very proudly announces that no one has suffered major injuries during this training, although he suffered some minor ones when he was learning by himself. Even when they begin with freerunning, the members make it a point to support each other through the learning curve.
"I would really like to collaborate with others in the discipline," says Shah. "I have a few friends in Delhi who practise parkour as well, and I know a practitioner in America, Luke Alderth, but due to financial constraints we haven't been able to so far. Inshallah, we have been getting a lot of recognition lately and the interest surrounding parkour is growing. I hope we'll be able to do this on a larger scale soon."
Photographer Tamim Ahmad (follow him on Twitter: @babatamim) traced the journey of these traceurs in action and this incredible photo-story ensued; scroll on to view a few stunning images, which was first seen on Al Jazeera.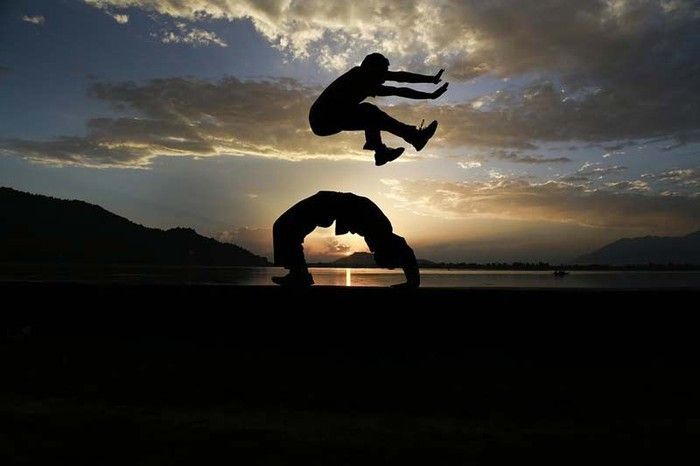 Words: Aditi Dharmadhikari Image Credit: All photographs by Tamim Ahmad for Al Jazeera
Feature image credit: Facebook