There's a tendency to be overwhelmed and, often, desensitised to the power of a photograph in a world that's exceedingly canvassed by visual communication. It takes extraordinary depth of being to translate raw emotion through a picture and Anurag Banerjee is one of the rare few who seems to have made the crossover successfully. One of the few anomalies that is always 'trying to say something' through his photographs and whether or not you're able to fully grasp the underlying subtext of it all, they're certain to make you feel something you can't always explain. In this particular project, 'I'm Not Here,' Banerjee perfectly encapsulates the bewildering feeling of going back to the place that you once called home, only to feel as though you never lived there at all. At the end of it all, we're left with a sense of hiding in plain sight, as he empties his frames of specifics, allowing his theme to tie up the loose ends.
Scroll on to view 'I'm Not Here' in its entirety, interspersed with the photographer's own words as explanation.
It has been a little over four years that I left my hometown, Shillong, for college in Pune. At times it feels longer, like I never lived there. At other times, it feels like it was just yesterday that I was eating my mother's home cooked kosha mangsho. The transition from being home, to becoming a visitor at home, is one that happened gradually and - I admit - quite effortlessly.
It was around six months after I moved away that my parents decided to get a dog. I was delighted, consciously, of the prospect of spending time with him once I went back home. Subconsciously, of knowing that my parents have someone to keep them occupied and their attention diverted from my absence.
Much to my relief, this was true. I would listen to Mom talk endlessly about Snowy's antics, at times annoyed that I wasn't around to witness them myself. Mom named him Snowy after the comic hero Tintin's dog. His name, thus, became a direct link to my childhood. Snowy filled the house and rid it of its knowing of an absence.
My visits home have always been brief, fourteen days at their longest, if I recount correctly. These visits have often been riddled with activities to remind myself of my life in Shillong. I go to school, well after it gets over, and walk its empty corridors, trying to remember what it felt like to run through them in an attempt to make it in time for class. I remember scribbling two lines of the school anthem on the blackboard, maybe to tell myself that I haven't forgotten.

At home, I go through my study table flipping through my old notebooks, at times running a finger over the aged ink. I find myself trying to remember what it felt like to obediently write those words down as the teacher dictated them. I try and indulge in as much of the prevalent silence of Shillong as I can. I walk the same route as I used to on my way to and from school, all the while listening to music which transports me back in time. In an attempt to acknowledge the startling difference between life in Shillong and life in the big city, I stop dead in my tracks sometimes and look up at the sky; vast, sprawling, often complete with breathtaking cloudscapes. At times, getting conscious of how long I have been staring, I let out a chuckle, almost mocking myself to have forgotten that I grew up with them.
While at home, when I am not playing with Snowy, I aimlessly stroll along the corridors, appreciating the wooden floors, trying to memorise every crack and scratch. I remember the rich, warm brown of those floors while gazing upon the boring mosaic tiles of my tiny Bombay flat.
Towards the end of these visits is when the awareness of this being a temporary visit sets in and I find myself jittery. Usually a difficult place to be in, when there is a want of going back to 'normalcy'. Yet, there is the longing for one more day with the quietude that seems so distant in my working life.
Every goodbye is as satisfactory as the last, knowing that it won't ever really be 'goodbye'. And knowing still, that life happens to be elsewhere.
That I'm not here.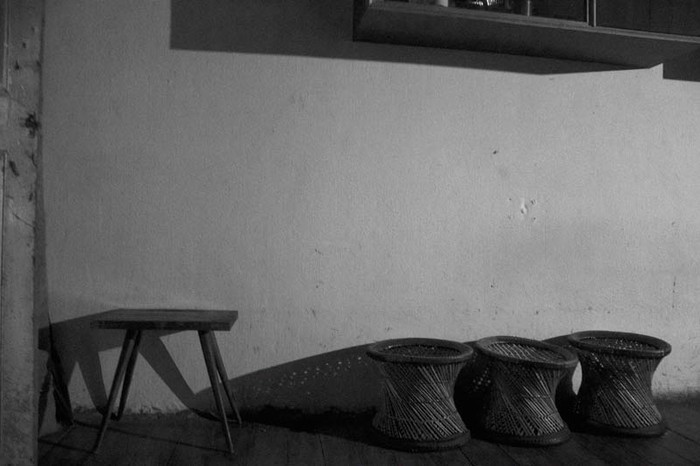 [Anurag Banerjee is a recent media graduate from Symbiosis Institute of Media and Communication (UG). He moved to Bombay in June of 2013 and has been a photographer with TimeOut since. His love for the city grows with every passing day and he tries to encapsulate it all in the photographs he takes.]
If you enjoyed this article, we suggest you read

A Dreamy Portrait Series Capturing The Untold Stories Of Beautiful Faces
These Stunning Images Capture The Beautiful Life & Culture Of Varanasi

A Breathtaking Photoseries Capturing The Snow Capped Beauty Of Spiti Valley