Post the wildly successful St+art Delhi project earlier this year, the St+Art initiative is now giving the city of Mumbai a facelift. Not only do they provide a fantastic collaborative platform for both, international and local artists, St+Art Mumbai also aims to promote street art and graffiti in the Indian art sphere. This project will bring together several artists for a month of workshops, installations, murals and performances, between the 7th and 3oth of November
The  festival officially started on the 7th with the unveiling of the first few completed murals in Bandra. The next day was host to two events - a talk by artist and designer Hanif Kureshi, of Guerilla and St+Art, about his ongoing project to archive and digitise vernacular street typography and his street art project in Mumbai, at the Bhau Daji Lad Museum and an outdoors screening of 'From Graffiti to Public Art', a documentary introducing street art as a contemporary art form which is recognized as a legitimate form of public art all over the world, on Carter Road, Bandra. A radium sticker workshop conducted by Salim Babubhai and Hanif Kureshi was held on the 9th, wherein participants got an insight into the radium art world and a chance to explore typography, letter-cutting and sticker-making. Over the next two days, two fascinating locations will turn into extraordinary venues for month long exhibitions where one could get a chance to meet the artists, preview completed works and purchase displayed works - St. Jude Bakery, an abandoned building in Bandra will play host to MAGMA Volume I (November 14th) and Upadrastha House, a heritage building in the city's art district, Kala Godha to MAGMA Volume II (November 15th). 
The walls of Versova metro station, Vienna store (Hill road), BMC School (Pali Naka), the underpass before Reclamation, Rizvi Chambers, MTNL building are next in line to receive an upgrade. Several other workshops and talks will be held over the course of this festival - have a look at the calendar here to stay updated on these events. 
For the uninitiated, here's a quick recap of what has happened so far.
I. Akacorleone's 'Hey Saint Jude, please help me. I'm a lost cause!' @ St. Jude Bakery, Waroda Road, Bandra
II. Amitabh's 'much much/मच मच' @ Hawaiian Shack Wall, Bandra
III. Anpu & Nora's 'Tetrapods' @ Pali Village, Bandra
IV. Yantr's 'Mass Production' @ Pali Village
Here is a glimpse into the artists that are part of St.Art Mumbai and are also showcasing some of their work at the MAGMA exhibitions tomorrow and day after.
I. AKACORLEONE
Akacorleone, originally Pedro Campiche, is an illustrator and graphic designer from Lisbon, Portugal. He uses the art of graffiti to express himself and applies its aesthetics in his daily life and work. He incorporates both hand-done and digital elements into his work, which find their roots in his love for vectors and markers, watercolours, ink, moleskin doodling and screen printing.
II. ANO
Hailing from Taipei, Taiwan, Ano started out in the streets, using pixels as the fundamental element for most of his work. Finding thematic inspiration in video games, he challenges human visual elements by using minimal colour. Ano was also actively involved in St+art Delhi 2014.
III. BOND
Another participating artist at St+art Delhi, 2014, German artist Bond started his graffiti career in the early 2000's and has since dedicated himself to exploring new methods of composing letters and calligraphic ways of expression, in addition to streams of fine art and graphic design.
IV. DAAN BOTLEK
Perhaps best known for his minimalist characters and their extraordinary grasp on the tangible world, Netherlands-based artist, Daan Botlek had been injecting his interactive, stark white pieces into old building façades in Germany and Thailand before before foraying into the alleys of Mumbai.
V. DOME
Another German street-artist and illustrator, Dome is notorious for creating works of art that force passers-by to stop and contemplate. His expertise lies in creating art that explores the human body and human condition via surrealistic expression.
VI. POBEL
Pobel, Norwegian for 'hooligan', is the street name of a street artist based in Stavanger, Norway, best known for decorating abandoned buildings along with Dolk, another Norwegian artist. A pioneer of street art in Norway, Pobel mostly uses stencil paintings as sight gags. Think aged Batman and Superman.
VII. SEIKON
Polish artist, Seikon has been visible in the art world and public sphere since '99. His interest lies in abstract art but his style is subject to constant evolution. He creates one-of-a-kind geometrical patterns that dramatically change his canvas.
VIII. MAJA HURST
Maja Hurst has developed a visual language of her own, called TIKA. Her realm of clear, graphic shapes originate from her very first drawing in 2003. Her imagery is evocative of both, pertinent issues today, as well as long forgotten tales of the past.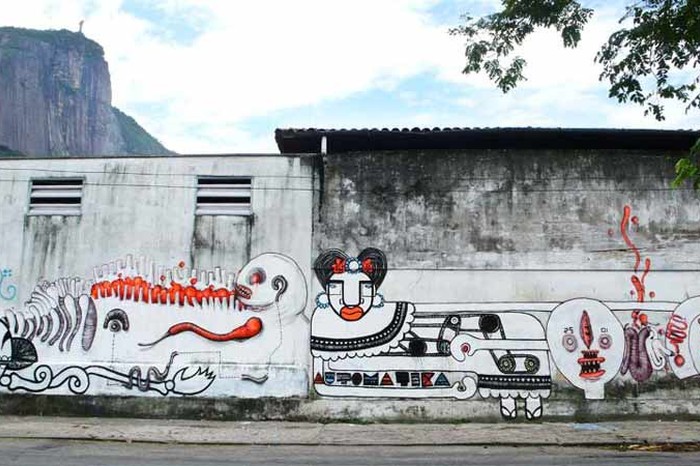 IX. TOFU
Having developed a unique style of monochromatic painting incorporating geometric elements, originally a graffiti artist, German artist Tofu's style has evolved since 1997, with him using varied techniques such as stencils, stickers, installations, drippings and pens.
X. TONA
German stencil artist, TONA has been partaking in street art since 1999. He gravitates towards paste-up, stencil, installation, graffiti, and utilising waste and trash. He is well versed in several mediums such as cans, stencils, markers, swabs, paper, wood, plastic, cutters among many others. He, too, participated in St+art Delhi 2014.
XI. FILTHY LUKER
Filthy Luker is a painter from United Kingdom, whose art is peppered with humour and recklessness. He transforms urban spaces adding whimsical elements that are meant to shock his audience.
XII. AMITABH KUMAR
Amitabh is one of the founding members of the Pao Collective, a Delhi-based group of comic artists. He draws inspiration from "impulses and a preoccupation with the human condition at large". He is working on several Public Art projects across India and he is represented by The Guild Art Gallery and Latitude 28. Amitabh Kumar was also a participating artist at St+art Delhi 2014 as well as in the first Street Art exhibition in India "This is Not Street Art".
XIII. ANPU
Anpu is a painter who now resides in New Delhi. She found her beginnings in street art when she started doodling on the streets, with her style being mostly stencil art. She has been making her signature cat stencils around Delhi after moving to the city in 2011. Her first massive wall painting was at the extension Khirkee project in Delhi, after which she been painting murals all over India.
XIV. DAKU
One of the best-known names in the street art sphere in India, Daku - 'bandit' - is somewhat of a legend in Delhi. His work lies on the edge of Indian typography, activism and public art. He has created ripples in the local art scene and continues to create an Indian aesthetic in all his work.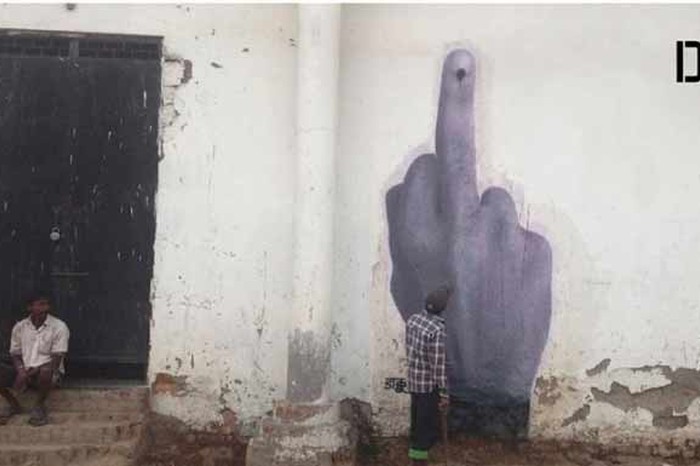 XV. HARSH RAMAN
Harsh's style is entirely distinguishable even from miles away - his use of bold and colourful characters woven into twisted narratives set him apart from the rest of the lot. He aims to create murals that act as gateways into a strange and vivid world, so as to engage and expand the imagination of his audience. Raman was also a participating artist at St+art Delhi 2014 as well as in the first Street Art exhibition in India "This is Not Street Art".
XVI. INKBRUSHnME
Harshvardhan Kadam, aka INKBRUSHnME tells mythological tales through a contemporary visuals. His strength lies in being able to use varied artistic mediums to convey his message. Harshvardhan formed his collective, inkbrushnme, which provides distinct illustrations for graphic novels, motion pictures, games and children's books. He also initiated the public art project 'Searching for Empty Walls Disorder' (SEWD), "
a restless artistic disease which results in modifying unused urban spaces into public art landmarks
." Kadam was also a participating artist at St+art Delhi 2014 as well as in the first Street Art exhibition in India "This is Not Street Art".
XVII. RANJIT DAHIYA
A communication designer from Mumbai, Ranjit is a celebrated artist and is the founder of the Bollywood Art Project (BAP), a community visual art project within which he hand paints iconic people and moments from Indian cinema. He was also a participating artist at St+art Delhi 2014 as well as the Street Art exhibition in India "This is Not Street Art".
XVIII. TYLER
Deriving inspiration from the anti-establishmentarian novel by Chuck Palahniuk, Fight Club, Tyler's work is deeply based on a potent combination of humour and satirical images with powerful text - mostly a comment on the state of media.
XIX. YANTR
Yantr's work is, more often than not, a socio-political statement. He wants to make such issues accessible to the general public through street art. His work revolves around the complexity of machines and organic forms, fusing in his signature style. He was also a participating artist at St+art Delhi 2014 as well as in the first Street Art exhibition in India "This is Not Street Art".
Follow St.Art: Website Facebook Twitter Instagram