'Not Criminal By Birth.' 
Photographs and Text: Shuchi Kapoor 
[Editor's Note—-Recently, the government's hasty decision to amend the Juvenile Justice act, allowing minors above the age of 16 to be tried in courts as adults, came to our attention and we felt compelled to

bust certain myths

to shed some light on the whole idea of reforms and the status of  the issue. Taking statistical and societal complexities into account, we've felt from the start that this is a bill that should not be passed without a deeper conversation - one that every single one of us ought to be involved in. So in an attempt to play devil's advocate, we have been working on a series of stories to provide us with more insight into the world of child offenders in India. 
For this story, we were fortunate to get permission for a few hours from the Superintendent of an Observation Centre for boys called Sewa Kutir, and we commissioned photojournalist, Shuchi Kapoor, to give us an idea of what life inside a remand home is like - something that cannot be experienced from our armchairs. Your opinions, as always, are for you to form, but our efforts are towards encouraging informed choices over prejudiced ones. Watch this space for more stories on this campaign. If you'd like to get more involved, don't forget to visit

www.noprisonforchildren.com

for further information and sign our

petition

.]
December 16, 2012 changed the way the public looked at juvenile or child offenders, almost instantly demanding stricter measures and harsher laws to be implemented across the board. The
brutal gang rape
and its gory details were constantly reiterated through the media until the victim succumbed to her condition and even thereafter, protests against the assault continued. Undoubtedly, it was a nerve-tingling incident and public outrage was salvaged by an immediate sentencing of the rapists but some of the other changes that were catalysed were not quite black or white as the others. As part of the anti-rape bill that got its assent from the President himself, provided life terms and capital punishment for rape convicts and other serious crimes like acid attacks, voyeurism etc. between the ages 16-18. These are the amendments made to the Protection of Children against Sexual Offenses Act (
POSCO
). Now, such offenders may receive death sentence and for the first time, even stalking and voyeurism have been defined as non-bailable offenses, while acid attack convicts can get a 10-year jail sentence.
Given the severity of such crimes, it's not surprising that The Women and Child Development ministry maintains that juveniles in the age bracket of 16 to 18 years committing heinous crimes should not have the protection of the JuvenileJustice (JJ) Act. Nirbhaya Centres will be established as one-stop crisis centres for victims of molestation and rape. All in all, a certain level of justice has been served. But did it result in a complete admonishing of rapes or crimes in the country? More importantly, can it?
The fact that more women felt free to report about the rapes post the Nirbhaya incident, also highlighted that there were newer cases of rapes happening, as if it had become a challenge or the latest fad - because now, Rape was the only thing being talked about at local chai stalls, in villages and amongst the elite. Emotional upheavals are natural as is outrage and empathy is a far cry, but perhaps a more intricate inspection of the background and circumstances is warranted.The question here is not just about stricter law enforcement or speedy trials, but introspecting the reasons or the circumstances in which these acts take place at all. Moreover, the term Juvenile which in Latin means 'young' has taken on a new association - a'bad' young person who must be punished. According to the UN Convention on the Rights of the Child, juvenile justice is a system that is meant to protect, reform and rehabilitate the young, but this new amendment promises to be in stark opposition of the very philosophies Observation Homes or Juvenile Courts aim to preserve and uphold.
A few hours inside Sewa Kutir, an Observation Home for boys in New Delhi is not an experience one usually gets in a lifetime. Blaring hindi songs like
'Choli ke peeche kya hai'
and other romantic Hindi songs greet you from the outside of this home, guarded like a fortress with high walls and barbed wires. Post a few security checks, once you enter the main domain where the 'criminals' are kept, you recall your preconceived notions of a prison and how this was an attempt at not being one. Housing roughly around 130 boys at present, the numbers changing every other day as the boys are not legally allowed to be kept here for more than 14 days until their trail in the JJ court. This term can keep getting renewed, which is what happens in most cases. Each boy in here is a case, a crime he has committed - how severe one can't tell by his mannerism, because he's just a young boy who was in school or perhaps dropped out, but also one who is capable of a crime - perhaps like each one of us. They are all eager to talk and be photographed. They are eager for experiencing a change. Their talks guarded and practised and yet at times sprinkled with emotion. From minor thefts to murders and rapes, they have a past that will be deciding their future. And while that happens, must they be allowed a chance to repent for their mistakes? How do these boys appeal for sympathy for their heinous crimes? If let go, what is the guarantee they won't commit one again? After all, there are many repeat offenders. Many are migrants from other smaller towns, most waiting for their date in court and until then, this Observation Centre will make an attempt at reforming their minds and disciplining them. But just colouring the walls in vibrant colours won't do it. Neither will pep talk. And amendments to juvenile justice laws like life imprisonments or capital punishments might get enforced, but does it guarantee a safer environment in future? Why were the Badaun girls' rapists not afraid of the consequences when they went one step ahead by hanging them from a tree? This is a clear example that it is not about law enforcement but a much deep rooted issue that needs to be tackled differently.
As far as observation Homes or juvenile courts go, they can attempt at reforms, not guarantee it. 
As Mr. Khakha, Superintendent of Juvenile Observation Home - Sewa Kutir, New Delhi rightly points out,
"The obvious solution is to reprimand and convict an assaulter and send him/her behind bars, but a significant and overlooked situation in this scenario are the environments where these kids come from and the ones they go back to, post their time in the Observation Home. The real change must happen on the home ground, if there is a home in the first place. There is a reason why they are not kept with hardened adult criminals - it is very easy to get influenced there. The reason we have repeat offenders is because nobody is bothered to look into as to why are they being prompted to commit these acts in the first place; what kind of upbringing do they have? If they have grown up seeing their fathers beating their mothers and nobody objecting to it, they will lead by example. I am a law enforcer but let us not be blindfolded to the complications that kids undergo at these stages of their lives. You have your parents to cover up for your mistakes, they don't. And it has become absolutely imperative to sensitize and educate the parents more than the children. But these changes don't happen in a day and they need to happen at a multitude of levels. As far as the JJ law goes, I try not to always play by the rules and let down my guard with them, get more involved with them and try to understand their psyche - they should have someone to talk to. If we all reject them, there will be no attempt at their end for any improvement. Having said that, it is difficult to forgive someone who has raped or murdered a loved one. And we always think it can never be our own child who could be an offender and therefore it is easy to condemn the others. Fact is, young offenders are from all classes - and change is a slow process."
After a few hours here, it was evident that just having Observation Homes isn't going to be enough. What about the mindsets of the officers and the staff who manage these kids? What if the next Superintendent is not as kind and understanding? Who is to say what goes on inside once the gates are closed? Haven't we heard of enough instances of torture and molestation inside these kind of homes? If there are separate spaces being created for juvenile delinquents, then the way they are being managed requires a higher degree of sensitization. This isn't a black and white story. Safer environments are ones based on love, trust, on being accommodating and on forgiveness. A positive initiative taken at the moment at Sewa Kutir is to allow outsiders, especially college going children to come and spend some time with these boys. Maybe the posters of Mother Teresa and Mahatma Gandhi are a bit preachy (do children look up to them beyond textbooks?), but a Salman or Dhoni might be taken more seriously. And the most critical of all, an after-care system needs to be established where they are gainfully engaged in activities that are progressive in nature. No such facility is yet available and this is where they tend to falter again.
Here is a conversation with a few boys (which was being carefully supervised by the Centre's faculty who never left us alone for even a minute) whose identities we cannot reveal. SK:   When you are about to commit a crime you do know that it can have serious consequences if you get caught. Does that never scare you? What does the law mean to you? What were the desperate circumstances in which you decide to go ahead with it?Boy -
"Most of us here come from very poor backgrounds. We don't always have our families here with us as we come from other places looking for work. It is a struggle to survive - one that none of you will ever face or understand. We fall into bad habits like drugs or join a gang for the sake of belonging somewhere. In the process, it becomes a way of life, a risky one but it's challenging and it is the only option that seems viable. Many times we are doped or drunk and hence the fear is less. Who doesn't want a better life? Most of us have dropped out of school because our parents couldn't afford it. Many times we get influenced also and want better things too fast, too soon. It's difficult to say what one feels before the act, but it does need one to be brave."
SK: An option viable till you get caught, but not all poor people succumb to criminal activities -they too figure out a way that is not illegal and manage to survive. Why didn't you ever think of that?Boy -
"The law matters - only when you get caught. Until then life is a chase. But once inside, we realise that the law or life cannot be taken for granted. We hope to get a second chance at improvement. Sometimes it is greed, sometimes it is just the desperation for food or survival."
SK: They call this a home - do you feel like home over here? What do you like or dislike about this place? Boy:
"We have committed a crime and therefore we are here - we are all aware of that. This is definitely not home (has wet eyes but bravely carries on) but it is okay as we do get food to eat and we watch TV and play games. Sometimes people like you come to visit us and we look forward to such times. But the most we look forward to is our date in court. Hoping that they will pardon us and let us out. We do not want to commit a crime - it just happens. Maybe we have to strengthen ourselves. And that is what they teach us here."
- say a few of them in unison as they hear their call out for tea.
The boys request to take some pictures of their friends and of myself which creates a flurry of excitement amongst all. After a quick session, I ask them -
"I understand you find it exciting to take these pictures, but what is the point, you will not be able to keep them."
Boy
- "
We might not be able to keep them, but you will remember us every time you see your picture taken by us."
While some boys abuse each other in Hindi for fun, many others hushing them and asking them to behave as 'Didi' (elder sister) was around, their body language and behaviour is clearly an act in front of their supervisors and a guest but a moment of truth blending in between the lines. I turn my attention to the supervisor of Sewa Kutir.
SK to supervisor:
What is it like to work as a supervisor for a remand home? Is it out of choice? Please share your experience.Supervisor:
 "
(Laughs) Who would want a job like this? Often we don't have a choice when we get posted here but it's a government job. It is not easy to manage boys at this age and with such mindsets. It is a huge responsibility and they are uncontrollable brats. They once took a gas cylinder and blew it up and they have razor sharp brains full of ideas - if we are not strict with them they get down to monkey business. We try with much patience, but at this stage of their lives they are very unpredictable. We may be made to look as the torturers but a certain degree of fear is a must before they can internalise any discipline."   
Security guards outside various gates:
"We are retired military personnel who work with security agencies now. While these boys respect us and listen to us, maybe because we are elder to them, but we don't see much hope for them. They keep coming back for similar offences. Once they commit a crime, very few of them really improve."

Discipline works when it gets internalised willingly - not forcibly. That only results in breakouts. Maybe it is worth your while to put yourself, if you still remember what it was like to be young and reckless, or your own child in place of the one convicted and then would your heart not plead for another chance? But then, we never feel that it is going to be us, or our children. And herein lies the biggest misconception of them all. The new JJI bill takes no class, creed, or circumstance into account. It puts down an iron fist where reformation is still a possibility and where there is a possibility of reformation, protection and rehabilitation, there is hope.
But would you be largehearted enough to allow a second chance to someone who just raped or murdered your loved one? And what is forgiveness all about then? This is an individual response that needs reconsideration sans prejudice.
Scroll on to view more photos from Shuchi's time at Sewa Kutir: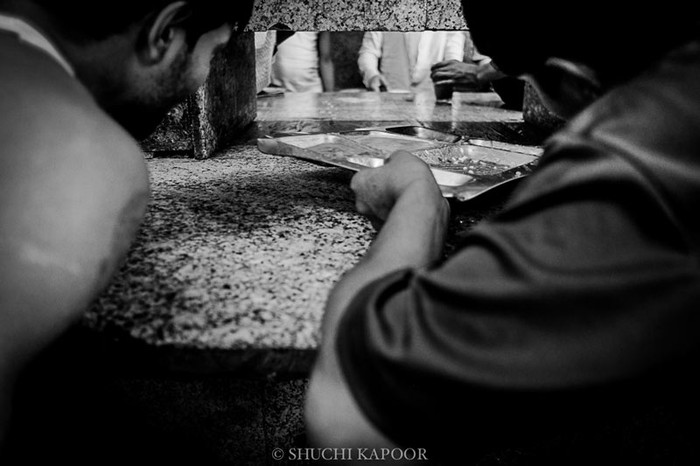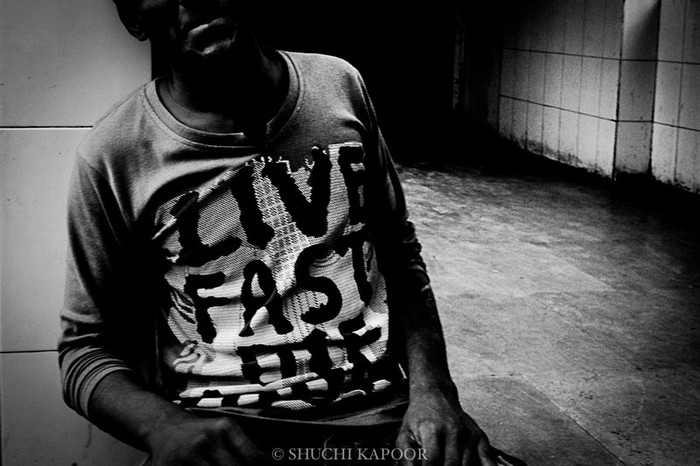 [Shuchi Kapoor is a documentary/ travel photojournalist from India and documents all of her work on her website, 'The Girl In The Galli.' ]
[Join the #NpPrisonForChildren campaign by checking out this site for further information on how to be involved, or signing this petition.] 
Photographs and Text: Shuchi Kapoor