His all-time favourite is Sholay. The record was the first he ever owned, and he bought it from his friend when he was 16. He didn't own a player back then, so he'd listen to the songs at his friend's house. He sold that vinyl soon after he started the shop, simply because a customer wanted it. "You get them back anyway, some way, some day in some collector's house," he says. One of the only records he keeps for himself is an LP of all the dialogues from the movie. He loves Ghazals, but his favourite song is Mehbooba. Abdul Razzak sells vinyls at Fort.
I'm slightly amused. This man, in all his quiet dignity and placid manner, is full of quirks that peek through conversations like his bright yellow watch through tight-buttoned shirt cuffs. I try not to smile when I notice. I grin and ask him if he knows it's a copy of an English song that was released before it.
"Yes I know. Demis Roussos," he says confidently . My jaw drops. He thinks it's because I don't know how to spell it, and so he spells it out for me. And he's sure there is an 's' in Demis. "Woh Greece se hai."
On the surface, this trim, groomed, decorous man with thinning hair combed neatly to one side is just like any other liver of the humdrum life. He lives in the house he was born in, and has sat at the same spot for over 30-odd years selling vinyls, running his business the same way as when he started. But he is far from colourless or humourless: his sole accessory of choice is a bright yellow watch that peeks out of his long sleeved, cuffed formal shirt.
Aside from the technical terms for his merchandise, the only English words he uses are "Pop, Rock, Country, Western Classical, Metal, Jazz, Blues". He does not use words he does not understand. "And soll. Wo bhi likhna." he adds.
"Soul?" I clarify.
"No, Soll. S-O-U-L."
I agree and pen it down diligently.
These are the genres in English music that he has in his collection. He goes on to summarize the rest: the full range of Indian music that he has, and the differences between LPs and EPs (Extended Plays). He even owns LDs, or Laser Discs, which play video. He shows me a marble-pink LD of Lata Mangeshkar, trademarked by His Master's Voice, a label under the Gramophone Company of India. He knows his collection inside out, right from his Engelbert Humperdinck to his Rajanikanto. When I ask him for the oldest record he owns, he swiftly locates it from the middle of the second row on the inner panels of his cart. "K.L Saigal. 1930s-40s," he considers. "And I also have Talat Mahmood somewhere.." He fishes it out, a yellowed, musty coverslip with fading graphics. "He was a ghazal singer. Very famous." He handles the vinyls carefully as he slips them out of the cases to show me in what good condition they are in.
In his family, he is the only one who listens to vinyls, and he still owns an electronic LP player. He doesn't have a modern music system capable of playing CDs and mp3s, but he has no regrets. A translation would do no justice to his explanation for why he prefers vinyls. "Analog recording mein music ko "wo" nahin karte hain. Kilarity (clarity) jyaada hoti hai. Matlab original jo music hai, wo sunne ko milti hai."
And that doesn't happen with CDs?
"Mp3 mein music less ho jata hai," he says thoughtfully.
It would seem unusual that somebody from his strata would be able to make a living out of something as antiquated as vinyls - much less choose to do so in hard times. However, Abdul bhai reiterates throughout the conversation that he has no incentive to change his profession. "In paison se ghar chalta hai," (I make enough) says the father of two college-going children. His wife is a homemaker. In spite of the digital revolution, the sales of his records have only gone up. He sells an average of 150-200 records a month, and the number sometimes goes up to 300. He comes to his cart around noon, and stays there until 9 in the night. Mornings are spent seeing to his family, visiting collectors and acquiring more records. He takes note of the titles and artistes he is most commonly asked for, and selects accordingly. Even if he doesn't listen to his English collection, he knows all their details: their genres, the manufacturer, the year they were released and recites their titles and artiste names from memory. He maintains no catalogue.
As a young man, Abdul Razzak dreamed of going abroad. Continuing his education after his tenth standard examinations was not an option, because his father's meagre income as a worker in a printing press could not support it. "I wanted to be a salesman," he said. While he waited to hear from the various places he applied, he set up a shop selling audio cassettes and CDs. "My first day was horrible. Nobody turned up." he says. A week later, he put out a few vinyls from his personal collection, just to see what would happen. He sold most of them within the week. A man came along and asked him if he was willing to buy a few records from him, to sell. Abdul bhai agreed and thus began his business. He remains the only seller of vinyls on D.N Road today.
The only other place nearby is Chor Bazaar, which is known to have a larger collection, but he doesn't feel threatened by it. He tells me he chooses to buy LPs from secondhand collectors and though people flock to Chor Bazaar more for their wider collection, people still call him for the records they don't find and come back for more intimate selections.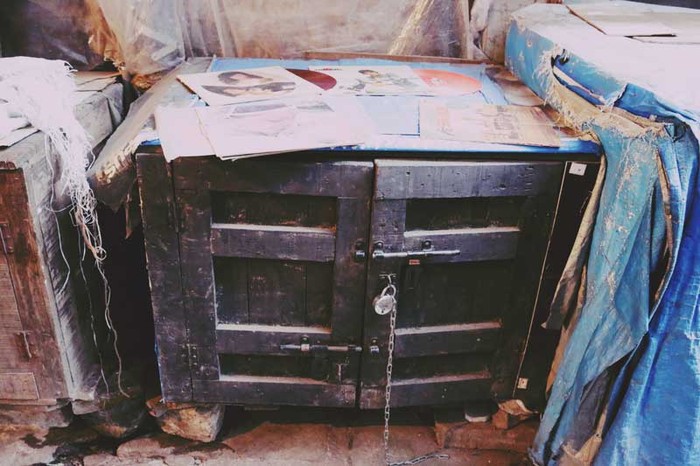 One of the most striking things about him is that he is in no rush to impress. He sits impassively on a little stool by a cart on D.N. Road watching waves of people walk past as the rest of the hawkers (selling goods with better demand curves) restlessly parrot away in broken English to indifferent passersby. "Phone cover, ma'am?" "Yes, CD please?" chanted so repetitively that their tones start to resemble eerie invocations. There is no ambition or competitive spirit in Abdul Bhai. He does not approach anyone until he sees that they are genuinely interested in his wares. He makes no pretentious claims in poorly by-hearted English. He sticks to the language he knows best and he speaks it well. Fluent Hindi.
A few years ago, someone put Abdul Razzak on the internet, and since then, his network has expanded significantly. His customers range from music programmers to collectors and interior designers. Most of them know of him before they approach him, and he keeps them informed every time he spots a record they have asked for, but he didn't have before. He maintains a friendly relationship with all of his customers.
"Ye dekho, Abhishek DJ," He shows me his old Nokia phone, in which he has saved the contacts of his regular customers and suppliers. "Aap Hard Rock Cafe jaante ho?" I respond yes. "Vahaan pe DJ hain. Mera friend hai," he says with a slight trace of pride. He pulls out a plastic folder from underneath the cart. It contains newspaper clippings from publications that have featured him and a few business cards he received from his customers. One of the businesscards is of a German record manufacturer, and another visibly older one belongs to a BBC Bollywood critic. "NRI hain," he says.
It is interesting to note that he makes no distinction between foreigners and locals, charging them exactly whatever is on the sticker label he puts on all his vinyl cases. He prices them according to what he buys them for. "I just tell them 'See my price. This is my price.'"
Occasionally he is blessed by a windfall. In 2006, an Indian collector living in the US purchased around eight hundred English records from him. "Lekin usko discount diya," he is quick to add. The most expensive record he has ever sold cost Rs. 2000. "Pink Floyd. Dark Side of the Moon." His eyes glint in the yellow light as he enunciates slowly, lost for a second in his reminiscence. He doesn't remember any more details.
Getting Abdul Razzak to talk about himself is difficult, however. Most of his answers to my questions are prefixed by long, frowning pauses which reveal that he does not understand why details of his life would be of interest to anybody at all. He answers in one word, and requires a great deal of prodding before the interesting stories come out. But sometimes, his silences reveal a lot more about his character than his stories do.
I ask him about his other interests and hobbies. He erupts in a dry, sarcastic laugh, as though I've mentioned something silly and inconceivable, exclaiming "Khali paison jamaane ka shauk hai." I smile politely.
"Bacche log ki study hai, family hai." he elaborates. I ask him about them. "Would you want them to take your business ahead?"
"No."
"Why not?"
"Because they don't want to."
It is at this moment that I begin to have a real appreciation for him. To put it colloquially, he is very 'chilled out' in a way that is rare to see in others of his age and profession, especially those on the street. He lives in the same house he was born in on Mohammad Ali road, and does not appear to dwell too much either on the future or the past. To a certain extent, I find this detail infuriating, but at the same time, I marvel at the contentment and calm he exudes.
I have no more questions. I thank him and begin to leave. As I am walking off, his neighbour, who has been observing our conversation throughout calls out "What newspaper do you write for?" I tell them it's a website. He says "Put his phone number on it." Abdul Razzak nods along. "Website maney, computer par hota hai kya?" he asks. I say yes, and he is a little disappointed. He does not own a computer. "I'll take a print out and get it along," I tell him. His neighbour goes on. "If you have any exhibitions, call him, we'll put a stall." It is now that Abdul Razzak reveals his business card, a simple thing in red type. He gives it to me and I accept it.
[Abdul Razzak can be found sitting by a cart beside Suvidha Hotel at D.N. Road on all days--except for Tuesday--between noon and 9pm in the night. However, it is worthwhile to give him a call before visiting on 9820933365.]