There's nothing in the world that compares to the feeling of coming home after a long, hard day and being welcomed by a wagging tail, a gigantic smile and a ridiculous amount of enthusiasm. Whether it's this or being pawed awake in the morning, puppies really know how to turn a day around. It's hardly any wonder then that animal lovers with pets often find the term 'pet owners' offensive, almost derogatory, as dogs are so much more than a commodity to be owned. Hallmarks of loyalty, love and following you around for absolutely no reason, we've come to accept that this is one of best sorts of unconditional love, and perhaps the only kind you want to grow old with.
From the story of Hachiko and Marley to fictional representation in Tintin's Snowy and the Dalmatians, dogs have also found their place in our stories for centuries and in 2015 we find that the the narrative is very much being taken further ahead, albeit in a new form. Homegrown took the the virtual world to scout the scene for some of the best dog-themed Instagram accounts which are sure to leave you in a loop of 'awwws' and face-clutching. Compiling this piece left us yearning for some playtime with our wide-eyed furry friends who brighten up our days, and we're sure that reading it will have you feeling the same way as well:
Followers: 14,400
Meet Cayenne, a Australian Shepherd with a penchant for scenic backdrops and beauty. This account traces the picturesque journey of Cayenne through his average day in California scenery, and follows his friendly interactions with his friends Brother, the Black Tri and Mackey, the brown Boston Terrier.
HG Loves: Cayenne's human friend provides an intimate narrative for every photo taken - from Cayenne knocking at a stranger's house to the human's favourite breakfast club.
Followers: 1947
Hiking has got to be one of the most thrilling adventures one can undertake; imagine if you could share this with your favourite canine in the world? Dog hikers is a compilation of various dogs hiking to the most exquisite places imaginable. Forget Reese Witherspoon, we would pay buckets of cash to see a movie about these dogs in the wild.
HG Loves: How the account's successfully combined two of our favourite things: adventures and dogs, into one pick-me-up of a package.
Followers: 4,449
Many professional photographers use Instagram quite expertly for their work; but what happens when professional work and personal passions meet? You get Fetching Images. Fetching Images is a professional pet photographer in Greenville, South Carolina and is using the medium to showcase adorable photographs of her own Shih Tzus as well as her professional work and user submissions.
HG Loves: The open process initiated that creates a space for some fantastic photos, as well as the other collaborations the photographer does to lobby for great dog-shelter related causes.
Followers: 6,713
Another professional pet photographer, Jaymi uses her Instagram account to talk about her various photography projects for local rescue dog initiatives as well as her adorable mutt called Niner. From a casual day of sleeping to a walk near the Golden Gate Bridge, Niner is captured in all his glory as he pads around, tail wagging.
HG Loves:
Along with photos, there are also several videos where you can see Niner in action, which we absolutely love - it puts across a personal insight into a life with dogs that'll make you want to run out and adopt one right now.
5. @johnstortz
Followers: 52,500
John Stortz's Instagram feed has us in complete awe. The description of his account reads- "Steady hands, Wandering feet." and we could not have said it any better. With his trusted Siberian Husky sidekick by his side, the travelling photographer has taken some of the most breath-taking landscapes in the background as his gorgeous dog poses like a pro in his white-furred glory.
HG Loves:
The intentional (or unintentional) Game Of Thrones reference in his 'John and Wolf' and the brilliant photographs themselves, which will tempt you to empty your bank account and set off on your own travels with your own trusted companion.
Followers: 773
A North California-based dog trainer, writer and author runs the aptly titled 'League of the Unsane' which tracks the life of True and Roy, her Bearded Collies, and Zero, her Australian Cattledog. Whether it's a fun day out in the sun on the beach or a regular day of training, the account captures all the chaos involved in living in a madhouse with three dogs as well as the occasional guests and rescue dogs.
HG Loves:
Her Bearded Collies are total goofballs and will warm your heart with their antics, even in a still frame.
Followers: 61,600
We should warn you that following this Instagram Account might cause a burning envy of Leroy's human caretaker in the viewer. The terrier is involved in an adorable game of dress-up and has been captured in in various poses and backdrops, with props like thick eye glasses, bowties and scarves to boot. The account is a simple extension of Leroy's personality and he takes the limelight easily, even as he outdoes himself with each consecutive get-up.
HG Loves: Honestly, what's not to love about this account? It's adorable, it's creative and it features a dog playing dress up!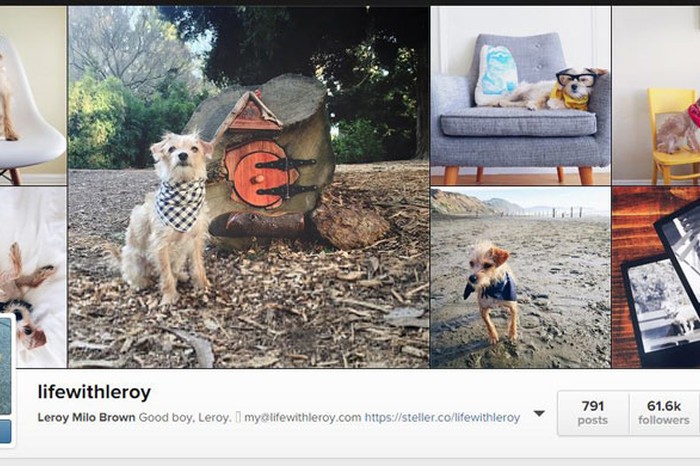 Followers: 54,200
Emily McCracken's Mutt Adventures features some of the cheekiest and most playful captures we've seen, and the dogs always look incredibly happy regardless of how the backdrop varies. The task of managing four dogs in one house definitely sounds like quite a handful, but the images featured here make it seem like the ultimate goal we should all aspire to.
HG Loves: The way the account manages to capture the equation between the four mutts on screen, which is heart-warming and hilarious!
9. @bordernerd
Followers: 61,500
Move over human love stories, we have just found the best couple of all time! Aki Yamaguchi uses her Instagram account for various purposes- from showcasing her photography to dog-related causes, and to foster dogs, but the most beautiful part of the account is the documenting of Jazzy and Cooper's relationship. We hear wedding bells!
HG Loves: The aesthetics of this account are gorgeous, very clean and well-composed. Scrolling through this feed is almost therapeutic, reminiscent of lazy afternoons in bed with your favourite cuddle buddy.
Followers:48,100
He can take a selfie with his paw as comfortably as he can rock a Nerdy look. Meet Otis Barkington- the coolest dog on the internet. Versatile is the word: Otis swims from one get-up to the next and somehow even manages to get his expressions right (we swear we're not making this up). Insanely cute, he's going to have you cracking up throughout.
HG Loves: A Boston Terrier in Clothes/Hats/Scarves and Glasses. Enough Said.
Followers: 12,800
Meet the fluffiest Australian Sheep Dog you will see on the internet. The Instagram account chronicles the gorgeous Whiskey, as he traverses through life with a pair of the most hypnotizing eyes and an extremely calm demeanour, all of which are captured really well by the photographer in this absolute treat of an account.
HG Loves:
The series of photos which show Whiskey with the adorable puppy Onyx, which is just too much to handle.
12.@twopinktoes
Followers: 4592
The shenanigans of another pack of adorable four are scattered across this account, as they wrestle playfully with each other, are taken on runs and play dress-up from time to time. Krysta's four dogs have played a pivotal role in helping her trudge through what was a challenging year and as she chronicles their goofy faces, it is quite evident how much they mean to her. Definitely brightening up our day, as well
HG Loves:
Witty one-liners which accompany each of the photos and how most of the photos are taken outdoors, which gives us a variety of backdrops to watch these mischief-makers in.
13. @_donald
Followers: 3021
If you are to visit Donald's Instagram right now, you will be greeted with the two most pleasant things one could hope for - snow and dogs. Donald's dog Oliver is quite the trooper and has gotten in all of Donald's road and hiking adventures, from hiking to mountain climbing.
HG Loves:
The stunning photos which are worth framing, some of which make Oliver look like a protagonist in a snow adventure movie. Loving the drama in some of the photographs, too.
14. @andrewknapp
Followers: 335,000
Illustrator and Photographer Andrew Knapp has uploaded some of the most creative photos we have ever seen, with his chief subject being Momo, the Border Collie. Whether it's meshing in vivid surroundings or sporting a fake moustache, Momo has it all covered down pat.
HG Loves:
Andrew's frequent game of "Spot Momo" where he asks the users to spot the dog in a wide shot of boxes, crates and cabinets.
15. @andrew_icant
Followers: 3958
Red Toy Poodles. Is there anything cuter than them? Maybe - especially when you don't have one, their Instagram accounts can come in pretty handy, particularly the one belonging to Andrew, who may just break the internet with his bowties and sunglasses. You almost won't be able to handle how adorable this account is, and we were left longing for one of our poodles after spending way too much time scrolling through this feed.
HG Loves:
You mean other than Andrew himself? The props and sets used to capture him at his finest.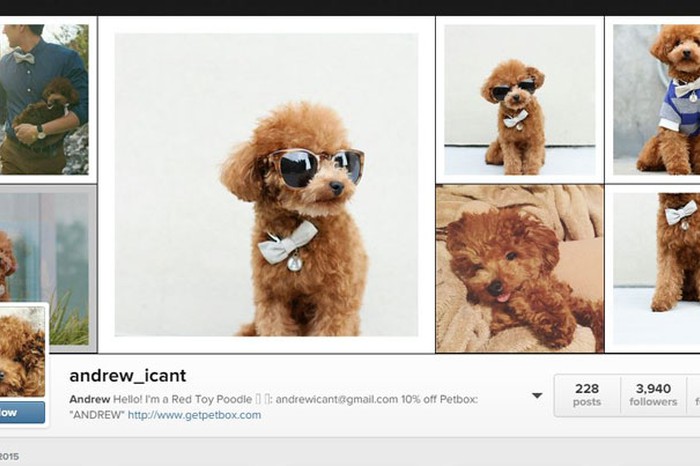 16. @bestofpack
Followers: 7519
After going through some of the accounts we're sharing with you, we found that we'd become extremely picky in the pursuit for the most adorable photos of dogs. The solution to this we finally found in the 'Best of Pack' account, where a curated Instagram feed of user-submitted dog images can be made into personal homepages of the dog.
HG Loves:
The large user-submitted database of pictures which are handpicked by the editor, who we must say really knows how to pick them right.
17. @fozzcook
Followers: 11,600
The dog families seem to be in no shortage as we meet Cricket, Noodle and Paddington The Bear who live with a tortoise in Southern California. The Golden Retriever, Giant Poodle and Maremma Sheepdog are said to be passionate about daily swims and hikes, and it's impossible not to grin when you take a look at these hilarious, wacky pictures of some very happy dogs.
HG Loves:
All the dogs are dressed for Christmas in Santa Hats. (Just advance ordered our Christmas Cards with the image)
18. @ciscolo
Followers:26,200
Ciscolo serves as a loving homage to Cisco, the Golden Retriever from Germany whose life was chronicled in the book- Cisco, The Gentleman Years. The account now chronicles the adventures of Edgar while posting old Cisco pictures as well, a heart touching tribute to the friends who might leave you, but that you never lose.
HG Loves:
The beach photos put in a sea-side state of mind and have us itching to go on runs on the beach with our own canine friends.
19. @ginny_jrt
Followers: 305,000
Selfie Addict Ginny loves responding to fan mail. When this heart melting Jack Russell Terrier is not busy surfing Netflix, she loves to take naps and eat bacon. You can also check out her bestseller book- Ginny's Guide to a Dog's Life.
HG Loves:
Ginny's face. That pair of eyes is enough to banish any thoughts of sadness to a thing of the past. (Yes, it's quite obvious - we wish we could hang out with Ginny.)
20. @marutaro
Followers: 1,400,000
Meet Maru Taro, the most popular dog on Instagram with 1.3 Million followers and the furriness to justify why. The Shiba Inu from Japan travels with his family and has been featured in many photos with strangers. The celebrity status from brand deals and publicity has only kept the account going strong, with the feed being updated daily, and whether he's sprawled belly-up on the pavement or lying wrapped snugly in a heart-printed sleeping bag, he always always looks like he's having a ball of a time.
HG Loves:
How much fun they have with him, and how cinematic some of the shots are.