Beginning every New Year with a Makar Sankranti and concluding with a Christmas can get monotonous. Individuality and originality is extremely important for any culture to exist independently as well as cordially so, as a society, it's our responsibility to find a path of the known that could lead us to the wider and wilder sphere of the unknown. As the reach of media now extends well beyong the "easily accessible" to the "reasonably unbelievable," we've come to encounter various other festivals - often unique and quirky in their concepts, while others horrifying in their visual impact. As you all may be well aware by now, defying the most socially acceptable clichés is what we enjoy the most, so look no further for a compilation unlike most others.

I. Sex Worker Freedom Festival
Where: Sonagachi, West Bengal
When: July

With both their own and their families' fundamental rights at stake, sex workers all around the world have decided to finally take the call to conceptualize and bring to like the one-of-its-kind Sex Worker Freedom Festival. A three-day-long conference held annually, wherein sex workers from all around the world gather to claim an end to discrimination. To add to the authenticity of this festival, the location, Sonagachi in West Bengal, is in itself is one of the major red-light districts in India. There are stage performances by participating sex workers during the opening and closing ceremony, with important dignitaries attending this conference. It is undoubtedly sad that sex workers have to hold a conference every year to claim the rights that they are entitled to by birth, but this also marks a revolutionary catalyst for new beginnings.
II. Thimithi Fire-Walking Festival
Where: Tamil Nadu
When: October/ November
Fire, due to its hallowed prestige in most religious beliefs, has always been an integral part of most religious occasions, from small pujas to big weddings. However, the Thimithi Festival takes this ardent faith in fire to an entirely new level with its fire-walking ceremony - a devotional consecration to Draupati Amman, an incarnation of Mariamman. The strength and determination the participants exuberate as they tread over the fire bubbling through the fury of red-hot rubble and ash, with patches of their soles charred is an incredible spectacle to watch. One you might be stumped to witness in real life.
III. Kila Raipur Rural Olympics

Location: Ludhiana, Punjab
Date: February
For whoever believed that sport is the cult of the young alone, the race for senior citizens at the Kila Raipur Rural Olympics will alleviate even the most outdated beliefs. With sporting activities ranging from cart-racing and kabaddi, to football and cricket, this sporting festival provides an equal platform and a plethora of opportunities to all - girls, boys, the old as well as the young, the enthusiasm on the sports field is always reverberated through the cheers of an ever-encouraging audience. In case you want to read more about its most unusual features, just click here.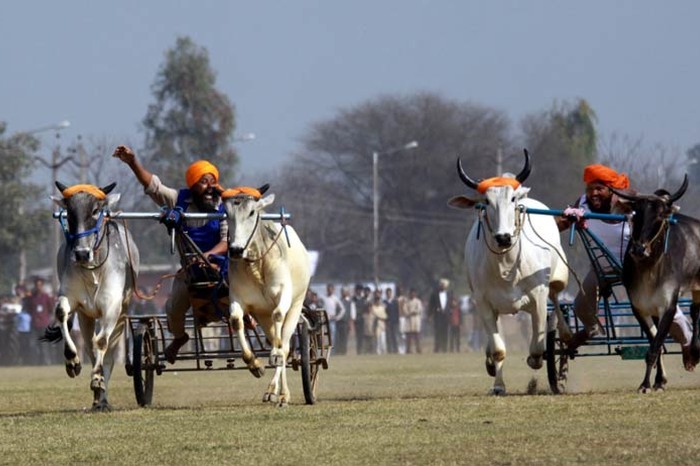 IV. Uttarayan
Location: Gujarat
Date: 14th-15th January
Not that kite-flying as a reason for community-wide celebrations is anything new to most Indians familiar with Makar Sankranti but Uttarayan (one of the youngest festivals in this article) hardly limits its participant list to locals alone, but welcomes foreigners as well. Unsurprisingly, it contributes considerably to Gujarat tourism as well. In the first year of the festival, 2012, 42 countries were represented on this dry land, to battle it out in the clear skies, dotted with colourful kites. The higher the kite flies, the more the adrenaline rushes into the blood. So for all those kite-flying enthusiasts out there, this is the place to be.
V. Jallikattu
Location: Tamil Nadu
Date: January 14
Until we started researching on this article, we thought Spain alone was famous for its bull-taming sport. But little did we know we have a very similar sport back home in India too. The clash of the raging bulls and the fierce bull-tamers display vividly the primitive concept of the dominant and the submissive, of the master and the slave. Cattle called Jallicuts were specifically bred for this purpose. A ruthless battle for dominance and victory where death is unaccounted for, this sport was initially played by ancient warriors. Incidentally, citing animal welfare issues, this sport was banned by the Supreme Court in 2014.
VI. Hornbill Festival
Location: Naga Heritage Village ,Kisama
Date: 1st- 7th December
This festival is as embellished with culture as the hornbill is with colour. Standing very true by the character of its name, this festival is a rich amalgamation of the individual cultures and traditions of every single tribe in Nagaland. In an attempt to preserve the endangered cultural diversity of Nagaland, the Government of Nagaland has been organising this festival since the year 2000. Known for their folk dances and songs, the Nagas give tourists a peek into their ancient traditions through a melange of Naga display. Despite urbanisation taking strong hold in Nagaland, the Nagas do not fail to appreciate their ancient traditions and this is what inspires us to imbibe the best of whatever comes our way.
VII. Koovagam Festival
Location: Koovagam, Villupuram District, Tamil Nadu
Date: April/May
This carnival for transgender and transvestite individuals has brought unprecedented fame to the little town of Koovagam. Since sex work comprises a major part of their source of income, this festival too celebrates their transformation with transgender sex-workers plying their trade towards the latter part of the evening. This festival is actually a time of worship for the transgender community and is also inclusive of a beauty pageant for the title of Miss Koovagam. What makes this carnival stand out is that it freely celebrates sexuality with an immense amount of grace, dignity, honour and most importantly, pride.
VIII. Thaipuisam
Location: Tamil Nadu
Date: January/ February
This festival commemorates the occasion when Parvati gives Murugan a vel spear to vanquish the demon, Soorapadman. If that went right over your head, here's a slightly err..simpler explanation. This occasion is depicted through inhuman piercings of the skin, tongue or cheeks with vel skewers by devotees. Ardent devotees allow their bodies to be pierced with skewers and hooks as their unmoving faith makes them mentally insensitive to the pain, converting it into some sort of divine pleasure. It is an inexplicably shocking display of human psychology overpowering all mortal physical restraints, way beyond human perception. And this is definitely not for the faint-hearted.
IX. Kumbh Mela
Location: Haridwar/ Allahabad/ Nashik/ Ujjain
Date: Once in 3 years
The Kumbh Mela is considered to be one of the world's largest peaceful, religious congregation. With tourists and devotees pouring in from every corner of the world, this mostly overpopulated fair inevitable leads to a surging stampede. Nevertheless, the highlight of this festival is the holy bath by taking dips in the respective river. At this mela, pilgrims from distant places come to seek the blessings of holy saints who are considered to be divine messengers. While some blessings do come true, the ever- contemplated debate between divine intervention and accidental coincidence shall always remain obscured.
X. Vautha Mela
Location: Vautha, Gujarat
Date: October/ November
Vautha Mela does not abide by the typical cliché of Indian fairs. It mainly serves the purpose of animal trading in Gujarat. However, the only animals traded here are donkeys. The donkeys brought here for sale are painted in a spectrum of colours and bedecked with all sorts of ornaments, to be made to look more attractive. The traders at this fair are primarily gypsies. The site, at which the Vautha Mela is held, is also known as Saptasangam as it marks the confluence of seven rivers. This site is considered extremely auspicious as legend has it that Lord Kartik had once visited this place. Hence, this forms the most ideal combination of location and trade.
XI. Puli Kali
Location: Thrissur City, Kerala
Date: August/ September
Puli Kali is a colourful, recreational art form in the state of Kerala. It is performed by trained artistes in order to entertain people during the auspicious occasion of Onam. Pulikali literally means the 'play of the tigers' and so the performers paint themselves in order to impersonate hunters and tigers and dance to the beats of local instruments.
XII. Ambubachi Mela
Location: Guwahati, Assam
Date: June
The theme of this mela in itself makes it extremely unique. This fair is set up in celebration of the annual menstrual course of the Goddess Kamakhya. The concept of giving a goddess humanistic attributes is what adds to the credibility of this occasion. There is no idol-worship of the presiding deity, however prayers and offerings are made to yoni which is a naturally occurring stone that a spring flows over. It is the celebration of the fertility of Mother Earth as the best of nature and religion come together. I suppose, it isn't always the victory of good over evil that matters. It is the more trivial things that are far more worth the celebration.
XIII. Agni Keli
Location: Mangalore
Date: 1st-6th April
This is one of the themed performances during the Festival of Kateel Durga Parameswari Temple. Here, hundreds of devotees hurl blazing palm fronds at each other while the spectators watch them attempting to set each other ablaze. As intriguing as it sounds, this ritual is bound by certain basic rules. The participants split to form two teams with five shots allotted to each individual. The shots have to be taken from a distance of about 10-15 metres. During the course of this ritual, in case any individual suffers burn injuries, she or he is sprayed with the water of Kumkumarchane. Although short, this ritual is dangerous and daring enough to please the Goddess Durga for whom it is performed. This fiery outburst against the stark darkness of night is truly worth a watch.
XIV. Garudan Thiikam
Location: Kerala
Date: February/March
A ritual performed to satiate a blood-thirsty goddess who went a tad overboard with her demon-eradicating streak, this is potentially horrifying to imagine but we suppose, not as traumatic for devotees to do. Legend has it that a bleeding and dancing Garuda was brought to Goddess Kali who was miraculously pacified only after consuming a few drops of Garuda's blood. Hence devotees hang off shafts after hooking parts of the skin on their backs, in an attempt to pacify the goddess. This ritual is performed at the Devi Temple during the Festival of Meena bharani. This is just another ridiculous test of faith, yet their undying perseverance shall never cease to amaze us.