"Wear your heart on your skin in this life." - Sylvia Plath
Most marks humans uncover on their skin don't always start out as well-received. Scars, wrinkles, freckles, tears. But there are always those that learn to love them, embracing each as an identifier, the tiniest speck of something that makes them who they are. And then there are those who purposefully, painfully even, endure needles and shrill skin-stabs to tell their own personal story.
Tattoos or 'creative forms of self-mutilation' aren't a new form of self-expression. The oldest known one dates back to late 4th millenium B.C. and ever since, reasons for tattooing oneself has ranged from everything from basic self-identification within communities to anti-semtisism and racially-biased branding so why do we mark ourselves today?
Inspired by Isaac Fitzgerald and Wendy MacNaughton's lovely book titled
'

Pen & Ink'
(a collection of illustrations and stories based on people's tattoos) we set forth to collect tattoo tales of our own from people across the country and were enthralled to uncover that millenials of today have far more individually-motivated reasons for their ink. Whether it's the commemoration of lost loves, a young obsession with male genitalia, or dreams of wings that came to mean something, the only thing more interesting than the stories these people chose to share is the way they describe themselves.
Chefs, poets, musicians and other mavericks. Join them as they lay claim to different chapters in their lives through the ink on their skin.
I) Aditi Shetty
Who:
31-year-old Aditi Shetty is a business owner who enjoys reading and cooking, although she admits she doesn't have much time for either.
"But with summer round the corner, I am looking forward to getting some new ink and spending time doing things I love. I also enjoy travelling."
The Tally Marks
Aditi has six tattoos, that she's acquired over a period of 8-9 years; as for whether there might be more in the future for her, she says,
"Of course I'm looking forward to getting some more tattoos!"
On Her Story Of Ink & Skin...
"I have 4 Sak Yant tattoos on my back,"
she explains the inked design.
"The ha thaeo, which usually goes on the left shoulder, the 5 rows for luck and success - line one  prevents unjust punishment, favours me in grey areas, clears unwanted spirits and offers my home protection. Line two protects against bad horoscope constellations and bad luck. Line three protects me from curses and prohibits me from cursing people, line four stands for success, luck and fortune in my future lifestyles and ambitions. Line five is for charisma and attraction and the gao yord - a nine spire on the centre top  - represents the 9 peaks of the sacred Mount Meru with boxes containing letters related to various protecting spells. The panjamukhee or five Deva faces are to ward off illness and danger and the twin tigers, to represent power and authority."
The Artist
Aditi Shetty got some of the yantra tattoos abroad and some locally, but can't disclose the artist, as it is illegal in Dubai to get tattoos.
"I will definitely get more, Sak Yant in Cambodia or Thailand - getting inked is an addiction really, once you get one tattoo, you almost always get a few more. I don't regret any of them; they still mean the same to me and are a part of who I am."
II) Aditya Ashok
Who:
25-year-old Aditya Ashok is a drummer and a music producer, who just got back from a month-long tour of Europe with his band Skyharbor, and has been working on a bunch of new songs for a new OX7GEN EP.  He also plays with a local band called Colour Compound and they're all set to open for Alt-J as part of the 'Emerge Festival.'
The Tally Marks
Aditya has four tattoos in all, the first of which he got five years ago in 2010. As for more ink in the future, his answer is an immediate, "Most definitely."
On His Story Of Ink & Skin...
"The last one I got was of my balcony grill,"
he explains his design.
"I have an immense personal connection with my balcony and any of its regular visitors (friends/musicians) will probably say the same. It's been an area of celebration, relaxation, contemplation or just a perfect place for a good hang with friends. When I moved out of my house in 2012, I decided to get the grill tattooed onto my leg just as a reminder of all the good times, and now I'm back in the very same house, but the sentiment is only growing."
The Artist
Aditya got the tattoo done by Zaheer Chatriwala of
Studio Z
on Hill Road, Bandra, whom he has been recommending to anyone in Bombay looking to get a tattoo.
"It's probably the only tattoo I have that is a bit subtle and not very easily visible which I quite like,"
Aditya concludes.
III) Ashutosh Munshi
Who:
36-year-old Ashutosh Munshi is the national head of creative and content at Edelman Public Relations. His Twitter bio reads - 'Motorcycles. Tattoos. Food fiend. Wine. Malt. Travel. I say Bombay not Mumbai.'
"I try to get out of town as often as I can. More often than not, on my Harley-Davidson Fatboy."
The Tally Marks
Ashutosh has three tattoos in total, of which two are half-sleeves and one is on his forearm. He first got inked three years ago, and definitely wants more tattoos in the future.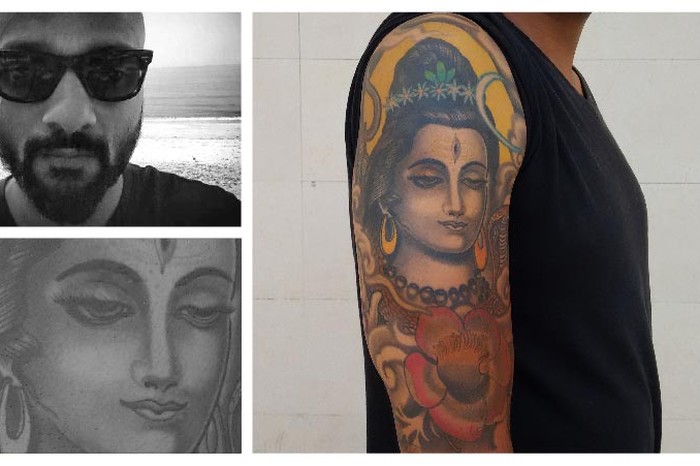 On His Story Of Ink & Skin...
"My first tattoo is the story of Lord Shiva,"
he says.
"Because my name is one of Shiva's names. I got this when I was living in London. It's faded slightly over time, because of all the time I spend on my motorcycle riding in the sun."This tattoo has been a conversation starter on hundreds of occasions, even with strangers. I've been stopped by people who want to take photos of it, which is embarrassing. And then there's a friend who took a photo of mine and went to get it replicated by an artist here in Bombay!"
The Artist
"I was looking for a tattoo artist who could create a tattoo that looks like a painting. Having scoured the web, I found an Argentinian artist called Dalmiro Dalmont, whose work I loved. At the time, he was based in Norway, but coincidentally moved to London's coolest tattoo studio (The Family Business) a month before I was relocating from London to Bombay. An even stranger coincidence was the fact that he was reading the Shiva Trilogy at the time."
Ashutosh explains that they spent a few weeks on the design – he provided Dalmont with the elements he needed and the design references, and the piece took two sittings of seven hours each in all.
IV) Darryn Burrows
Who:
30-year-old Darryn Burrows who works at JP Morgan has been getting for 16 years now, and when asked how many tattoos he has, says,
"50-60? I don't really know, I have a body suit so you can't really classify some of them as individual tattoos. How bout one - one big one? I would love to get as many as I can...I believe tattoos are an outlet of your expression, so why not?"
The Tale Behind the Tattoo
"I got the face of a Eurasian eagle owl tattooed on my throat about two months ago,"
he explains.
"The owl metaphorically symbolises guidance through dark times; when things look bad, the owl is my angel to guide me to the light. The owl has a silhouette of a man in its eyes which represents me."
The Artist
"I got this amazing piece of art from my friend Sameer Patange, whom I have had the privilege of being tattooed by for all these years. There was no doubt in my my mind about who I wanted this tattoo from, and I will be forever grateful to him."
V) Pushkaraj Shirke
Who:
Pushkaraj S Shirke is a psych major turned advertising creative head turned filmmaker and photographer. Today, he is a brand consultant, produces and directs ad-films and shoots ad campaigns for fitness brands and also trains athletes.
The Tally Marks
Pushkaraj has three tattoos; two are the Latin words for Truth and Justice - two concepts he believes in above any religion and social ideal, since he's an atheist. He got these four years ago, and then got another this year. As for whether he might get inked again in the future, he's pretty ambiguous,
"I might. I might not."
On His Story Of Ink & Skin...
"On my left forearm, I have tattooed three mourning bands,"
Pushkaraj explains.
"Nothing fancy - just three black bands across my forearm that people don't even realise are tattoos till they take a closer look. Traditionally, mourning bands are worn in the memory of the dead. Mine are in the memory of my three ex-girlfriends, in memoriam of the relationships. We live in a world where everybody seems intent on hating what's gone by. But I treasure it. The relationship may have died, but the love I have had for these people in my life will always be there. These relationships have been a precious part of my life and I treasure them - they have made me the way I am, so they are very much a part of me."But at the same time, I need a reminder - to tell me that it is dead. That it is in the past now. And for a person like me who finds it really difficult to let go, such a reminder is necessary. Because no good ever comes out of raising the dead back to life. So love it, honor it, cherish it, treasure it, BUT don't let it interfere with your life in the present. Much like the respect for the dead."
Pushkaraj summarises his belief by declaring how love is eternal, but relationships may not be - and emphasises that that's we need to always make the most of what we have today without disrespecting the past.
"My mourning bands are a reminder of that."
VI) Gaurav Kumar
Who:
30-year-old Gaurav Kumar builds mobile products for patients and caregivers to communicate effectively. In his spare time he runs, hikes, travels, attends music gigs and strives to find San Francisco's best Old Fashioned.
 The Tally Marks
Gaurav has just the one tattoo, which he got a couple of months ago after years of contemplating the design. As for whether he dreams of getting more,
"Oh, hell yeah! I have already planned out #2 and #3."
On His Story Of Ink & Skin...
"This tattoo brings together all of my passions and inspirations in life; music, science, art and my mother,"
Gaurav shares.
"Here's a breakdown of what this means to me: Music is in my DNA. I learned how to play the piano briefly before moving over to bass and guitar when I was a kid, and I have been playing ever since. The notes do not represent any particular tune - rather it is intentionally random, and represents the nature of improvisation and the entropy of the universe itself. In the tattoo - Treble clef = guitar, Bass clef = bass, Ø = jazz
(I love jazz, and this is used mostly in jazz music to represent an half diminished chord)"Science - I am major physics, astronomy and biology geek. Hence the double helix with 13 lines representing the base pairs. The solid line represents a sine wave - one of the most basic waveforms. To get a little geekier - the double helix can also be seen as an electromagnetic wave representing light, energy and everything around us. And the Ø symbol looks like a side view of Saturn with its rings. As if this was not geeky enough - the day I get my DNA sequenced, I will add in my actual base pair combinations to the lines; T-A, C-G, etc."
Gaurav is also passionate about collecting art and wanted something meaningful and minimalistic similar to Picasso's single line brushstroke paintings of animals.
"And finally, my mother - she was the driving force behind all of the above. She passed away six years ago and every time I look at the tattoo, it reminds me of her and that I am who I am, doing what I am doing because of her. And it makes me smile."
The Artist
"This was done at Mission Ink in San Francisco by Dawn. She is a genius - she took the time to not only draw out my design perfectly but also got to know more about me and the meaning of the tattoo before starting."
VII) Karuna Ezara Parikh
Who:
30-year-old Karuna hosts travel shows for television, and adds that on her better days, she's a writer.
The Tally Marks
Karuna has nine or ten tattoos in all, but she's stopped thinking of them in numbers as they've started to merge into each other to form one larger canvas. She has been getting inked for 12 years now. When asked about whether she'll get more, her reaction indicates that it's the most obvious thing in the world,
"Yes. Obviously?"
On Her Story Of Ink & Skin...
Karuna accedes that her sleeve is perhaps the most intriguing one, that is often a conversation starter.
"The sleeve grew into what it was by being a cover up to a cover up. I initially had some lyrics put on my arm. They're still very dear to me, but I wanted them covered as I felt they grew extremely private for me over time, and I didn't want to answer questions about them,"
she explains candidly.
 "I found an artist to create a wing as a cover up, and once it was done, I was devastated as I loathed it."
Karuna shares that she cried for days on end, after which a friend recommended
Skin Deep Tattoos
in Bangalore.
"I made a trip there, met Senthil who owns it and he assigned one of his best guys - Madan - to the job. Two years later I'm overjoyed with the ink on my arm. It's a beautiful combination of Native American art and Indian mehendi designs. I've also incorporated flowers, butterflies, text that's important to me and a deer."
 VIII) Radhika Bhuyan
Who:
25-year-old Radhika Bhuyan practised law for a year, but recently quit and is currently in two minds as to what she wants to pursue. While she does have a fellowship waiting for her at a European University to do her Master's, she confesses that a big part of her wants to walk away and do something completely different that appeals to her creative sensibilities, something which is 'already in the works'.
The Tally Marks
Radhika has five tattoos, and got her first one when she was 17. As for getting more in the future,
"Oh man, of course I will! I always tell my friends, who are getting their firsts, that tattoos are so, so addictive. I am sure I can say this for most people who have been inked, and mostly for myself, that getting a tattoo is really not about jumping on to the 'cool' bandwagon. It comes with the idea that you can preserve and celebrate a feeling, a moment, a thought, or just something that you love and let that reflect what you choose to be seen as."
On Her Story Of Ink & Skin...
"If I had to pick one, I'd say that my latest tattoo that I got in Feb means the most to me,"
she decides.
"I got it on my Sternum, and it is about 2 inches by 1 inch. It is the silhouette of an aircraft with 4 stripes near its wings.""I got it to remember my Dad for the man he was, and for all that he loved. He came from one of the smallest villages in India and dreamed of becoming an IAS officer. But he came from a very poor family and could not pay for his education. So he came to Bombay, in the early 80's and slept on the train platforms, while struggling to look for a job. He finally did start working as an air-steward and went on to do his flying. He was the only person to get his hours (flying jargon) within six months, and all this, while he took care of me. He'd always tell me that he was glad that he didn't go down the IAS route, or in his case, couldn't, because he could never love it, or anything else more than he loved to fly. When he was diagnosed with Cancer, it wasn't so much the illness, but the fact that he couldn't fly anymore that broke his spirit."So I always want to remember him as the man in uniform with his four stripes, because that man was the bravest man I knew,"
she says.
IX) Robin Singh
Who:
25-year-old Robin Singh plays as a striker for the Indian National Team and is currently playing at Bengaluru FC, with the football season just a few games away from coming to an end.
The Tally Marks
Robin has five tattoos, and he's been getting inked for the past six years on and off. As for whether he's looking to get some more,
"Yes, I will. All my tattoos hold a certain significance to my life, so the next time I achieve something or cross another hurdle in my life, I'll get another tattoo."
On His Story Of Ink & Skin...
"My favourite tattoo is the warrior on my right arm, it was the first tattoo I got,"
Robin shares.
"It was my gift from my first salary and I got it done from a studio in Delhi called Devilz Tattoos. Since then, I've got more work done around it and still have a little more I'd like to get done."
Shortly after his exit from the Tata Academy, where it all began for him as a professional footballer, Robin wanted to get something that symbolized his emotions and mindframe all rolled into one.
"From that point till today, a warrior epitomizes my personality holistically. The qualities of a warrior are persistence, hard work, survival and the ability to beat the odds to win. Hence for me, personally, the tattoo is a symbol of the journey till date, and the road that lies ahead. It reminds me to keep going everyday, and to do what I do best: play football."
X) Sanyukta Shetty
Who:
22-year-old Sanyukta Shetty is a Marketing professional with HG Media, and cheekily claims that she can generally be found annoying her bosses in office.
The Tally Marks
"I have two tattoos,"
she shares.
"I got my first one around three years ago, and I just got my new one quite recently."
As for whether her future holds more tattoos in the future,
"Hell fucking yeah, my body is a canvas! I don't think a person would ever be satisfied with just one tattoo, or ten, for that matter. Getting inked is like an addiction. I believe a tattoo takes you back to that particular moment or time in your life that actually changed you as a person, or something that will always make you feel special."
On Her Story Of Ink & Skin...
"Well, the story behind my latest tattoo is finding harmony within oneself,"
Sanyukta explains.
"It starts with the Kundalini chakra which is the root of spiritual enlightenment. There are three triangles... The first one is for the body, the second for the spirit and the third is the soul. The Spirit Triangle is an inverted triangle which is the symbol of a woman to remind myself to be the strong, independent and balanced woman my mother raised me to be. My mom has constantly supported me in doing the things I love, and opening myself up to new things that I wasn't sure of myself."In between the body and spirit triangle, there is a sand time dial - this is to constantly remind myself the value of time, something my father always emphasised when I was growing up. He has always explained the importance of time to me, and the harmony that managing it well would bring bring to one's life."
Sanyukta explains further,
"At the right time, my body and spirit will harmonise with the knowledge that I've received (the tree is the Knowledge Tree) when my soul will be created - which will happen when I completely open up my soul and become one with the universe. That's when my eyes see what they couldn't before, and my heart feels what it has never felt . When I get to that point, I'll know that I've risen above all the negativity within me and only filtered the good thoughts inside me (represented by the dream catcher)."
The Artists
Sanyukta's tattoo story had us completely enchanted, and she added that she got immense help with the design from Kevin Andrade and Rupert Sequeira, who tattooed it for her from the
Flying Lotus Tattoo and Piercing
.
"These guys are amazing they'll convert your thoughts into beautiful art,"
she says.
"The tattoo is really special as it reminds me to find that harmony in life."
XI) Sapna Moti Bhavnani
Who:
44-year-old Sapna Bhavnani is a Mumbai-based hairstylist who runs Mad-o-Wot? salon in Bandra. Today, her clientèle is chockfull of celebrities and this mad maximalist has also dabbled in photography, writing and fashion designing. When asked to describe herself in her own words, she says,
"The only thing I like attached is a bathroom."
The Tally Marks
"Only an amateur counts the amount of drinks consumed,"
laughs Sapna when asked about the number of tattoos she has.
"The goal of every new piece added to my skin is to become one with the previous one. My journey under the needle started in 1990 in Chicago - the only reason I remember this date is because I consider it my date of birth."
As for whether there might be any more tattoos in the future, her answer is immediate,
"Fuck yeah. I got heaps more to go!"
On Her Story Of Ink & Skin...
"The snake biting its tail (Ouroboros) is a symbol of wholeness or infinity,"
Sapna explains her tattoo.
"It was in the early 80's when Bruce was 'Dancing in the Dark' and Michael Jackson was 'Beating It',"
Sapna recalls.
"I was in my teens, and all my attention was diverted to the opposite sex. My school, like any other Indian school, had no sex education and all my questions were fixated on what the 'male genitalia' looked like. In my dreams, I envisioned boys with dragons and snakes and swords tucked away in their pants. I'd find myself staring at their 'packets' - sheepishly of course - and wondering how the hell the snakes fit in their pants."
When curiosity finally got the better of her, Sapna invited three of her male friends on a building terrace in Khar and asked them to drop their pants and show her their 'dragons'. They obliged willingly, and she recalls,
"Well, there were no dragons or snakes or swords. No siree, just a dangly, knobby thing that hung in hope."
Although disappointed that she would never witness the grandeur of a dragon, she did however pick the one with the best 'knob' and gift him her virginity.
"A swayamwar, if you will,"
she explains.
"Rumi said it best - 'Be empty of worrying, think of who created thought! Why do you stay in prison, when the door is so wide open?'"
XII)  Siya Kumar
Who: 24-year-old Siya Kumar recently quit a 9-to-5 job to focus on other stuff, and has been spending most of her time in Goa bartending and creating morbid poetry 'that nobody likes'.
"No, I'm not a hipster,"
she says.
"That's too mainstream."
The Tally Marks
"I have eight tattoos in total, and I'm getting my ninth one soon,"
she says.
"I got my first tattoo when I was 15, and I definitely plan on getting more - no lie that it's an addiction."
On Her Story Of Ink & Skin...
"My hawk wing tattoo is definitely my favourite,"
she says.
"Firstly, it's extremely original, because people get angel wings, eagle wings etc. for sure, but not hawk wings."
Siya shares that she kept having these recurring dreams of flying through trees but being unable to see anything beyond those trees. After a month of having this dream, one night, it progressed to her seeing these beautiful wings on her side and realising that she was a hawk. On waking up, it was still fresh in her mind.
"I remembered exactly what the wings looked like,"
she recalls.
"After a couple of days, there was this one hawk - I thought it was a kite at first, but it wasn't - that kept appearing outside my window rail and it would just sit there for hours and stare at me. It was really freaky, but I felt comforted, safe. After a few days, I saw that there were a bunch of them circling around my window, and a couple would just sit there and chill afterwards. I later found out that a hawk is my spirit animal and they come to you usually during difficult times."
Siya continues that she shifted homes two years later and the same thing happened at her new place.
"I love this tattoo, because the presence of the hawks makes me feel really safe and happy and for me, wings of any sort symbolise freedom."
The Artist
"Al from Al's tattoo studio in Bandra did this one for me - he's done most of my tattoos, he's a great artist."
XIII) Sofia Ashraf
Who:
28-year-old Sofia Ashraf is a copywriter by profession and a rapper by digression.
The Tally Marks
Sofia has two tattoos, and got her first one when she was 24. Her calves read, "Miles to go before I sleep". She got her second tattoo when she was 26.
"It's an Archaeopteryx on my arm. If you don't know what that is, you're not alone. Only two people have seen my arm and instantly recognised what it was. With the rest I like to have fun saying it's a Sneagle (half snake, half eagle) or my dead dog with angel wings. I even convinced one chap once that I'd asked for a butterfly and passed out from the pain and woke up to find this on my arm."
As for whether there's more ink in her future,
"I'm in the process of getting one more. Each time I think I won't get any more tattoos and an interesting philosophy catches my eye, and I absolutely have to get inked. I don't worry that I'll tire of my tattoos because I believe that when you get a tattoo, you need to find something that will remind your future self of who you were and how far you've come."
On Her Story Of Ink & Skin...
"Ever since I was a kid, I've been fascinated by the now extinct Archaeopteryx,"
she explains.
"It is said to be the missing link between birds and reptiles. In essence, it is a creature between two worlds. In many ways I am like that. Between my love for art and copy. Between spirituality and hedonism. Between my corporate ambition and my hippie lifestyle. Between Chennai and Mumbai. It embodies this constant struggle that makes me who I am."
The Artists
Sofia put her agency experience to use to find someone she trusted enough to pull it off - complete with brief, anatomy instructions, style references and the philosophy behind the tattoo. She then commissioned one of my favourite illustrators, Vijayakumar Arumugam, to illustrate what she wanted, which resulted in a beautiful piece of art she couldn't wait to get on her arm.
Three years passed by since her search for a tattoo artist had begun, and she decided to go in for a consultation with Eric D'Souza from Iron Buzz tattoos.
"Unfortunately, he said Vijay's sketch wouldn't fit on my arm,"
she says.
"He asked me to come a week later to see what he could come up with. So I go back, waiting to see something close if not better than the sketch I had. Eric pulls out his sketch excitedly and - oh, the horror! - it was a Looney Tunes style creature with eyelashes and a cartoon mouth. I might as well have pasted one of those Sticker Tattoos you get free with bubblegum on my arm."
While Sofia struggled to find diplomatic ways to tell him this isn't what she wanted, she realised that Eric was smirking, and had been pulling her leg. He then showed her the actual sketch,
"And oh man, did he nail it! Eight hours later, I was at a New Year's Eve party, ready to start one of the most memorable years of my life with this little creature watching over my shoulder."
XIV) Tej Brar
Who:
26-year-old Tej Brar is the Head of Artist Management at Only Much Louder with an extensive background in audio engineering, radio, venue programming & music licensing. He has previous work experience at Warner Chappell Music (Los Angeles), Universal Mastering (Los Angeles), BBC 6Music (London), WERS (Boston) & Clouds FM (Dar Es Salaam) before returning to India in 2011. He has previously exclusively managed OMLs' DJ/producer roster which includes Dualist Inquiry, Nucleya, Anish Sood & the Reggae Rajahs.
The Tally Marks
Tej has eight tattoos, which he has gotten inked over the last eight years.
"My first one was on my 18th birthday and my most recent one was in July 2014,"
he says.
"More tattoos? Hell yeah, planning on finishing up a sleeve by 2016."
On His Story Of Ink & Skin...
"My favourite tattoos are on my ankles,"
he explains.
"It's a quote from a Robert Frost poem titled Stopping by the Woods on a Snowy Evening. My right ankle reads 'But I have promises to keep' and my left ankle reads 'And miles to go before I sleep'. The font is the stylised Deftones font how they wrote their band name on the Around The Fur album cover. I got the tattoo in December 2010 when I was in Tokyo over the New Years' week."
Tej recalls that it was an epic time to visit Japan for the first time, as December 26th to January 3rd is the week when literally everyone who can drink is drinking.
"I was with an old roommate of mine from Boston named Kenta Shimizu who is half-American and half-Japanese,"
he recounts.
"He speaks Japanese fluently and has lived there so it was great being in Tokyo with someone who knew all the local spots. He was getting a half sleeve finished up by this dude in Tokyo, who tattooed a lot of Yakuza who like to get their ink done in private. So we didn't actually go to a Tattoo shop, we went to his house where he had all his tattoo gear set up. We were kicking it all day there while he was getting work done on his half sleeve and while I was there, seeing how skilled he was, I decided to get my ankles done too."
Tej explains that this quote had been with him for a really long time, having first studied it first in 5th grade in India, then again in 10th grade in Washington DC and then finally in Boston in my second year of college as well.
"Being a third culture kid with bi-racial parents and family living all over the world, these lines always resonated with me. It always seemed like I was never done travelling and I always needed to continue my journey to the next place and see my family/work/job/college, and I wasn't going to rest until I got there. At the end of the tattoo, I got a nosebleed and then we all ate pizza! No but really, this hurt a fucking lot, don't get your ankles tattooed."
XV) Tyrell Valladares
Who:
29-year-old Tyrell has been flying with Jet Airways as a flight purser for the past 8 years whereas on ground, he finds solace in metal art, sculpting and painting.
"I basically take a lot of scrap metal and weld them into pieces of art and also big metal sculptures,"
he explains.
"Working on the fashion side of art, such as making metal corsets out of scrap, is something I wanted to try out."
The Tally Marks
Tyrell has three tattoos, and he first got inked 12 years ago.
"I will definitely get more,"
he confirms.
"I've just been trying to create something bigger, which is more me in terms of style and design."
On His Story Of Ink & Skin...
"I have a tattoo on my rib cage of an evil jester holding fiye cards in his hand and the cards are the Ace, King, Four and Seven of spades which stands for 'AK47', like the gun,"
Tyrell jumps right into it.
"So the whole story behind this is that when I was in college, I was obsessed with playing this computer game called Counter Strike; it had absolutely taken over my life. I used to play that game all the time and wouldn't even know where and how time just went by."So 'jester' was my alias name while playing the game, and the cards resemble the gun AK47, which was my favourite weapon to use in the game."
Tyrell explains that there was quite a bit of thought that went into this tattoo before asking a friend to design it and draw it out for him.
"The cards also symbolise how life's a gamble and it's what you make of it that really counts,"
he said.
"This tattoo means a lot to me as it represents the time of my life growing up that I had no other worries, and I was just doing something that I wanted to do and being this rebellious person. I didn't given my college exams because I was playing this game, and I lost out on a year - and I'm glad it all happened now because I changed my field after that and studied something totally different. In a way, things worked out for me and that's why I had to get it done - as a reminder of a time in my life where it was just about me, and no one or nothing else. Happy times."
Tyrell shares that the tattoo has faded a little bit but it's still pretty clear at most places.
"Unfortunately, we don't have the perfect skin tone to get really intricate tattoos so I was really happy with this."
The Artist
"The person who sketched my design is Rohan Joglekhar, a close friend of mine who is an absolutely amazing artist. So he drew it out for me and I flew to Singapore to get it done by this really talented artist Danny Lee, who finished it in four and half hours. It was really intense, as it's on the rib cage - which is by far, the worst part of your body to get a tattoo done on. You have to make sure you control your breathing and not move, but he really did an amazing job."
Compiled By: Homegrown Staff 
[If you'd like to share your own story of ink & skin, please drop us a line at [email protected] with the subject line 'tattoo story.' We'll get back to you as soon as we can.]