Paint brushes and palettes are things of the past - art gear in the 21st century is fast moving towards a smartphone and creative mind. With art constantly redefining itself and finding new ways of expression, it was only a matter of time before it was revolutionized by the new digital age, then.
Starting as a movement in America and Europe where visual artists used hashtags with their work, the evolution of graphically editing photographs to create 'Instagram art' found its way to India and ever since, 'Insta-Art' has been blowing up as a new, innovative mode of artistic expression. And, where there's people, there's apps. Mextures, Union, Circular, Alien Sky, Fragment, Meld, Snapseed are a few among a wide array of photo-editing apps that let you trim, mirror, blend, reflect, and creatively combine 3D graphics, geometric elements and more. What's particularly interesting about the medium is that it's made the idea of 'creating art' far more accessible to people who would perhaps never have explored this world before either due to a lack of traditional talent, or the sheer time consuming nature of creating pen-to-paper art works. The availability of newer technologies and apps however, have presented a world of options to potential artists. From minimalist illustrations to elaborate surrealist versions of reality - Instagram artists can now do it all. And better yet, they do it together.
With hashtags bringing together different artists on the same platform, this opened up a new world of possibilities - the world of collaborations. Artists and photographers of different styles come together to merge their fashions in visual harmony. Passion for creation can bypass any social hurdle. And, this visual medium is so powerful, it can translate to real-life prints too. Or at least, it has been more and more in recent times. Slowly tackling the challenge of high-resolution limitations, Instagram artists are printing their works to express themselves in a whole new dimension of design and giving followers a new medium through which they can consume art.
But, the Big Bad World is notorious for strangling creative expression in its tight grasp of consumerism. In a world where someone can steal other people's art, blow it up in large prints and sell it for $90,000 a pop, you wouldn't be the first to wonder if there really are any honest, authentic artists left. Well, we bring you a list of 19 passionate Indian artists expressing themselves and keeping their art alive, purely for the love of it!
I. Abjith
'Blessed evil from Uranus and Gothic Satanist' - Abjith defines himself on Instagram in these terms. Dark surrealism comes to life through portraits that incorporate elements of demonization, corpses and symbols of evil. Gothic style finds expression in Abjith's visual anarchy that is not afraid to articulate the reality of death.
HG Loves: The elegance of the Astaroth Circle features in multiple works, giving each image an optical symmetry - a pretty perfect symbol of his dark themes.
II. Aniruddh Mehta
Record discs, cubes, blocks, and new age robotic forms are Aniruddh Mehta's prominent symbols. Patterns represent a symmetric haze of tiles and geometric vibrations, putting his own personal stamp on minimalism. Not to mention, that immediately identifiable colour palette.
HG Loves: Futuristic use of elements and spatial balance is almost hypnotizing, and marks his visual identity of minimalism.
III. Ashish Jose
Music-maker Ashish Jose's real-life human pictures with futuristic edits represent one theme for us - a meeting of two worlds: between reality and surrealism, between minimalism and elaborate edits and between old world classics and modern interpretations. He's also one of the only artists on this list who's made his instagram prints available for buying, here.
HG Loves: Sci-Fi inspired graphics exploring a post modern vision that feature in most of Tarqeeb's creations.
IV. Ashwin Gurbuxani
A breath of fresh air, writer Ashwin Gurbuxani's spin on graphic art is so unique and diverse, it's almost like a dream. Unreal stars and skies, vivid colours, textures, symbols and texts - all in one design. And that he still manages to incorporate all these elements symmetrically, is impressive, to say the least.
HG Loves: The opposite of minimalism - so many different elaborate ingredients culminate in the perfect visual recipe.
The wildly talented artist and graphic designer Ayesha Kapadia's use of shapes, colours and forms is unique for one reason - her use of multiple dimensions. Each image has a beautiful synergy between the foreground and background, which is not an easy feat to achieve.
HG Loves: Multiple colours, shapes and layers could come together to look messy - but Ayesha's work maintains a distinct charm of simplicity.
VI. Deepak Solanki
Art that provides you with a whole new version of reality - that's what creator Deepak Solanki accomplishes. Surrealism as his classic style emerges in thought-provoking graphics that represent real life emotions of freedom, isolation and the eternal feeling of being trapped. Eclectic elements come together as Deepak draws parallels to resonate an alternate reality.
HG Loves: The use of human figures, anatomy and animals clubbed with quotes stimulates a symbolic surrealism.
VII. Ehsan
Music creator and writer, Ehsan, has a unique style of bringing vibrant colours together in surrealism. His most riveting characteristic: multi-layers of visuals, as well as of time. Ehsan creates elaborate collages of vintage images (black and white or sepia) merging with new age digital elements, fashioning a meeting of two worlds of time.
HG Loves: Abstract but eccentric visuals with such depth of perception, every time you look at one of his images you'll notice something new to appreciate.
VIII. Hasan Ali
All those who blame shoddy pictures on incompetent phone cameras - Hasan Ali disproves all your excuses. His exceptional photography finds the right balance of colour, space and light. Exploring different textures of nature (skies, water, earth) with graphic edits mirroring minimalism, his creations are like his own personal take on natural creations. As a student of Film Making, his lens shows how refined his eye for detail is.
HG Loves: Hasan's flipping of images upside down gives them a whole new perspective - a very unique personal touch.
IX. Jai Bhatt
Forget everything you've ever seen before - student Jai Bhatt's pictures use a spectrum of colours and hues that you can't even imagine existing. Vibrant colours come alive in images of rigid mountains, buildings and bridges. And, to top it all off, geometric graphic edits are accompanied by subtle text that express perfectly what each picture represents.
HG Loves: Imagery depicting inspirations in life that is so vivid, it's a treat for the eyes.
X. Jeff Nelson
The creator of Echofloat, Jeff Nelson is a music producer, but in more ways than one. Using urban concrete-jungle backgrounds, he remixes them with surreal graphics so fluidly, almost creating music with his art. As he plays with geometric shapes in a circular flow, his pictures are almost a futuristic essay, complete with subtle words that mirror exactly what his work is expressing.
HG Loves: Never before have cubes, circles and hexagons come together in such multi-layered spatial symmetry.
XI. Priyank Gajera
Priyank Gajera's art requires a broad mind to truly appreciate it, as it delves into dark themes. Morbidity and underground cryptic ideas from his premise, as he provides surreal graphics. With a creative use of digital art, new world possibilities are uncovered through dark elements like skulls and the angel of death.
HG Loves: His style finds the perfect balance of light and darkness in every picture, coupled with an element of visual symmetry.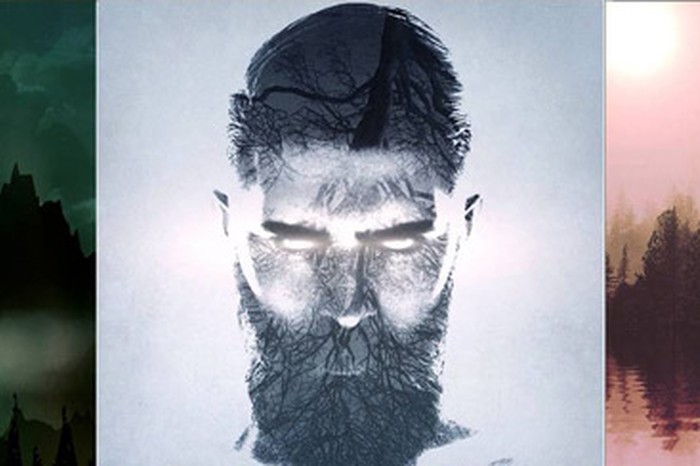 XII. Pythagoras Design
They say it's about quality, not quantity. Well, they're right. Although only two creations feature, they both have such a strong visual identity, that it's worth mentioning. Almost like a dream, elaborate colours in multiple layers are brought together in a surreal collage. Imagery gives you the sense of adventure, and strangely of isolation too.
HG Loves: You will be hard pressed to find such a smooth balance struck between bright and dark colours.
XIII. Ravi Arora
Ravi Arora's geometric patterns and subtle colours redefine minimalism. With cubes, blocks and parallel lines in repetitive sequences, he is an architect of sequences. Quirky shapes flow so well, expressing time, and even depict real life observations like sunsets.
HG Loves: His simplistic patterns are a new-age graphic interpretation that merge the Cubism art movement with minimalism.

XIV. Sachin
With inspiration drawn from nature and the movement of the human body, Sachin creates unique portraits. Fog, tree branches, beaches and other scenic elements of nature superimposed on silhouettes make for the perfect contrast. And, the pinnacle of his creative exploration defies gravity in his use of elevation.
HG Loves: The rarely-seen-before element of Location Pins feature above some of Sachin's figure outlines - an icon of his own personal style.
This Bombay-based photographer's eye sees the world in perfect symmetry. Shannon undresses symbols of Bombay down to their skeletons, and reworks the fragments to create designs. Simplistic visual overlays give the illusion of multiple layers. And, while clear detail marks the foreground, a mysterious union of colour haunts the background.
HG Loves: Simple pictures of buildings and skies are made magical through his artistic lens.
XVI. Shivam
The word that jumps to mind with one look at Computer Science student Shivam's unreal graphic interpretations of reality is, well, trippy. Psychedelic colours culminate in an abstract form to defy the laws of physics in his dark-psy designs. As he plays with reality to create an alternate universe of vibrancy, each image helps you escape further and further from realism to surrealism.
HG Loves: The wide variety of visual elements incorporated - from a rubik's cube to a new-world portal to even a Native American figure.
XVII. Varun Desai
Kolkata based designer and programmer Varun Desai's graphic illustrations have such movement, flow and rhythm, they can lull you into meditation. With minimal use of colour, Varun explores the power of black and white lines and seamlessly uses space - resulting in optical illusions for images.
HG Loves: Video creations that give still graphics a distinctive dimension, and discover the importance of time in visual art.
XVIII. Yash Mhatre
Photographer and designer Yash Mhatre doesn't just create graphic visuals, he designs a whole new world. Different shades and hues infused into various elements of Bombay, blurred to give the sense of infinity. In contrast, his more elaborate work explores new dimensions of reality with levitation, panels of images sliced and extended, and new twists to the laws of physics.
HG Loves: Sci-Fi and Outer-space related elements paint Yash's style with a futuristic brush of creative expression.
XIX. #TheCreativeAffair curator Anurag Baruah
Although artist Anurag's highlight skill is his immense eye for detail in photography, he dips his hand in graphic editing in more ways than one. Having produced a few graphics of geometric symmetry himself, he appreciates the art as a curator. As the founder of #TheCreativeAffair, he gives other artists a platform to showcase their work, and facilitates creative expression.
HG Loves: Photographs that capture such real human emotions and moments are hard to find, because patience, time and a unique eye are rare - still, Anurag makes it happen.