We speculate that most Metal Heads would agree - Metal music isn't just about compositions, it's about performance, and an entire set of cultural influences that surround. Since its inception in 1960s America, this independent genre has not only built itself into one of the most progressive subcultures in the world, it's evolved to develop a visual identity that explores musical expression in entirely new ways. Imagery belongs at the core of its messaging, with undertones of masculinity, aggression and machoism screaming through its lyrics, performance styles, music compositions and art. Whether it's international bands like Slayer expressing their creativity, thoughts and beliefs through visual narratives in album art, groups like Black Sabbath experiment with intriguing story-telling through visual designs or Slipknot and Bring Me The Horizon's ambition to go an extra mile with their fashion lines, performance theatrics, costumed legacies and more - all elements that culminate to provide listeners (some of the most loyal fans you'll find anywhere in the world) with the complete Metal experience. Suffice to say this is a tradition that's seeped into Indian Metal artists' musical identities too, exploring new visual avenues of expression surrounding their music.We've explored different Indian Metal bands in our own way before, whose music resonates with this subculture's soundscape, and the duality of their lives. With music at the core of their passion, these versatile musicians are artists in more ways than one. Since pursuing a full-time Metal career in India is not the most lucrative career choice, their bank balances are fed through the pursuit of different artistic inclinations - all creations to which we can tip our hats in appreciation, regardless of whether we fully comprehend the depth of the culture and what it stands for.Without further ado, we bring you a compilation of 10 illustrators, designers and visual artists, all exploring the artistic and visual possibilities surrounding Metal music. Some double up as guitarists, drummers and vocalists themselves, others are simply deeply entrenched in India's thriving metal music community. Meet the talent behind India's Metal artwork, and revel in their phenomenal versatility.
I. Aakash Anand
This Bangalore-based artist's visual vocabulary transcends multiple mediums - drawings, paintings, sculptures and installations. Although he's a computer engineer by training, he truly finds himself through his art. Using ink, he explores the world of the unknown, drawing in his viewer with highly detailed abstract visuals that often construct his own experimental version of reality and the universe. His instruments pave a narrative path open to different interpretations, with black and white intricate imagery creating a mystery. Creator of India's first abstract comic book 'Untitled' this young, talented artist has participated in various group shows and LIVE art events, and has featured his work around Asia and Africa.
Check out more of Anand's work on his Website, and follow him on Facebook. 
II. Aaron Pinto - Kidsquidy
Moonlighting as a wizard with drumsticks, Aaron, like most Indian Metal artists, had to find an alternative in daylight. Still, his zealous passion didn't let him stray too much, as he started off at an internship with MTV India, learning the ropes in the media world. Visual creation caught his interest, and soon enough he joined MTV's design team, working closely with Metal and Indie artists designing album art, T-shirts, merchandise and so forth. He lives and breathes music as it paints all over his day job, and after hours his Metalhead passion is ignited as he plays for
Gutslit
and
Providence.
Talented designer and passionate drummer - Aaron's self-expression knows no creative bounds.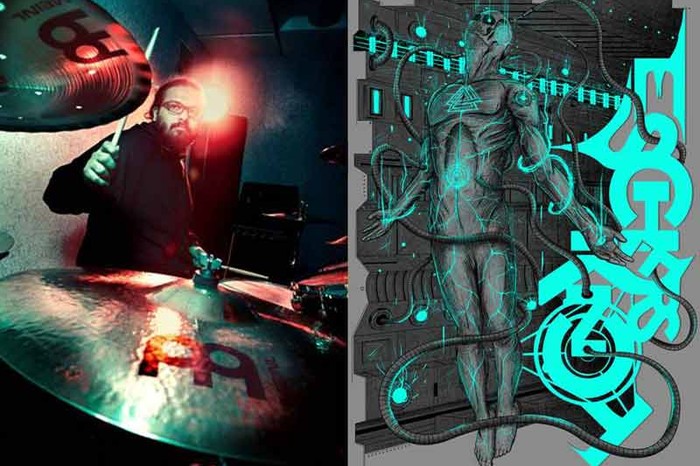 Follow Aaron on Facebook, Twitter and Instagram to see more of his work. 
III. Aaquib Wani
As the visual vocabulary of Indian music is evolving to incorporate various different platforms of design from album art and posters, to festival designs and merchandise, 24-year-old Aaquib Wani is thriving at the centre of this movement. Currently a member of the Indian band
Phobia
, he is also working with eminent designer Sumant Jayakrishnan. But, his dance with art started a long time ago. His creative skills are endless too - ranging from industrial and architectural design to fine still work. Still, his most impressive designs injected with passion are his music-related artworks. Beginning his journey with the iconic
Rock Street Journal
, he climbed the ladder to become the chief designer - the mind behind the entire magazine's design aethetic. Soon enough, he established a name for himself as an album art designer, starting with
Skyharbor's
debut album featuring his design as its cover art. From technical death metal to the blues - Wani's intricate art is inspired by the 80's and 90's, with splashes of heavy classical and Sci-Fi influences.
For more of Aaquib's art, follow him on Facebook, Twitter, Instagram and Pinterest.
IV.Anirudh Singh - Nuclear Puke
Originally from Jaipur, Anirudh is a student in DSK, Pune, learning to create a visual identity for himself as a concept artist for video games. When the local metal scene was going through a more DIY phase,
Nuclear Puke design
was born. His love for metal and its associating art inspired him to design flyers, show tickets and so forth, and as time refined his hand, local Jaipuri bands appreciated his work. Fan art for bigger bands gained him recognition, and today this Metalhead can boast of having designed for Colossal Figures, Kraken, Zero Gravity, Feeding in Atlantis as well as for festivals like Outrage Metal Festival and Big 69. His wide portfolio precedes him, and he is lucky enough to be combining his love for Metal with his artistic talent to create a job that he loves.
Check out Anirudh's Website and Facebook page, and follow him on Facebook. 
V. Arun Natarajan
Design has no limit for Bangalore-based guitarist Arun Natarajan's wildly expressive graphics, bathed in dark imagery and optical symmetry. His style has the tone of a refined artist, as he produces artwork for different fields ranging from football fan sites to life science based companies. Still, you can't take the musician out of Arun, as his best work is for thrash metal bands like Chennai-based Blind Image and Wolf's Lair. Album art, logos, merchandise, banners, press kit designs - you name it, and it will be done by this multi-faceted musician, who follows his true passion as the bass guitarist of Eccentric Pendulum.
You could follow Arun on Facebook  to check out more of his work.
VI. Gaurav Basu - Acid Toad
Graphic artist Gaurav Basu sees a whole new world in his mind's eye, and seeks to explore this world and express it through art. With any resemblance to real persons, places and things purely coincidental, his work delves into an alternate universe where imagination has no bounds. As he draws influence from alternative and underground subcultures, he uses his artistic license to create work that an outsider might label as dark, psychedelic and mysterious. While all of us only dream of a bizarre new world of possibilities, Gaurav has made it a part of his reality, and better yet - his career. The Indian independent music scene appreciates his artwork, and has many takers. And while this creative expression is his day job, his real passion is death/thrash metal outfit
Inner Sanctum
where he is the frontman, stage centre and dripping with energy.
Follow Gaurav on Facebook, and Behance to view more of his creations. 
VII. Rahul Chacko - Scribble Bandit
Chacko's artistic expression aims to support him in the light of day, so he can follow his passion in the moonlight, but it's more than that. His art strives to be an instrument capable of piercing the stupor of modern society, a visual language with a voice and a sharp tongue. He has been drawing since the early '90s, creating comics such as Gumshoe - a periodical about detective dogs created for the school paper, or Crik-X - an epic saga created for ESPN about a futuristic sports-crazy nation. He has a variety of mediums at his fingertips, owing to his background in animation and game design. Although these visual elements are inspired by his keen creative mind, his true love for music surges through his veins, as he creates artwork for musicians in his spare time - that is when he's not shredding. He flirts with visual art, but his commitment is to his music, and he's even the guitarist for a couple of heavy Rock and Roll bands.
Follow Rahul's page on Facebook, and check out his Blog to see more of his art. 
VIII. Reuben Bhattacharya - Visual Amnesia
With rhythm in his blood, Delhi-based Reuben Bhattacharya is a gold mine of creative means of expression. His love for music seeps into his day job as an illustrator and graphic designer, and his art has rhythmic movement to it, much like the music itself. Stretching himself across an array of demanding fields, this highly experienced designer has gotten his hands dirty in advertising, entertainment, fashion, media and of course, music - his true love. Along with brands and consumer labels, his passion inspired him to do fulfilling music-related creative work. Even as a designer, as he has worked with various artists, bands, music magazines, and record labels to help create a personal image for bands like Textures, Sleep Terror, Slipknot, Aliases, Alkaloid and so forth. His fingers work magic in more ways than one, as they give birth to versatile illustrations, and rock the bass guitar for
Undying INC.
But, he's more than just the hands behind the art, he's the brain behind it too. He enjoys conceptualizing and developing the designs, and has even been featured in Metal Hammer, Rock Street Journal and Rolling Stone India for his work.
Follow Reuben on Twitter and Instagram. Also, check out his art on his Behance and Facebook page. 
IX. Roshan Shakeel
Currently a student of art and design at Bangalore's Srishti Institute, Roshan Shakeel's art bursts with colour and dynamic movement. Most of his creations come alive with 3-dimensional illusions, and have spatial balance that only comes with an experienced hand. His artwork includes a poster design for
NH7's The Scene 2.0
, as well as a cover design submitted for
Puma Loves Vinyl
. A poster created for the band
Minerva Conduct
marks his brush with Metalheads, exploring dark and surreal imagery. Apart from digital creations, he gets his hands dirty with ink sketches and paintings, and even dabbles in photography - Roshan is a one-stop shop for artistic expression.
Follow Roshan's work on Facebook. Also, click to see some of his Photography. 
X. Sonali Zohra - Dangercat
This Bangalore-based illustrator and photographer is hard to classify as one kind of artist, owing to her work being  so versatile. Her love for Metal music became her inspiration, as most of her art is featured on the Indian independent Metal subculture scene. Having studied fine art and photography, she developed a keen eye for detail and refined her raw talent to a more experienced hand. Be it charcoal, pens, paint or even digital art - bring Sonali a medium and she will master it. Nature is her core inspiration, as plants and animals are highlight features of her art, and her reality too, as she calls her personal studio Dangercat named after the cat that accompanies her in it, sharing space as well as artistic ideas. Sometimes dark in nature, sometimes bursting with colour and life - Sonali's art is diverse and is inspired by everyday life. She even ventures as far as creating children's book illustrations, with the art as vibrant and innocent as its readers, in addition to her Metal music-related art - a testimony to immense artistic diversity.
Follow Sonali on Facebook, Instagram and Pinterest. Also, check out her Facebook page.