[A large part of the research for this article leads back to Sidharth Bhatia's book, 'India Psychedelic - The Story of a Rocking Generation.' You can purchase a copy of the book here if you're interested in reading more on this subject. And here's our interview with the author himself.]
Psychedelic rock today has gained massive momentum in the subcontinent, but at its inception it was no more than a fringe activity. Bands across Bangalore, Mumbai, Calcutta, Madras (now Chennai) and more, from middle and upper middle class Anglicised backgrounds represented the harbingers of this movement. Exploring the situation in the late sixties and early seventies, we uncover how a menthol cigarette brand might have been one of the primary reasons that the rock revolution in India succeeded at all.
The late sixties marked an exciting time for music lovers in the subcontinent, as an underground revolution of psychedelic rock swept the nation in urban cities and retold the story of soundscapes in India. This decade featured 'midnight's children' in their 20s, and this band of youth used psychedelic rock as a form of expression, much like millennials today are all about EDM, the next Skrillex tour and whatever else seems to be floating their rather fragile boat. The new age of music became an anthem of rebellion against the previous generation's political disillusionment, along with the rest of the world's conflicts, such as the Vietnam war, which was at the forefront of it all at that point.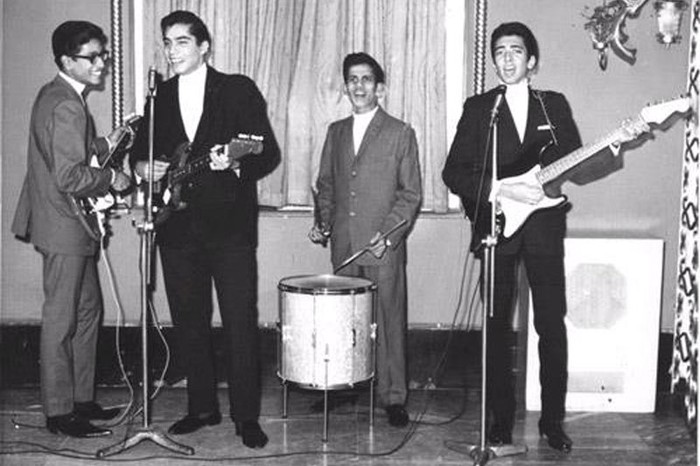 Move over Jazz, there's a new kid on the block
As India rolled into the decade of the wild and free 60s, the generation born after independence celebrated their coming of age, and with that stemmed a musical revolution in small pockets across the subcontinent. As Naresh Fernandes' book Taj Mahal Foxtrot raves of the ballroom-set jazz music age in India, complete with smart dinner-jacketed scenes at the Taj along with bow-tied musicians, the youngsters coming into this decade rejected the older generation's music.
The shift into rock and psychedelic beats in the early sixties was accompanied by the government's strict non-import policy, which made it difficult to purchase electric guitars, amplifiers and other equipment, all riddled with huge duties. With no foreign music on All India Radio - where Hindustani classical was a predominant, or foreign magazines to tell the tale of global rock musicians, the Indian youth of the sixties still managed to start an underground music revolution of psychedelic rock. That too, a movement that shifted from plugged-in garages to large-scale stages. And, this movement was largely inspired by international voices bringing rock culture into India.
Led Zeppelin's underground Mumbai jam session
In 1968, the four beloved British artists of The Beatles sojourned in Rishikesh, India to explore meditation and Indian spirituality, which resulted in a major Indian influence in their songs such as Dear Prudence and Across the Universe, which even includes the words 'Jai Guru Deva Om'. As Velvet Underground, The Who, Santana, Jimi Hendrix and other global rock sensations released their albums in the late sixties, Madras (now Chennai) was on the verge of a garage-rock underground movement with The Mustangs and Confusion. And these international rock band albums influenced them and paved their way.
In 1972, Led Zeppelin's Robert Plant and Jimmy Page along with their manager Richard Cole found themselves walking around Mumbai's Colaba, and as the story goes, no one even recognised them. When the owner of the small, grunge pub Slip Disc noticed these musical legends strolling along, he jumped at the chance and invited them to perform at his venue--an offer that most global rock sensations would be too busy to even consider. But this duo agreed. They performed an impromptu gig in Mumbai backed by Xerxes Gobhai on bass and Jamil Shaikh on drums, which took the city's youth by surprise, even as details of that magical performance are lost in urban legends. Although almost unrecorded, this iconic day inspired many a young aspiring rock musician in Mumbai to follow their musical dreams, lending to India's rock revolution along with other global bands.
Watch this video of 1972's Mumbai filmed personally by Jimmy Page as he travelled the city.

The grunge lounge Slip Disc and others like it
Today's inhabitants of Mumbai might not even recognise the names of iconic venues of the '60s and '70s that hosted the counter-culture ethos stimulating psychedelic rock beat generation - but, we can try to paint a picture. By the end of the 60s, India's urban cities were teeming with possibilities, and bands explored every single avenue available to them to perform. A small, neighbourhood coffee-shop called 'Sharon's' dotted a lane of Colaba, and was a popular venue at the time. The Jets, Bombay's first rock group, started off by playing at St. Xavier's College, and their official debut performance filled Sharon's with the groovy beats of new-age rock. Talk of the Town (today's Pizza by the Bay) and Astoria Hotel's restaurant Venice (formerly well known for cabaret) were South Mumbai's other rock music havens. And then there was one. One of Colaba's most iconic locations, Slip Disc, a grungy joint owned by Ramzan Patel with a five rupee entry fee that hosted Jimmy Page and Robert Plant's impromptu gig in 1972.
Sidharth Bhatia chronicled this era of music and culture in great detail in his book, India Psychedelic - The Story of a Rocking Generation, at one point describing a typical seventies nightclub: "The mood used to be dark and often smoky and the strobe lights and high-decibel music added to the atmosphere. Lots of people dancing and swaying on the small floor and occasionally, go-go girls on the stage dancing to the rhythm of the loud music. You could go dancing to the poshest clubs if you were a member or just shell out Rs. 5 entry charge and walk into a grungy disco. It was fun."
Since all these venues were restaurants, bars and cafes, their capacity catered only to smaller gigs, and not concert crowds. But Mumbai's Shanmukhananda Auditorium in Sion became the city's rock music hub with a capacity of 2,763 at the heart of conservative Tamil land. Available only for morning concerts, rock music lovers would line up at 10 am to experience the musical revolution of India's young psychedelic rock performers. This venue also featured as the base for Simla's 'Battle of the Bands' final round.
Simla menthol cigarettes and Battle of the Bands
As India's rock revolution was still young and green, commercial support favoured more popular genres like Western jazz or Hindustani classical, and the psychedelic beat generation was reserved for a smaller scale. Madras, which was the hub of the burgeoning rock movement in India, found a space to express their new musical journey in the small halls of Loyola and Madras Christian College. This was the way the cookie crumbled until an unexpected source funded India's sixties rock revolution and raised the bar, in a manner most similar to how today's independent music scene is in cohorts with big brands right from Levi's to Redbull.
Looking for a new way to promote its menthol cigarettes to the youth, Imperial Tobacco Company's (now ITC Ltd) Simla brand turned out to be one of the best things that ever happened to Indian psychedelic rock. With the growing trend of these beats in India, it was only a matter of time before it gained large-scaled commercial support, and Simla promptly claimed that spot. Giving upcoming, young rock bands their first formal platform in India, this brand organised a nation-wide psychedelic rock concert known as the Battle of the Bands. The greatest, most talented rock-inspired garage bands of the early '70s shredded guitars and blasted amplifiers round after round, and the psychedelic beat generation finally had a large enough home.
Young bands were invited to leave their garages and perform, for the first time, in front of a large, roaring audience. With its final round culminating in a massive psychedelic and garage-rock concert competition at the Shanmukhananda Auditorium, those victorious went to Calcutta to record their songs for Simla Beat - a compilation vinyl record released in 1970 and 71. Confusions, Great Bear, The Fentones, Frustrations Amalgamated and other young Indian bands exploring psychedelic rock were featured, and even though most of them are defunct today, their music lives on in the Simla Beat compilations.
The Junior Statesman recording rock history
From 1968 to 1972, Simla gave India's psychedelic rock a platform to stand on, and apart from giving young bands an avenue of expression, this movement had larger musical implications. It inspired film composer brothers Kalyanji Anandji, and Indian maestro R. D. Burman, to explore the beats of psychedelic rock whose ghost notes can be heard still in recordings of Bollywood's 70s music.
While psychedelia lovers everywhere can thank the Battle of the Beats contest for giving India's rock bands a stage, another round of appreciation should be extended to Junior Statesman (JS) - the country's first youth magazine that spread the word about this music revolution. As the only publication to record Led Zeppelin's unexpected gig in 1972, this now defunct JS magazine represents a vital piece in this historical jigsaw of India's psychedelic rock revolution.
The journey of this unlikely soundscape is a fascinating one no doubt, while the factors that contributed to its progress are as random and bizarre as they are captivating. A menthol cigarette company, an impromptu Led Zeppelin performance, the smoky rooms of India's underground psychedelic rock hubs--all the surprising elements that needed to come together in the right proportions to channel this country's great psychedelic rock dynamic. As rock-lovers in the 21st century, we're forever indebted.
[A large part of the research for this article leads back to Sidharth Bhatia's, book 'India Psychedelic - The Story of a Rocking Generation.' You can purchase a copy of the book here if you're interested in reading more on this subject. And here's our interview with the author himself.]

If you liked this article we suggest you read:
The Big, Bad Grandads Of Indian Rock N' Roll
When Parsi Aunties Hosted One Of Mumbai's First Foreign Rock Concerts