We believe you're familiar with our fascination for people who manage to put stability in a corner as they ravenously chase their dreams. There's something visceral about that turning point, or the final catalyst towards that turning point, which sees perfectly reasonable people take such an unexpected risk that resonates with what we love about the human experience—it's entirely unpredictable. And make no mistake, there is an inherent risk in going against all the priorities and life goals you've ever been wired to have, middle fingers in the air, because there's no place for mediocrity. Still, despite all the obvious reasons people don't quit their nine-to-fives to pursue their passions, there have never been more people doing it in India.
We've profiled young Indians who chose their dreams over stability and those who dropped out of college to be entrepreneurs. This time, however, we refined the search a little bit to profile people whose dreams lie in a very specific and delicious space—food. India's culinary scene being at the burgeoning inflection point that it is, people like these fifteen have contributed hugely to it and we're thrilled to be giving a platform to those who are improving our chances of eating more and eating better.
Without further ado, here they are. People who ditched the stability of (often) soulless professions to pursue the life of their dreams, in food.
Scroll on.
I. Aditya Shah | Honest. Adventurous. Creative
Co-owner, Juno's Pizza
Thirty-one-year-old Aditya Shah studied creative writing at USC, Los Angeles and has worked in manufacturing, advertising, screenwriting, films and at a bunch of forgettable desk jobs before realising that food is his calling. A 'Bombay boy' through and through, he started Juno's Pizza with his school friend Neil Bastani.
"One of the nicest things about life is the way we must regularly stop whatever it is we are doing and devote our attention to eating." - Luciano Pavarotti
Why he switched careers: "I don't like routine or sitting on the same desk everyday. But, I enjoy putting a smile on people's faces and great food is one way to do that. One day, my brother (whose nickname is Juno) came up with the idea to sell our grandma's pizzas. So I quit corporate life, and decided to start my own pizza place with my school friend Neil Bastani. We started from my aunt's empty apartment in Kemp's Corner. Occasionally, we even 'borrowed' my dad's Audi for delivery when our bikes were busy. It's been quite a trip since then—and we've added many more bikes and grown to six outlets now."
On what he's doing now, and what he loves most about it: "I'm focussing on growing Juno's Pizza and helping my employees improve their lives. I love it when I meet a customer and they tell me that they enjoyed eating my pizzas. For me, good food tastes good. But great food tastes good and is nutritious, too. That's what I've tried to do: not only make good pizzas, but make them healthy, too. We make a limited batch of our sauce and dough fresh everyday using my grandma's recipe with no added chemicals or artificial flavours."
One dish he can't live without: "Pizza!"
Follow Juno's Pizza: Facebook
II. Aishwarya Menon | Organised. Experimental. Persistent.
Founder, The Chicken Story
Twenty-eight-year-old Aishwarya Menon is a trained pilot (DGCA license holder) and has completed her BSc in Aviation. Though she enjoyed flying, it didn't interest her as a career. She went on to work at a market research startup for two years and this is where she learned and developed an interest in having her own business.
"How you eat is how you live" - Geneen Roth
Why she switched careers: "Nothing else makes me happy. I love food and I wanted to create something of my own—something tangible that inspired me. So, I mustered the courage to quit my marketing job. I've been cooking since a very young age and I love experimenting with food at home. I got my first cookbook at the age of seven. Food was always a passion, so it was the obvious path forward."
On what she's doing now, and what she loves most about it: "I'm in the process of setting up a home delivery business called The Chicken Story in Powai. It's a concept-based business where we do the best of chicken from around the world. I love that my concept has no limitations in terms of cuisine and menu style. We have put together what we feel is the best in chicken right from butter chicken to chicken cordon bleu, chicken schnitzel and even Keralan chicken curry."
One dish she can't live without: "My mom's chicken stew and appam."
Follow The Chicken Story: Facebook | Twitter | Instagram
III. Amrita Kaur | Crazy, Food Obsessed, Chirpy
Founder, Life Ki Recipe
Twenty-nine-year-old Amrita Kaur is a food blogger, home chef, food stylist, culinary trainer, YouTuber and the creator of OMG Bacon Jam. Fondly known as the Bacon Jam Lady and Lady KhaKha, she's also a food stylist and has styled food for restaurants such as Indigo, Kala Ghoda Cafe, Di Napoli, Busaba and Sassy Spoon, amongst others.
"Life itself is the proper binge!" - Julia Child
Why she switched careers: "I was a journalist for a year and a RJ for almost five years. It was a fun job but like any other corporate job, I had to give 10-12 hours everyday—plus we'd always work extra during national holidays and festivals. I had a morning show for the longest time, which meant leaving the house at 5:30 am and reaching home only after the sun had set. I wanted to do more. Talking every single day about Bollywood celebrities didn't excite me anymore. I took half a year off and took up freelance work. That's when my love for food started. I began writing a blog, and exploring new dishes became my favourite thing to do. I got back into radio in Delhi (for the love of good food there). I can't even count the number of times I visited Old Delhi for kebabs—this is where it all started. First, the blog, Life Ki Recipe in April 2011. Then, the cooking workshops in June 2012 and finally, I launched my signature OMG Bacon Jam in April 2013. I've never looked back since then. My food styling assignments and YouTube videos followed thereafter."
On what she's doing now, and what she loves most about it: "I love how food connects people. How food is an emotion that can completely lift your spirit. I connect to people when they open my jar back in their homes. I love the smile when they eat something I have made. Food gives me so much joy—and I have made my love for it public. Earlier this year, I wrote an open love letter to food, and two weeks ago, I got a pizza and bacon tattoo on my wrist. That's how much I love food!"
One dish she can't live without: "Parathas. I have grown up eating them everyday in my Punjabi house. I'm also tempted to say bacon."
Follow Life Ki Recipe: Facebook | Twitter | Instagram | YouTube
IV. Gauri Devidayal | Perfectionist. Chocolate fiend
Co-owner, The Table restaurant
Thirty-four-year-old Gauri Devidayal grew up in Mumbai and then went to university in London to study law. She is also a qualified chartered accountant. After spending nine years in the tax world, she quit her job to join her husband, Jay Yousuf, in opening a restaurant in Mumbai called The Table.
"A way to a person's heart is through their stomach." - Fanny Fern
Why she switched careers: "While the restaurant was initially my husband's idea (he had just returned to India after 15 years in San Francisco and wanted to bring something from the food culture there back home), I too saw the commercial sense of opening another stand-alone restaurant in the city given the dining scene that existed six years ago. It was a difficult decision because I'm not an entrepreneur by nature. But at the end of the day, it was just too tempting and exciting an adventure to miss out on."
On what she's doing now, and what she loves most about it: "I manage the day to day operations of The Table, which essentially means everything from service operations and accounting, to finance, payroll, HR, marketing, licensing and anything else—with the exception of the kitchen, which is wholly managed by our Executive Chef, Alex Sanchez.
One dish she can't live without: "I always hate being asked this question! Rather than a dish, I'll pick a cuisine—Japanese."
Follow The Table: Facebook | Twitter | Instagram
V. Gauthami Shankar | Passionate. Smart. Perfectionist.
Co-owner, The Spitfire BBQ Truck and Baker Needs
Twenty-one-year-old Gauthami Shankar is a BHM graduate from Christ Univerity, Bangalore, where she specialised in bakery science and pastry arts. She is also the co-founder of The Spitfire BBQ Truck and Baker Needs, a one-stop shop for baking supplies.
'"A party without a cake is just a meeting" - Julia Child
Why she switched careers: "Well, after my internship with the ITC Gardenia, I pretty much realised I didn't fit into the nine-to-five schedule. So any job which required me to follow rules and be under a boss was pretty much out of the question. Apart from being with The Spitfire BBQ Truck and Baker Needs, I'm looking at having my own Paris-inspired bakery and cafe soon."
On what she's doing now, and what she loves most about it: "Currently working alongside two of the best men in my life, my dad and my soon-to-be husband. I love that I can experiment and bring out the skills I have, and at the end of the day it's putting that smile on faces with good food that makes me happy."
One dish she can't live without: "A simple but elegant creme brûlée—and the best of food which momma makes!"
Follow The Spitfire BBQ Truck: Facebook
VI. Hitesh Bhatia | Hungry. Passionate. Entrepreneur.
Founder, Noodle Play
Thirty-five-year-old Hitesh Bhatia comes armed with a deep yearning for success, a thirst for life, and a ravenous gluttony for everything that is food related. He is a serial entrepreneur and the founder of Noodle Play, India's uniquely 'Chindian' food delivery startup. Bhatia is a hotel management graduate with an MBA in International Business from Symbiosis, and he has been in the food scene for a decade.
"When in doubt, eat Chole Bhature"
Why he switched careers: "The hunger to serve! All my life I've cooked and the joy of seeing people happy with what I served them made me decide it was time to quit everything and enter the food business."
On what he's doing now, and what he loves most about it: "We are creating the country's largest Chinese food chain. What I love most is the voice of a happy customer."
One dish he can't live without: "Gobi ke parothe."
Follow Noodle Play: Facebook | Twitter
VII. Javed Murad | Focussed. Restless. Nocturnal
Founder, The White Owl Brewery & Bistro
Thirty-three-year-old Javed Murad studied at the Harvard Business School and holds an MBA in General Management and a B.A. in Mathematics & Economics. He moved back to Mumbai and started The White Owl.
"Life is uncertain. Eat dessert first." - Ernestine Ulmer
Why he switched careers: "While in grad school in Boston, I was exposed to some excellent craft beer for the first time and it soon became a product that I took for granted (especially given its widespread availability). In New York, I had a Whole Foods Tap Room in the basement of my building and would take my growler down on a Saturday afternoon, decide which of the many fresh craft brews I'd want to enjoy over the weekend and then polish it all off with friends on a roof deck or in a park. It was simple and fun. Naturally, when back in Bombay on holidays, I quickly noticed the complete absence of craft beer as a product category. Fast forward a few years and we now have White Owl Brewery, one of the few companies across the country that aims to bring top notch craft beer to the Indian customer, one small step at a time."
On what he's doing now, and what he loves most about it: "We currently make craft beer in small batches at White Owl Brewery that gives us a lot of flexibility to experiment and innovate. Even though we typically have five to six styles of White Owl Beer on tap at any given time, we have brewed over 15 different types of craft beer over the last year to understand the sweet spot of our average patron better. We also bring out the occasional experimental brew. For example, last year, we brewed Bumble, a honey pale ale, and Elf, a spiced pumpkin ale. This year, for Oktoberfest, we're gearing up to be bit more traditional with a very delicate Munich lager called Outlander. Additionally, over the last 4 months, we have formed partnerships with over 20 top-notch restaurant and bars across Mumbai to serve White Owl Beer on tap and have many more in the pipeline. So, things are busy. But a lot of fun. I love what I do."
One dish he can't live without: Dark Chocolate Fondant
Follow The White Owl: Facebook | Twitter | Instagram
VIII. Jeevika Tyagi | Lovable. Energetic. Reliable.
Co-founder, Stappu
Twenty-six-year-old Delhite Jeevika Tyagi studied finance and marketing at Philadelphia's Drexel University and also holds a degree in British Architecture. It was when she moved to New York after graduating that she was inspired to do something in the field of arts. She quit her investment banking job in NYC and moved to India. After working with a few startups, she launched Stappu in June 2015.
"Good food is good mood."
Why she switched careers: "I realised that there was a dearth of options for people who are inventors and entrepreneurs, or those have a massive amount of talent in them. It was a lot easier to have a real career if you were a doctor or engineer in this country. There was very little being done in the field of arts."
On what she's doing now, and what she loves most about it: "I now run Stappu with my co-founder Kanika Khosla, who is also the creative mind behind the brand. We catalogue the origin stories of each purchase through artist stories, photos and videos. We launched in June 2015 with its our first category, Culinary. We also recently won the Amazon Weekend Ventures startup competition. What I love the most is the fact that my co-founder and I wake up to something of our own every day. It's different. Walking into your own space everyday and doing things that you like—you can't beat that. Stappu itself is born out of the thought 'do what you love and we will find ways to support you'."
One dish she can't live without: "There is nothing like a good thin-crust pizza. I'm also a huge fan of dessert."

Follow Stappu: Facebook | Twitter | Instagram | YouTube
IX. Nikhil Sachdev | Creative. Curious. Ambitious
Co-founder, Wok This Way and The Playlist Pizzeria
Thirty-five-year-old Nikhil Sachdev is a young entrepreneur who has achieved success in the logistics and real estate industry. Having owned and successfully sold two logistics companies that operate in seven countries, Nikhil is a strongly established international business figure in places like Singapore, London, Jakarta, Seoul, Honk Kong, Tokyo and Chicago. He is now expanding his startup portfolio by working on various other successful ventures within the food & sports industry, with his current successful project of five-a-side football pitches based in South Mumbai.
"People who love to eat, are always the best people." - Julia Child
Why he switched careers: "Having a background in logistics and in the industry for over a decade, the need to innovate and do something of my own has always been within me. After launching a few projects within the logistics and sports industries, my passion for food and music led me in this direction. There was a need as well as an opportunity there for creating a brand that stands out from the crowd—and it was led by a belief that any business done with the right intentions and passion can be successful."
On what he's doing now, and what he loves most about it: "Currently, I am involved in two startups: one within the sports space and one within the hospitality casual dining space. What I love most about it is the fact that you can see see results almost daily of the hard work put in by our entire team. When working as part of a startup, the opportunities to learn from our mistakes is something that will always remain relevant in anything I do, and what I love most is the satisfaction I get in dealing with and overcoming challenges thrown at me."
One dish he can't live without: "A bit boring, but good old rajma chawal."
Follow Wok This Way: Facebook | Twitter | Instagram
Follow The Playlist Pizzeria: Facebook | Twitter | Instagram
X. Paresh Chhabria | Happy. Loyal. Hungry
Co-Owner, Small Fry Co; Partner, Between Breads
Twenty-seven-year-old Paresh Chhabria graduated with a Bachelor of Management Studies (BMS) degree and is happily vocal about the fact that he has no training in the F&B segment.
"I really feel: If you can put it Between Breads, it's definitely going to be awesome."
Why he switched careers: "After college I had no Idea what my calling was. So I decided to try everything that came my way: I worked as a door-to-door salesman, did time at at a call centre, pursued theatre (an earlier passion), and flew as cabin crew with Kingfisher Airlines. After the airline shut down, I sat at home for three months. That was when I realised that the thing I was most passionate about was food. So I decided to give it a shot. In six months, Between Breads was born. A year later, I joined Small Fry Co. as a partner and rediscovered my love for food. Assisting great cooks in setting up a business of their own became an important part of the agenda. I felt like I was giving back to the community—and the feeling was great. We have been curating experiences ever since."
On what he's doing now, and what he loves most about it: "I'm a partner at Between Breads and a co-owner at Small Fry Co. I love how I'm always surrounded by so much food. It lets me explore my culinary likes and dislikes to an extent I had never imagined. Good food is created by great human beings—and because of all the great food around me I have had the chance to meet some absolutely amazing people."
One dish he can't live without: "Soft garlic bread with lots of butter."
Follow Small Fry Co.: Facebook | Twitter
XI. Raj Barai | Entrepreneur. Ambitious. Adventurous
Director, Atlas Hospitality; Co-founder, Wok This Way and The Playlist Pizzeria
Thirty-five-year-old Raj Barai holds a Bachelor of Science in Computer Technology from Purdue University. He's worked at Thomson Reuters in New York and Mumbai, and founded a document storage solution company called Progressive Record Management. Presently he's a director at Atlas Hospitality and a co-founder of two restaurants.
"To experience the culture of a city, its most important to experience it's street food first."
Why he switched careers: "Food is something that I've always been passionate about. While living in New York, one of my favourite things to do was to try as many different cuisines and find those quietly famous restaurants that were unheard of. At that time, there weren't many food discovery tools like Urban Spoon or Open Table. So we would go about hunting for new places to eat and discover good food the old fashioned way—trial and error and word of mouth. Being a vegetarian, the discovery of good food was quite like finding treasure (though NYC is a very vegetarian-friendly city). That experience made me want to be part of the food industry and bring new cuisines and food trends to India. Nikhil and I had the pleasure of meeting Chef Rakesh Talwar (our third partner), who in many ways enhanced our thinking about the food industry. We decided to pursue this passion with him."
On what he's doing now, and what he loves most about it: "Currently, we have set up two brands, Wok This Way and The Playlist Pizzeria. We love the fact the we are giving the consumer complete freedom in both places—the option of 'Make Your Own', which allows the customer to experiment with food. I also love the fact that the Playlist Pizzeria is a music themed Pizzeria where good music is part of the good food experience. We are also giving back to the music community that we were a part of by giving to charity, teaching music to underprivileged children and also supporting local musicians on our packaging.
One dish he can't live without: "I have to name two. It's the bare minimum: pizza and pav bhaji, the staple diet of every New Yorker and Mumbaikar."
Follow Wok This Way: Facebook | Twitter | Instagram
Follow The Playlist Pizzeria: Facebook | Twitter | Instagram
XII. Rushina Munshaw Ghildiyal | Passionate. Driven. Unique
Owner, A Perfect Bite Consulting and APB Cook Studio
Forty-year-old Rushina Munshaw Ghildiyal studied arts and then went to animation school. She's been an operations executive, a copywriter, an illustrator, a product specialist and even a candle maker. Today, she's a food consultant, gastronomy writer and consultant, and a columnist author who owns and runs A Perfect Bite Consulting and APB Cook Studio.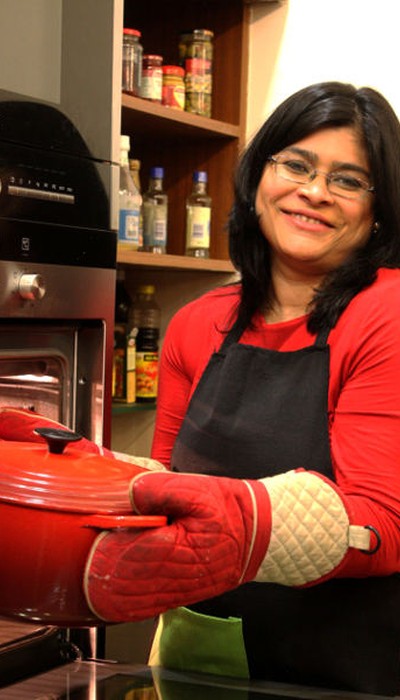 "Every cook is a condiment in themselves. You are the essential ingredient in your cooking!"
Why she switched careers: "In 2002, I took a sabbatical to have my first baby. Food found me more than I found it. And initially I went where it took me. But then I realised that there was a huge gap in the food industry between product companies and actual consumers. It was a space I realised I could fill with my skill set and experience—coupled with being a woman, wife, and mother who ran a home and kitchen, like most of the women brands were trying to reach out to.
On what she's doing now, and what she loves most about it: "My studio turned three this year and my company turned 8. I love it all. It has been a delicious journey so far, with every stage being one of natural evolution. I have also had to learn on the job—blogging, accounting, and marketing. And it has not been easy. It seldom is when one decides to take the road less traveled. Every turn and every project brings new challenges. I enjoy every role I have ever played and I hope it continues this way, because when the time comes to look back on it all, I don't want to regret a thing."
One dish she can't live without: "Noodle soup."
Follow A Perfect Bite: Facebook | Twitter
XIII. Siddhanth Sawkar | Sexy. Smart. Raw.
Co-owner, The Spitfire BBQ Truck
Twenty-four-year-old Siddhanth Sawkar is the genius behind one of Bangalore's most popular food trucks—The Spitfire BBQ Truck. He's been in love with barbecue since he was a child, and recalls fond memories of his parents tossing some delicious meat on the grill in his childhood homes of Chennai and Singapore. His goal is to see Spitfire go global.
"#itsnosintogetsauceonyourchin" - The Spitfire BBQ Truck
Why he switched careers: "I think the time had come for me to make a few changes in my life and be my own employer. Doing something ordinary wasn't an option—I wanted to make a name for myself. That's easier said than done. I know for a fact I have been lucky to have a small but fantastic team who know their shit."
On what he's doing now, and what he loves most about it: "Right now, on a personal level, I want to settle down in life with my woman and retire by the time I turn 35 so that we can run around the world. Professionally, we are working on new concepts and making sure that we are the best in the business."
One dish he can't live without: "Two dishes, actually: tiramisu and thin-crust pizza."
Follow The Spitfire BBQ Truck: Facebook
XIV. Simran Vaswani | Happy-Go-Lucky.
Thirty-two-year-old Simran Vaswani set up her own home catering business when she realised that there's a huge, untapped market out there for making nutritious food for children. She noticed that most of the food being served at children's parties was unhealthy and decided to occupy this niche. Not only is her food delicious and pretty to look at, it's also healthy. She mostly does regional Indian food and continental cuisine. One of her most popular items are her tart shells with a variety of fillings
Why she switched careers: "I'm a born foodie, but I initially chose fashion as my career since it is our family business. However, I soon discovered that found more peace in the kitchen than in the factory. Before long, recipes began to fly through my head. I believe good food brings happiness and that 's what keeps me going."
On what she's doing now, and what she loves most about it: "Making healthy food is what I love most. I love working on recipes spanning all cuisines My special interest is on food for kids and mums that is not only nutritious but also tastes good at the same time. To make good food you need to use good quality ingredients in the right proportions. I feel there is no need to over do some thing in order to make it look culinary—it's about balancing the taste rather than complicating it.
One dish she can't live without: Dal and rice
"Good food brings happiness"
XV. Sunder Aaron | Purpose. Direction. Momentum.
Founder of quick service restaurants Chicken Man and Pizza Mia
Sunder Aaron was born in India and raised in USA. He moved back to India and began working with Sony Television in 2002. In 2013, he moved to Goa to explore the quick service restaurant concept.
'Too many cooks in the kitchen spoil the broth." - Old English idiom
Why he switched careers: "I had a strong desire to own scalable businesses that would leverage the whole market. I always thought that the QSR industry showed great promise for aggressive growth for the next several decades. I had concepts for QSRs, which I thought, if executed with aplomb, could give us a good chance to grow quickly."
On what he's doing now, and what he loves most about it: "Operating two new QSR concepts which are being incubated in Panjim—Chicken Man and Pizza Mia. I enjoy building businesses up businesses that I have ownership in and authority over up from scratch. There's a lot of risk and the odds are still against us, despite the successful launches we have had. However, that uncertainty is the price for the great freedom that I have."
One dish he can't live without: "Chicken Man's Crispy Cluck."
Follow Chicken Man: Facebook | Twitter
Compiled by Neville Bhandara