Mumbai's cheap and cheerful bar and restaurants await your patronage, their thresholds lined with invitingly low prices. They usually have a little more character too, but that really depends on how you see things. While it may not be plainly obvious to everyone, which places we speak of, don't feel too bad. Most locals rarely want to share the joys of these hidden gems for fear of them becoming inundated with far too many people, all the time. Let's call it the hipster apocalypse then?

For all those looking for a reasonably-priced night out, we've compiled a list of 15 cheap bars across the city, from Colaba to Versova, that are safe to visit, easy on the wallet, and have something interesting to offer. While a few things will be consistent, like each of them have a paan-beedi shop right outside, some of them have more to offer, like 90s Bollywood tracks ringing out of a classic jukebox, or bowls of fresh pop-corn to accompany your drink. Some are definitely better known, even rites of passage for a true-blooded Bombay kid, but we can guarantee there are more than a few you never knew about.
I. Alps, Colaba
Since 1974, adorned with a big, bright red sign, the age-old joint Alps has been flipping fresh burgers and pouring chilled beer for about 40 years now. With tourists, students and locals filing in alike, this waterhole is a much-loved Colaba classic, one tied to Mumbai's history, but still working to adapt to its present.
HG loves: Since 2017 breeds digital junkies, it's good to note that Alps is WiFi enabled.
II. Amrapali, Fort

Seated in the middle of South Mumbai's Fort area is a haven for all hard liquor admirers. And the best part? It's easy on your wallet, so raise a reasonably priced drink and toast your friends, because this place is perfect for a big group.
HG loves: While the mezzanine AC section hosts regular table-chair arrangements, the ground floor has bench seating that adds a certain old-school charm.
III. Asiad, Vile Parle
Ask any student in the area of Vile Parle where to get a reasonably priced drink, and immediately you will be pointed towards Asiad. With North Indian, South Indian and Chinese dishes on the menu, their quarter system makes eating and drinking cheap and cheerful. Note that smoking is permitted inside, even in the AC section. And the Chinese Manchurian is as delicious as it is coveted.
HG loves: If you're a regular at Asiad, you will be given a discount, so just smile and wave, and hope they remember you.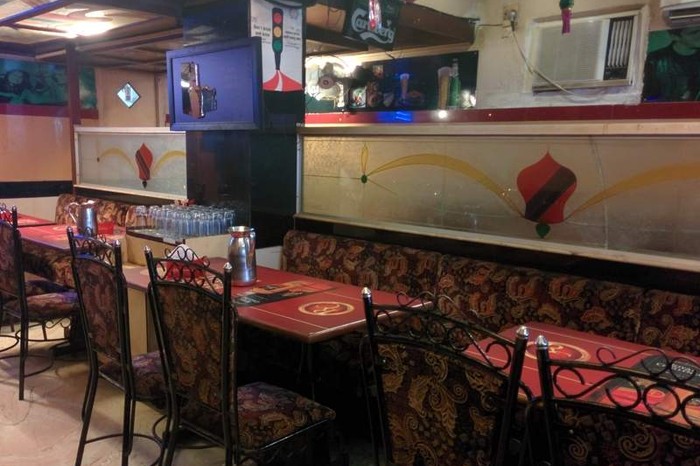 IV. Bottles, Versova
Sitting next to 7 Bungalow's Bon Bon, Bottles is a great option for a night out with friends that you're hoping isn't too hard on your wallet. Standard wooden benches and tables are accompanied by Indian food, snacks and cheap liquor. And beer lovers can rejoice, because Bottles serves pitchers.
HG loves: Very close to Versova metro station, this place is extra easy to access--not something you can say about most of the city's bars.
V. Cafe Oval, Churchgate
Overlooking the green lawns of Oval maidan at Churchgate sits this old, small establishment. As a haven for cheap beer and quick snacks, Cafe Oval is decorated with a spiral staircase and a sign nailed to its wall that states 'we serve to all castes'. Dating back to 1934, this Cafe is practically an institution, and most of the staff has been working there for the last 15 years.
HG loves: The nine-item menu makes ordering a simple task, and the beer is cheap, cheap, cheap.
VI. Fountain Inn, Fort
Playing a dual role, Fountain Inn acts as a regular, cheap seafood restaurant for families, as well as a hub for cheap drinks in one of Horniman Circle's inner lanes. With a fish tank in the corner and instrumental tracks of old Bollywood songs playing softly in the background, this quiet restaurant and bar is perfect for a few drinks with friends on a weekday night.
HG loves: The fried fish is truly to die for, and the perfect accompanied to a chilled glass of beer.
VII. Gokul, Colaba
Scream the name Gokul in the middle of almost any college in Mumbai and you will be met with a unanimous chorus of approval. Students gallore, amongst others of others, flock to this cheap bar located in the heart of Colaba. Several different AC and non-AC sections greet you, including a whole separate quarter-system room. So gear up, it's usually crowded, but worth it.
HG loves: If the delicious chicken roll inside is not sufficient, right across from Gokul is Mumbai's famous Bademiya's.
VIII. Janata Lunch Home, Bandra
Placed squarely at Bandra's Pali Naka, Janata is one of the most popular cheap watering holes in the city, especially for surburbians. In fact, some of these might even be considered a rite of passage. With three sections in total, all of them full most of the time, whether it's Saturday night or Tuesday afternoon, befriending the waiters will go a long way in securing a table.
HG loves: All seafood lovers, trust us. You can't go wrong with the fried Bombay duck. Also, if you're stranded in Bandra looking to buy a bottle after hours, Janata is your best friend.
IX. Kit Kat, Marine Lines
Established by the same owners of its sister bar Sunlight, Kit Kat is a classic, cheap watering hole with a downstairs non-AC section and upstairs AC room. They'll even let you smoke upstairs while you sip your cheap drink, munch on snacks and listen to the previous century's Bollywood hits.
HG loves: Kit Kat truly understands our needs, because alongside your glass, you can order a bowl of fresh, buttery pop-corn. It truly doesn't get better than that.
X. PJ Club, Bandra West
While most gymkhana-esque clubs in Mumbai are exclusive and reserved for members, PJ club is a little different. At PJ's, anyone and everyone is welcome, that is, granted that they're wearing closed shoes and full-length pants. Because some rules never change.
HG loves: Checkered tablecloths and gymkhana alcohol prices? Not too shabby at all.
XI. Sunlight, Marine Lines
As Kit Kat's sister establishment, Sunlight is a small but equally popular cheap bar with a downstairs non-AC section and upstairs AC room. On any given day, afternoon or night, weekday or weekend, Sunlight always has customers lining up, college students and local patrons alike.
HG loves: While most people might be drawn to the tempting cool air of the upstairs AC section, the downstairs is adorned with a beautiful jukebox hosting the songs of Elvis, Guns and Roses, Sholay, R D Burman and everything in between. So, choose wisely.
XII. S Square (S2) Restobar, near Sterling, CST

As regular patrons bend over one of S2's six long pool tables, free cheese-lings and peanuts circulate across each group. Located right next to Mumbai's popular theatre Sterling, students and young professionals flock to the two-floored haunt to sip cheap beer and knock around that cue ball.
HG loves: S2 (pronounced S Square) has a practically all-day happy hour. Yeah, we're sold.
XIII. Vihar, Churchgate
During the day, this South Indian food joint seems like just that, with swarms of college student patrons filling up tables in the daylight. But, when the clock strikes 5pm, there's a whole new atmosphere with Mantralaya clerks pouring in for a cheap drink.
HG loves: Most regular patrons would attest to the fact that Vihar doesn't believe in plastering fake smiles across their faces, and with true-blood, straight shooting staff serving with, will, a frown, Vihar is truly an experience. Also, did we mention the cheap drinks?
XIV. Vithal's Vegetarian Family Restaurant and Bar, near Sterling, CST
With happy hours from 6pm to 9pm, Vithal's draws out Mumbai's vegetarians for their amazing snacks, and the city's light-walleted drinkers for cheap liquor. From peanuts to sliced carrots and cucmber, papad to methipakodas and more, veg quick bites are abundant here.
HG loves: Vithal's quarter system is a gift to all, because that's just good sense and if you're going to drink, you might as well do it right.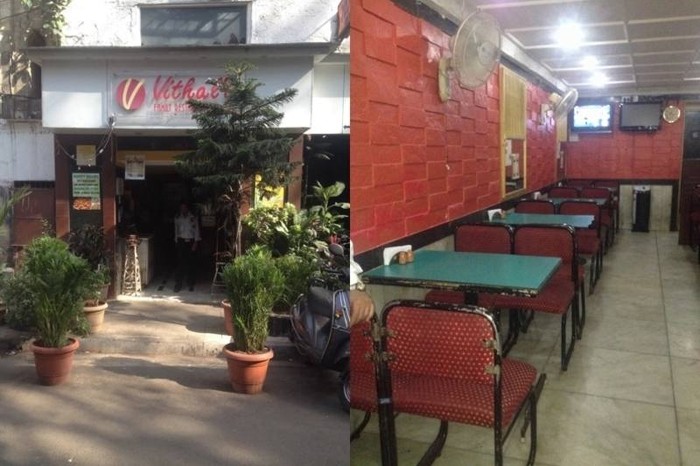 XV. Yacht Club, Bandra West
Right across from Bandra's St. Andrew's Church is a small, dark neighbourhood haunt known as Yacht. Frequented by locals and students looking for a cheap drinking option, this dingy-seeming watering hole has an outside section as well as an inside room, so space is usually an easy task. Moreover, it's the worst kept secret of just about every regular who goes there.
HG loves: Order any dish on the menu that includes the word pao, and trust us, you won't be disappointed.
It might seem a little dingy, but the drinks are cheap, cheap, cheap. Check out more details here.
If you liked this article, we suggest you read:
Mumbai Wine Lovers, Here Are 10 Places To Drink More For Less
Take Cocktails Home With The Daily's New Bartender In A Bottle Service
These 6 Personalised Old Monk Cocktails Will Shake Up Your Weekend Plans