Meat treats are the new sweet treats, and there's a little Worli haunt that's backing the trend whole-heartedly.

The World Health Org. recently ran a study on the ill-effects of processed meat, and has now placed it in the same category as plutonium, asbestos and tobacco in the cancer-causing scale. Not exactly the best news after all that Christmas pigging out you did, we imagine, but in truth, there's little evidence to suggest that Red Meat is any more harmful than all the other things we eat. Over consumption of processed meats definitely has a huge part to play in bowel cancer, yes, but the occasional indulgence in a bacon sandwich will do next to no harm because what it all comes down to is that age-old truth--eat whatever you like, in moderation. Keeping that somewhat better-balanced resolution than we're used to in mind, we set out to chronicle one particularly well-kept secret in the meat-lover's community. Kaviraj Thadani's KAVO is dispelling all notions that expensive exported products are the only way to access good quality processed meat. Instead, he's become a one-man army, dedicated to the art of making quality meat products right here in the heart of the city. And he's definitely doing it right.
A sweet beginning makes for a meat(y) middle
Food was always a moving force in Kaviraj's life. When he was just 11, he partook in a Brownie show by Rashmi Uday Singh - one of India's leading Food authors and carrying the positive response he received early on with him, he went on to enroll in extra classes that involved food but no credits, even starting to host home dinners. He later studied at Les Roches, Switzerland and worked with the Movenpick group of hotels, further cementing his experience in the food world by working with the Leela Group.
Then came the Cool Chef Delivery Service, which later escalated to a restaurant called Cool Chef Cafe in Worli, a joint most young city-dwellers with a penchant for underground music are more than familiar with. Things started off brightly enough until every restaurant that served alcohol faced police problems under the Dhoble regime. Between that and several other issues that popped up along the way, Cool Chef Cafe was short lived, even leaving a bad taste in some people's mouths. Still, thanks to its unconventional location and the legendary parties that went down in its midst, it left a lasting legacy on the city. One that remains despite the lovely Cafe Nemo that currently runs out of the same space, that is still owned by the Thadani family. But letting bygones be bygones, Kaviraj has clearly found his calling through all of the mania, and it's leaving a much better taste in everyone's mouths.
KAVO by Cool Chef
After working across the food industry spectrum, KAVO is the first project Kaviraj started entirely for himself. He wanted to work on something he was truly passionate about and yearned for--good quality, handmade, artisanal sausages and bacon. He claims that there is not much formal education available in sausage-making and butchery and thus, he's largely self-taught. In 2014, he set up a small production line with imported machinery and waited patiently to get his license, which is always an issue. He even built his own smoke pit out of oven bricks and fruit wood but Kaviraj believes that once things start rolling, this will be a much more stable business than owning a restaurant. "Even the profit margins are better," he grins. Since most of the country is vegetarian and the vast Muslim population does not usually indulge in Pork, owing to their religious beliefs, not many people are going out of their way to provide international quality meat straight to the consumers but gourmet super-markets like Nature's Basket are fast changing the scenario. Also, having experienced it first hand, this is a smelly process, not for the faint hearted.
Makin' bacon takes patience and time
They ran through 50 Kgs of meat before figuring out which cuts work best for a particular product, especially since KAVO aimed to push the boundaries of sausage and bacon making in India to offer the most unique, high quality consumer experience.
"You have to keep in mind that the product will be cooled many times before reaching the consumer, and that the sausage will be reheated and cooked at another time. The level of moisture in the meat has to be maintained carefully to provide a good experience," he explains.

KAVO follows a long handmade process that starts with deboning the meat. For Bacon, the different cuts are then intensively cured with salt which acts as a natural preservative. The meat is later rubbed with a unique blend of spices to give every product its original falvour. These chunks of meat are then refrigerated in bags for a week. Every couple of days, the meat is checked on and turned so that the moisture is completely drained and the flavour settles in evenly. On the last day, the slabs of meat are removed from the bag to be cleaned, washed and dried before hanging them in the smoker. After smoking, the meat is cut into the bacon pieces we are used to seeing on our plate and packaged to be sent out to his loyal customers.
Sausage making is generally a much more complex process. The meat is minced and cured in a similar fashion to Bacon. Kaviraj likes to keep his mince a little chunkier than his competitors. The following day, a particular blend of spices and herbs are mixed into the mince, before putting it into the stuffer. Unlike most producers, Kaviraj uses sheep intestines to stuff the sausages as this results in the highest quality product. The mix is then tenderly linked by hand into the shapes we see on the shelves. Once linked, they are hung for a day to gain shape before either cooking or smoking them in the pit. It is essential that the sausage is cooked at a constant temperature that does not release the fat. Even though smoking results in a deeper flavour that partially eradicates the meaty smell of the sausage, some people prefer simple cooked sausages.


Creating a benchmark for others to achieve
Most producers use MDM or mechanically derived meat, and since Chicken is usually difficult to debone this usually means throwing the entire bird into the mincer which results in a pink gooey emulsification. This usually contains all the offal, intestines and bones. All of KAVO's products contain only meat, and are only preserved with salt, resulting in a healthier, meatier meal. "Most producers pump their Bacon with water", Kaviraj mentions, explaining that this is often done to make it look bigger on the shelf and it shrinks while cooking, resulting in an insipid dish. With KAVO, each product is tested with a group of close well-wishers and only fresh herbs and premium spices are used to flavour the meat. They also have his special personal touch to them, which only adds to the whole experience. Food, he says has always been hedonistic for him, a treat for all the senses. From when you first see the dish to how the flavours infiltrate your nostrils with happiness that only food could give, to the crack of the sausage and the smooth texture that enters your mouth to how it explodes in your mouth like it was meant to be, as Kaviraj makes his passions infinitely clear, one thing is for certain--there couldn't be a better man for this job.

Scroll on to view his bacon and sausage-making process in its entirety.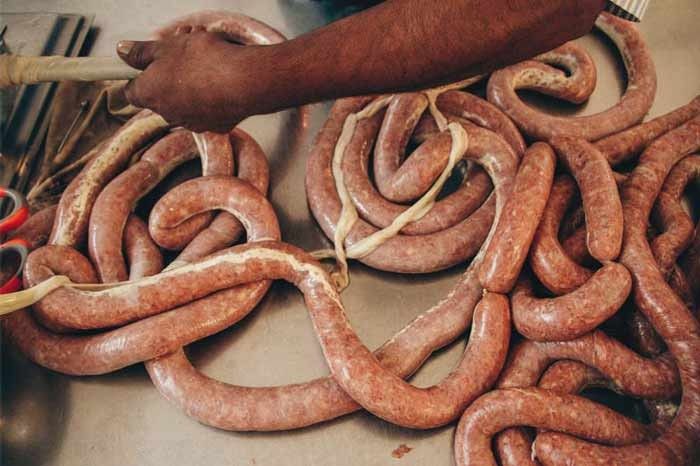 Want in on some of this goodness?
You can order online on Stappu or on Yummade. For personalised orders you can call KAVO at +91-9022668875 The English Breakfast Bacon and the Streaky Belly Bacon are available for Rs 280 (250gms), the X-tra Smoked Pork Sausage is for Rs 250 (250gms) and the Chicken Hot Dog sells for Rs 220 (250gms)
Photographs By Karan Khosla