"It is important that LGBTQ issues are seen as human rights issues. Families, colleagues, friends and straight allies have to come out in support in order to change mindsets on a larger scale. Only then can real change occur."
- Sridhar Rangayan
Sridhar Rangayan is an openly-gay filmmaker who has been at the forefront of India's battle for equal rights for the last 20 years. He has tirelessly worked, campaigned, and spoken for gay rights—and his films have become mainstays of queer Indian cinema.
His latest venture, Breaking Free, is drastically different from his previous work. In the film, Rangayan explores the ramifications of Section 377 and its invisible-yet-dominating presence that continues to haunt India's LGBTQ community. The film took seven years to complete and took Rangayan all over India as he attempted to document the human rights violations against LGBTQ Indians at the hands of society, the law, and the government.
Scroll down to read our Q&A with the man behind some of queer India's most iconic films.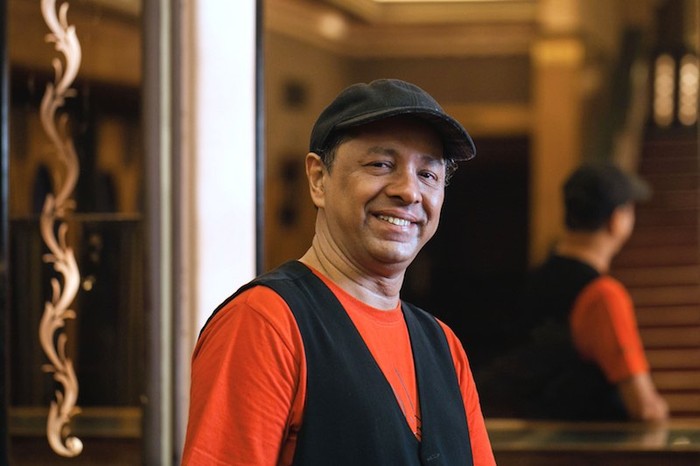 I. Tell us a little about yourself.
SR: "I left behind a successful career as a television writer and director, and jumped into independent filmmaking because I felt that we needed to tell our stories to the world. The Indian LGBTQ community needed a cinematic voice. So Saagar Gupta and I founded our production company Solaris Pictures, through which we have produced and co-produced several LGBTQ films like Gulabi Aaina, Yours Emotionally, 68 Pages, Purple Skies and Breaking Free. All of them have helped raise dialogue around social issues like HIV/AIDS and LGBTQ issues, both in India and internationally."

II. What about 'Breaking Free.' How did the idea for it come about?
SR: "I have been working for LGBTQ rights for over 20 years. Seven years ago, there was a horrible incident that shook me badly: the Bengaluru police undertook a drive to evict all hijras and transgenders from the city because the police and government felt that they were an 'evil influence' on society. Within two to three days, hundreds of hijras and transgenders were dragged out of their homes, arrested and locked up. Even activists who staged a protest were beaten up, molested and arrested. This caused an uproar and there was a press conference held in Mumbai at the Press Club in protest, as well as other incidents involving gays and lesbians. I went there to document the event and was extremely moved. One thing emerged clearly from the passionate speeches by the activists and Anand Grover (the senior counsel who was fighting the Section 377 case): the root cause of victimisation of LGBTQ community was Section 377 of the Indian Penal Code. I felt I needed to know more about Section 377 and that was the beginning of the journey of Breaking Free. I felt compelled to discover, uncover and highlight the issues around it.
Breaking Free has been a completion of a seven-year journey across India to document the human rights violations against LGBTQ persons at the hands of the law, society and government. The film is a testimonial to counter the Supreme Court and government's argument that Section 377 of the IPC has not affected anyone. The interviews in the film prove that the law has been used and misused repeatedly to target and victimise LGBTQs.
What is encouraging, as the film reveals, is that the LGBTQ community has risen out of the shadows, and moved from invisibility to empowerment. In the second half of the film, when younger LGBTQs speak up, it is amazing to hear them being less anxious and concerned—to see them not experience shame, guilt or anxiety about their sexual orientation or gender identity. It is amazing to see them free and liberated.
The film has been shot over seven years across seven cities—Mumbai, New Delhi, Bangalore, Chennai, Lucknow, Kolkata, Pune."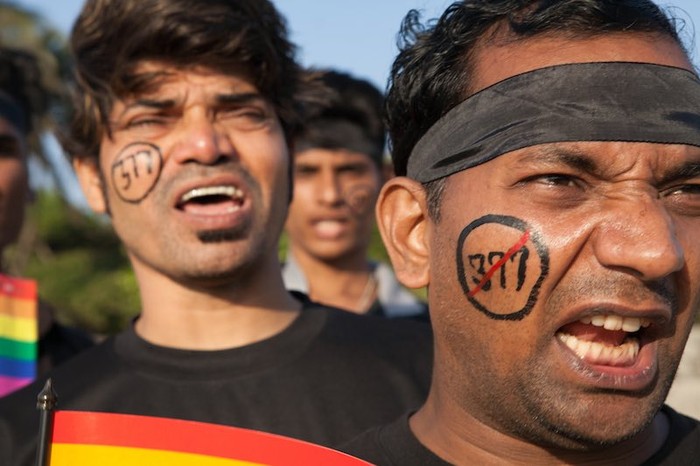 III. How was the film received?

SR: "The film premiered at the 6th KASHISH Mumbai International Queer Film Festival in May 2015, and from then, travelled to more than 17 international film festivals in 12 countries. The film had an amazing screening at the Godrej India Culture Lab in Mumbai and Alliance Française de Bengaluru.
I'm also thrilled about its inclusion in the prestigious Indian Panorama 2015 by the Directorate of Film Festivals and that it is was screened at IFFI 2015, Goa. This gives the film a larger, more diverse audience, hopefully sparking off mainstream thinking around LGBTQ issues, and finally getting people to see it intrinsically as a human rights issue. It is also recognition by the government that a film on LGBTQ issues is important to be screened as part of its program across India."
IV. How different is Breaking Free from your previous films?
SR: "While my previous documentary Purple Skies dealt with the lives and issues of lesbians, bisexuals and transmen, Breaking Free focuses more on the law and its implication on the community. And though Purple Skies deals with some stories of anguish, it also focusses the on lives of a few people who have managed to overcome challenges and are now leading a happier life. But Breaking Free is a much darker film—it doesn't whitewash the problems of the community, but lays them out honestly. Some of the stories in the film are very hard-hitting."
V. Considering the themes your films explore, what difficulties do you face while filming?
SR: "It was quite challenging to get access to the gay and transgender persons who were victimised. We had to trace them with the help of lawyers, activists and community organisations. Most of the victims obviously wanted to forget what they went through and move on with their lives. So it was not easy for them to relive the horrors of the past. Yet they spoke on camera for our film, so that their stories can help bring out the truth. One of the victims, Pandayan from Chennai, is no more as he immolated himself after he was repeatedly gang-raped by nice policemen. So we had to track down his sister to find out what happened to her transgender brother. We finally met her living in a hutment on the pavement in a small town several miles away from Chennai. Convincing her to speak was challenging because she had given up hope about finding any justice for her brother and she felt there was no point in digging up the past. But finally, she was convinced that Pandyan's story has to be told—not only to audiences everywhere, but also in the hope that it will reach government officials and lawmakers.
The most difficult part was telling my own story in Breaking Free, as a gay man. It was poignant and an interesting shift in perspective as it made me realise how difficult it must be for those who tell me their stories—this time it was I who was on the other side of the camera."
VI. Where do you think we are currently in India with respect to LGBTQ rights?
SR: "After years of being invisible due to Section 377, the 2009 Delhi High Court verdict decriminalising homosexuality was a big step and cause for celebration for the LGBTQ community. People found the courage to come out, tell their families, colleagues, and friends about themselves. They also found the confidence to participate in LGBTQ cultural events like film festivals, queer-themed nights and pride walks. But everything changed with the Supreme Court reversal of the verdict in 2013, which re-criminalised same-sex relationships once again. It was indeed a huge blow to the LGBTQ community. But what is interesting is that there is great resilience now. Those who have come out do not want to go back into the closet, they want to be more vocal in their demand for justice."
VII. What, according to you, are the main problems facing India's LGBTQ community? And how can they be resolved?
SR: "LGBTQ issues are still seen as issues of a small community of people—what the Supreme Court called a 'minuscule minority'. For one, India's LGBTQ community is not so minuscule, with a guesstimated four crore people. It is essential that LGBTQ issues are seen as human rights issues. Families, colleagues, friends and straight allies have to come out in support to change mindsets on a larger, mainstream scale. Only then can real change can occur."
VIII. What has the general reception of your film been like? And what do you hope viewers take away from your film?
SR: "It has won hearts everywhere it has been screened. It is inspiring LGBTQ people to stand up for their rights and is motivating allies to speak up in support of the community. Young people are saying it has given them a sense of history, an idea into the truth about the misuse of law, and an inspiration to work for a world that is more equitable."
IX. Where do you think India is currently, compared to the world, with respect to LGBTQ rights?
SR: "There is a greater consciousness about LGBT issues now in India. There is definitely more tolerance, if not acceptance. Change in perception is taking place, but it is indeed slow. We still have years to go before we can talk about equal rights, marriage laws and adoption rights. I do hope I will be able to see the LGBTQ community completely free within my lifetime."
X. Tell us about KASHISH and the role you play—and why India needs this festival.
SR: "We started KASHISH Mumbai International Queer Film Festival to provide a platform for LGBTQ films to be seen on the big screen at a mainstream theatre, and to support young Indian filmmakers making LGBTQ films. Founded in 2010, over the past six years the festival has grown in strength. It is now recognised as South Asia's biggest LGBTQ film festival and one of world's top 5 LGBTQ film festivals. With over 1,800 attendees each year and around 8,500 footfalls into the theatre, KASHISH has become an important event in Mumbai's cultural calendar.
It is also the only LGBTQ event in India that attracts so many Bollywood celebrities and more than 150 press write-ups every year. But what is really important to us is audience feedback—what they take away from the festival. For the LGBTQ community, KASHISH is a safe space for the community to feel empowered and watch LGBTQ films on the big screen with no fear, shame or anxiety. For the mainstream audience it is a window into the LGBTQ world, in order for them to understand it better. KASHISH also programs Indian LGBTQ films at festivals around the world and distributes the films to help the filmmakers.
Our latest initiative, KASHISH Forward, is India's first travelling campus LGBTQ film festival that takes a program of youth-focussed LGBTQ films to colleges and universities across India. This initiative has already been held at Punjab University, Tagore International School, Ambedkar University, Ashoka University, Presidency University, Sophia College, IIT Kharagpur and IIT Bombay. The responses at these screenings have been amazing—there is far more openness among India's youth in terms of accepting LGBTQ persons. There is also an eagerness to learn more and form a non-judgmental understanding."
XI. Who are your inspirations?

SR: "My inspirations in terms of films are Shyam Benegal, Sai Paranjpye, Pedro Almodavar, Gus Van Sant and Rob Epstein. But in terms of life, my biggest inspiration are my parents. My father taught me hard work and selfless love, and mother taught me patience and humility. These are the four qualities I truly believe in and hope to continue to live up to. And as far as Breaking Free is concerned, the true inspirations are the hundreds of LGBTQ people who have fought against all odds."
Visit Solaris Pictures' website and follow them on Twitter