"My own heroes are the dreamers, those men and women who tried to make the world a better place than when they found it, whether in small ways or great ones. Some succeeded, some failed, most had mixed results…but it is the effort that's heroic, as I see it."
– George R. R. Martin
We believe you're familiar with our fascination for those who lead double lives professionally, which we explored through the lives of different individuals across India. These are the guys burning the candle at both ends and doing a fine job at it. Then, there are those who choose to go off the deep end and vouch completely and irrevocably for their dreams (and no, they don't get much sleep either). For these dreamers, we have another kind of respect, albeit an equally special one.
It takes immense courage—and a healthy dose of madness—to put an end to what is potentially a financially stable life to pursue your real calling. So we scoured the space for individuals who have, at different points in their lives, taken a step back and re-evaluated what their dreams meant to them before deciding to throw their entire weight behind them. Here are 15 individuals who have truly followed their hearts, and won us over while at it.
[We take on this list yet again, since there's no dearth of passionate dreamers and wanderers. If you missed the first few compilations we did, catch Vol. I, Vol. II, Vol. III, Vol. IV, Vol. V and Vol. VI. here. All names are in alphabetical order, and not presented in any order of preference.]
I. Abhinav Kakkar | Methodical. Compassionate. Motivated
From accounting to photography
23-year-old Abhinav Kakkar graduated from Ramjas College, University of Delhi, in 2013.
"During my second year of college, I came across the works of Raghubir Singh, Prabuddha Dasgupta and Sally Mann. Before I knew it, I picked up my brother's camera and started to shoot. In the third year of college, I joined FOCUS, a photography society in my college, which is now recognised as one of the reputed photography societies in DU. I got placed at Deloitte through my college placements. After working there for two years, I quit my job and now I am working as a full time photographer in New Delhi. All this, without having any formal education in photography," he shares.

"Dreams are something which gives you hope and sometimes, doesn't even let you sleep."
On his passion for photography:
"As a freelance photographer, I get to work on my own projects. Right now, I am working on my own project called Agents for Change. It covers environmental, health related, drug abuse and human trafficking problems in India. I try to shoot every day and sometimes even stay with locals to interact with them. I also do some commercial projects to sustain in the market. For me, it's important to photograph things that have meaning, things I care about, rather than just trying to please the client."
The biggest challenge:
"Every day is a challenge. Photography is a saturated industry with shrinking budgets. However, I would rather be challenged than bored."
One line that motivates him:
"The limits we set become the prison we live in."
Follow Abhinav and work on Facebook, Instagram and Twitter.
II. Avneet Mann | Dependable. Hardworking. Fearless.
From brand management to lifestyle retail
35-year-old Avneet Mann is the co-founder and CEO of The Wishing Chair, a lifestyle retail brand in the home accessories and gifting space. "I was the brand manager for Bausch & Lomb India. The job entailed handling the entire marketing strategy as well as topline delivery for the product portfolio. It was challenging and quite fulfilling, but the slow decision-making process and tedious hierarchy for approvals was very frustrating. After spending about eight and a half years in the corporate world, I quit," she shares.

"Dreams are horses meant to carry you home."
On her passion for entrepreneurship:
"For the past three years I have worked at my own start up, creating a whimsical, feminine brand in the home decor space and I love it."
The biggest challenge:
"Letting go of the comfort and security of a steady salary with a predictable upward trajectory to unpredictable, uncharted territory without a paycheque."
One line that motivates her:
"Showing up is 80 percent of life." — Woody Allen
Follow Avneet and her work on her website, Facebook and Instagram.
III. Chinky Daryanani and Ryan Rodrigues | Persistent. Passionate. People's Person
From hospitality to logistics
38-year-old Chinky Daryanani and 40-year-old Ryan Rodrigues run their own business that goes by the name Evelyn Enterprises Pvt Ltd.
The duo worked at Taj Hotels for years before they decided to take the plunge into their own business. "The journey was enriching and the learning curve was at its peak. I came across some extremely renowned corporates who had left their mark and colleagues who are like family. Everything we learnt from there still helps us in our day-to day activities," she shares.
Evelyn Enterprises, which started in 1996, was rechristened to Evelyn Enterprises Pvt Ltd after they legally brought over a family-run business. From a single-client and small-scale courier company, in the past six years the company has grown to become a preferred logistics management solution company with innovative ideas in the field of courier industry.

"Dreams are infinite. When you stop dreaming, you stop raising the bar."
On their passion for entrepreneurship:
"We had the brainstorm of setting up a niche logistics company and we ran with it. We knew it would be challenging, but we chose to push ourselves. Work might be on our minds 24x7, but the fact that our achievements and failures are the result of our efforts, makes it seem worthwhile," she shares.
The biggest challenge:
"Nothing, at all."
One line that motivates them:
"It is nice to be important, but more important to be nice."
IV. Eesha Singh | Sensitive. Empathetic. Real
From advertising and marketing to Bollywood-inspired tours
27-year-old Eesha Singh runs her own company called The Mumbai Dream.
"After graduating from Lady Shri Ram College in Delhi University, I moved to Mumbai in 2009 to study Advertising and Marketing Communications at XIC, Mumbai. I don't think that I had a sense of direction in terms of what next, but I was always clear that I wanted to eventually be known for creating something," she shares.
She started her professional life with a job at Teach For India in communications. "My manager was more like a mentor and I was extremely lucky to work with a very smart, focussed, and driven group of people in my first job. Communications for a not for profit meant constantly thinking of low budget, high impact ideas and my interest began to grow in alternative marketing."
Working for several companies such as Time Out Mumbai, followed by a trip to Bhutan, she began working for a friend's travel company. "In addition to my work in Mumbai, I started guiding tours for my friend's travel company. I really enjoyed interacting with people from different countries and knowing that I evidently made a difference to someone's day. It was at this time that my friend suggested that I create my own Bollywood experience for tourists visiting India. That's how The Mumbai Dream came into being," she shares.

"Dreams are free movies."
On her passion for entrepreneurship:
"We give our tourists an insight into Bollywood, which I tell them is what India calls celebration. Our guests watch TV and film shoots, learn Bollywood dancing, meet different professionals employed in the media industry, including an artist who still makes hand painted movie posters."
"All I knew was that I wanted to start something of my own. I was envious of everyone who spent their days creating something they could call their own. Pursuing travelling as a serious interest outside of work was a good start. Travelling helped me discover that I was passionate about two things—conversations and conversations about Bollywood. Either you are passionate about something or you're not. And doing what I love, I don't have to force myself to love my job," she shares.
The biggest challenge:
"Having to push myself to think scale, growth and big picture."
One thing that motivates her:
My mother is a government school teacher, who taught a lot of kids who come from low income families. I became aware very early of the disparities in opportunities that exist right from a young age. I never forget that the opportunities to chase and fulfil these dreams are not equal for everyone. When I have my days of procrastination, that is usually the thought that comes to me and I get working."
You can follow Eesha's work on Instagram.
V. Jai Dhar Gupta | Passionate. Resourceful. Risk-taker.
From working in the family business to healthcare and technology
"Most people know me as a serial entrepreneur and an adventure seeker, but I am just someone who follows his heart and tries to make each day count. I started on my entrepreneurial journey in 1994, but I stepped out of the family business only in 1997," says 43-year-old Jai Gupta.
He has had a string of innovative businesses, starting with his first, an outsourced call centre that took calls from the US. Then, he started Nirvana Being, a business that aims to launch consumer products that protect us from environmental damage. "I started a healthcare staffing business in the US, that brought in critical care nurses from India and Korea and staffed them across hospitals in the US. Following this, there was a wind farm in Maharashtra and now there is Nirvana Being," he shares.

"Dreams are what makes me jump out of bed each morning, ready to conquer the world. I dream for a living."
On his passion for entrepreneurship:
"I am a serial entrepreneur. I am always thinking about ways to make things better, faster, and cheaper. All my businesses have been backed by solid ideas and then I enjoy the process of bringing together the people, processes, and technology. We have launched some interesting products including Vogmask, which is the highest filtering pollution mask in the world and Bobble, a water bottle that filters as you drink."
The biggest challenge:
"Creating awareness and changing age old habits of consumers that are detrimental to health and the environment."
One line that motivates him:
"I really don't have a line. My role model is Walt Disney, the biggest dreamer that has ever lived. What he created and his journey as a whole is inspirational."
Follow Jai and his work on Facebook and Instagram.
VI. Kanupriya Sisodia | Creative. Adventurous. Organised
&
Parag Aurora | Passionate. Instinctive. Restless.
From media, PR and marketing, and sports and talent management to photography
31-year-old Kanupriya Sisodia and Parag Aurora are the co-founders of Fotowalle, The Story Folks. "I am a contemporary wedding photographer. I also photograph travel, food, lifestyle, and portraits. Even though I have been shooting for over a couple of years, I have only been a full time photographer for a year now," she shares.
Born into a creative family made up of a travel photojournalist father and an Indian classical dancer mother, Kanupriya always had a soft corner for anything that required creativity. "I have a total of 10 years working experience wherein I have covered a wide range of assignments. I started my professional journey with a few stints in the media industry, followed by a few years in PR and marketing. I always loved every job that I was handed, but at the same time, I was always trying to further my professional happiness. My last project was with BMW India, and I was given a lot of responsibilities, which helped me learn a lot. The project also made me realise that what I most thoroughly enjoyed was the creative part of my job," she adds.
Parag spent over nine years in public relations before he decided to take the plunge and pursue his passion. After straddling a full time job while working on photography assignments over the weekends for over a year and a half, he decided that it was high time he made a choice. On December 31 2015, he bid farewell to his old job and decided that 2016 was going to be the year he went after his passion.
"I have also had a stint with sports management and talent representation when I was working with Globosport, which is run by Mahesh Bhupathi. I have also been part of the corporate communication team at Yahoo! India, where I was doing a lot of consumer and B2B communication related work. I have been a huge sport and fitness buff and have had the pleasure to work on a lot of sport related work. I had the pleasure to work with the best people in the industry very closely which was great from an exposure point of view. The most frustrating part of the job was to explain to clients that a PR agency cannot guarantee coverage for a brand in the media for every campaign that they ran," he shares.
"Fotowalle, The Story Folks, is a photography service, which is aimed at simply transforming your story into art, capturing special moments, and memories that you can cherish forever. We create a hassle and stress free vibe during shoots to ensure our subjects are at their natural best, which is also the key to our style of creative and candid photography. Coming from a corporate background helps us too. We are extremely systematic and process driven in our approach while dealing with clients."

"Dreams are a reality check in a different dimension that tells you there are endless possibilities."
On their passion:
"It was on one of our travels within the country where both Parag and I rediscovered our love for photography. We took a loan, bought professional equipment and everything else came very naturally to us. We are self-taught photographers and spent a lot of time researching and experimenting to perfect our skills. Soon, I ditched the corporate world and entered the world of photography. My network helped me put together a seamless team who share the same ethics and philosophy or work as us and this way, Fotowalle was born," she shares.
"We have both always been big photography enthusiasts, but never thought of it professionally until much later. A close friend of mine was getting married and she did not have the extra cash to spend on her pre-wedding shoot. I offered to do it as their wedding gift. We had never done something like this before. My wife styled the shoot while I shot and edited the pictures. We used a point and shoot camera, and edited the photos on a free software. But, when I posted these pictures on Facebook, the response was phenomenal. Next thing I know, requests were flowing in. I completed 12 weddings before I decided to put everything behind my dream. And now, we are both happy," he adds.
The biggest challenge:
"Staying disciplined. When you don't have a set time to anything, it is important to remain planned and organised about your everyday work and also plan and achieve the bigger goals you have set out for. Also, there are always risks involved, especially financial ones so one must know how to work that out beforehand and be bold yet calculative with the same," says Kanupriya.
"Taming the mind to get used to the fact that you are your own boss. You decide where you want to take your brand. It's a risk, but then there is no glory without sacrifice. In fact, we are not chasing glory. We are chasing time, so that we can live more, experience more and make a mark when we exit this world," he adds.
One line that motivates them:
"When we stop taking risks, we stop living life."—Robin Sharma
Follow the couple and their work on Facebook, Instagram and website.
VII. Manav Shah | Curious. Outgoing. Non-conformist.
From banking to footwear
29-year-old Manav Shah runs a footwear and accessory label called GUSH, along with his partner Vrinda Gupta.
"I was working at JP Morgan Investment Banking as an analyst. When I started out, I loved it. But as the first year went by, I realised that everything I had studied and learnt on the job, was giving me only momentary satisfaction. That's when I quit and started my first venture, Dial-A-Drive, which provided its users with chauffeur services. I studied law simultaneously. Working on my new venture, I knew I wanted to be an entrepreneur and not an employee," he shares.
"I was at the mall one day and noticed the lack of availability of fun, fashion forward, comfortable and yet affordable shoes for men. All that was available was mass produced international brands that every second man possessed. After researching for a year about designs, karigars, factory set-ups, the manufacturing process, I launched GUSH along with friend and partner, Vrinda."

"Dreams are a highway to reality."
On his passion for entrepreneurship:
"I get to do what I love. The satisfaction I get out of working night & day for GUSH is unparalleled. Having graduated from NIFT, Vrinda took over the design and production aspects, while I took on the business and marketing end of the company. It was an entirely new territory for us, but everything we have learnt over the two years has made it worth it."
The biggest challenge:
"From logistics to marketing, we had to teach everything from scratch. We had to find the right artisan who understood our sense of design and followed our lead. But, this was after I figured out what I wanted to do with my life. Once I quit my job, my regular income had stopped coming in and my family began pressurising me to look for another job. Everyone around me was doing well and it was scary, but it all worked out eventually."
One line that motivates him:
"The more you know, the more you realise how much you don't know. The less you know, the more you think you know." — David T. Freeman.
Follow Manav and his work on Facebook and Instagram.
VIII. Nerissa Misquitta | Passionate. Creative. Committed.
From telecom to hairstyling
37-year-old Nerissa Misquitta runs her own hair studio called The Hair Artisan in Vile Parle. "I used to work with Hutchinson Global Services Private Limited as a quality operations manager for two departments—postpaid and prepaid. I was happy, but after working there for nine years, I just had to quit. I had always wanted to cut hair professionally and I decided to follow my gut."
"I began my hair cutting journey in October 2012 by joining The B:Blunt Academy. For a year after my training, I freelanced until I launched The Hair Artisan, a one-stop shop for all kinds of hair services."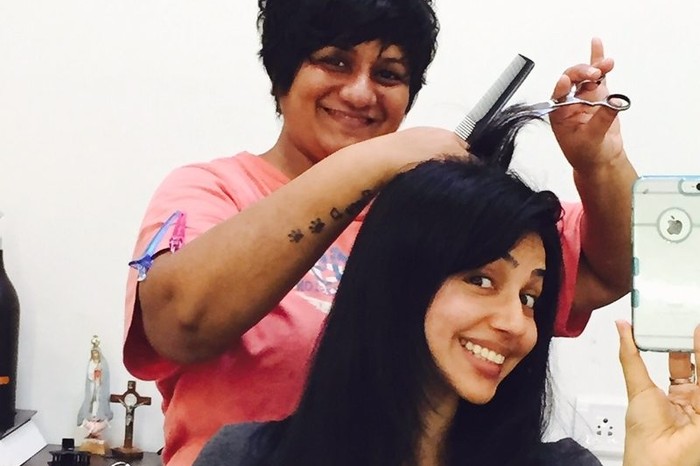 "Dreams are possibilities turned into reality through passion, dedication, commitment, love, and prayer."
On her passion for hair styling:
I have over three and a half years work experience in my current field as a hair stylist. I was always dreaming about cutting hair and now, I finally get to do what I love. I couldn't be happier."
The biggest challenge:
"Financial stability. It was hard not having a fixed monthly income."
One line that motivates her:
"Where there's a will, there's a way."
Follow Nerissa and her work on Facebook and Twitter.
IX. Nipa Asharam | Intuitive. Soft. Strong.
From marketing to health and wellness
35-year-old Nipa Asharam spent about 15 years working in the corporate world while simultaneously studying finance and marketing.
"My last stint was as the marketing head of a youth brand, where I discovered my strength of understanding human insight, its anxieties and its aspirations. I used this effectively to build different properties, such as a college festival, youth café bars, a safety app for women and more. I loved what I did and I got to work with different kinds of people, but felt the need to be structure-free."
"Somewhere in between chasing deadlines, pursuing new hobbies, and discovering beautiful places, I underwent a complete transformation. I started to question my choices to find my own answers. It was a beautiful and yet scary process of unlearning what I'd learned as a student, a professional, a friend, a daughter and a woman. The new direction was leading me away from everything I was familiar and comfortable with. But, this helped me find my calling as a certified, full time practicing health, wellness and life coach. My love to unfold human layers met my passion to shape and transform lives," she shares.

"Dreams are an extension of who you are."
On her passion for being a life coach:
"My own story is my reason to believe if there is a will to move forward, anything is possible. Eat, Breathe, Smile is an environment of inner development and personal growth. We focus on supporting those with the will to find the way to a nourishing and fulfilling life journey."
The biggest challenge:
"Explaining what a life coach does," she shares.
One line that motivates her:
"Start with 'why'."
Follow Nipa and her work with Eat.Breathe.Smile on Instagram and Facebook.
X. Nupur Khanna and Anisha Dhar | Courageous. Ambitious. Go-getter.
From auditing to promoting healthy eating
32-year-old Nupur Khanna and 31-year-old Anisha Dhar are the co-founders of Eatonomist. Nupur worked with E&Y for three and a half years while Anisha has a consulting experience of seven years with PWC and KPMG. "Being in consulting was like having a plush cushion to fall back on. We were always in the comfort zone," they share.

"Dreams are not negotiable."
On their passion for food:
"We are two foodies who want to make the world a healthier place. We strongly believe that good food is directly related to happiness. In the pursuit of a good meal, many people go astray and fall in to the trap of unhealthy eating habits. Eatonomist wants to ensure that all those leading super hectic lives should leave their one biggest worry, food, to us. We count the calories, do the math, do the lab tests, and provide meals that lead to both happiness and health."
The biggest challenge:
"Breaking the stereotype that two women can't run an operations intensive business successfully."
One line that motivates them:
"Don't ever let somebody tell you that you can't do something. You got a dream. You got to protect it. If you want something, go get it. Period." —Pursuit of Happyness
Follow the duo's work on Facebook, Twitter and Instagram.
XI. Pooja Kochar | Fearless. Ambitious. Curious.
From the corporate world to the digital world
32-year-old Pooja Kochar is a full time blogger and photographer. "Tagged too ambitious for the corporate cubicle, I started exploring the endless universe of the digital space. I invested all my energy and time towards building two brands— 30ish, a travel, inspiration, lifestyle and fitness blog, and PhotoblogHER. I use photography to try and promote positive body image amongst women and young girls," she shares.
She likes to use her work to challenge stereotypes, while betting on herself . "My fight is to keep blogging real. I choose to be authentic. There's no business model or strategy to my work, but I built it from my soul."
"Before all this, I worked with one of India's most prestigious IT giants for almost a decade. It was perfect—a great job profile, safe paycheques, international travel, and impressive social status. But, it just seemed incomplete. There was a strong itch to switch. Changing your profession at the peak of your career is a debate between your mind and heart. Some stick to their jobs because 30 seems too late for a change, while a few will jump the bridge because they know that they have about 20 to 30 years to live the life that excites their soul. It is all about your perspective," she adds.
Dreams are what make you think big. Never tame your imagination.
On her passion for blogging:
"Blogging gives me the power to connect. The commercial success of a blog is measured by the number of high profile brands you promote, but that's not what I stand for. As social influencers, bloggers should explore unconventional stories and raise the bar for digital storytelling. I will never promote cosmetics or perfections because real beauty is fearless, not flawless. Digital is not only a platform—it is a behaviour. I am using this medium to reach out to the world. 30ish and PhotoblogHER is going to inspire and empower its readers to live out loud, it is areLOVEution in progress."
The biggest challenge:
"Every start-up is someone's passion. Being an entrepreneur is like playing in a jungle gym—there are no rules. You thrive on your gut and fight for what you love. It is a tough journey, but I am committed. Our society is on the cusp of a huge change and entrepreneurs are the foundation of the positive change we wish for our nation."
One line that motivates her:
"I can is more important than IQ. Failure is the only thing that defines the way you look at success."
Follow Pooja and her work on her website, Facebook, Instagram and blog.
XII. Ritika Varshney | Imaginative. Organised. Persistent.
From PR to an artist and entrepreneur
"An upcyclist, painter, glorified kabadiwali: these are just some of the few names that people have for me. But, what I truly am is an artist and entrepreneur," says 24-year-old Ritika Varshney.
She started her own venture Baatil Co. earlier last May. "Prior to finding my true calling, I was a PR professional with a fantastic communications firm in Mumbai. I was working for some reputed brands from the field of pharmaceuticals and aviation. My colleagues and clients loved me. I loved the company I worked for, but my heart was not in my work. After a point, everything got repetitive and mechanical and the routine started getting to me. When I began to feel like my work was not making a difference to either my life or anybody else's, I realised I couldn't do it anymore."
"Art is in my genes. My mother has always been very enthusiastic about it and encouraged me to play with paint and crayons as a child. With time, however, it just turned into my happy place that I would go back to when I found the time. When I quit, I just had to look for that happy place again and go for it. Being able to do what I love is nothing short of liberating. Life is uncertain, and I'd rather live it doing what makes me happy, than slog away at a desk for years making millions that I can only use when I'm old and rotting," she shares.

"Dreams are worth fighting for."
On her passion for upcycling:
"It allows me to pursue my passion for art and craft while also doing my bit for the environment. We create unique upcycled products for art decor. Upcycling is a great alternative to recycling—and a fantastic way to manage waste. For the past six months, I have been reusing used glass alcohol bottles to turn them into beautiful lamps by painting them. We custom make these lamps and can customise them any theme of your choice before shipping them across the country. And this is just the start. With the amount of waste out there, the opportunities are numerous," she shares.
The biggest challenge:
"You can never allow yourself to get complacent. One needs to keep pushing themselves to get better and innovate."
One line that motivates her:
"Don't live the same year 75 times and call it a life." — Robin Sharma
Follow her work on Facebook and Instagram.