Upcycling is the process of creating something new and better from old items. While that might sound like an environmentally conscious concept, with a philosophical base that challenges over-consumption (and you'd be right to assume so), it's also a concept that can be seen walking down runways, bringing contemporary clothing to the world with an unmistakably strong identity. Bringing sustainability into the garment industry, several luxury fashion brands are focusing on reusing discarded buttons, broken beads, old rags and so on to weave them into a coherent and wearable design, while still paying their own allegiance to the planet that provides them with the resources to make these things. One man's junk is another man's art, they say, and these brands are proving just that.
Creating something beautiful from something once thought of as worthless is a skill truly reserved for a passionate and artistic few, and we've picked out 9 Indian upcycling brands making environmental consciousness chic.
I. Doodlage
Passionate about the magic of reinvention, creative directors and partners Kriti Tula, Paras Arora and Vaibhav Kapoor have dedicated their entire fashion label to the ethical concept of upcycling and recycling. From creating fabric out of damaged spools of thread that cannot be used in machines, to repurposing strips of fabric to make knitted mufflers and sweaters, their style is edgy, casual, versatile and constantly evolving.
"Recycling has always been a deeply rooted tradition in our lives," they tell us, "Be it the tradition of making kantha quilts out of the old clothing, or transforming your mom's vintage saris into nice, trendy attire." Building a connect to the old charm and warmth of vintage materials, each piece crafted by Doodlage tells a story. They describe how the contrast and constant meshing of cloth and technique makes each final fabric like a different painting coming to life on a similar canvas. T
The easy-flowing vibe surrounding each of their designs mimics the sensibilities of its creators, focussing on the meeting point between sustainability and good fashion. As they put it, "We are not here to make what just appears beautiful but also has a beautiful story, we are here to add substance to what is worth a second life,to re-invent the ways to design, deconstruct and develop."
II. 11:11
Well established in the luxury space, 11:11 or eleven eleven focuses on eco-friendly and sustainable fashion, bringing together contrasts in a unique way. Traditional and new age, urban and natural, modernity and pre-modernity—duality is the brand's ethos, with with the revaluation of discarded materials at the core of their philosophy. Spearheaded by Shani Himanshu and Mia Morikawa, this upcycling clothes label attempts to ignite a dialogue to challenge the conventional idea of consumption, and they do it in style.
III. Abraham and Thakore
As their Old-New collection launched at the Amazon India Fashion Week last year, Abraham & Thakore rode their innovation into the sphere of upcycling fashion. As they studied kantha and suzani fabrics, the designers' eyes were opened to the traditional yet imaginative art repurposing old fabrics into quilts and bed covers. And the idea bulb was lit, as they created a whole line of attire embellished using things that others would look at as, well, junk. From discarded coke cans and buttons to X-ray films repurposed as sequins, the duo's kantha work took flight, and still found a way to differentiate itself. While regular kantha work is done on printed fabric, the Old-New collection focuses on grey, charcoal, black and ivory, introducing a unique colour palate to this tradition.
IV. AM.IT
Brainchild of fashion lover Amit Aggarwal, the AM.IT label kicked off its Autumn/Winter 2015-16 collection with upcycling as the focal point. This buffet of textural ingenuity features leftover felt bindi cut-out sheets sourced from factories in Delhi which create a futuristic jaali effect in contemporary fashion. Recycled plastic sheets, fabric from old stockings, and ikat and batik cloths intersperse the label's designs, making the environmentally sound concept of repurposing sound, well, chic. "We wanted something that's vintage and beautiful but also something that looks at the future, that excites us. No matter what life we're leading, we can't do without an amalgamation of the past and the future," they say.
V. Péro
From military jackets to sneakers, Péro by Aneeth Arora, season after season, has displayed a select choice of beautifully crafted designs that resonate with their ethos of upcycling. Digging through vintage stores for lost gems, amongst other things, the label discovers reusable fabrics and shapes them into chic, wearable products. Age-old traditions of hand-made crafts are weaved into their designs, with intricate embroidery and unique patterns coming together in surprising yet fashionable ways, making Péro a much-coveted upcycling label.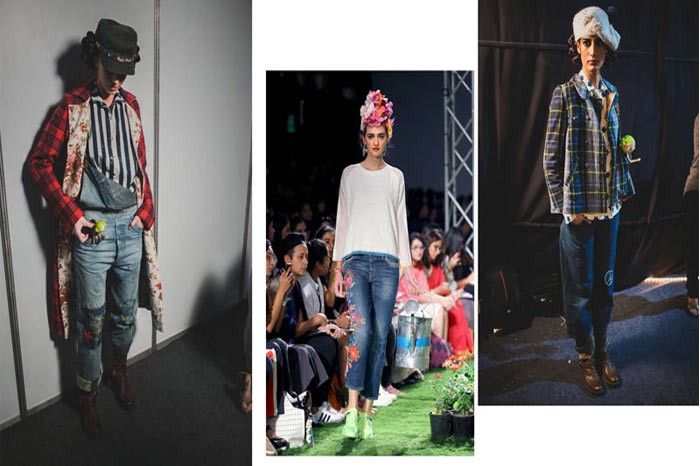 Sustainable fashion is the core value that Delhi-based brand House of Wandering Silk functions on, creating everything from clothes to accessories and even home decor with a conscience. Crafted by various artisans, the label believes in organic, hand-made material revolving around upcycling. Indigenous skills and arts are invoked for their traditional designs, empowering communities who work with the brand, and their high-quality products are as environmentally sound as they are gorgeous.
VII. KaSha
Crafted by Karishma Shahani, KaSha takes upcycling to a whole new level with discarded plastic bags turned into jackets, second-hand sneakers chopped and revamped into stilettos, and discarded chandeliers converted into beautiful jewellery. Skirts are hemmed with old Benarasi sari borders, and crop tops are fashioned out of discarded T-shirts and leftover fabric at this hip clothing brand, where a new style is spun out of every piece of 'junk'.
VIII. Boro
Boro, which is Japanese for 'too good to waste', is Paromita Banerjee's upcycling fashion label with three distinct collections paying homage to the name it stands for. Making a case for Indians to stop seeing recycling as 'jugaad', she uses a mix of fabrics, especially Ajrakh prints, with weaves and Bagh-printed textiles in Khadi featuring in her designs. "I always think about how I could take recycling to the next level. Since each of these garments is created with a mix of different discarded materials in fabric, colour or texture, the composition of each piece is different. It is like creating my kind of couture in my tiny way," says Banerjee, talking about the latest collection Boro Part II.
IX. Shraddha Nigam and Mayank Anand
Never having used non-Indian fabrics, television actors turned designers Mayank Anand and Shraddha Nigam pride themselves on sustainable luxury fashion. Starting off their line of womenswear in 2010, their goal was to give the country's small scale artisans and craftsmen, whose businesses were suffering at the hands of imported western fabric, a platform to showcase their work. Built upon the philosophy of natural and organic clothing, their local weaves reuse, recycle, repurpose and recreate, earning their entire line the label of 'upcycled fashion'.
Research: Diva Garg