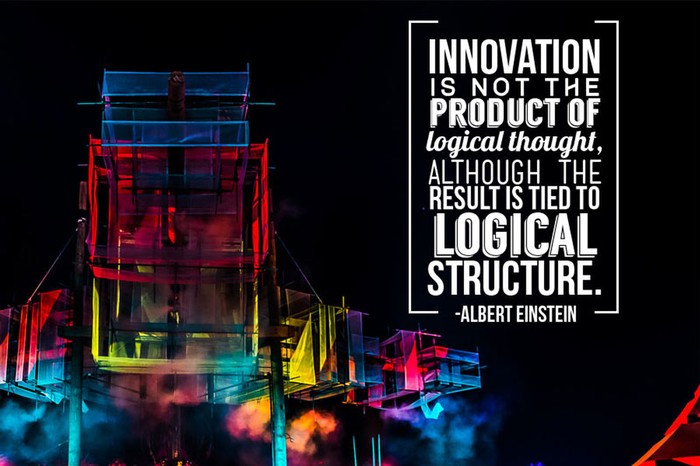 The words
Vita Motus
tend to conjure up some sort of dystopian, cubed age. One where each and every worldly element can be boxed, cross-interrogated and mapped to the utmost precision. Where artists and performers are elevated to godlike statuses on elevated stages and a compressed atmospheric that makes sure nothing is as it seems. Not mention fantastic voyages for all the seekers. All of that or, well, a really elaborate larger-than-life version of Tetris.
Considering they're hailed as the ultimate multidisciplinary design giants (especially in the art and entertainment communities) along with
The Do Lab
, we'd initially published this article when they were completing India's first ever production set up of 'their' scale at the
Smirnoff Experience
 last year. But in the 365 days since we last witnessed their superpowers, they've added so much more incredulous work to their repertoire that we couldn't help making a few additions and pushing this out there all over again.
[And if you've already been through this one, just scroll down to number XI. onwards for all their latest projects.] A Study Guide to Vita Motus
Founded by
Heather Shaw
in 2006, Vita Motus is a multi-disciplinary design firm that implements innovative techniques to create products and environments which set trends and forge new paths in the entertainment and design industries.
The Main Minds 
Just for a little context, acquaint yourselves with the people who make it up. Shaw was the initial driving force behind the founding of this company and in truth, she was driven to thanks to the economic meltdown which saw her laid off from her day job of designing concept cars for Audi and Volkswagen in 2009. She ended up joining hands with the incredible Do LaB, production prodigies who have quite literally revolutionised the design of festivals and other entertainment-related events across the United States since their conception. Before that, her works paint a rather awing picture of the designer. Think playing production designer on
American Idol
, fabricating
80-foot water chandeliers
and even building 80-foot-tall, 30000-capacity-strong
'dance temple'
for Portugal's Boom Festival.
Since its formation however, there have been several other characters in the story that continues to tell itself relentlessly. Her co-designer from Do Lab, Josh Flemming's had his part to play in aesthetics not to mention the unbelievably talented Alex Lazarus.
Prodigious Philosophies
Shaw tends to be monosyllabic about their design aesthetic, agreeing only to label it as a matter of 'tensegrity': the use of compression and tension to take the place of conventional support structures. As she explained in an interview with LAWeekly, "we want things to look like they're defying gravity."
Other parameters include a three-ringed guide involving 'hearing the client out, creating a product that  fits the bill which involves eventually revealing the story and passion behind a product and finally delivering once the design solution has been refined to the point of perfection.'
Besides this, it becomes a feat of strenuously mechanical (and painstakingly precise) fabricating and engineering. The kind where a misplaced nut or bolt would quite literally mean a mid-air stage in heaving collapse.
A Homegrown Guide To Vita Motus
Now that we're done with the formalities however, unbutton your shirts and kick off your shoes. Here's an inspiring look into what exactly they've been up to for the last few years.
1. Absolute Nights : Brooklyn (2014)
2. Asap Rocky Touring Stage (2014)
3. Janelle Monae & M.I.A holographic duet with 3D mapped stage for Audi A3 launch - ( La & NY 2014 )
Vita Motus designed a tunnel like multi-dimentional 3D mapped structure with a holographic representation of two artists. The two artists would conceptually travel through this tunnel into a different city to make the world's first simultaneous holographic duet.
4. Pharrell Williams- Coachella Headlining Show (2014)
Vita Motus was contacted 3.5 weeks prior to launch of Pharrell's performance at Coachella. With a very tight turn time they creatively approached what would turn out to be one of the most talked about performances at Coachella this year.
5. The Do Lab- Coachella Structures & Media Chandelier (2014)
6. Video Mapped Alchemy Stage at Boom Festival in Portugal (2014)
7. Smirnoff Experience: Bangalore with Nero & rusko (2013)
Vita Motus was contracted by Vice Media to design and project manage the installation of the Could 2.0, a 4-D Projection mapping & lighting experience. Potentially the largest projction mapped DJ booth in the world.
8. Amon Tobin's ISAM Tour (2012/2013 - Currently Touring)
Tobin's
is an easy first pick and more importantly the only one we feel compelled to describe in such lurid detail. The cubed musical sensation they created once commissioned for his 2011 tour changed the game for visual artists world over. It involved a structure of cubes which surrounded the artist, awkward and shuffled as ever in a grungy baseball cap and a sartorial casualty that offset the production brilliantly, who is stuffed inside a booth of sorts. On top of this is where the extraordinary projection mapping took place, including pre-planned abstractions as well as sound controlled lightings that created a geometric world around him.
[The project was conceived by a large team including 
V Squared Labs
 and Leviathan who were in charge of content design and proaction mapping while Motus was in charge of Stage Design]
9. Bingo Players Static Boom Stage (2013)
Vita Motus came onboard as chief designers as well as art direction & 3D CAD, concept inception, executive production and production design. They created a unique, iconic adventure of sound designed to be youthful, fun and energetic for the Bingo Players tour. Their high tech blend of modular, rear projection speaker cones, boom boxes and LED lighting leave great daytime and night time options for their upcoming tour and festival dates.
10. The Beat Nest: A Treehouse DJ Platform (2013)
Initially created for the house music stage at Lightning in a Bottle Festival, this DJ platform was meant to break the boundaries of what is expected from a DJ booth. An array of light and colour to brighten up the dance floor day and night.
11. Infected Mushroom Army Of Mushrooms Tour (2012/2013 - Currently Touring)
This dynamic set was technically designed and specifically engineered for non-traditional projection mapping as its forced perspective lines are intended to accentuate 3-dimensional forma.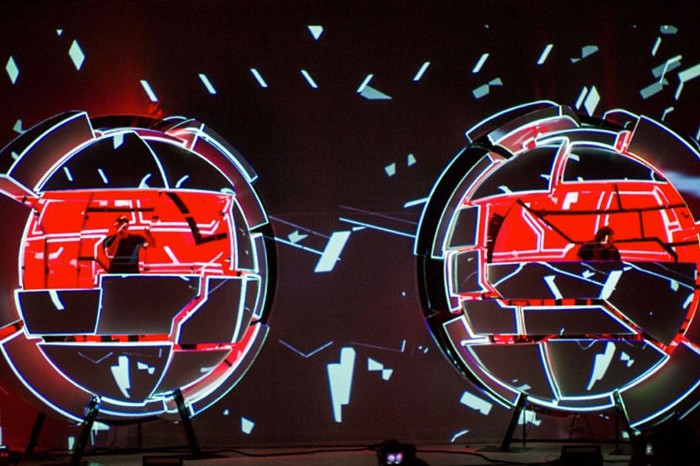 12. The Cloud - Coachella 2013
This one is quite possibly one of their most renowned pieces of work. Created for the Do Lab stage installation at Coachella Music Festival, Vita Motus co-designed an interactive elevated circus performance platform. Layers of rectangular scrim flown above a circus flag that also mists water and haze to allow for dynamic lighting and media plays on particles and translucent layers.
13. Do Lab Misting Oasis - Coachella
14. Dance Temple - Boom Festival Portugal (2012)
Once again the unstoppable duo of The Do Lab and Vita Motus joined creative forces with Boom Festival to build the biggest projects either one had ever created.
15. Water Chandelier - Marquee Club Las Vegas (2012) 
We spoke about this one earlier and it's still installed at the club. Do Lab and Vita Motus designed and fabricated a chandelier water sculpture  to hang over the pool at the roof top Marquee Club in Las Vegas.
16. Triad Structure (2011/2012)
This Triad Stage was envisioned for Lightning in a Bottle balances both a modern sensibility felt in the bright colour spectrum with the architecture which was inspired and modelled after ancient tribal structures.
17. Do Lab Misting Oasis - Coachella (2011)
This stage was designed to break from the usual square truss that the festival goer will normally see.