Our fascination with the Indian diaspora has led to a vast exploration within different Indian communities and their homes away from home. While uncovering the untold story of Sikhs in Old Shanghai took us to another country, this time we relate the fascinating Tamil community in Manipur, placed squarely on the Indo-Myanmar border. And as we uncovered the nuances of this bizarre migration, we found ourselves faced with the same ubiquitous question we've grown used to not being able to answer - what does belonging to a place really mean?
'Kala Lumyo' go back
As the 19th century saw British colonialism spread like wild fire across the world, South Asian countries became sort of inter-linked colonies. In the wake of the growing Raj, thousands of Indians from Tamil Nadu began to leave in search of greener pastures, and migrated to Burma (now Myanmar) attracted by the country's growing labour prospects. Contrary to most military or administrative migrations from India during this time, such as to Sri Lanka or China, the Tamils in Burma were predominantly involved in rice cultivation and trade. As most migrants in new places do, this South Indian community earned itself a title, and came to be known as 'Kala Lumyo' in Burmese land, where 'Kala' pointed derogatorily to their dark skin colour. Still, they felt a sense of belonging, and the labour opportunities there were welcomed. But that didn't last very long.
As the British Empire declined in 1948, this Tamil community's fortunes began to decline too, and as the 1960s came around, Burma saw a military coup under General Ne Win, and the Tamil populace there was forced out of the country. This forced evacuation was much to their misfortune, since Burma had adopted several Tamil ways for the diaspora settled there: local news was available in Tamil, schools taught the language, and movie theatres screened imported Tamil movies. But, with the sixties political change, the Burmese government closed down Tamil, Telugu and Hindi magazines, schools, temples, movie theatres and so on, and the people had to move. Don't feel bad for them just yet though, because they found a home in the most unexpected of places.
'No place like home', or no place at home?
As these Tamil refugees from Burma returned to Tamil Nadu, they found themselves at a loss. Kaja Moinuddin, the finance secretary of the Tamil Sangam (the apex body of the Tamil community in Moreh), tells us, "[The Tamilians returning from Burma] had left their land and businesses behind. In India, it was pre-emergency time, and it was very difficult for the refugees coming into Tamil Nadu. It was so difficult, that after some time they wanted to return to Burma." The general secretary of the Tamil Sangam and principal of Netaji Memorial English High School, Mr. KBS Maniam elaborates, "In Tamil Nadu, [the Tamilian refugees returning from Burma] didn't have any work to do to earn their bread. They couldn't stay there as there was no daily work, this was the problem. Actually, most of the things were a problem. Food, water, even the people and surroundings were quite different, and they couldn't attach to them."
As several families attempted to make their way back to Burma, they hit a road-block at the Indo-Burma border when Burmese authorities denied them permission to enter the country, and Manipur's border town Moreh became an unexpected destination for this community. Rolling into the next decade, Mr. Moinuddin estimates the 70s had close to 15,000 Tamilian settlers in Moreh. Today, that number has dwindled to approximately 3,000.

Lost identity found on the Indo-Myanmar border
With Tamil Nadu being less than welcoming to these Tamil-Burmese refugees, and their kinship with Burma being cut off by new military leadership, this community's sense of identity was misplaced to say the least. But who would've thought that this misplaced sense of identity would be found way East, on the Indo-Myanmar border?
Moreh, a small Manipuri border-town with a large portion of jungle land, became this community's unexpected home. While initially, the early settlers were only five families, they adopted a come-one-come-all attitude and soon, the Tamil community migrating to Moreh grew. Eventually they became the third most dominant population in the town, after the Kuki tribals and the Meitei Hindus, according to the Indian Express in 2012.
A hundred and ten kilometres from Manipur's capital Imphal lies this trade-hub border town of Moreh teeming with a demographic that could represent the confluence of India's diversity. Manipuri Meiteis, Kuki and Naga tribals, Tamilians, Punjabis and even Burmese nationals make up this multi-cultural town of the Indo-Myanmar Friendship Gate. Apart from being at the heart of thriving trade, Moreh is notorious for being the main transit point of drug trafficking in Manipur. As Mr. KBS Maniam continues, "It is an open border, and the smuggling is going on even today." On the people involved in smuggling across the border in Moreh, he shares, "All the communities are involved, we can't say that the Tamil community isn't involved."
A mini Tamil Nadu in Manipur
"You can call it a mini Tamil Nadu in Manipur," Mr. Moinuddin agrees, given that this community brought their state's own culture with them. Joining the most feasible business in this border town, Tamilians too are primarily traders, trading products from their hometown such as lungis, saris, food items and more. With jasmine flowers in their hair and ash smeared across their foreheads, Tamil women in Moreh embrace their native culture despite being this far from home. While, as expected, they primarily speak Tamil, this community is well integrated with the local Meiteis, and as a result they dabble in speaking Manipuri as well. Returning the favour, local Meiteis converse in Tamil too. The streets are lined with small eateries serving hot dosas, sambar vadas and idlis, and shops sell everything clothing, house decor, religious or other product to make it seem like they never left Tamil Nadu in the first place.
That translates to cultural events too, such as Bharatnatyam and Karakattam training in the Tamil Youth Club. Manipur's Tamil population is multi-religious, with Hindu, Muslim and Christian residents, and communal harmony seems to be an understanding. Mr. Moinuddin shares, "There are never clashes amongst the Tamils. We may be from different religions, but we live like brothers." Popularly known as Madrasi Masjid, the old beautiful facade of the Tamir-e-Millat Jame Masjid built by Tamils stands tall in Moreh, with a Madrasa attached to it. In keeping with the religious harmony, the Tamil Angalaparameshwari temple boasts of its famous 'fire walking festival' in the same area, and also shares this area with a church. Additionally, in the same area, stands the Tamil Sangam―the point of confluence of this community's culture in Moreh―tending to social work, education and the general welfare of the Tamil people.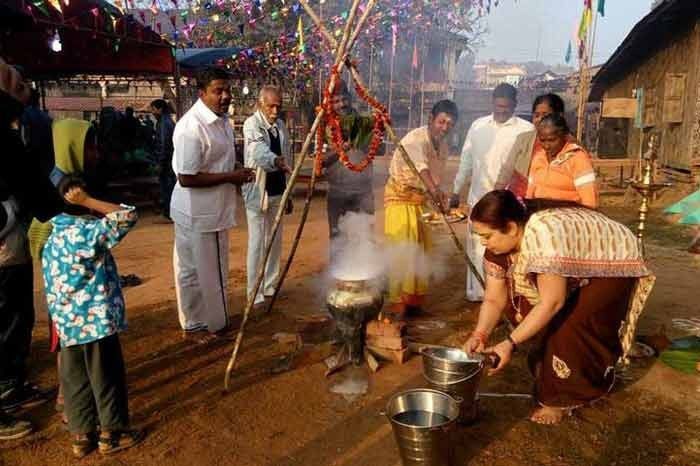 This land is our land?
While the integration of Tamilians in Moreh seems like a successful and harmonious one, that wasn't always the case. When migrants enter a new place, taking over jobs and providing new competition, this isn't usually well accepted by locals. Similarly, this situation boiled to a point of violence in 1992 when Kuki tribals in Moreh clashed with the Tamil community. Their beef was that expanding Tamil businesses, shops, and trade acted as unwanted competition, and this small, concentrated clash resulted in a part of the Tamil community migrating back to Tamil Nadu. Still, the conflict was resolved, and today the immigrants are a well integrated part of Moreh's society.
While the affiliation to a state, place of birth, nation or homeland is natural, it is also built through various elements of kinship and commonality. But this connection holds strong only when there is acceptance, and a sense of belonging should be complemented by a certain standard of living. As this community shuffled from Tamil Nadu to Myanmar, back to Tamil Nadu and finally ended up in Moreh, the integration they feel in Manipur proves that, well, forgive the cliche, home is where the heart is, or more accurately, wherever the heart is allowed to be.