From the haven of house boats, the ancient martial art of kalaripayattu, gorgeous back waters and magical greenery comes one other thing that makes us fall in love with Kerala all over again, food. With coconut featuring as oil, milk, grated chunks or cut pieces, each curry is as thick as it is rich. Chillies and pepper flavour each dish, and the succulent meat soaks up all that spicy goodness. And with its extensive coastline and inland waterways, there's no dearth of fresh fish, making each dish as delectable as the next.
But it's not just seafood that the state has to offer. Kerala also has plenty of delicious meat and vegetarian dishes too. And here's the best part: they all go amazingly with alcohol. Practically every Malayali dish seems to have been created to team up perfectly with a cold beer or some toddy. We scoured Mumbai and found 11 restaurants where you can savour Malayali fare.
I. Chicken 65 Kerala Style at Benzy's, Marol, Andheri East
Benzy's in Vijay Nagar, Andheri East, whips up some delicious Malayali fare. From spicy mutton, fish, or prawn curries to fluffy appams. But what you mustn't miss out on ordering here is the Chicken 65 Kerala Style. The chicken is marinated well and really sucks up all that spice and flavour. If you were to ever visit a local Kerala toddy shop, this would be one of the best accompaniments (locally known as 'touchings') you could order.
Cost: Rs. 180
II. Meenu Curry at Cherry's Kitchen, Malad
Cherry's Kitchen in Malad is located opposite the famous Orlem Church. It's a simple, no-frills establishment that more than makes up for its lack of décor through its delicious food. Here, sample the meenu curry, also known as Kerala style fish curry. It's ferociously spicy and has tamarind pieces floating in it. They soak up the flavourful curry so to enjoy this meal the way a local Keralite would, squeeze the juice out of the tamarind all over your plate. Tip: get a serving of kappa (tapioca) to go with the meenu curry.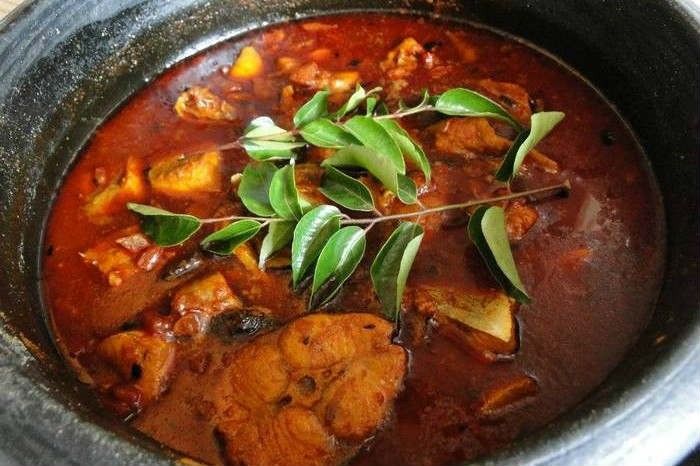 III. Fried Squid at Hotel Deluxe, Fort
At Hotel Deluxe, it's a no-brainer: you've got to get the fried squid. Think of it as a really good beer snack sans the beer. The squid is spicy yet soft, and liberally seasoned with onion and chilli. Tip: Hotel Deluxe's Malabar paranthas are soft and flaky. Get a couple of them to sop up the masala.
Cost: Rs. 140
IV. Fish Molee at Hotel Sunny, Chembur
Hotel Sunny in Chembur tends to go unnoticed by many because of its neighbourhood, but you'd be mistaken to skip this eatery if you're looking for good, authentic Malayali food. Our pick here is the fish molee, Kerala's famous coconut milk based fish stew. Compared to meenu curry, fish molee is more mellow, and traditionally, spice comes in the form of green chillies.
Cost: Rs. 320
V. Unakka Erachi at Just Kerala, Andheri East
Another little Malayali gem in Anderhi East, Just Kerala's patrons swear by its Unakka Erachi, the famous Kerala style dried beef (carabeef). It's simple, spicy and delicious. If you'd rather try something else, opt for the chicken ulathiyat, the nadan fish curry or the mutton chilly fry. But we highly recommend you give the unakka erachi a shot.
Cost: Rs. 320
VI. Fish Fry at Kerala House, Navi Mumbai
Kerala House is a government guesthouse and is run by Kerala Bhawan. Seating is limited and its popularity is sky-high. Go early and prepare to wait. But it's all woth it for the fish fry. The fish is fresh and perfectly seasoned with just the right amount of masala and it comes to your table right out of the pan. Spritz on some lime and you're good to go.
Cost: Rs. 60
VII. Rice Thali at Murali's Hotel, Powai
Murali's Hotel is Powai's culinary tribute to all things Malayali. It's a tiny place that's big on flavour and the standout dish here is the rice thali: rice with dal, curry, and vegetables along with parotta, fryums and pickle. If you opt for the non-veg version you can pick between fish, chicken or beef (carabeef, actually). The chicken is spicy, while the beef is dry and masala coated, and the fish is fried to perfection.
Cost: Rs. 60
VIII. Koonu Paccha Masala at Rice Boat, Bandra East
Rice Boat is one of Bandra's popular Malayali establishments and though we've spent a good chunk of this article talking about meat and fish options, here, we're going to suggest the koonu paccha masala. It's a vegetarian dish made of button mushrooms cooked in a green coconut and masala paste. Tip: their avial is just as delicious.
Cost: Rs. 150
IX. Chicken Masala at Sneha Restaurant, Mahim
Sneha Restaurant on Mahim's LJ Road has a few culinary juggernauts for competition, such as Gomantak and Madina, but that doesn't mean that it doesn't pack its own punches. The only thing you need to make sure you eat is the chicken masala. Everything else is secondary. What's inside? Grated coconut and a whole lot of spice.
Cost: Rs. 90
X. Malabar Dum Biryani at Spice of Kerala, Marol
The Malabar Dum Biryani at Spice of Kerala is only available on Sundays, but that's alright with us—you can't move much after this biryani anyway. All you want is your bed. Go early as Spice of Kerala is pretty popular. Not many eateries manage to churn out good old-fashioned home-style cooking, even if they claim they can. But that's what sets this amazing place apart. Malayali biryani is a part of the Moplah cuisine from north Kerala, and is hearty and meaty, and filled with raisins, cashews and fried onions. It's also generally served with date pickle. Ask your server and come off looking like a pro.
Cost: Rs. 140
XI. Prawns Fry Masala at Taste of Kerala, Fort
Taste of Kerala is a tiny, hole-in-the-wall place in the business district of Fort. It's located in a by-lane behind a temple. Once you find it, prepare to wait since there's always a line. But it's all worth it, especially if you order the prawns fry masala like we do. It's a winner—and also pretty spicy. Tip: goes best with a whole lot of lime squeezed all over.
Cost: Depends on the size of the prawns
— Special Mention—
While we've highlighted individual dishes at the restaurants above, no Malayali meal is complete without a food coma inducing sadhya, which means 'banquet' in Malayalam. Just Kerala, Taste of Kerala, Rice Boat, Hotel Deluxe and Benzy's (only on Wednesdays) are all also known for this meal comprising parippu, sambar, rasam, pulisseri and others like kaalan, avial, thoran, olan, pachadi, mango pickle, ginger curry, naranga curry, as well as papadum, banana, plain yogurt or buttermilk, and plantain chips, all served on a banana leaf.