Mumbai is synonymous with seafood, and the city occupies pride of place on the western coast of a country that's known for its miles of coastline. And in turn, seafood occupies its own prestigious position in the culinary landscape of the city. Also, let's not forget that Mumbai's relationship with the sea is an ancient one: its original inhabitants were the kolis, the fisher folk whose trade created a bond between man and nature—one that is still strong today.
But, in a city that has so much to offer in terms of seafood, where does one go to sample it? The numerous options can be confusing. In the past, we told you where to get some of Mumbai's best seafood, from pomfret to prawns and everything in-between. Today, we're narrowing the scope a little and focusing solely on fish thalis—freshly fried fish and steaming curries from South Mumbai to Goregaon and beyond.
If we've missed out on any you think should be in the list, tell us in the comments below.

I. Fish Thali at Gajalee
Gajalee is one of the city's premier upscale seafood titans. Though we've picked the Lower Parel outlet, Gajalee also has branches in Vile Parle east, MIDC Andheri east, Seven Bungalows Andheri West, and Juhu. And while most of their seafood offerings are delectable, they do also churn out an excellent fish thali. The fish served depends on the catch of the day and it's accompanied by two chapatis, a curry, rice, sol kadhi, pickle, and papad.

Cost: Rs. 290
II. Surmai Curry Thali at Highway Gomantak
In a time where most restaurants have a shelf life of not more than five years, Highway Gomantak has managed to hold its own for over 20. Food is what it's about at this place, and while the cooking may be simple it's exactly what you'll crave when all else fails. Highway Gomantak is a legendary eating establishment. There's no point disputing that. And sometimes it's hard to choose what to eat because so much of their food is so good. But if you want a thali, it has to be the surmai curry thali that's served with sol kadhi, roti or bhakri, rice and spicy chutney.

Cost: Rs. 270
III. Surmai Fry Thali at Hotel Deluxe
Hotel Deluxe is where the office crowd goes when they have a long lunch break ahead of them. Having a long lunch break works because this place is always crowded, and you need a good half hour or more of digestion time once you're done before you can even think of getting back to work. Hotel Deluxe's surmai fry thali is what most come for, a nice hunk of freshly fried surmai, fish gravy, rice, papad and vegetable served on on a banana leaf.
Cost: Rs. 123
IV. Fish Curry Thali at Hotel Sunny
Hotel Sunny in Chembur tends to go unnoticed by many because of its neighbourhood, but you'd be mistaken to skip this eatery if you're looking for a good fish thali. Their fish curry thali comes with Kerala-style papad, Malabar parotta, and brown rice. Drown the rice in the curry and then sop up the leftovers with the parotta. That's the way we'd do it.
Cost: Rs. 240
V. Pomfret Thali at Jai Hind Lunch Home
Jai Hind Lunch Home is a hot favourite and we order in from them pretty often as our office is just down the road from the Bandra branch. Incidentally, they also have branches in Lower Parel, Dadar, and Prabhadevi. But you can't do that with their pomfret thali. That needs to be eaten fresh and hot in the restaurant itself. With fish gravy, soul kadhi, three rotis, rice, and one full pomfret, this is a meal to unbutton your jeans for.
Cost: Rs. 290 onwards
VI. Bangda Thali at JP Lunch Home
If you happen to be in Goregaon at lunchtime, head to JP Lunch Home for their bangda thali. It's a simple yet deeply satisfying thali. The fish is fresh and fried just right, and is accompanied by roti, vegetable, rice, gravy and kokam kadi.
Cost: Rs. 140
VII. Pomfret Thali at Malwani Kalwan

When you think Mumbai and seafood, it's hard not to imagine a succulent piece of pomfret. It's practically the patron saint of Mumbai fish. At Malwani Kalwan in Orlem, Malad, the pomfret thali is the stuff dreams are made of: two rotis, curry, rice, kokum curry, one vati prawns chutney, one vati squid fry and one vati shark chilly fry. It's fair to say that you should clear out your afternoon schedule if you're eating this for lunch.
Cost: Rs. 210
VIII. Bombil Rawa Fry Thali at Metro Fine Dining
At first glance, Metro Fine Dining Family Restaurant & Bar, with its dimly lit interior and a TV that constantly blares Bollywood music videos looks more like a hole-in-the-wall bar than a family restaurant. But don't let that bother you. The only reason you're here is the Bombil Rawa Fry Thali, so block out everything else and focus solely on the meal that's soon to be placed in front of you—rice, curry, roti, a vegetable, sol kadi, pickle, and of course, bombil rawa fry. We like our bombil doused with lots of lime and the one wedge on the thali is never enough. Ask for more.
Cost: Rs. 100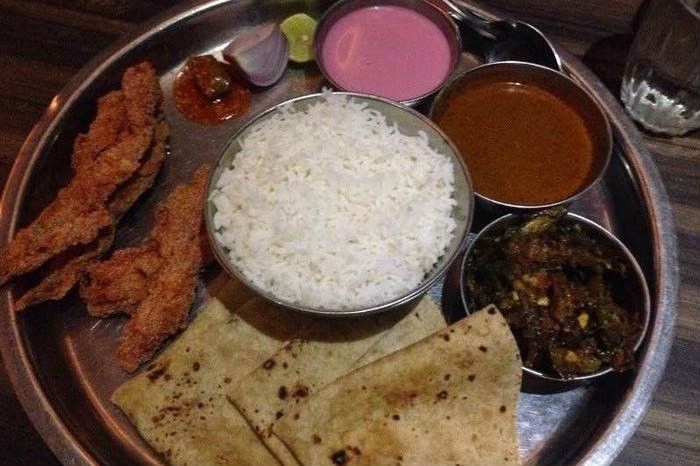 IX. Fish Thali at Modern Lunch Home
Modern Lunch Home at Sion has a huge variety of fish to choose from for their fish thali. Choose between pomfret, surmai, rawas, bangda, and halwa. Pick your fish and tuck in to the spread, which includes a vegetable, rice, rotis and a plain curry.
Cost: Rs. 120 onwards
X. Pomfret/Surmai Thali at Purepur Kolhapur
Purepur Kolhapur, as the name suggests, serves Kolhapuri delicacies ranging from meat to fish. For their fish thali, choose between pomfret or surmai to accompany the rice, curry, sol kadi, rice, two rotis or one bhakri.
XI. Surmai Thali at Sadichha
Saddicha is one of Bandra east's favourite local seafood haunts. A family-run eatery, it serves honest to good home-style food: fresh, spicy and with love, just the way it should be. Their surmai thali comes with sol kadhi, rice, roti, a spicy chutney and gravy.
Cost: Rs. 270
XII. Surmai Fish Thali at Satkar Rice Plate House
Any foodie worth his salt will know that it's always the most nondescript places that serve the best food and Satkar Rice Plate House embraces this philosophy wholeheartedly. Here, you only need to concern yourself with the surmai fish thali—a nice chunky piece of surmai curry along with roti, and an additional, perfectly fried piece of surmai to sweeten the deal.
Cost: Rs. 270
Cost: Rs. 340
XIII. Pomfret Thali at Shri Datta Boarding
Shri Datta Boarding, like many illustrious establishments on this list, has a long and rich history. It served its first meal in 1920 and hasn't stopped since. This is the neighbourhood go-to for authentic Malvani fare, and their pomfret thali will make a regular out of you. The fish is fresh and well made, the sol kadi is fragrant, and the curry is spicy. The thali also comes with vade.
Cost: Rs. 300 onwards
XIV. Surmai Thali at Sion Lunch Home
Sion Lunch Home is a legendary culinary house and the loyalty of its clientele is unwavering. If you're wondering why, it's obvious you haven't eaten here. In which case we suggest you hurry up and do so, because the surmai thali will change your life. The best part? They let you decide how you want your surmai, a rarity in the world of thali. Choose between four styles: masala fry, chilly, pulimunchi and tawa fry.
Cost: Rs. 270 onwards
XV. Bangda Fish Thali at Spice of Kerala
Earlier, in our piece on Malayali food around Mumbai, we told you that Spice of Kerala does an amazing malabar dum biryani. But here's another little secret—their bangda fish thali is a winner too. With Keralan boiled rice, sambar, rasam, appalam, one vegetable and a pickle, this is definitely a Sunday afternoon meal. Go early, as Spice of Kerala is pretty popular.
Cost: Rs. 160, only available at lunch

XVI. Fish Thali at Sushegad
Sushegad is one of Mahim's most iconic eateries. Simply walking on the street outside and allowing your nose to guide you as the smell of freshly frying fish assaults your senses will bring you to this place. Their fish thali is easily one of our favourites and one that we routinely suggest to both locals and visitors alike. It comes with rice, fried fish, vegetables, kokam and sol kadi.
Cost: Rs. 150
XVII. Bombil Malvani Thali at The Flying Butler
Yes, we know that technically Thane is a distinct city on its own but we simply had to include The Flying Butler on this list. Its bombil malvani thali alone makes it worth the drive. Fresh bombil fry, fish gravy, jawala, sol kadi, steam rice, pickle, papad, and either two hapti, one bhakri or four vade.
Cost: Rs. 345
If you liked this article we suggest you read:

The Very Best North Eastern Food In Mumbai – A Homegrown Guide
The Ultimate Tamilian Food Trail Through Chembur