We're the first ones to admit that the words 'burger' and 'vegetarian' don't naturally fit together in our dictionary. At least not when we've spent a better part of our time bringing you one gluttinous piece after the other on the city's best non-vegetarian fare, including you indulgently glutinous pieces on some of Mumbai's best 
burgers
. But food, like everything else worth fighting for, has the tendency to become cliquish. If we're so open to experimentation, the idea of a really well done veggie burger should excite you just as much as the next. In fact, it arguably takes more skill and fantastic flavour matching to create a vegetarian burger people that will drool over, rather than a simple beef patty. So we set about to prove this by tracking down the very best of the best. And we're not talking about McDonald's Aloo Tiki, even though it has an unabashedly large following.
We dug deeper to bring you this list, and we hope you remain as surprised as we are. From delicious, spice-crusted patties to those stuffed with everything from mushrooms to beetroots, and toppings ranging from pedestrian, homemade mayonnaise to fresh Pico de Gallo and even soy aioli, vegetarian burgers never sounded or tasted this good. Plus, we covered a wide range of budgets so everybody can enjoy at least a few of these.
Scroll on to celebrate this all-new inclusiveness and discover where to get 18 of Mumbai's most tantalising vegetarian burgers.
[Note to readers--restaurants are featured in alphabetical order and in no particular order of preference.] 
I. Shroom Burger at 212 All Day Cafe and Bar, Kurla
212 All Day Cafe and Bar's Shroom Burger is all kinds of delicious and has a reputation for being ordered even more than its non-vegetarian counterparts at the cafe. Portobello mushrooms and garden mushrooms in a toasty bun with blazingly melted gruyere, and a heaped portion of fries to go with it. The ingredients are fresh and flavourful--it doesn't get much better than this.
Cost: Rs. 325
II. Jalapeno Popper Burger at Between Breads, Bandra
When Between Breads opened on 16th Road, meat lovers rejoiced. Here was a place that not only did perfect bacon fries, but also a damned good beef patty stuffed with cheese. True, all the meaty praise from non-vegetarians made it seem as though Between Breads didn't have much to offer vegetarians. But then word got out about BB's insanely good Jalapeno Popper Burger. A potato patty, grilled onions, tomatoes and cheesy jalapeno poppers all stuffed between bread. No points for creativity, but plenty for giving vegetarians an option at all, and that too a tasty one.
Cost: Rs. 199
III. Vegetarian Burger at Café Zoe, Lower Parel
There's not much we can say about Café Zoe that hasn't already been said. Their food is great, as is the music, and their reasonably priced alcohol (a rarity in this city). We're crazy about their pancakes and French fries, and sometimes, guiltily enough, we mix the two in a shameless, face-stuffing breakfast. For vegetarians looking for a good burger, this is a serious contender for the top spot. The patty comprises of zucchini, French beans, garlic, leeks, tomatoes, red and yellow peppers, cottage cheese, carrots, cauliflower, celery, green peas and mozzarella, all heaped between a burger bun with chili and coriander mayonnaise, tomatoes and onions. It's satisfying and delicious.
Cost: Rs. 480
IV. Roasted Beet Burger at Craft Deli Bistro Bar, Kurla
This burger at Craft Deli Bistro Bar has a patty made of beetroot, mashed potato and herbs, and is topped with dollops of ricotta, feta and soy aioli. The bun is made using Nachni flour, giving it a healthy advantage like few others. No plain flour calories here.
Cost: Rs. 395
V. Spinach and Cottage Cheese Burger at Gostana, Khar
Gostana's burgers make it a regular haunt and fierce favourite of everybody from college kids and 20-somethings to neighbourhood aunties, most of whom are trying to make healthier choices. Their mission to make their meals as healthy as possible (not an easy feat when your star attraction are burgers) endears them all around. Their Spinach and Cottage Cheese Burger features a generous bunch of spinach that's flavoured with cottage cheese and cooked in the bare absolute minimum oil. The in-house spicy Gostana sauce further enhances the patty. Opt for sweet corn and salad instead of the traditional oily fries and you're talking about a guilt-free meal, if you aren't a carb hater.
Cost: Rs. 270
VI. Hard Rock Veggie Burger at Hard Rock Café, Worli
Hard Rock Café is one of those places that really does justice to its burgers—the bun is oversized and the patty is juicy and well-seasoned--but most people would assume that this only extends to their meaty offerings that they've come to be known for. However, we were pleasantly surprised to find that their vegetarian offering, the Hard Rock Veggie Burger has something of a cult status amongst vegetarian people. A patty made of vegetables and spices that's topped with cheese, grilled zucchini, yellow squash and fresh Pico de Gallo and is served with a house salad. It doesn't hurt that the burger is served with a mountain of fries either. Double-dip your way to veggie heaven.
Cost: Rs. 375
VII. Vegetable Burger at Hearsch Bakery, Bandra
Bandra's Hearsch Bakery on Hill Road is something of a local favourite. Patrons swear by their chicken burger, the chilli chicken croissant and their pan rolls. But many don't know that they have some great vegetarian offerings too. Top of the list is their vegetable burger with ginger and lemon. It sounds unusual, but we assure you it's delicious, aside from being cheap, quick and just simple in its taste offerings.
Cost: Rs. 70
VIII. BBQ Pulled Kathal Burger at MasalaBar, Bandra
The recently opened MasalaBar at Carter Road has already created quite a name for itself with its molecular gastronomy influenced cocktails and food. The menu here can be intimidating, but don't worry, we've got you sorted. Try the BBQ Pulled Kathal Burger, which consists of barbecued jackfruit (that's been hand-pulled and tossed in masala) stuffed in a burger. To be honest, if you've never tried barbecued jackfruit before, the texture is a whole lot like meat, so if you're tentative about trying a vegetarian burger at all, this might be a good place to start.
Cost: Rs. 300
IX. Veggie Burger at Monkey Bar, Bandra
Monkey Bar knows how to rope in a crowd. This Linking Road hotspot plays good music, has some of the most innovative cocktails and serves delicious food. A powerful winning combination. Their Veggie Burger consists of a patty made of lentils and bean, amaranth leaves, walnuts, Portobello mushrooms, topped with chutney mayo and jalapeno cheese fondue. Then it's all squashed into a black bun. Chunky and satisfying.
Cost: Rs. 280
X. Edamame and Chickpea Sliders at Pa Pa Ya, Lower Parel
Sliders are elegant bite-sized burgers that are perfect when you want to stuff your face with junk food, but do so classily. And it doesn't get much classier than Pa Pa Ya's Edamame and Chickpea Sliders— fermented lotus flour buns stuffed with grilled edamame, a chickpea patty, and hummus mayonnaise with potato crisps on the side. Coming through.
Cost: Rs. 385
XI. Curry Roasted Veggie + Smoked Scamorza Burger at Salt Water Café, Bandra/Churchgate
We've sung paens about Salt Water Café's legendary bacon and brie burger in the past, but we have to admit that the Curry Roasted Veggie + Scamorza Burger, which comes in a whole wheat or sesame bun with side of fries and mustard cabbage slaw, is pretty darn delicious too. The patty is surprisingly firm—given that veggies can easily get mushy—and the smoked scamorza adds finesse. All in all, it's a fresh, delicious option for anybody who wants to give it a try.
Cost: Rs. 350
XII. Chip Butty at Theobroma, Colaba/Bandra
Whenever we find ourselves at Theobroma and happen to be craving something savoury, it's always the chip butty we opt for. Like a few others mentioned in this compilation, this too has reached cult status amongst foodies of all types and if you're as obsessed with French fries as we are, this burger is definitely worth trying. First up, both sides of the bun are liberally buttered and slathered with homemade mayonnaise (their most powerful flavour-packer in this dish). Next, a giant fistful of fries is packed onto the lower bun, seasoned with salt and pepper, followed by the top bun. It's a monster you want to have in your belly.
Cost: Rs. 230
XIII. The Irish Couch Potato at The Irish House, Kala Ghoda/Lower Parel/Bandra/Andheri West
If the name of this burger didn't seem indulgently sedentary enough, wait till you hear what it contains. The formidable Irish Couch Potato is made up of a spice crusted leek and potato patty stuffed with aged cheddar and jalapenos, and is topped with tomato mayo. And to top it all off, though truly, this is a bit of an overkill but it also comes with a side of sweet potato crisps. Go nuts.
Cost: Rs. 295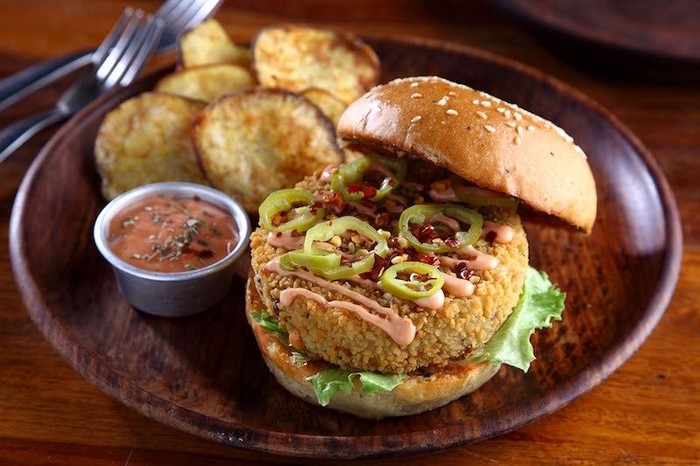 XIV. The Black Bean Burger at The Nutcracker, Fort
The Nutcracker is known more for its desserts than it food, but don't let that put you off. The Black Bean Burger is a refreshing vegetarian option for those who are sick of potato patties and almost everybody who's worth their salt in food criticism knows its worth. One bite in, and you'll soon realise that the patty made of chunky, spiced black beans topped with caramelised onions and garlic aioli is perfection. You won't even miss the meat, in case you were, and we might even choose it over 95% of the other burgers in the city, regardless of what's inside them.
Cost: 380
XV. Mexican Tycoon Burger at The Rolling Pin, Lower Parel
The Rolling Pin a cute little boulangerie in bustling Lower Parel, but few know that it also makes a cracking vegetarian burger. Try their Mexican Tycoon Burger: corn, black beans, jalapenos and cheese formed into a patty topped with chipotle mayonnaise on a corn chilli bun. Ola senor/ senorita, welcome to the dark side because you'll be back for seconds.
Cost: Rs. 225
XVI. The Table Veg Burger at The Table, Colaba
It's almost impossible to have a bad meal at The Table. For a restaurant we rely on heavily for some of the tastiest carnivorous fare in the city, they sure don't disappoint with their vegetarian offerings. And one of the tastiest is The Table Veg Burger—brioche bun or whole wheat sesame bun, caramelised onions, and a side of fries. You can add Emmental, sharp cheddar, or sautéed mushrooms for an extra charge.
Cost: Rs. 800
XVII. Italian Vegetable Burger at Woodside Inn, Colaba/Andheri
Woodside Inn is somewhat of a favourite post-work tipple joint, with everyone from ad honchos to corporate types heading over once they clock out at work for a few drinks and good food. When we stop by, we're usually stuffing our faces with their awesome bar snacks or pizzas, but our vegetarian friends go right for the Italian Vegetable Burger. The patty is made from a mix of carrots, zucchini, potatoes, red and yellow bell peppers and pine nut pesto for that extra kick.
Cost: Rs. 465
XVIII. Signature Quinoa Burger at The Yoga House
You'd be hard pressed to find a healthier restaurant than The Yoga House in Mumbai. Their signature quinoa burger, called I AM DETOXIFYING, is the tastiest vegan burger in the city, and is really filling too. Quinoa, watermelon seeds mixed with basil, coriander, and spring onions, is served with a homemade hummus. Simply delicious. You might miss the fries but you can always get a banana-honey smoothie to take away some of the pain.
Cost: Rs. 370